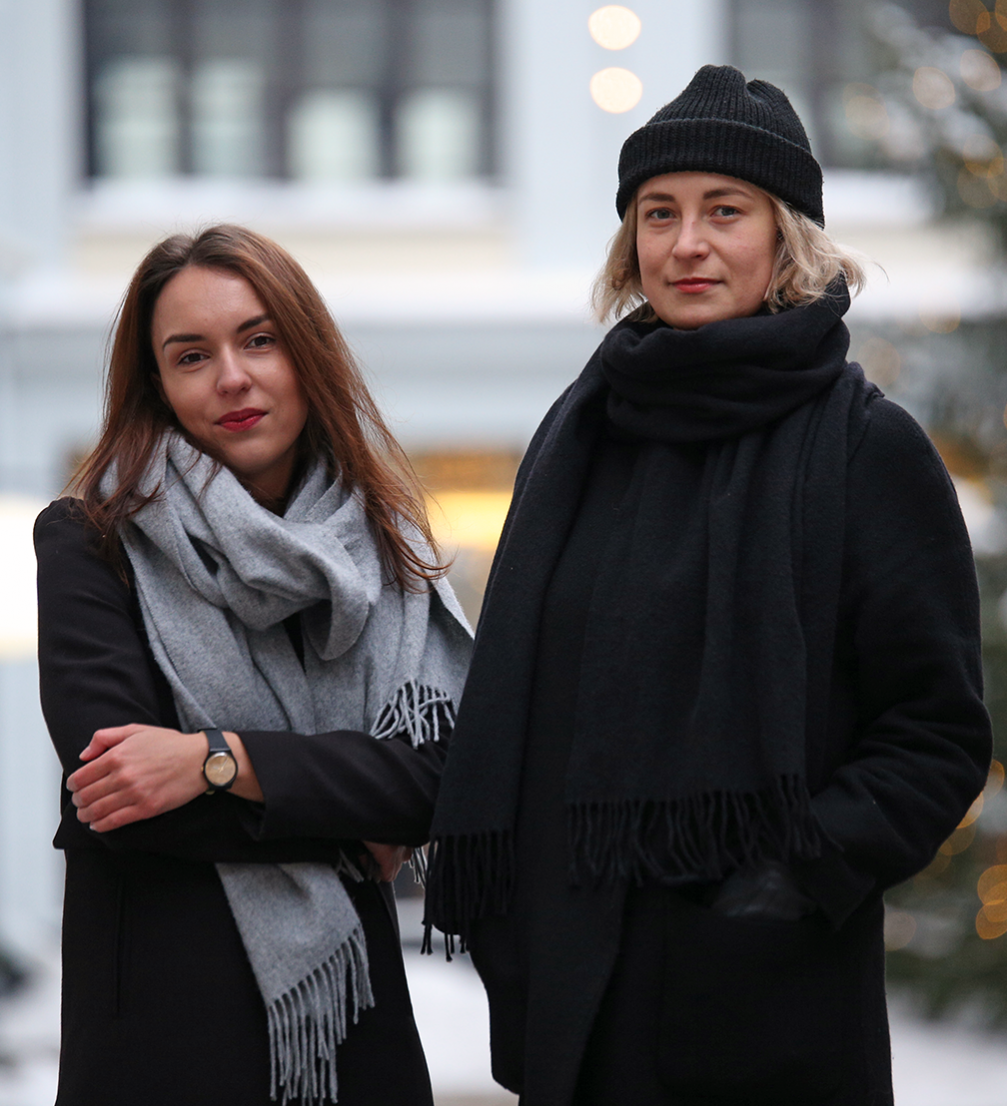 Veronika Viļuma and Evelīna Ozola. Photo by Lauris Aizupietis
As of the beginning of 2017, Evelīna Ozola has handed the daily editorial duties over to Veronika Viļuma and from now on will oversee FOLD from a bigger distance.
Evelīna Ozola:
The last four years that I've spent leading FOLD and being part of the creative industries scene of Latvia have been eventful and successful, but exhausting too. During this time I not only established FOLD, filled it with content and managed its resources, but was also myself learning to run a small business, got to know the academic environment in Latvia, worked in the juries of various competitions, as well as gained an insight into what creative industries look like from the perspective of national and local governments.
Journalistic work has always fascinated me, however, I realise that I lack the speed and curiosity necessary for the job. When an opportunity came up to take a position closer to my profession — to teach at Umeå University Architecture School in Sweden, I accepted the offer. Besides, this job leaves time to continue overseeing the development of FOLD and writing the occasional article.
Even though I too have expressed dissatisfaction with how things are organised in Latvia, I haven't left in an «all is bad, dismiss the parliament and relocate to Estonia» mood. I am aware of both the problems that exist in Latvia (and have affected FOLD as well) and the advantages of a small country that we have had the privilege to enjoy. I am thankful to the Ministry of Culture for the high praise and trust they've expressed to FOLD by allocating funding from the national budget for the upkeep of the platform. I would also like to thank the State Culture Capital Foundation for repeated financial support and the Cēsis Municipality for a lengthy collaboration. A massive thank you to all the other partners, friends and supporters of FOLD!
Starting from 2017, the everyday work of FOLD will be headed by Veronika Viļuma who the readers got to know as an author of product reviews and interviews. In 2016, Veronika worked as an assistant to the editor, gradually taking on more responsibilities and learning the specifics of an online medium. Veronika is a knowledgeable and talented writer, and I fully trust her abilities to select and prepare content that complies with FOLD's standards. I am confident that Veronika will not only pursue the course that FOLD has set, but also introduce new ideas and improvements.
In a time when it is becoming increasingly difficult to distinguish real news from fake, FOLD is going to stand by its established principles of quality. We have always avoided ungrounded excitement about each little object made in Latvia and we will continue evaluating things critically and highlighting outstanding work. We will continue verifying the information we receive and pay attention to correct written language.
Veronika Viļuma:
Although I wasn't there when the FOLD was founded, I've always supported its idea — to bring forward the best in Latvian and foreign creative industries to help discover, understand, learn and collaborate. I've done so in my thoughts and, in recent years, also in my work. It is a privilege to meet capable people, rejoice in their achievements, write about masterful works.
More interviews with inspiring personalities will be added to FOLD's Masters section. It features stories of those who are almost forgotten but played a crucial role in laying a foundation for creative industries in Latvia, as well as those who actively pursue creative work here and abroad. FOLD will continue to inform about current events — our Calendar section proves that conferences, exhibitions, and lectures take place almost every day. FOLD will support young professionals by featuring their achievements and publishing information on local and international competitions and funding opportunities.
In the future, I intend to diversify the topics FOLD covers and add more analytical articles to the Theory section. I will regularly update the Trendspotting section, so we would not only reflect on the local issues, but also have the opportunity to compare. Several participants of the FOLD readers' survey (thank you, the survey is still available here) have pointed out the lack of critical reviews in FOLD's content — this is another direction I would like to develop.
Still, I cannot and I do not want to do it alone. I will invite new contributors to join FOLD, but in the meantime everyone is invited to share suggestions. So that it would be more interesting for all of us.
Practicalities
If you'd like to send us information to be published, please use info@fold.lv.
If you'd like to address us personally, please use veronika@fold.lv and evelina@fold.lv.
For printed invitations, cards and documents, in 2017 please use the postal address Andrejostas iela 1A–2, Riga, LV–1045.