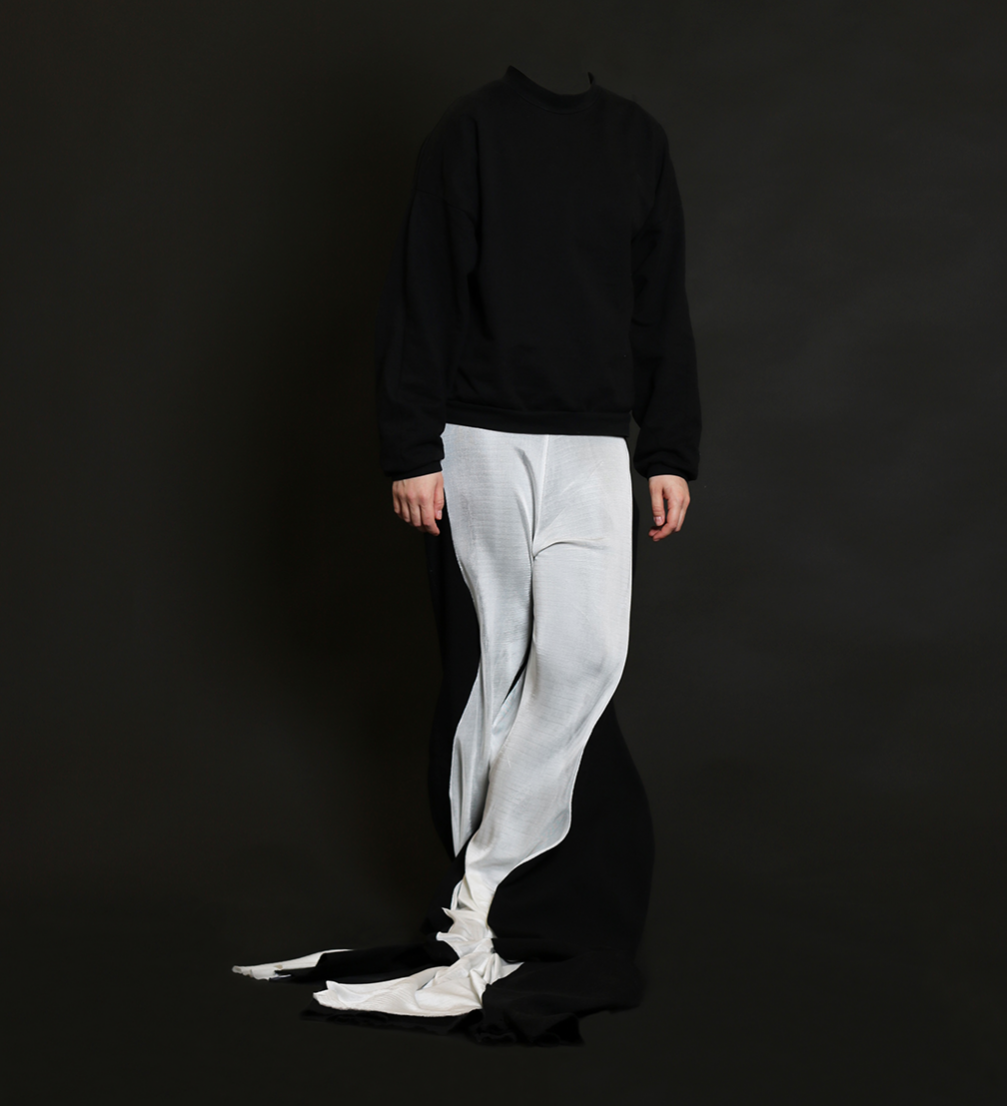 Blurry pants by Sanda Feldberga. Photo from personal photo archive
From May 10 to 28, the Jurmala City Museum will host a fashion exhibition «The Modern Collective» featuring design works by students of the Art Academy of Latvia. Both costumes and art objects, as well as photos and video art, will be on view.
The exhibition demonstrates students' interpretation of the ideas developed by a philosopher Maurice Halbwachs, the originator of the concept of collective memory. Halbwachs confirms that collective memory may not exist without the memory structures created by a society, and that it exists to the extent our individual mind's system places itself into these structures so that it would be able to perform remembering.
He points to the parallels between the experience and the society's memory, which is based not so much in the past, rather being an expression of the present. The participants of the exhibition are Santa Aulmane, Sanda Feldberga, Karīna Krista Līkanse, Ieva Mežule, Sigita Sniegs, Laima Ūdre and Simona Veilande. Curator — Guna Kalnača.
«The movement of the dress often affects the silhouette of the body and creates an entirely new form and space. As well as the perspective where the shape of the dress depends on the distance and angle between the garment and the viewer thereby encouraging the same dress to appear in different ways. The overall idea of the character is inspired by the movement of a dress and the body, translated into more graphic and readable way where the motion is captured in a different silhouette using contrast as a tool,» comments Sanda Feldberga, the author of the Blurry pants video installation. Meanwhile, Sigita Sniegs is inspired by the need for functionalism in her daily life, the craftsmanship and the modest nature — «the heritage that makes me see and appreciate the fair value of the surrounding things, their shape in the room, their quality and originality as a necessity».
The opening event of the exhibition «The Modern Collective» will be held on Wednesday, May 10 at 18.00 at the Jurmala City Museum, Tirgoņu ielā 29, Majori, Jūrmala.  On the occasion of The Night of Museums visitors will be invited to participate in an interactive installation «Collective Memory». The exhibition will be on view until May 28.