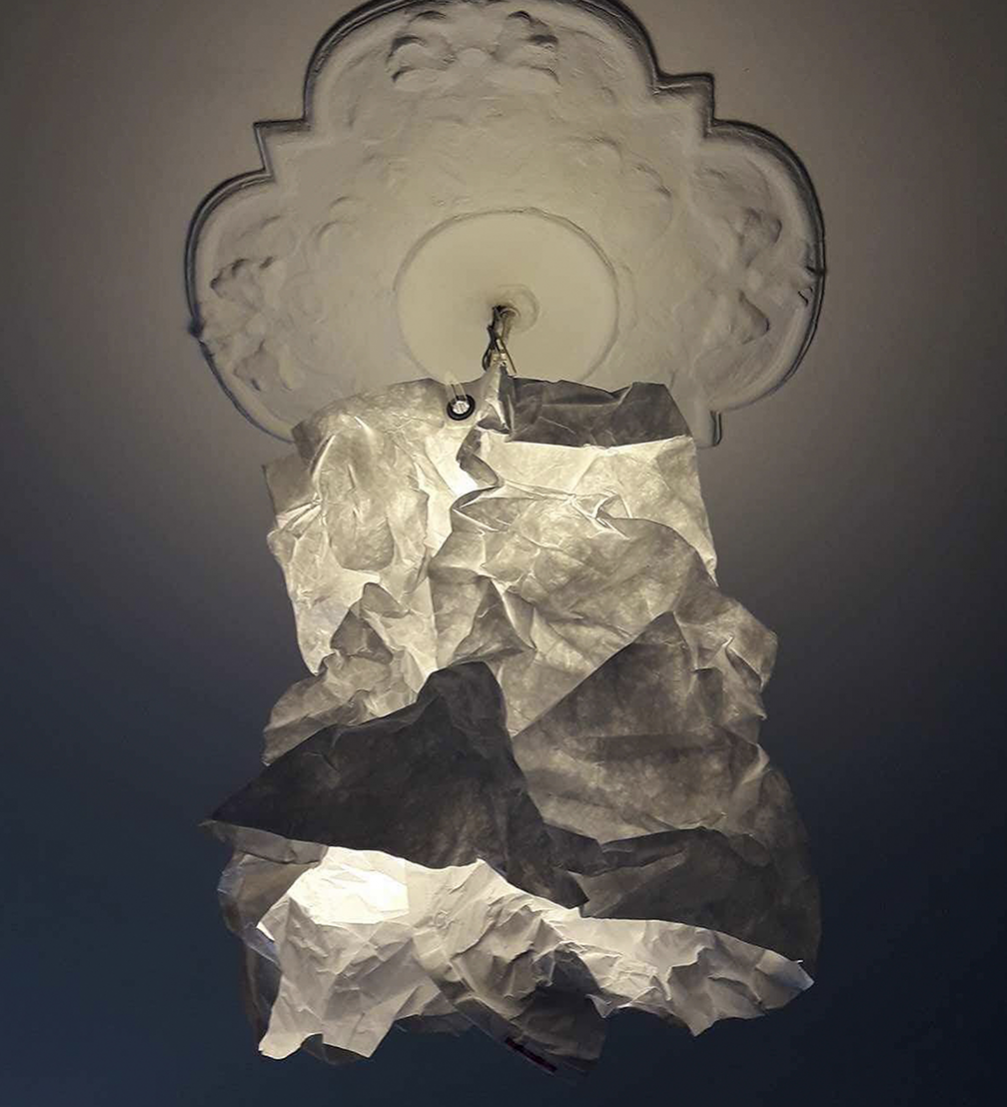 The jury of National Design Award of Latvia 2018 chose the lighting object «Star Wrap» as one of the competition's twenty finalists. It is an unusual lamp that assumes a unique shape once pulled out of the vacuum packaging.
The «Star Wrap» pendant lampshade is inspired by the idea of taking a material and utilising it for an entirely different purpose to which it was originally designed for and exploring its features. The lampshade is made of «Tyvek» — an insulation material that gives the impression of crumpled paper. The «Star Wrap» lamp is packed in vacuum and once pulled out of the packaging it assumes a unique shape, creating a distinctive lighting element. It features a certain DIY element to it — the appearance of the lamp is in the hands of the owner who has to follow an easy four–step instruction to build the object and finally hang it on a ceiling hook. Thus, the lamp becomes a unique sculpture in a form of a lighting piece that can be used both at home or office. The end product is a lightweight and playful lampshade that seemingly floats in the air, dazzling and reflecting light in irregular patterns.
The designers, also authors of the technical solution and packaging of «Star Wrap» Pēteris Zilbers and Dāvis Līcītis recommend to use a smart light bulb that allows users to change its colour. That way the lamp gives a room the desired mood. The height of «Star Wrap» is 50 cm, diameter — 40 cm, while the packaging is a lot smaller and weighs only 400 grams.
Currently the «Star Wrap» is exhibited among other finalists of the National Design Award of Latvia at the Museum of Decorative Arts and Design, Riga. The exhibition is on view until May 20.
«Good concept, sustainability and appearance. While dealing with practical and budget challenges the project has led to strong design solutions. The look, functionality and sustainability — all for a good price. It could be a commercial success,» comments the jury member, long–standing «G–Star Raw» creative director and designer, strategy design and interior design expert Pieter Kool.
There are various interior objects created at «Zilbers Design», including lighting pieces such as so far the best known «MoodBroom» accent light.