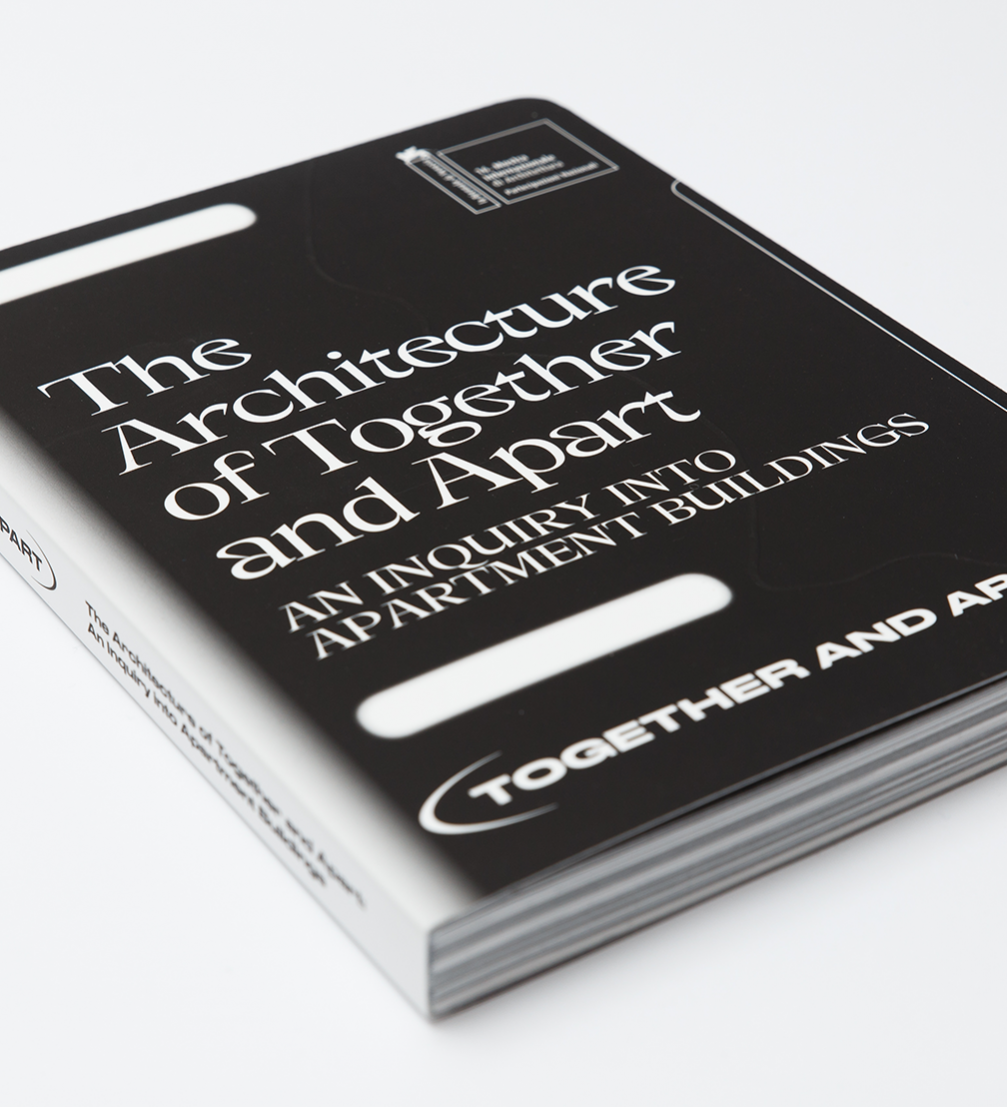 Design by «Goys & Birls», photo by Lauris Aizupietis
The book «The Architecture of Together and Apart: An Inquiry into Apartment Buildings» accompanies the Latvian Pavilion, titled «Together and Apart», at the 16th International Architecture Exhibition of La Biennale di Venezia. The richly illustrated English publication is now available for purchase in Latvia and beyond.
The book «The Architecture of Together and Apart», just as the Latvian Pavilion at the Venice biennale, focuses on the architecture of apartment buildings, positioning it within a wider political, economic, social, and ecological context. The 200–page volume encapsulates and extends the content of the exhibition; it includes photo series, illustrations and essays, dedicated to various aspects of living together and apart, and created by a diverse range of authors.
Among them, economist Pēteris Strautiņš outlines the transformation of Latvia's residents from tenants of state–owned apartments into independent homeowners. Political scientist Ivars Ījabs describes how apartment buildings can function as cost–effective instruments of governance while historian Mārtiņš Mintaurs explains how the construction and allocation of housing served as means of creating the New Soviet Man. Academic and artist Renata Tyszczuk notes how the domestic sphere is playing an increasingly bigger part in the politics of global climate, and architecture theorist Robert Alexander Gorny suggests a relational approach to understanding how apartment buildings came about as a specific form of residential architecture. The book also includes an excerpt from Peter Sloterdijk's «Sphären III» that dissects the relationship of the individual apartment and the modern self.
The publication is illustrated with various archival materials and analytical drawings, as well as photo series by Reinis Hofmanis and Ieva Raudsepa portraying life in apartment buildings, both from a distant and a close-up perspective. The comic strips by illustrator Sander Ettema tell curious cases from the history of apartment living in Latvia. The book is designed by the Amsterdam–based studio «Goys & Birls», authors of the visual identity of the Latvian Pavilion. The publication is edited by curators of the Latvian Pavilion Matīss Groskaufmanis, Evelīna Ozola, and Anda Skrējāne.
The book «The Architecture of Together and Apart: An Inquiry into Apartment Buildings» is available for international orders on the website of the Latvian Pavilion. It is sold at the bookstores of La Biennale in Venice, and «NAi Booksellers» at Het Nieuwe Instituut in Rotterdam. In Riga, the book is available in bookstores «Mr. Page» and «Robert's Books», «Istaba» art gallery, and the Friends' Room of the National Library of Latvia. It can also be purchased directly from the publisher — the New Theatre Institute of Latvia (by appointment only).