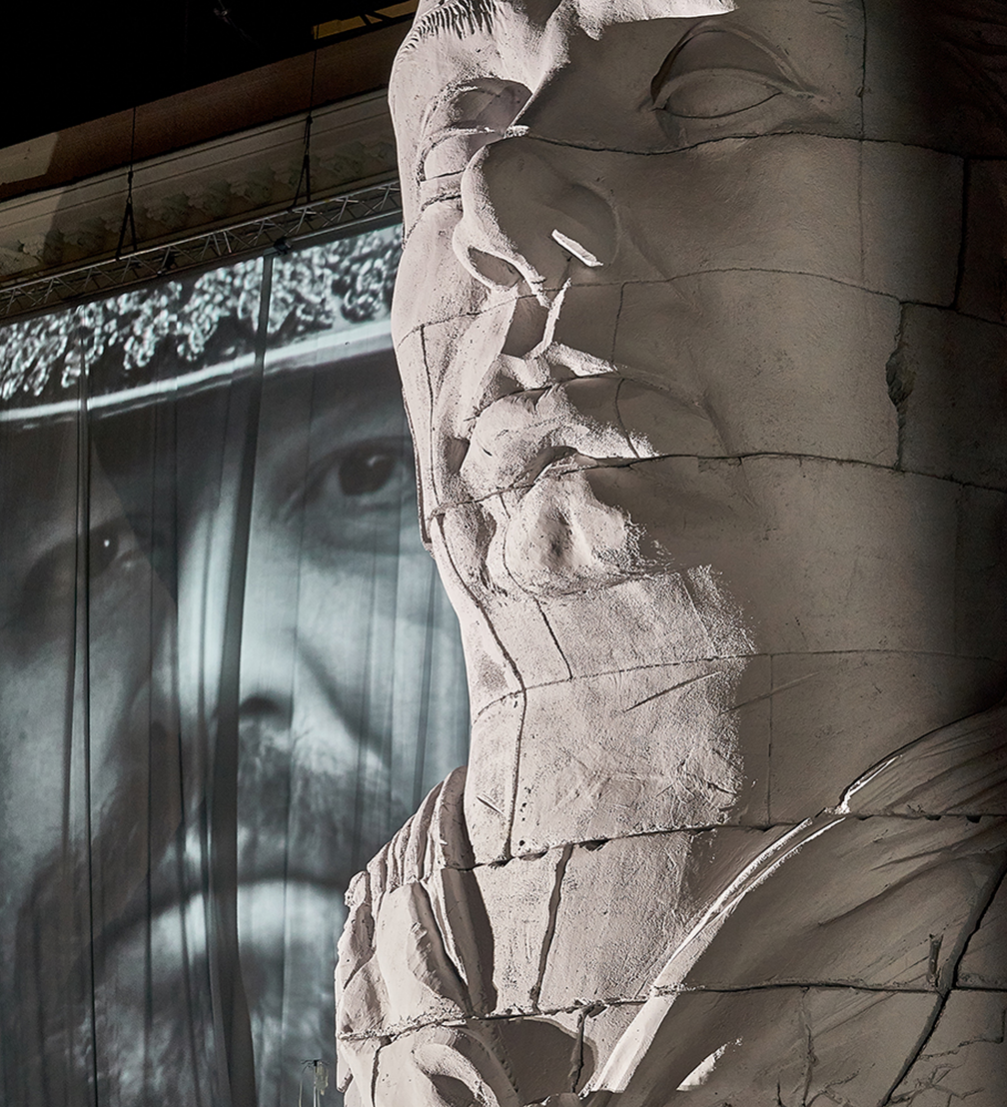 Last summer, architect Didzis Jaunzems created a monumental scenography for a new staging of Giuseppe Verdi's opera «Nabucco» in the Polish city Wroclaw, known for its large–scale open–air opera performances.
The production of «Nabucco» by Polish director Krystian Lada is a translation of the historical libretto into the modern language of the theatre, looking for universal social mechanisms that address the issues of power, politics, and love. The opera is staged in a deeply symbolic public space, given the content of Verdi's opera, — between the site where the New Synagogue stood until 1938, the balcony of Hotel «Monopol», built especially for Adolf Hitler's visit and speech in 1939, and the still surviving White Stork Synagogue.
«The stage is designed as an urban landscape with various levels, platforms and stairs — a spatial continuation of the Wroclaw opera façade that has been transformed into a temple of art referring to the libretto's Temple of Solomon. It is attacked by the regime of Babylonians who want to exterminate the Jewish nation by means of destroying its cultural heritage. The colourful image of the stage gradually fades to grey as Nabucco takes over the building and culminates in the second part of the opera when Abigaille comes to power — the whole building is then covered with a grey curtain. A 12–metre high two–faced sculpture is carved with the facial features of the soloists Krum Galabov and Anna Lichorowicz performing the roles of Nabucco and Abigaille. The sculpture responds to the events on the stage — it rotates, cries, emits light through its cracks, and collapses at the end of the performance,» explains the author of the scenography Didzis Jaunzems.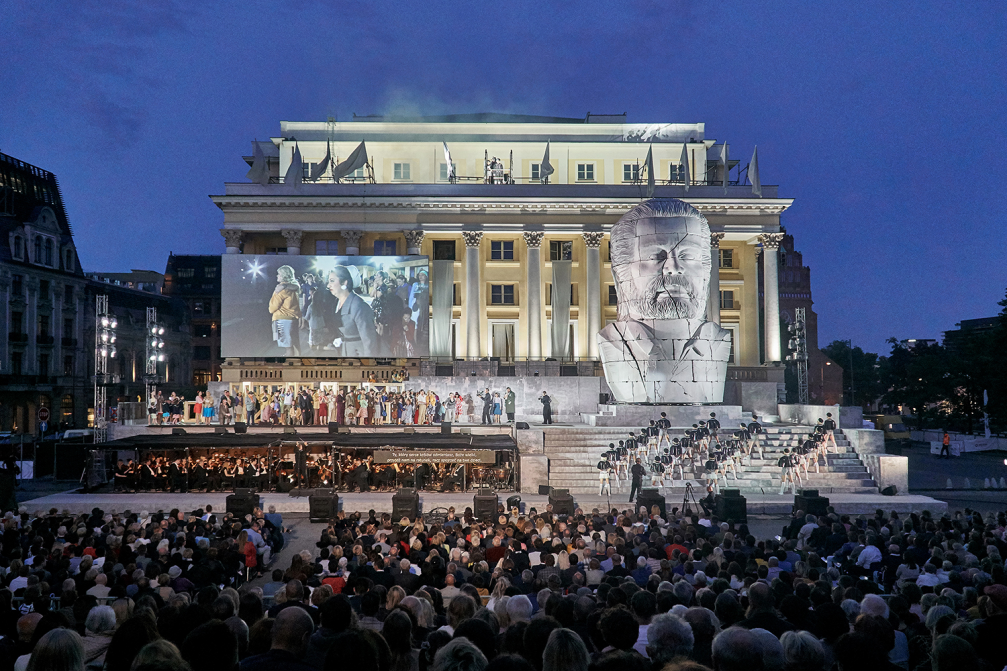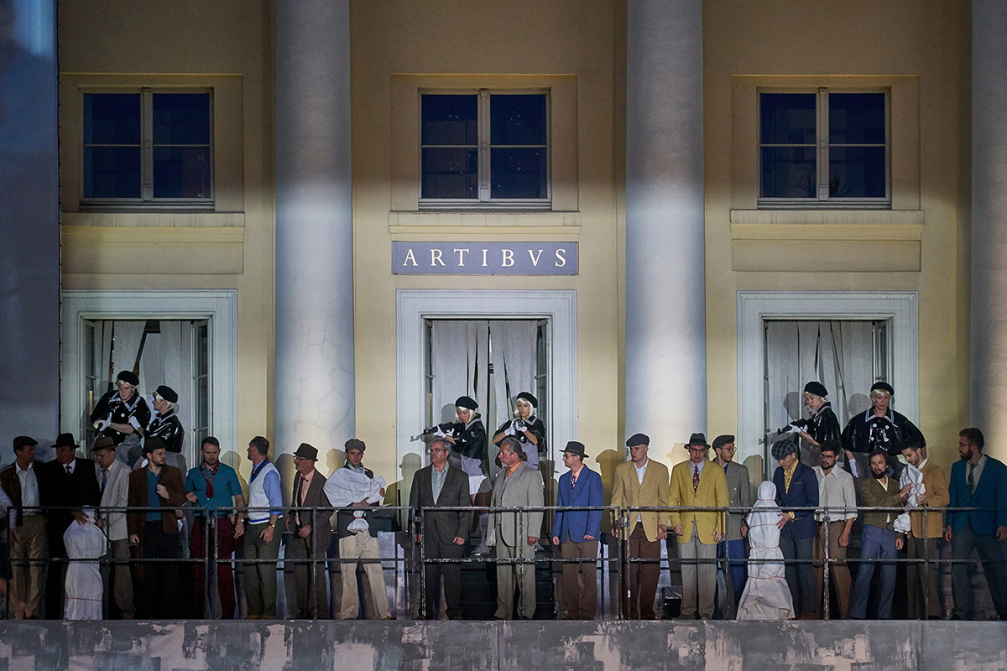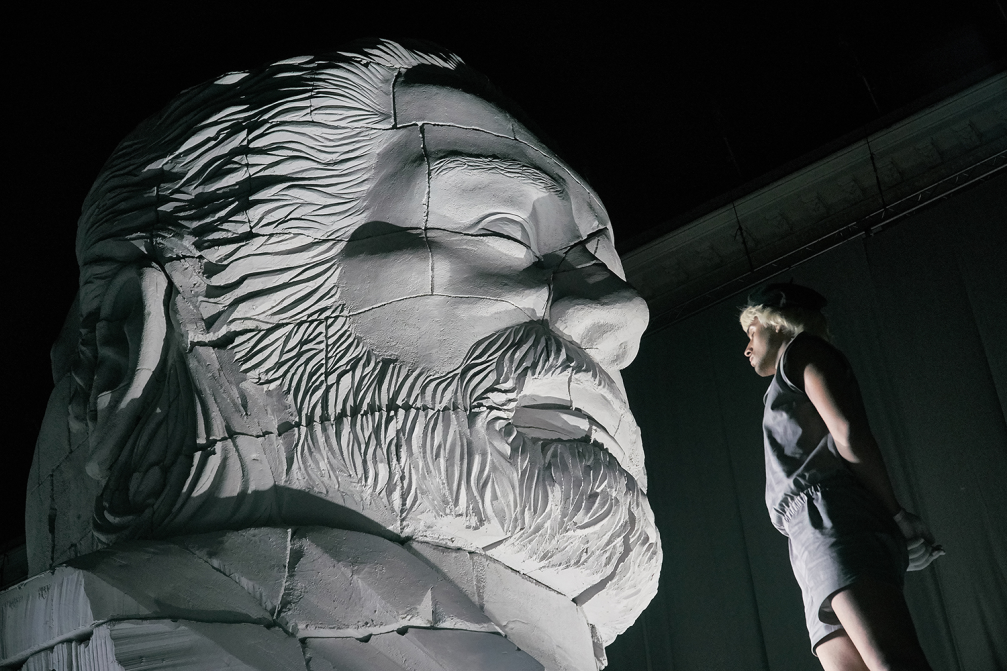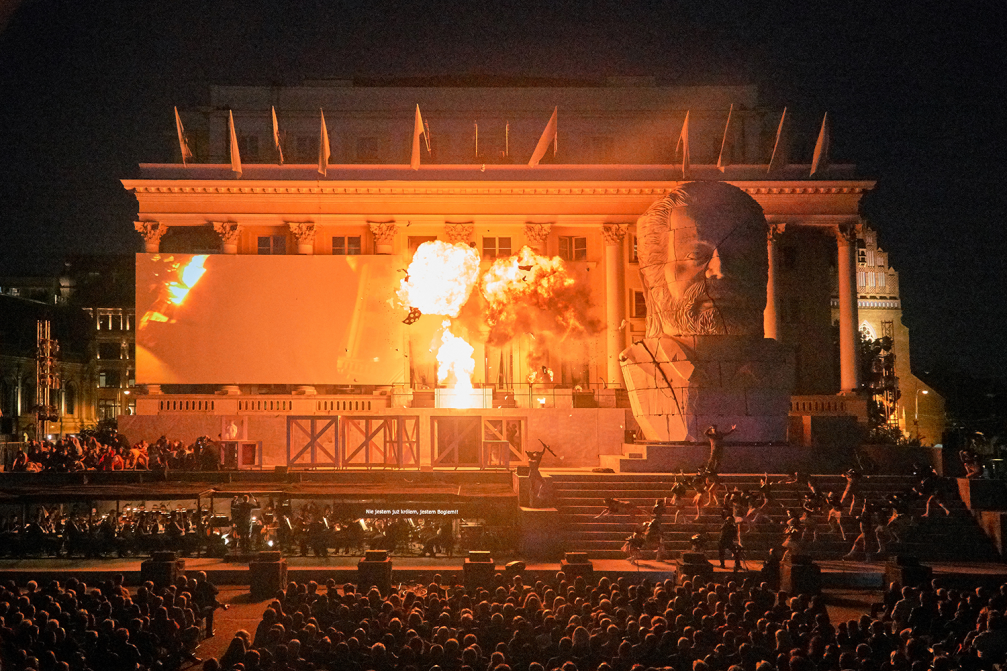 To bring the audience of 2,100 closer to the large open–air stage as well as to navigate between wide chorus scenes and intimate solo scenes, a video projection screen with live cameras was set up on stage. Pre–recorded videos illustrated the parts of the libretto not directly included in the performance. The cameras also served as a metaphor of the media actively shaping political systems and politicians, both in the present and in the past.
The artistic concept features multiple intuitive metaphors, for example, the Babylonians are portrayed as a grey mass, stripping them of individuality. The Jews, on the contrary, wear costumes in the styles and colour palette of the 1960s, becoming a group of individual figures, a nation with a distinguishable identity.
The production was created by an international team: stage director Krystian Lada, stage designer Didzis Jaunzems, costume designer Natalia Kitamikado, light designer Maarten Warmerdam, and choreographer Kenzo Kusuda.