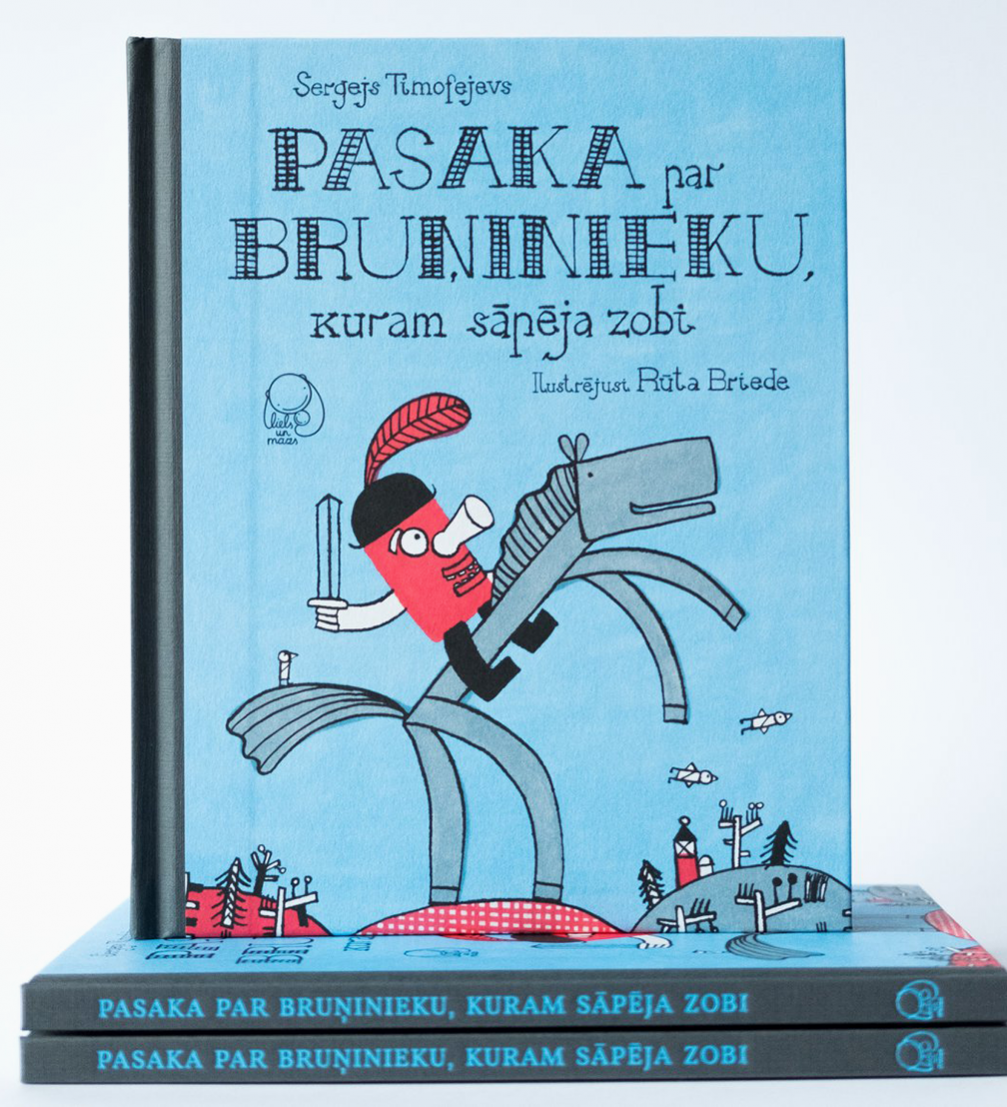 At the end of 2018, poet Sergei Timofeyev debuted in children's literature. His book «Pasaka par bruņinieku, kuram sāpēja zobi» (trans. — A Tale About a Knight Who had a Toothache) in both Latvian and Russian was released by the publishing house «Liels un mazs». The story is illustrated by artist Rūta Briede and it continues the book series «Lapsa Lasa» for young readers.
Once upon a time, there lived a knight who loved sweets. His teeth started to ache, so he decided to defeat candies with a sword. However, the fight was bound to fail, so the knight had to see a dentist.
The witty and ingenious story on the problem many children can relate to was on show at the Latvian Puppet Theatre in 2017 and was nominated for Latvia's annual theatre awards Spēlmaņu nakts among the best plays for children. Both set design of the play and illustrations for the book were created by artist Rūta Briede, using the same visual language. Rūta Briede is an illustrator, set designer, children's book author, tutor at the Art Academy of Latvia and the art editor at the «Liels un mazs» publishing house. The illustrations of «Pasaka par bruņinieku, kuram sāpēja zobi» feature references of medieval manuscripts such as the use of initials and ornamental drawings. This is the second book in the «Lapsa Lasa» series, which is designed by Artis Briedis.
Sergei Timofeyev is one of the most important and recognizable Russian-writing authors in Latvia, poet and an active member of the Orbita text group, a Riga-based creative collective of Russian poets and artists whose works are dedicated to dialogue between various creative genres (music, video, etc.) and cultures. The tale was translated into Latvian by Jolanta Pētersone.
The book can be purchased at the publishing house «Liels un mazs», Tērbatas iela 49/51–12, Riga, as well as on its homepage and in bookstores in Riga.