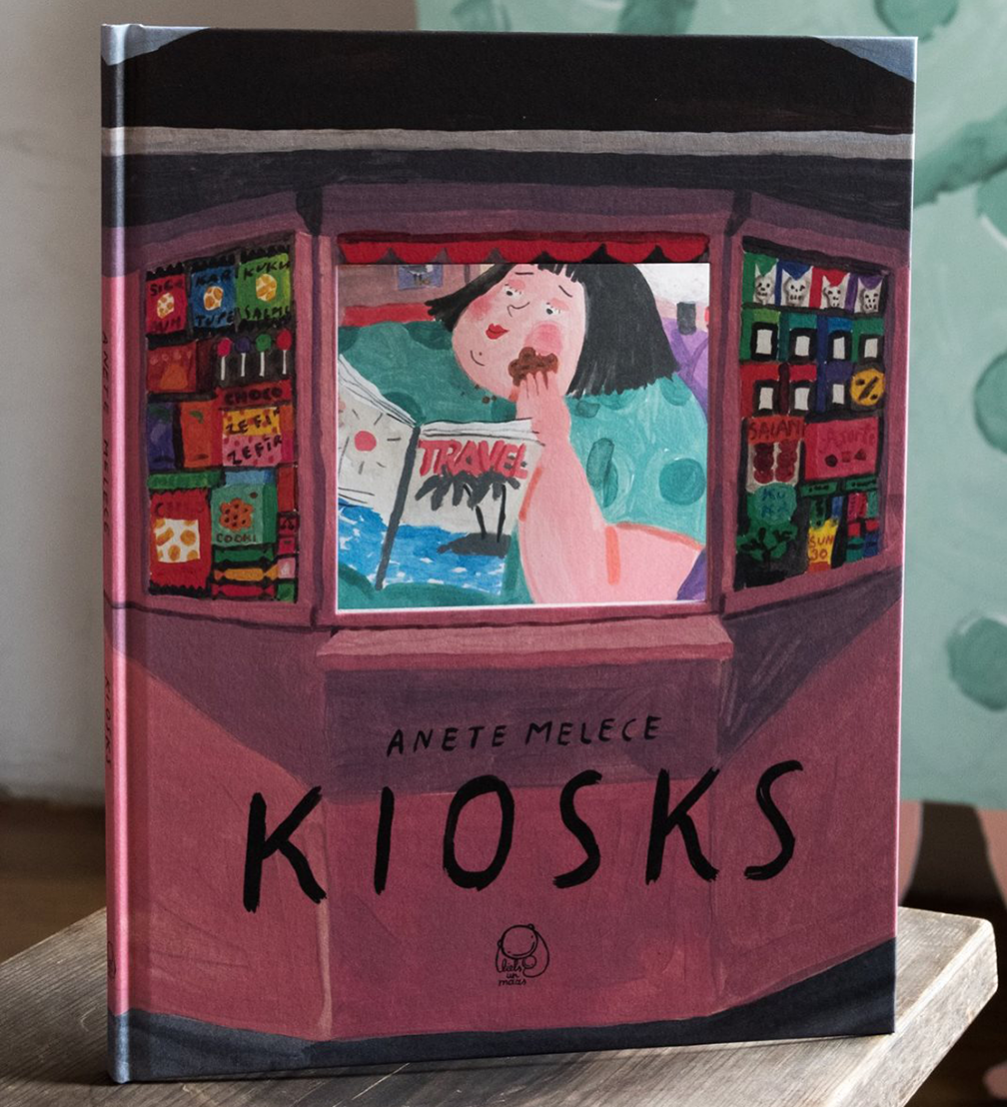 Six years ago, Anete Melece created a short animated film «The Kiosk» («Kiosks» in Latvian) that received recognition in many international festivals. Now the comic yet poignant story with Anete's illustrations and text has been published in a book by «Liels un mazs».
«The Kiosk» is a story of an obese lady named Olga who is stuck in the kiosk where she spends her days serving the customers, talking to them, reading magazines and longing to travel. Her dream is to go to the South to enjoy the sunset on the beach. One day, after a series of unexpected events, Olga with the entire kiosk falls into the city canal and the stream eventually takes her to her dream place of palm trees and sunshine.
The story that makes us think about being stuck in one's life and inability to fulfil the dreams is charming and sad at the same time. It also reveals that Olga is not just some funny overweight shopkeeper who replaces reality with pictures from magazines but also a small centre of her neighbourhood that is important for other people.
Typical to Anete Melece's work, both the film and book illustrations feature recognisable places of Riga urban environment. The kiosk itself has a real prototype — an empty press kiosk in the centre of Riga.
Previously, Anete has collaborated with the publishing house «Liels un mazs» to create illustrations for several books by Maira Dobele, Juris Kronbergs, Lauris Gundars and Inga Gaile. She has graduated from the Art Academy of Latvia Department of Visual communication and the film «The Kiosk» was her Master's degree final project at the Lucerne University of Applied Sciences and Arts where Anete studied animation.
The 7–minute long award–winning animated film after which the book is created is available here.
The book «Kiosks» can be purchased at the publishing house «Liels un mazs», Tērbatas iela 49/51–12, Riga, as well as on its homepage and in bookstores in Riga.