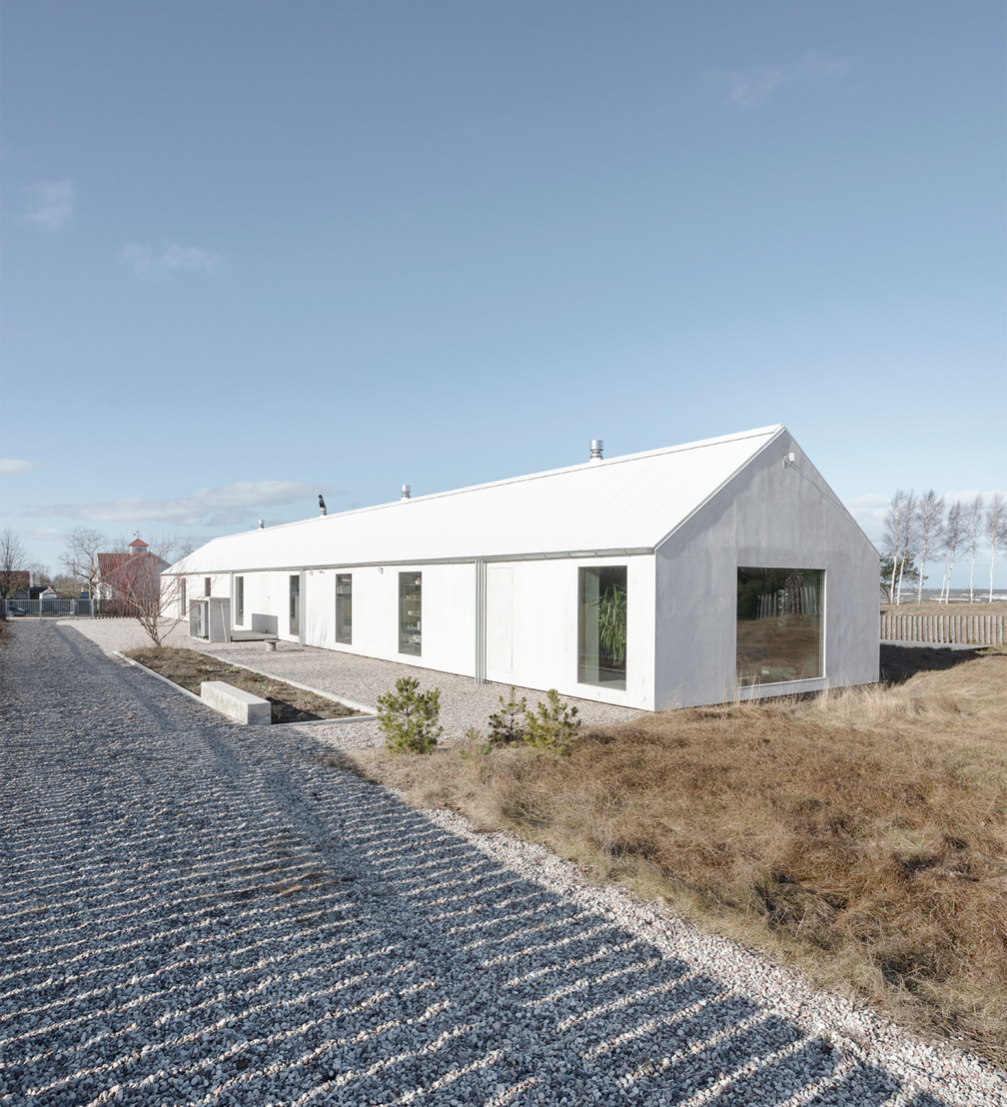 «Salt House» . Photo by Reinis Hofmanis
In a maritime meadow on the edge of the historical center of Pāvilosta, Brigita Bula's «Salt House» resembles a long, narrow, bright line. It was awarded the highest prize in the Latvian Architecture Award. The gabled roof references the traditional fishermen's houses and creates an open, intimate experience of various degrees of transparency.
The linear volume of the «Salt House», which is in a perimetral building situation, leaves a minimal footprint on the maritime meadow and maintains its unique character. «The house serves as the first dune and catches all the salt carried by the wind. Thus, the building is finished with a natural lime plastering, which mimics coarse salt in its texture and colour. The climate in Pāvilosta is temperate and windy, therefore the house is built using monolithic blocks, plastered on both sides, without extra insulation. Surfaces are left without a decorative finish to emphasize the nature of the materials. That way a beautiful and simple aging and restoration process is achieved — cracks and rust stains are in the right places, as they belong in the natural order of things,» the architect Brigita Bula explains her project.
Local, natural materials were used as much as possible when building the «Salt House», they are familiar and spare the environment. The Latvian Architecture Award jury emphasized the simplicity of the building, the successful use of materials and the harmony with the landscape. Various experimental solutions have been implemented in collaboration with local craftsmen. The architects have kept sustainability in mind in the design process — it has a combined heating system of a heat pump and wood–burning heaters, air recuperation system and anti–sun coating on the glass panes. «I did not prioritize any particular principle in my project, to the contrary, I tried to balance all of the environmental aspects. Meanwhile, the simplicity, the purity, the lack of details and the natural materials give the space a calm atmosphere,» Brigita tells.