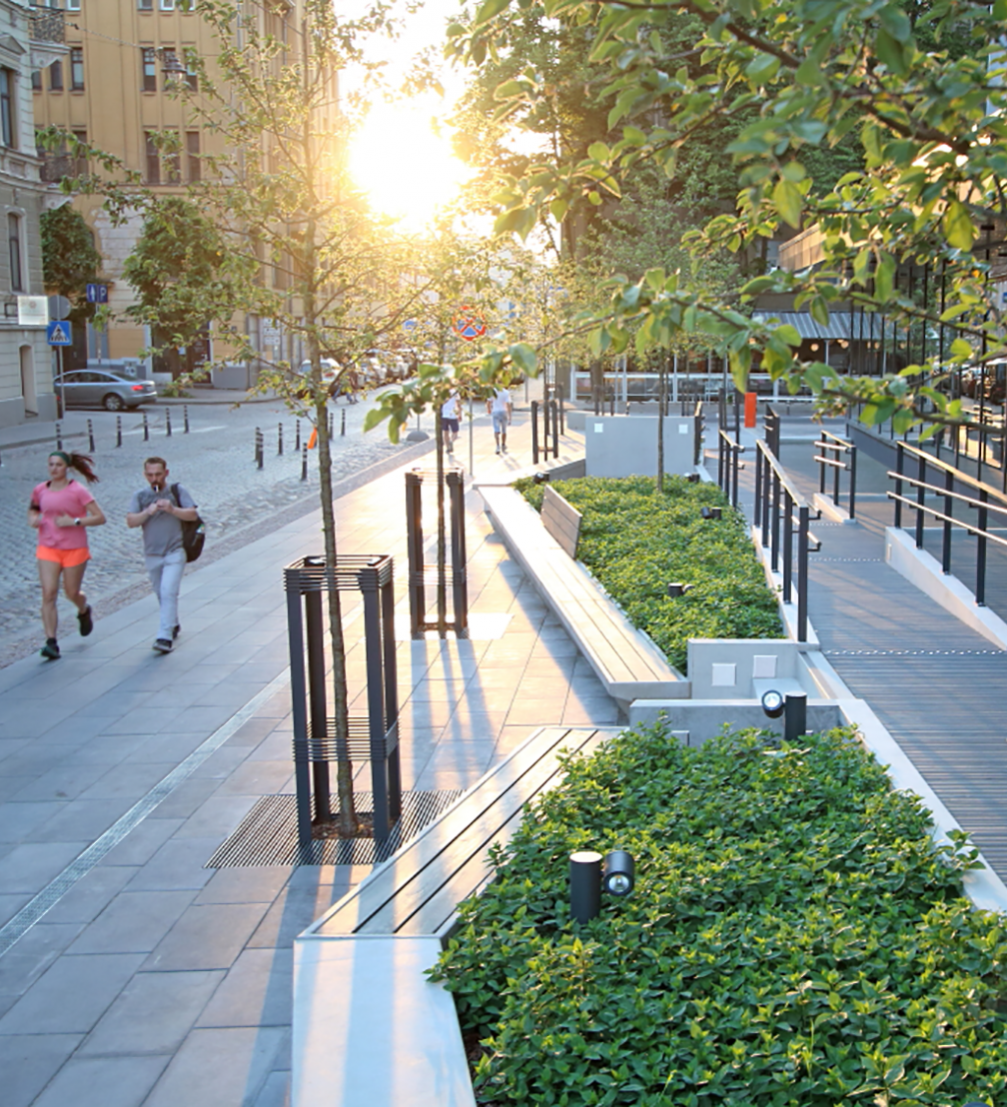 On Dzirnavu Street in the historic centre of Riga, next to the «AC Hotel by Marriott Riga» (formerly «Albert Hotel»), a new green square has been created, inviting every passer by to linger. The project is one of the winners of the Latvian Landscape Architecture Award.
The public square, designed jointly by «Zala Landscape Architecture», «Arhis Architects», and «E. Daniševska birojs» is built on a 10-metre wide site that previously contained a narrow sidewalk and a taxi parking area. As the author of the project, landscape architect Linda Zaļā, points out, pedestrianising a part of a street in Riga is a rare and positive example of urban transformation.
Alongside the facade, an elevated platform has been built, integrating the hotel's restaurant terrace, white hydrangea plantings, benches, and a miniature children's playground. The retaining wall of the platform is a reference to the details of the concrete elements of the building's historical facade, while the graphic motif of the children's playground — the gear-wheel — reminds us of the former function of the hotel building — conveyor details used to be made here. Eleven crab-apple trees are planted in the square, blooming in white flowers in spring. These are the first intentionally designed fruit tree plantings in the streets of the centre of Riga.
The short-term bus and taxi parking areas have been moved to the side of Dzirnavu Street, which is possible due to the width of this one-way street. The project also includes lane narrowing for traffic calming and new pedestrian crossings at the junction of Dzirnavu Street and Antonijas Street. Such a project, which reaches beyond standard landscaping, has been made possible thanks to a sustainable-minded developer, «Vastint Latvia», who cares about the quality of the urban environment.
Authors of the project: «Arhis Architects» (Andris Kronbergs and Mikus Druviņš), «Zala Landscape Architects» (Linda Zaļā), road engineers «E. Daniševska birojs» (Elmārs Daniševskis and Raivo Pauls).
Read about the other recipients of the first Latvian Landscape Architecture Award here.