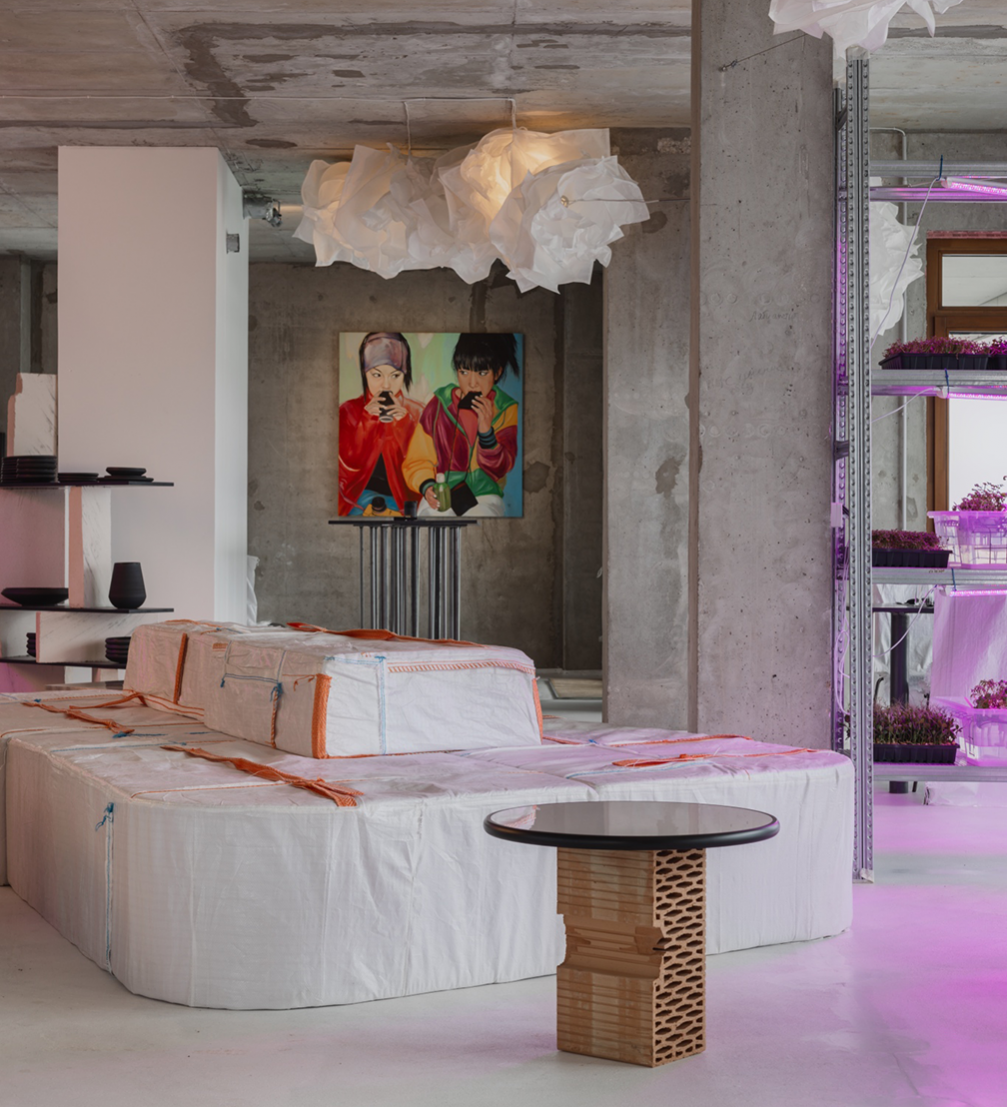 Photo by Alvis Rozenbergs
An unfinished apartment in the residential project Philosophers Residence in Riga has been turned into a pop-up restaurant Venue 54. The design solutions and selected materials have transformed the feeling of incompleteness into a unique concept that playfully interprets sustainability.
Stories Editorial February 16, 2021
Venue 54 is the second collaboration between chef Inārs Bīrmanis and design studio Open AD. Their first project, a vegetarian private dining concept restaurant Dzīvoklis 19, came to life in 2012 and now, it is to be continued. The idea behind the project is to make the clients feel as if they would visit Inārs at his home. The concept for the new restaurant formed organically: Open AD had already settled in its pop-up office at the Philosophers Residence, and realising the potential of the uninhabited building, they came to the idea to use one of the unfinished apartments for the restaurant.
It is the incompleteness that inspired the design concept of Venue 54. Given that the apartment can be bought by a long-term owner at any time, the solutions used in the restaurant are both economical and easy to adapt and transport. This, in turn, fits in perfectly with the short-lived nature of the pop-up concept. It is important that all the materials used have the opportunity to continue their life even after the restaurant is closed.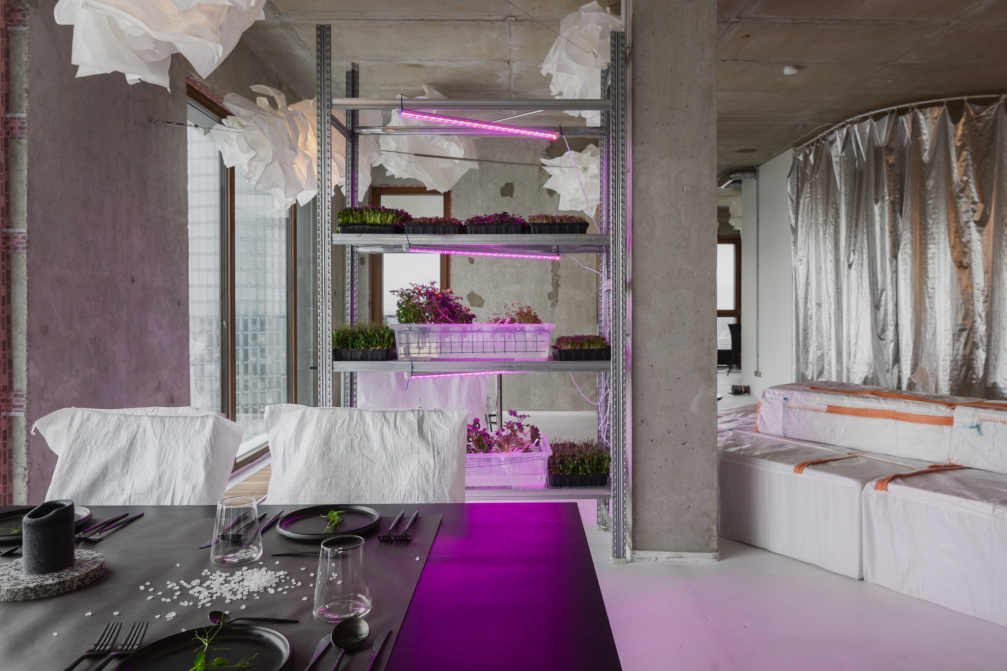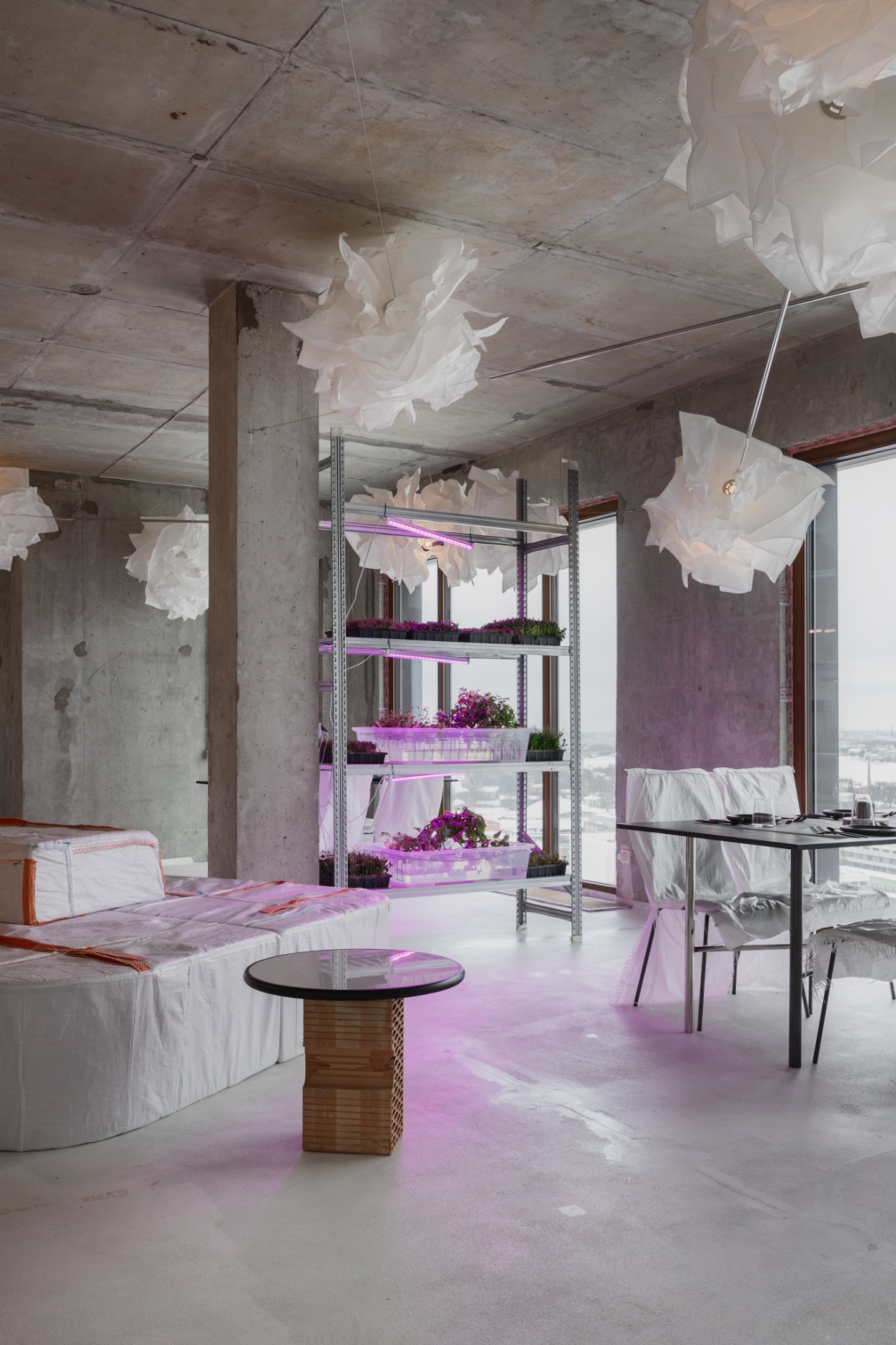 A variety of scrap and waste materials were used in the interior of the restaurant. The whole design process was reminiscent of a creative workshop where the most suitable solutions were found by modelling, combining and building on site. Much of the furniture is handmade by Inārs himself, his friends, and designer Beatrise Dzērve (Open AD), as well as artisans Aldis Bušs (Bushmando) and Agnese Landrāte (AL Design). The whole process was supervised by Zane Tetere–Šulce, who is the author of the design concept.
Looking forward to the time when the gathering restrictions will no longer apply, the interior of the restaurant is designed to be functional and adaptable. For example, the sofa created by Agnese Landrāte can be divided and moved to adapt the room for seminars. While the scaffolding is not only a dividing or decorative element, but also a vertical garden, which fulfils one of Inārs' wishes to find an opportunity to grow herbs in the restaurant. The purposeful chaos of the restaurant's interior contrasts with the laconic table setting design, which allows the food to stand out. The interior of Venue 54 proves that it is possible to create an environment that meets modern standards of sustainability and functionality without investing a lot of money.