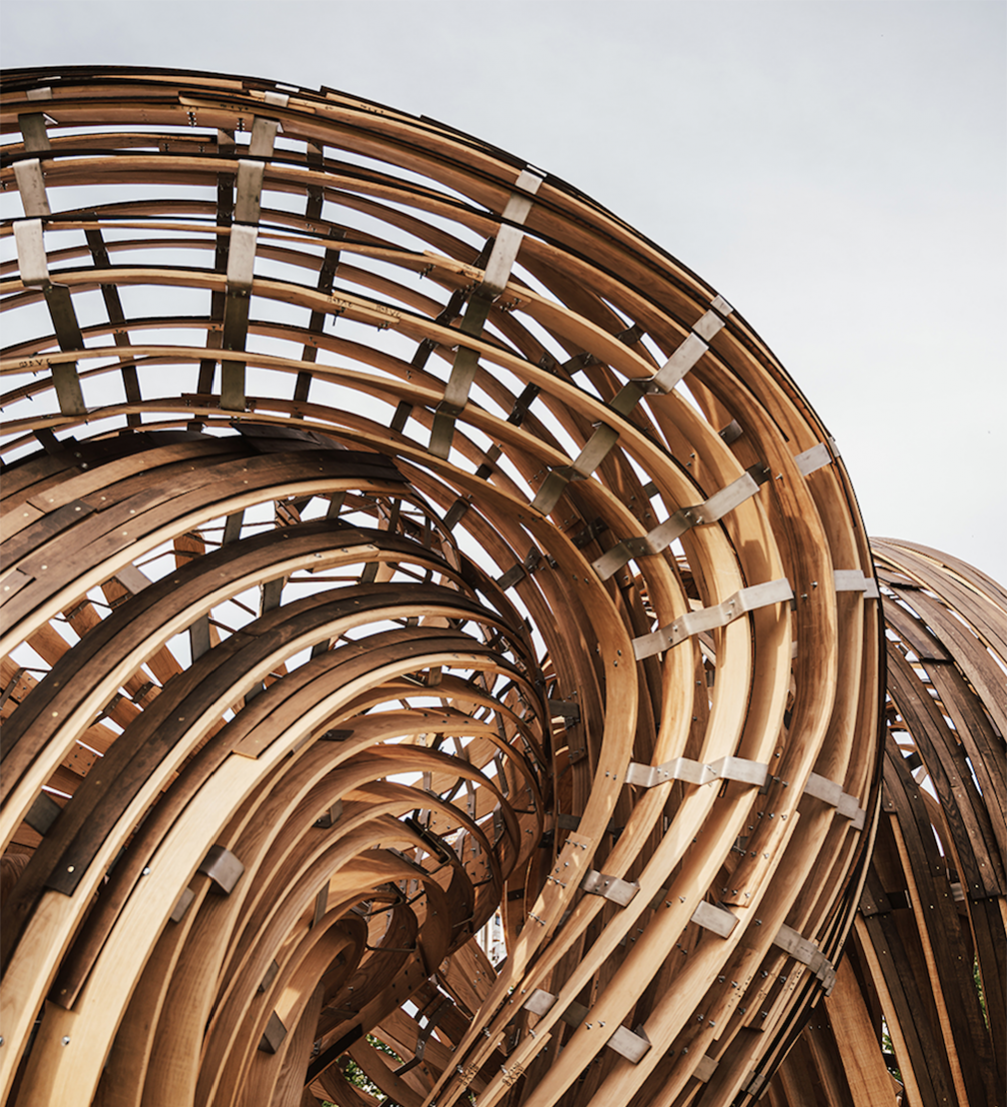 The «Steampunk» pavilion, TAB 2019. Photo by Tõnu Tunnel
The Tallinn Architecture Biennale (TAB) 2022 invites architects to participate in the Installation Programme Competition «Slowbuilding». Through the concept of slowness, the competition aligns with biennale's main theme «Edible. Or, the Architecture of Metabolism».
The open two-stage competition challenges participants to develop creative designs for a temporary outdoor installation in the heart of Tallinn. Located in front of the Museum of Estonian Architecture, housed in one of Tallinn's most outstanding examples of industrial architecture, the site consists of a lively pedestrian green area along one of the busiest streets, connecting the two sides of the city: the harbour and the centre.
The installation competition is interested in how the Slow Food movement can serve as an effective departure point for reimagining how and what we build. The Slow Food movement emerged as a response to industrialised fast food production that recognised the need to preserve traditional and regional styles, enable local food production, limit loss of material diversity, fuel local economies and focus on human nourishment rather than crop yield. As architectural design services and the construction of buildings are increasingly automated, capitalised, globalised, and standardised, the goals of the Slow Food movement are as applicable to the production of space and shelter as they are to food.
The Installation Programme Competition curatorial team explains: «As a counterpoint to the prevailing trends towards high-speed industrialised construction, the competition invites to explore the relationship between digital technology and slowness. Slowness is a useful framework for developing not only alternative means of food production but also design and construction in a world of finite physical resources and exponentially increasing computational capacity.»
The 2022 TAB installation calls for proposals that take a long, romantic, and human centric view towards construction technology, demonstrating designs and processes that extend and expand learning and mastery, traditional craftsmanship and analogue fabrication, repurposing and reuse of local materials, human invention and improvisation, environmental adaptation and responsiveness, wonderment, and delight.
The competition is directed towards emerging architectural talent and is open to all graduated architects or teams composed of at least one architect. The competition is not open to students. The participants don't have to be licensed. The first stage submission deadline is April 22nd, 2021 and the second stage submissions are due by September 10th, 2021. The 1st prize winner will will receive 15 000 euro budget for construction.
More information and competition materials are available on the website of the Tallinn Architecture Biennale.