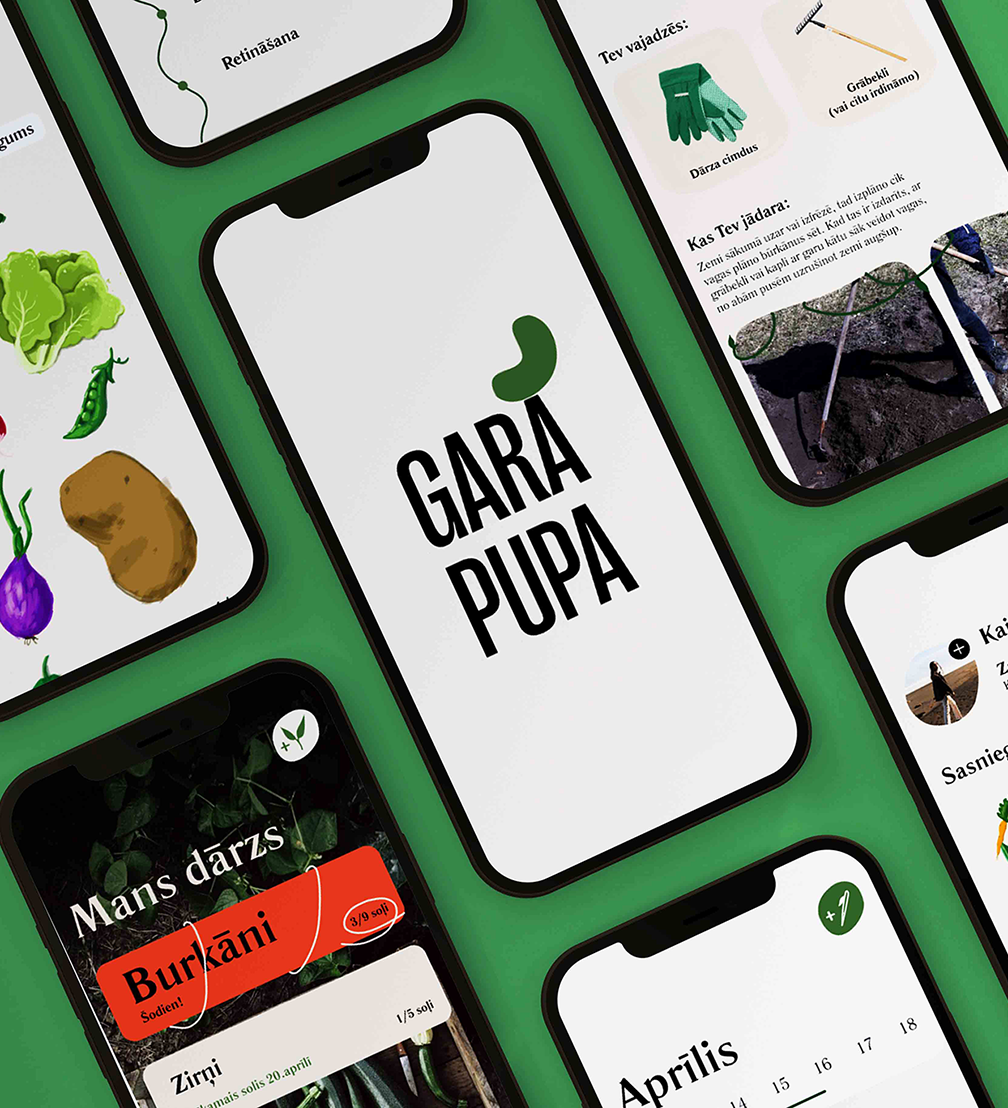 For her bachelor's degree project in the Graphic and Packaging Design specialisation of the Functional Design Department of the Art Academy of Latvia (AAL), Elza Garokalna has developed Beanstalk, an app for beginner gardeners that provides information on building a garden and growing plants, as well as reminds the user about upcoming work.
The Beanstalk app is a digital alternative to printed garden calendars. «I spent my childhood helping my mother and grandmother in the allotment garden in the city, and just a couple of years ago I started researching how my mother observes events in the garden. She still has her own gardening notes or a garden diary, where she writes down what she does in the garden, where she sows, plants, what the weather is like and how things develop so that she can record what and how has grown from year to year,» says Elza about the source of inspiration for her diploma thesis.
With the growing number of young gardeners working in community gardens in Riga, Sigulda and Liepāja, as well as in their own allotment gardens, it seemed logical for the designer to combine a garden calendar and diary with educational materials to help them understand where to start and how to grow specific plants. The app also reminds about upcoming events, work to be done and experiences of previous years.
To start using the app, one must first choose the plants they want in their garden, and the app will indicate the time appropriate to sow or plant them and how best to do it. The app is intended to provide information on a variety of vegetables, fruits and flowers, and beginner gardeners can select plants based on the complexity and duration of their cultivation. After each step, the application shows the next job and the time when it would be recommended to do it. The completed steps appear in the notes section, where one can also add their own notes and reminders.
The supervisor of Elza Garokalna's bachelor's degree project is designer Matīss Zvaigzne. The content and capabilities of Beanstalk are demonstrated by its prototype, developed for Android devices.