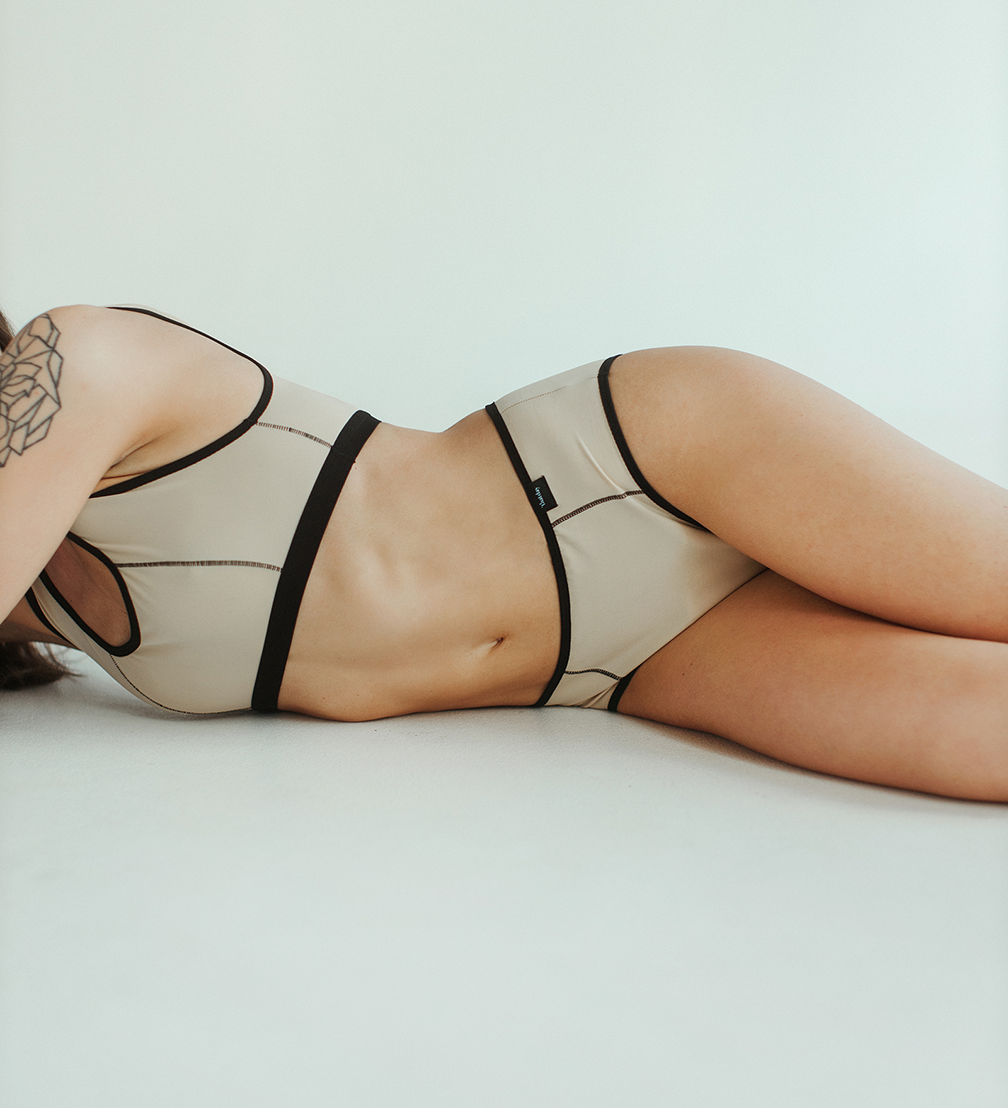 The brand Thatday has developed eco- and body-friendly period panties — an innovative and sustainable solution that can replace disposable hygiene products. The founder of the company is convinced that with her product and brand, she can not only protect nature and make the «time of the month» more comfortable, but also encourage an open conversation about menstruation and body diversity.
The founder of Thatday, lawyer Kintija Bērzkalne, says that the idea of creating their own period underwear brand has been with her for several years until she managed to implement it. Underwear is produced in Latvia, in Liepāja, where Thatday team works carefully on product quality and further development. Although the brand is quite new, Thatday has already gained success, winning second prize in the product design category of the National Design Award of Latvia last year.
Thatday panties are sewn with three special liquid–absorbing layers that perform their function without causing discomfort and irritation, and are able to absorb as much liquid as 3 to 4 tampons. All fabrics used are designed for safe skin contact and are Oeko–tex certified. The design of the panties has mainly focused on the functional aspects that would allow them to protect the wearer from leaks and unwanted stains on clothing. Despite the functional limitations, Thatday's product range allows you to choose the most suitable look — silhouette, waist height, and favourite colour — as well as create a complete set of lingerie by choosing a bra.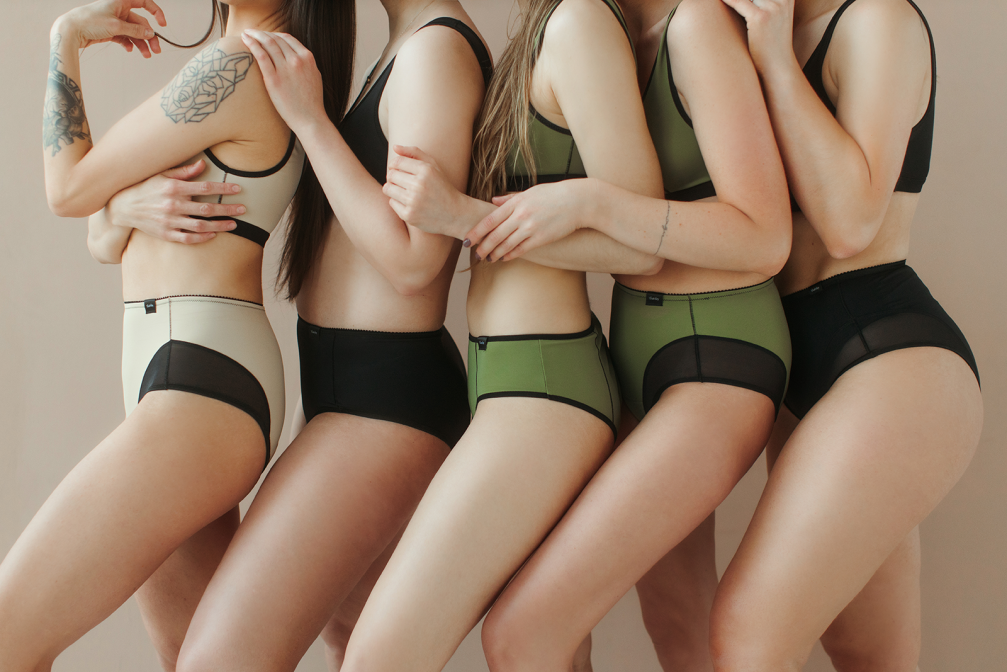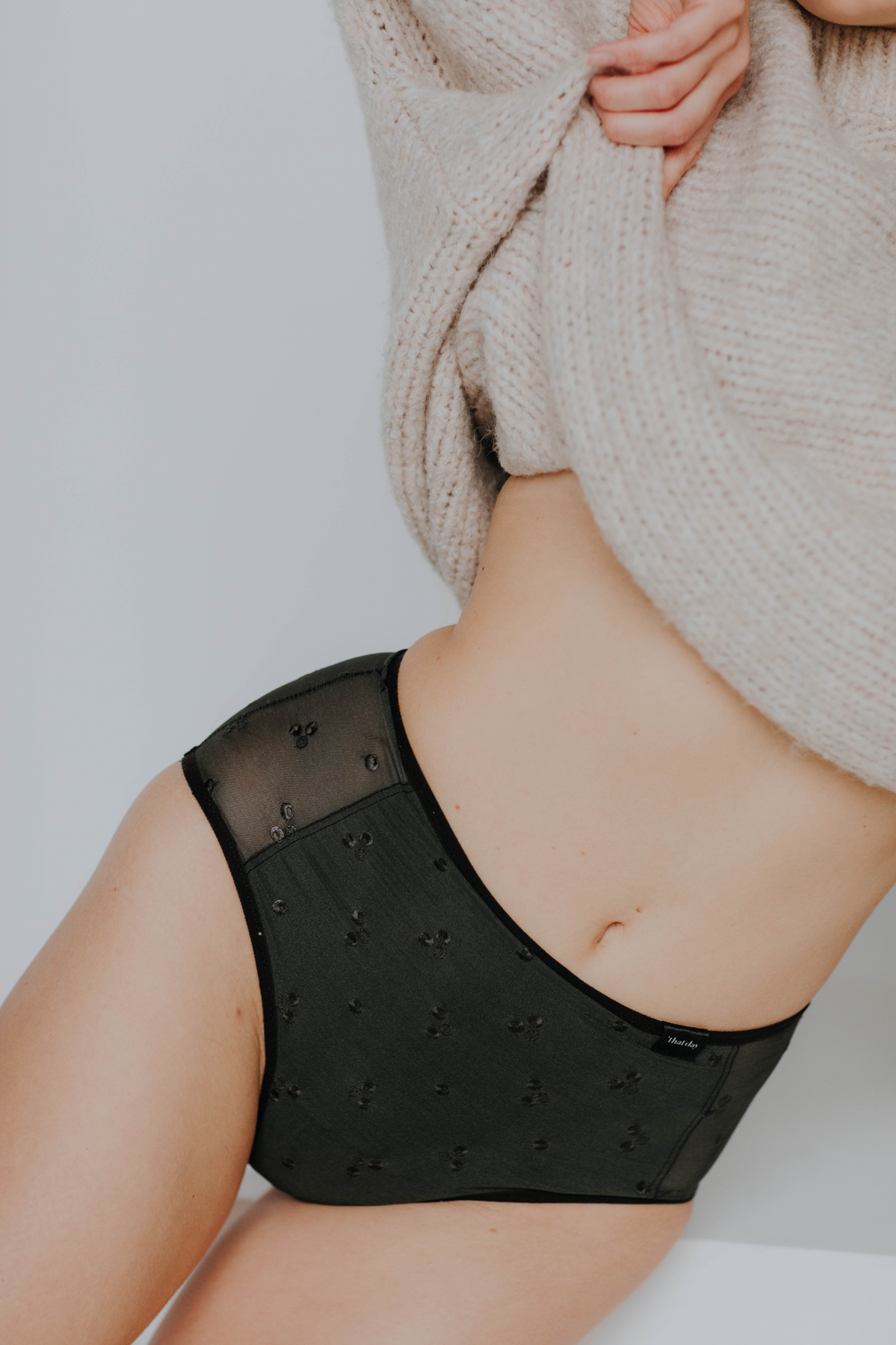 With her brand and products, Kintija wishes not only to make periods more comfortable, but also to encourage an open discussion about the diversity and natural functions of bodies. «While talking with my friends, I realised that early memories of menstruation unfortunately most often alternated with feelings of shame and discomfort — a tampon that fell out of a bag, a jacket wrapped around hips to hide an unexpected leak, skipped PE, and other situations that made me ask, why is this happening to me?» Kintija shares her experience. The founder of the brand is convinced that menstruation has been perceived as a taboo subject for too long, making open communication about periods difficult. It is especially important to be able to talk about it in adolescence, thus dispelling anxiety and ignorance, as well as eliminating health problems that might occur by neglecting the peculiarities of one's menstrual cycle.
The sustainability aspect of period underwear is no less important. Statistics show that we consume around 11,000 hygiene products in our lifetime, which take at least 500 years to decompose in nature. Apart from the harmful substances used in the production of disposable hygiene products, these products end up in landfills, where they break down into microplastics and further contaminate water bodies, beaches and the water supply system. «With the growing consequences of the climate crisis, the idea of period underwear seemed like an opportunity to make a contribution, no matter how small, to solving several pressing problems,» notes Kintija.
The company's values are also reflected in the visual identity of Thatday, which was created by designer Līga Rīga. The soft colour palette in the brand's visual language is combined with graphic elements that create associations with both period and the menstrual cycle, as well as with the variety of body shapes and the technological aspects of the product.
More information about Thatday — on the brand's website.