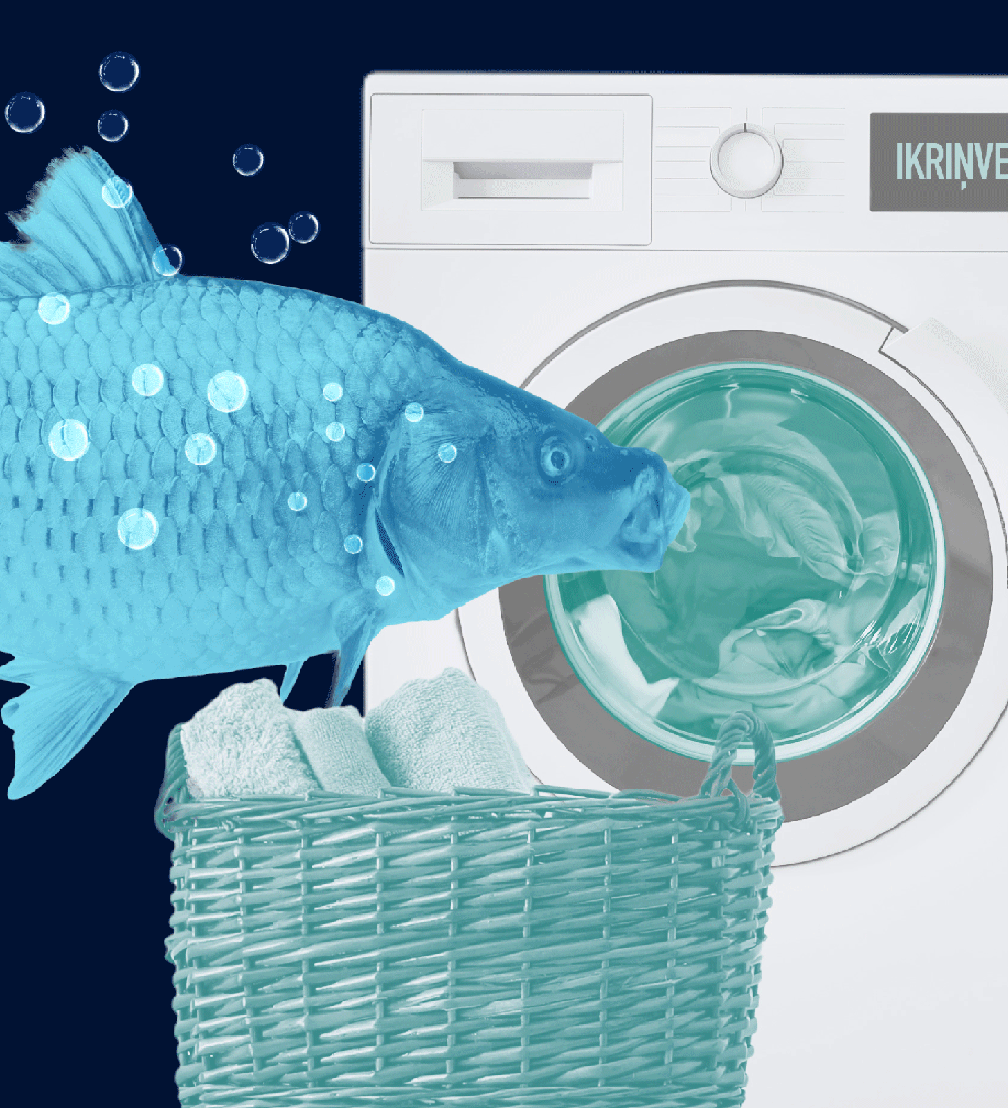 The Clean House, Clean Sea (Tīra māja, tīra jūra) campaign, created by the brand strategy and design studio Reflect, is designed to promote the European Union Ecolabel as well as to inform consumers about the meaning of this label, encouraging to choose more environmentally friendly cleaning products. The main heroes of the campaign are fish, who, just like humans, do various chores around their home.
Reflect points out that a study on consumer habits when choosing household cleaners conducted by the Ecodesign Competence Centre (Ekodizaina kompetences centrs) at the end of 2020 showed that the most important aspect for respondents when choosing cleaning products is their efficiency. Although the use of ecological products is perceived positively, people are afraid that they will be inefficient in cleaning. It was also revealed that a lot of Latvians do not recognise the EU Ecolabel, thus reducing the interest of companies to certify their products.
The Clean House, Clean Sea campaign aims to say that eco-friendly products are just as effective as others, but do less harm to nature, and the Ecolabel is a reliable way to make sure a product is more environmentally friendly. Helena Zakare, Reflect's project manager, reveals that it was important for the client to avoid sexism, which is often typical of detergent advertisements, in which «women by the sink» are the main protagonists, so the studio offered to use aquatic creatures. The campaign depicts the fish of the Baltic Sea, which carry out cleaning work at their home in the depths of the water, choosing products with Ecolabel, thus polluting the sea less and inviting people to take better care of nature.
The first phase of the campaign was the placement of posters at public transport stops last year. The visual language of the campaign, designed as a collage, bright and noticable, reminds of spring. Later, a video was also created in collaboration with the studio VFS Films. «Director Žaklīne Zābere-Gāga and producer Agne Skane, seeing the concept with fish, immediately saw that it could be developed into animation. In the process of co-creation, we came up with ideas on how to bring fish to life or make them more human-like,» says Helēna.
More information about the campaign Clean House, Clean Sea — on the Reflect website.