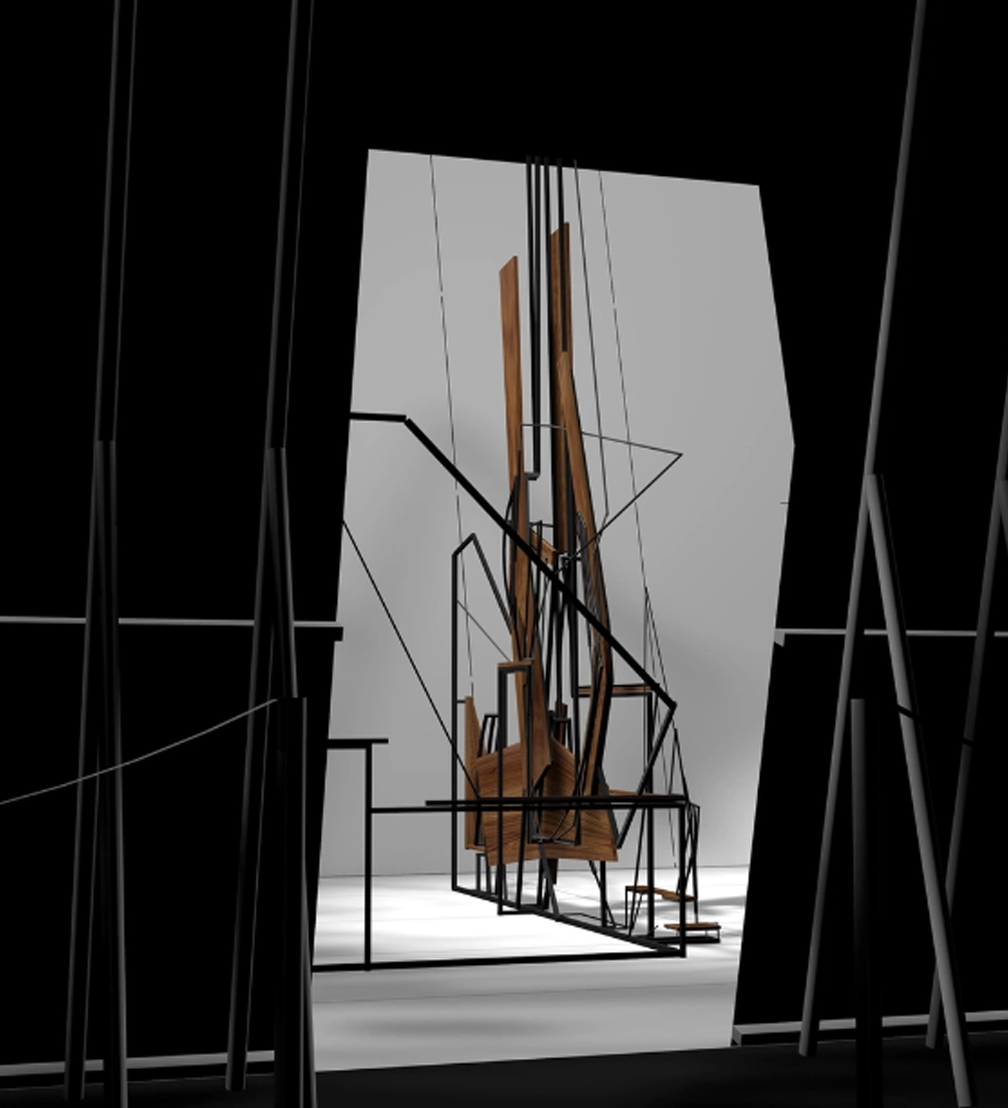 Sketch for Vagabond \ A Place Hard to Place / by Indriķis Ģelzis
Vagabond \ A Place Hard to Place / was originally created as an online exhibit. This summer, from August 3 to 31, the project will be shown as a video projection and accompanying exhibition at New York's gallery Jenny's, noting the link to the project's conceptual framework — the creative endeavors of the American architect John Hejduk.
Vagabond \ A Place Hard to Place / is a speculative online exhibition featuring artists Indriķis Ģelzis, Elza Sīle, Joe Namy, as well as co-curators Zane Onckule, Jo-ey Tang and architect Juris Strangots. Using poetic and utopian techniques, the project creates mixed media landscapes that respond to today's social, political and psychological realities. Initially conceived as a proposal for a physical exhibition — the Latvian Pavilion at the 59th Venice Biennale in 2022 —, the project has changed, evolved, and made its way from a digital environment to a physical gallery.
Drawings from The Riga Project and the Vladivostok trilogy by the late American architect, artist, poet and educator John Hejduk provide the conceptual framework where sculpture, architecture, and sound cohabit. Ģelzis' and Sīle's individual and overlapping sculptural forms and Hejduk's drawings are re-imagined and transformed for a digital environment by the architect Juris Strangots. The project refers to Hejduk's thesis that, in the midst of an existential crisis, time tends to «collapse into space», and uses the spatial nature of digital media to seek new forms of empathy and address individual and collective alienation.
The exhibition is complemented by a reissue of the book John Hejduk: Project Riga, which we wrote about earlier. Compiled as a set of three books, this publication contains an original edition in English, a translation into Latvian, and Act Two: The Riga Project — a section that announces the preparation for the «staging» of Riga Project in Riga and elsewhere in Latvia.
The project will be showcased in the gallery Jenny's as part of an exchange that brought the exhibition Nothing To Write Home About, organised by Jenny's to Kim? Contemporary Art Center. The exhibition will be open from August 3 to 31.
The project is supported by support programme Kultūrelpa, the State Culture Capital Foundation, the Ministry of Culture of Latvia and Riga City Council, as well as by project partners — the foundation Arhiteksti and the RISEBA University Faculty of Architecture and Design.