Design by Nauris Jostsons (Nord ID Riga), photo by Ivs Zenne
Marking 60 years since the Art Academy of Latvia (AAL) has established design education, a publication LMA Dizainam 60 (60 Years of Design at the AAL) has been created. To structure the story of the development process of design education in Latvia, its history has been divided in decades. Six different authors reveal this history by looking at one of the decades each, highlighting both the most important developments in the design education process, as well as historical and political developments that accompanied it.
For the 60-year anniversary of design education at the Art Academy of Latvia, the Design Department not only looked at the heritage, knowledge and craftsmanship of the department, but also focused on the processual nature of design, which is a continuous way of working and thinking. To represent the department's multilayered nature, the celebration was marked by an event programme nearly a month long, an exhibition–happening Design Kitchen and a lasting tribute — a publication. It was put together by six authors — Art Academy professors Inese Sirica, Agita Gritāne, and Liene Jēkabsone, artist Valda Podkalne, director of Riga Porcelain Museum Iliana Veinberga, and the head of the Latvian Museum of Architecture Ilze Martinsone, giving each decade a personal interpretation of history. Maija Rozenfelde, author of the concept of the publication and head of Design Department, introduces the book as follows: «There is no single, objective truth in history; it is made up of a subjective outlook that is dependent on the individual position of every observer. We have tried building a body by way of a kaleidoscopic method. Different visions allow for a broader and all-encompassing view of the developments in design education at the Academy.»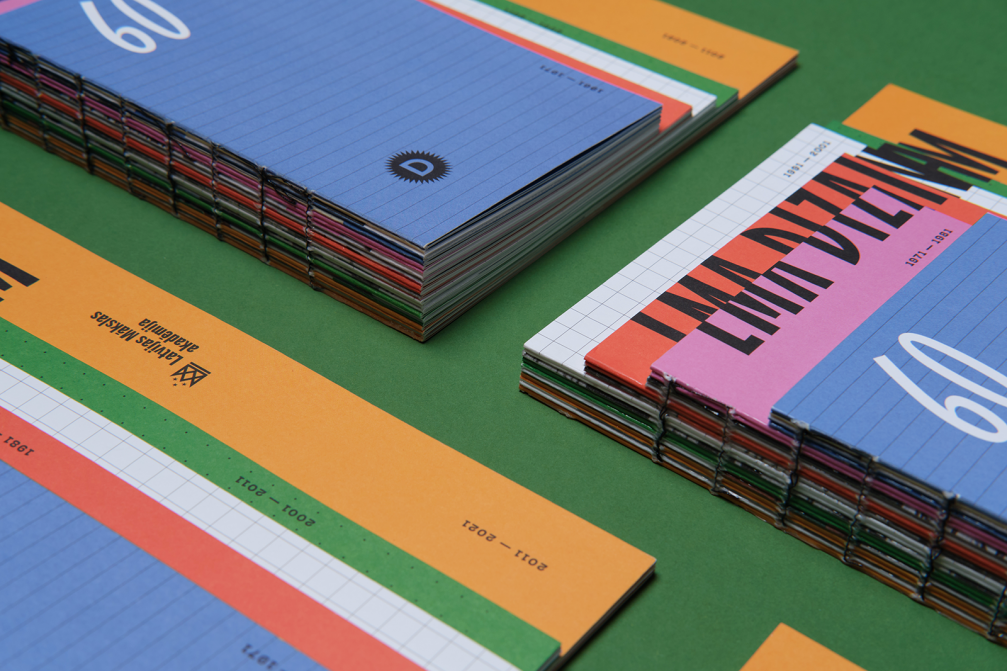 The design of the publication is also a reference to the process. Each decade is represented by notebooks of differing sizes — one bigger than the other, symbolising growth and continuous advancement. Nauris Jostsons, graphic designer at the design studio Nord ID Riga and the designer of the book, comments: «The inspiration for both the visual identity for Design kitchen, as well as the shape and graphical solution of the book comes from the starting phase of any creative process — sketchbooks, notes, collages. Over the course of every designer's work, these things form an archive, which always accompanies the creative process for the length of life. They are valuable not only from the standpoint of an archive, but can serve as a powerful source of inspiration in themselves.» Through collages, materials from photo archives, and design projects created at the Art Academy of Latvia, the publication LMA Dizainam 60 paints a bright, varied, and ever-changing picture of the cradle of design education in Latvia.
Project coordinator — Laura Adamoviča.  The book was printed and bounded by McĀbols. The publication was made with the support of State Culture Capital Foundation.