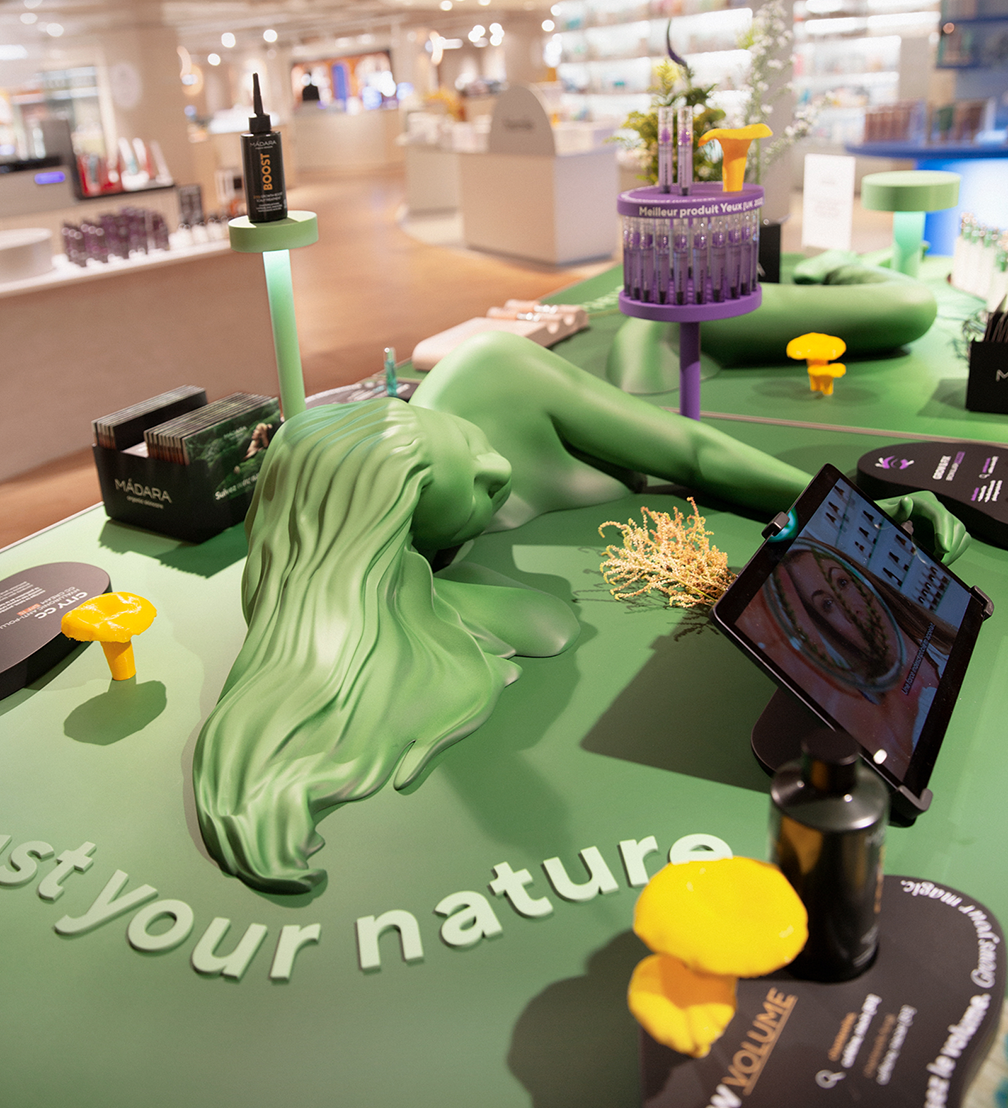 Photo — courtesy of Madara Cosmetics
Madara Cosmetics has opened a pop-up stand in the legendary Paris shopping centre Galeries Lafayette Paris Haussmann. The attention-grabbing stand reveals company's philosophy to store visitors through art and design objects.
Stories Editorial September 27, 2022
This year, Galeries Lafayette Paris Haussmann has opened a new beauty and wellness floor La Wellness Galerie, and the Latvian brand Madara Cosmetics has also been invited to present its products there, becoming the only cosmetics manufacturer from the Baltics represented in the exclusive store.
The Madara Cosmetics stand is conceived as an art gallery, where along with the products, ideas important to the brand are presented. The central element of the stand is a 3D-printed sculpture of the founder of Madara Cosmetics, Lotte Tisenkopfa-Iltnere. The sculpture serves as a symbol of openness and self-acceptance, which are among the core values of the brand. The story is also continued by a short film in which Lotte addresses the visitors to the pop-up gallery. At the stand, the customers of the store are also introduced to the northern nature and the cosmetic ingredients found in it. For example, chanterelles, which are the main component of several products, serve as a bright addition to the exhibit.
Madara Cosmetics emphasises that the pop-up stand is also an invitation to treat natural resources responsibly. «We managed to minimise the volume of POS (point of sale) materials, which are usually thrown away after one use. Instead, we used real art and design objects at the Madara retail space,» says Agnese Kleina, the author of the concept. The products of the Acne line are exhibited in a jewellery container designed by the Danish design studio Niko June, while the hair care products are presented together with the work of the Japanese wig artist Tomihiro Kono. The stand was designed by the creative team of Madara Cosmetics.