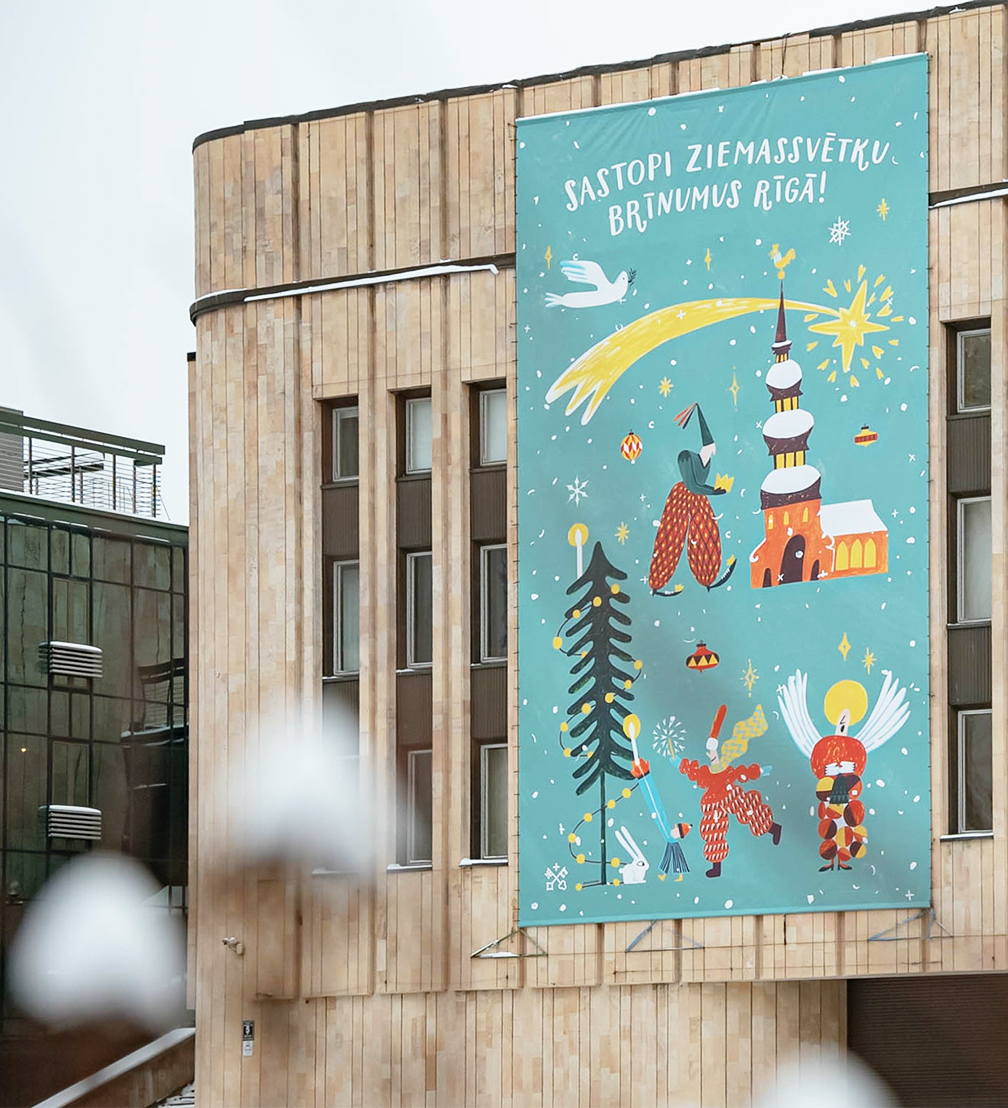 Photo — courtesy of Riga City Council
With the first snow, the holiday decorating of Riga has started. This year, illustrations created by artist Anna Vaivare invite both grown-ups and children to indulge in Christmas wonders just like in childhood. The cheerful posters are complemented by festive objects and lighting design.
Stories Editorial December 15, 2022
The drawings of people of Riga by Anna Vaivare invite us to capture the festive feeling in the daily rush. «In the illustrations, I tried to depict the joyous bustle that reigns before Christmas. Since the theme of this year's celebration is «Christmas as in childhood», I tried to remember and feel what it is that characterises Christmas in childhood. Reading poems has always been an integral part of the holidays for me and I also draw inspiration from them when drawing illustrations. I wanted something joyful to appear in the city in the dark of winter, so that everyone could find something close to them,» says Anna.
Variety is present both in the combinations of posters in the urban environment and in the characters depicted on them. The illustrations feature many different characters — Christmas tree decorators, children in masks, a choir of angels, an impromptu Three Wise Men going to church, as well as a doe of peace, whose presence is especially important this year. Inspired by Anna's drawings, some of Riga's poster poles, on which the festive posters are mounted, are dressed in patterned hats. «We invite everyone to plan a walk through the wintery Riga and look at the various characters in Anna's drawings. There are so many sweet and exciting nuances in them,» encourages Dārta Apsīte, head of the Digital Communication Department and curator of creative concepts of Riga City Council. The urban environment is also decorated with illuminated keys which are part of Riga's renewed visual identity, as well as various lighting objects.
You can download wallpapers with Anna Vaivare's Christmas illustrations on the Riga holiday website, and a specially designed Christmas filter, which allows you to try on some of the festive hats seen in the city, is available on Riga's Instagram account.