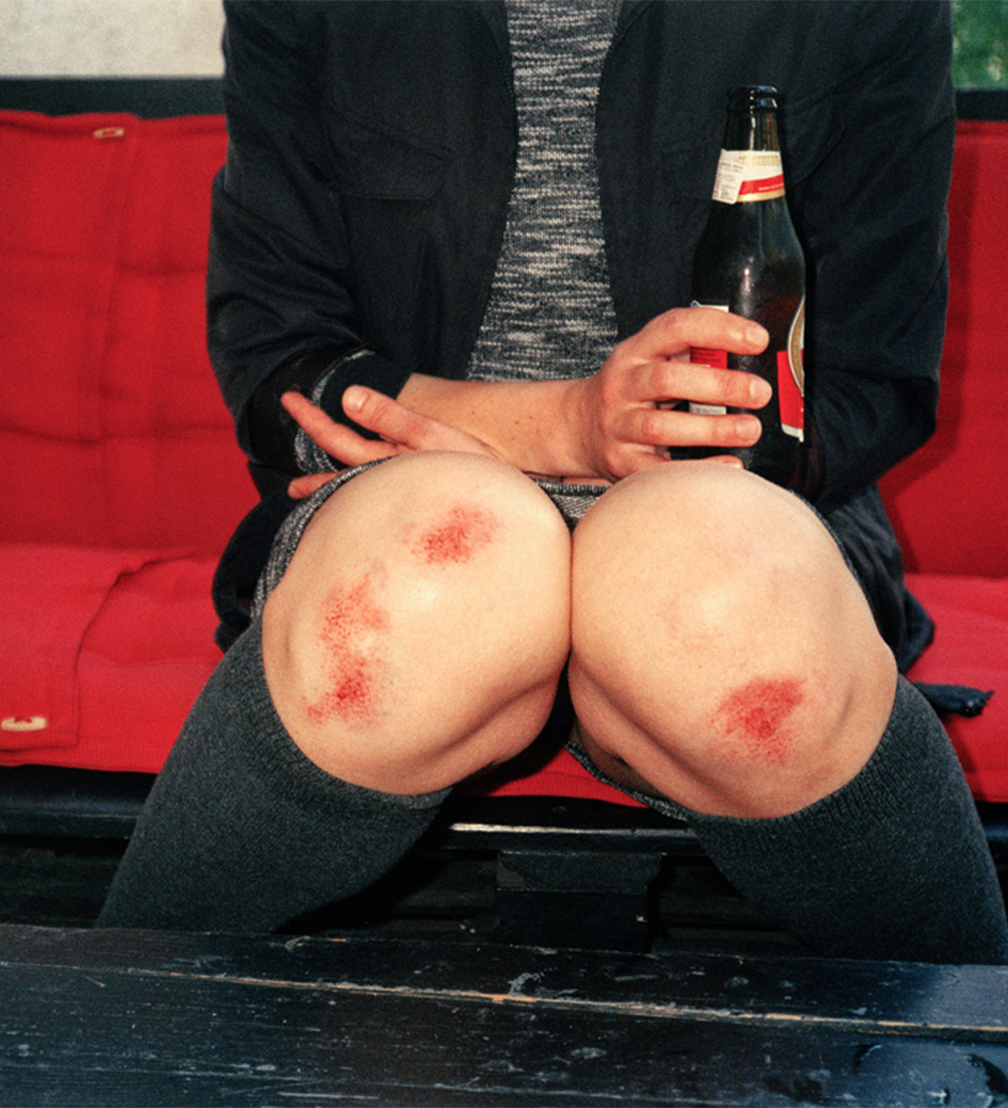 Public Secrets #31» by Visvaldas Morkevicius
On June 3, the annual international conference of the Riga Photography Biennial (RPB) is going to be held in Riga at the ISSP Gallery. In 2023, from April 27 to July 23, RPB is running its Next programme focusing on young and promising artists from the Baltics, Nordic countries, and Europe who are still in the early stages of their careers. The conference Awkward Topics: Troubleshooting will illuminate how the generation of today's young photographers deal with burnout, depression, addictions, anxiety, guilt, toxic relations, and emotional breakdowns.
The conference, curated by the art critic, historian, and curator Adam Mazur (Poland) is to expand the RPB Next 2023 topic of the «awkward» themes in photography. «A generation of photographers born in late 1980s and 1990s is not so much concerned with the state of humanity, but is striving to cope with their own life. You can see it in their work, you can feel it. But what do they have to say? How do they deal with this precarious condition? Is photography a therapy or an addiction?» the curator asks.
The conference will include a variety of young but already well-established photographers from the Central Europe and the Baltic countries: Ukraine, Lithuania, Poland, Slovakia, Denmark, and Latvia. The interdisciplinary artist Sasha Kurmaz (Ukraine) works with photography, video, public intervention, and performative situations. Ukrainian photographer Sergey Melnitchenko is the founder of school of conceptual and art photography, and since 2009, his works have been displayed in more than 150 solo and group exhibitions. Both of the Ukrainian participants are to expand the topic of war trauma from different perspectives.
Lithuanian photographer Visvaldas Morkevicius is working between photography, installation and audiovisual mediums, and has found photography to be one of the most accurate mediums for reproducing reality. His topic for the conference reflects on experiences with the emotional collapse and drug abuse. Slovak artist Zuzana Pustaiova has switched to photography after trying out painting, and is now exploring role-playing in contemporary society as a principal element forming the relationships between diverse social groups. During the conference, she will reflect on body image and sexual identity.
The conference-goers will also have a chance to hear the Polish visual artist, activist, and member of the artistic duo Kwas, Agnieszka Sejud. She researches various aspects of human identity, the idea of freedom, and systems of oppression. The Danish artist Inuuteq Storch who has just been nominated for to represent Denmark at the Venice Biennale 2024, explores his Greenlander identity. Meanwhile the Polish artist Karolina Wojtas draws inspiration for her art from childhood fantasies and memories. So is the Latvian artist Diāna Tamane who is basing her works in personal stories, collecting and assembling her and her relatives' daily experiences, impressions, habits, and memories.
«While thinking about the artists whom I invited to partake in this conference, I read Antoni Kepinski. In fact, the working title of the conference was one of the fundamental concepts in his book Anxiety — the crystallisation of feelings. This concept was associated with the process of developing photographs and the materialisation of emotional states. Later, I found an even better-sounding English term coined by Kepinski — free-floating anxiety. When it comes to anxiety, fear, and related depressive states, contemporary photography undoubtedly excels. But it does not end there,» says Adam Mazur. «Sex and drugs used to be fun for party-hards but are no more. There are no easy solutions and one of few things left is photography. Let's talk about it,» he invites.
The international conference Awkward Topics: Troubleshooting of the Riga Photography Biennial programme Next 2023 will take place on June 3 from 11.00 to 18.00 in the ISSP Gallery. The event will be held in English and attendance is free. More information about the conference and other RPB Next 2023 events can be found on the RPB website.