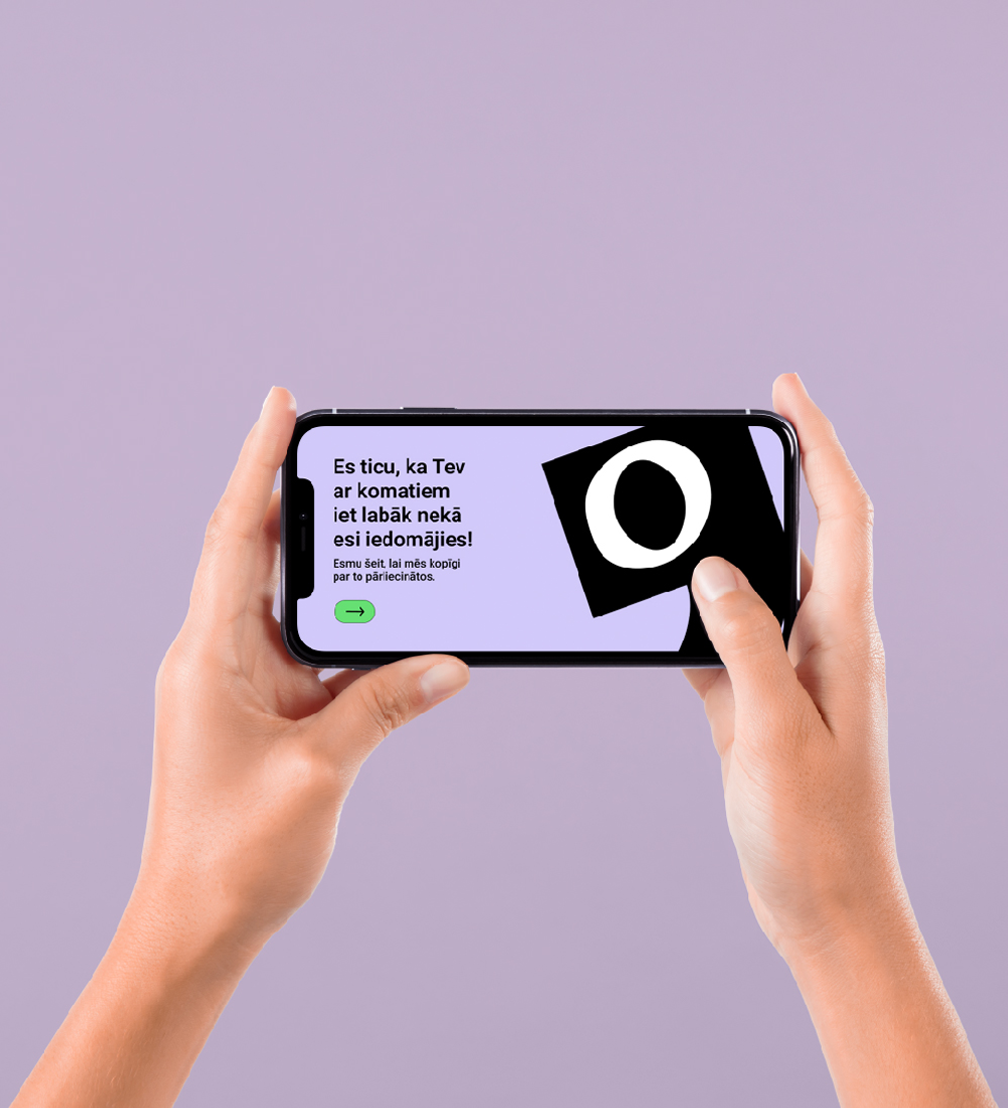 Design and image by Laura Elīna Egle
Finishing her Bachelor's studies at the Art Academy of Latvia's Graphic design programme, Laura Elīna Egle has created a prototype for a digital tool for testing punctuation skills in Latvian. The mobile app Komati (Commas) is accompanied by promotional postcards and posters, modelling how the intended audience might be targeted and engaged.
Laura Elīna Egle came up with the idea for her diploma project during her summer internship here at FOLD as an editor's assistant. «I knew full well when writing reviews and building my own texts that I will not be able to use commas correctly. Almost physically, I felt the comma scrutinising me in every sentence, watching where I'd put it and what function I'd assign to it,» reveals the author.
The digital tool Komati is designed specifically for adult audiences, enabling them to reacquaint themselves with the structure of sentences and the principles governing them in a transparent and convenient way. After high school, most adults stop cultivating and improving their language and punctuation skills, often ending up with a lack of confidence in comma usage in their texts. The available resources — Latvian grammar manuals and the voluminous book Latviešu Interpunkcija (Latvian Punctuation) by Aina Blinkena require unaided dedication and a sizeable time resource.
Komati offers the opportunity to test your knowledge through language training, while gaining feedback on your performance. The tools is comprised of a set of twelve sentences accompanied by an anthropomorphised comma, offering a theoretical explanation and an outline diagram after each completed sentence. Komati aims to create an experience that reduces the anxiety associated with punctuation and change the daily writer's relationship with grammar.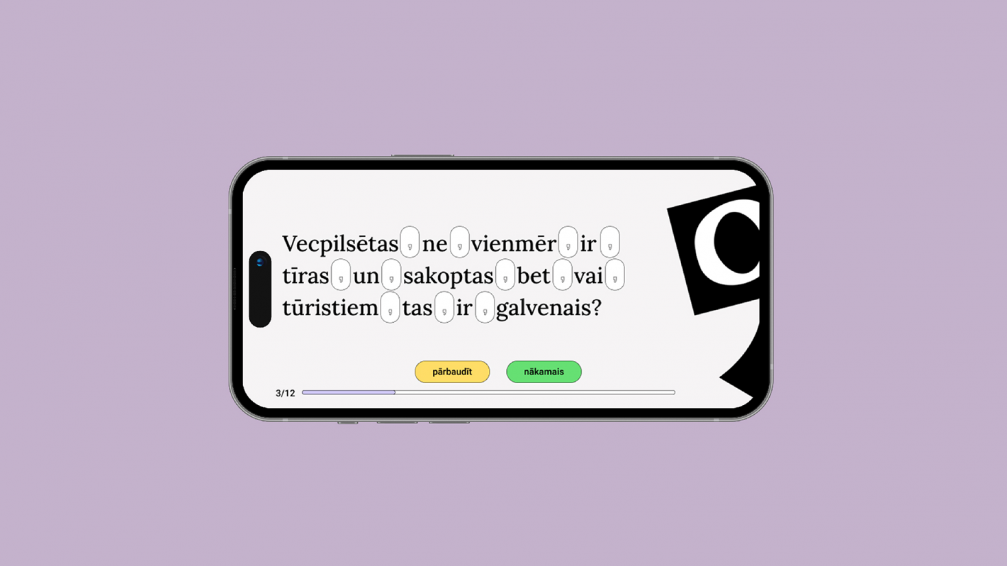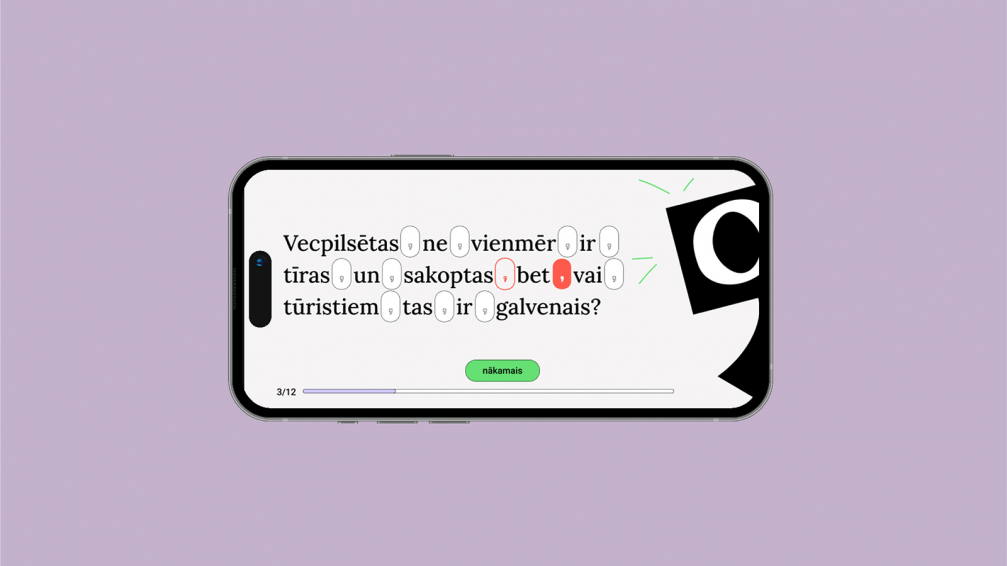 The prototype is dedicated to comma use in sentences with the conjunctions «and», «but», «yet» and «however». The tool can be developed further by creating a modular system that helps with reminding grammar rules in sentences with subordinate links, insertions, direct speech, salutation, and more. The visual code of the application is constructed with simplicity — black text on a light background with accent colours that indicate if the sentence is completed correctly, serif and sans-serif typefaces to distinguish between examples and explanatory texts.
«We don't tend to challenge our language skills on a daily basis, but training can help us improve our knowledge. In the context of the current discourse, it is certainly worth mentioning that — although language is a changing organism, it is important to look after its foundation and keep track of our language use so that we don't go misunderstood during this shifting time,» concludes graduate Laura Elīna Egle, who hopes to develop the project into a fully functional app.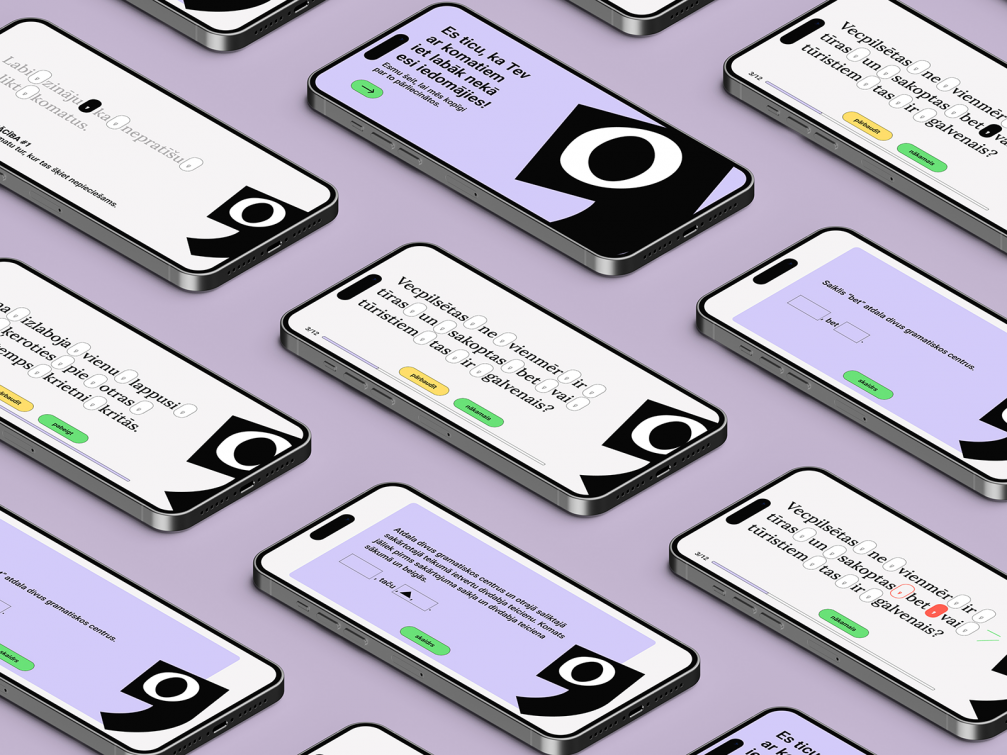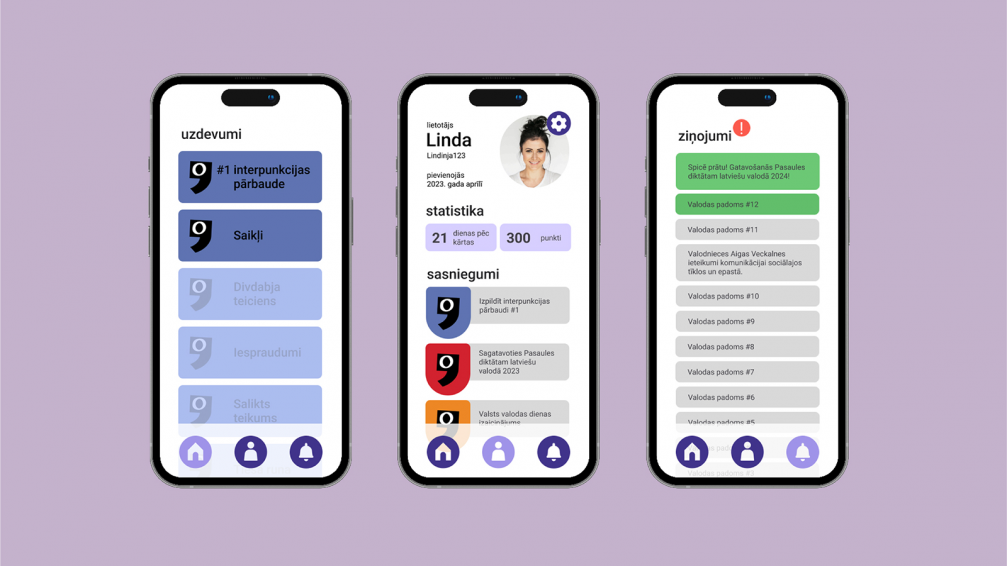 The project was developed in cooperation with Sarmīte Ruža who is a teacher and one of the organisers of the World Dictation in Latvian. Laura's Bachelor thesis supervisor at the Art Academy of Latvia is lecturer Ilze Dobele, the technical solutions were developed by Valters Grišāns. By scanning the QR code, a shortened version of Komati can be downloaded at the App Store. You can see the rest of the projects at the Academy's virtual gallery.