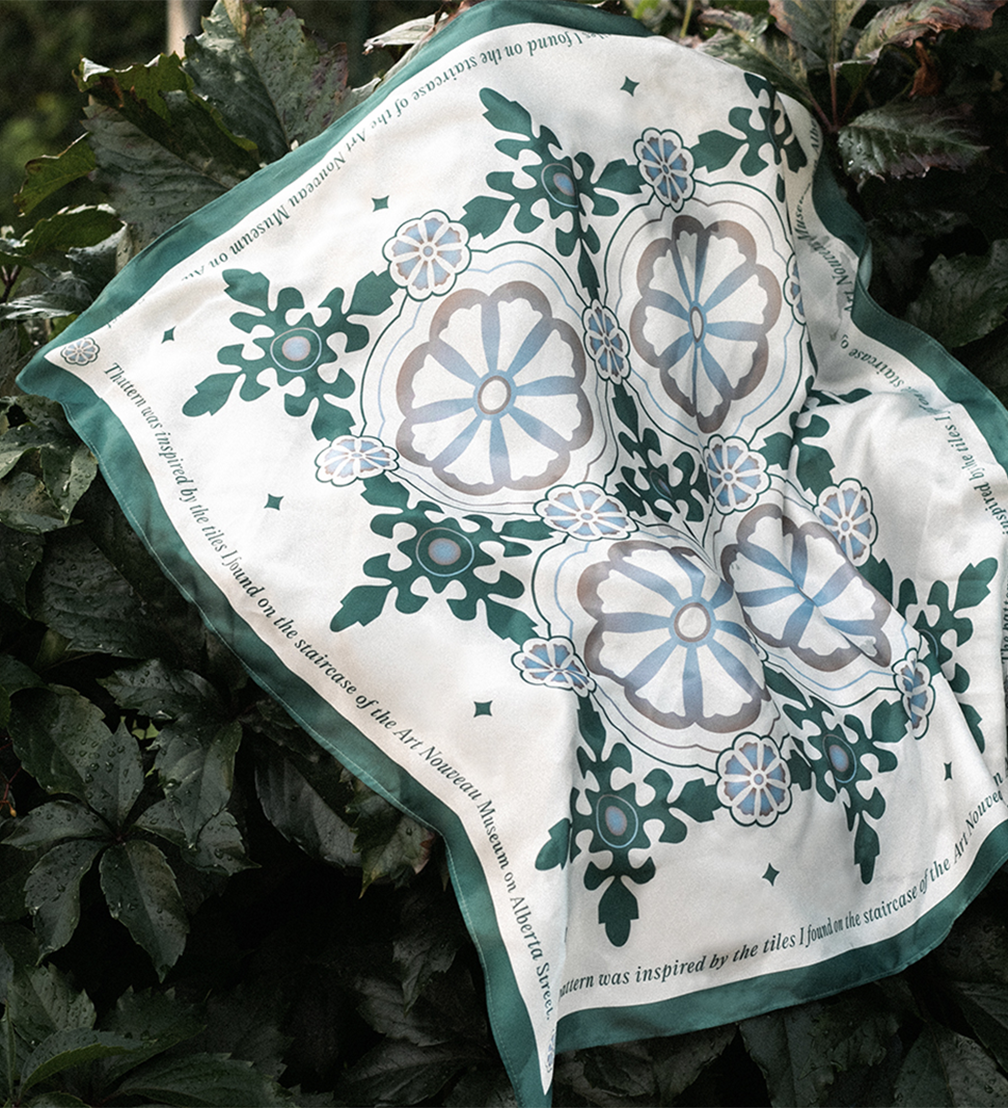 Tile pattern from Alberta Street 12. Design by Karola Rubene. Photo by Kristaps Deičs
The diversity of architectural details in historic buildings in Riga is truly remarkable, but in the rush of daily life, it often goes unnoticed. Graphic designer Karola Rubene has captured this variety in several projects. Combining her interest in architecture and ornaments, she has transformed the tile patterns found in the buildings in Riga into colourful scarves.
The project began when Karola Rubene noticed the staircase tiles in the historic building where she was living at the time. She liked the pattern, so she drew and digitised it, enhancing the ornament with vibrant colours. «The pattern turned out to be so beautiful that I couldn't leave it only on the computer screen. I had the idea — why couldn't something breakable and heavy be transformed into something light, soft, and airy like a scarf?» says Karola.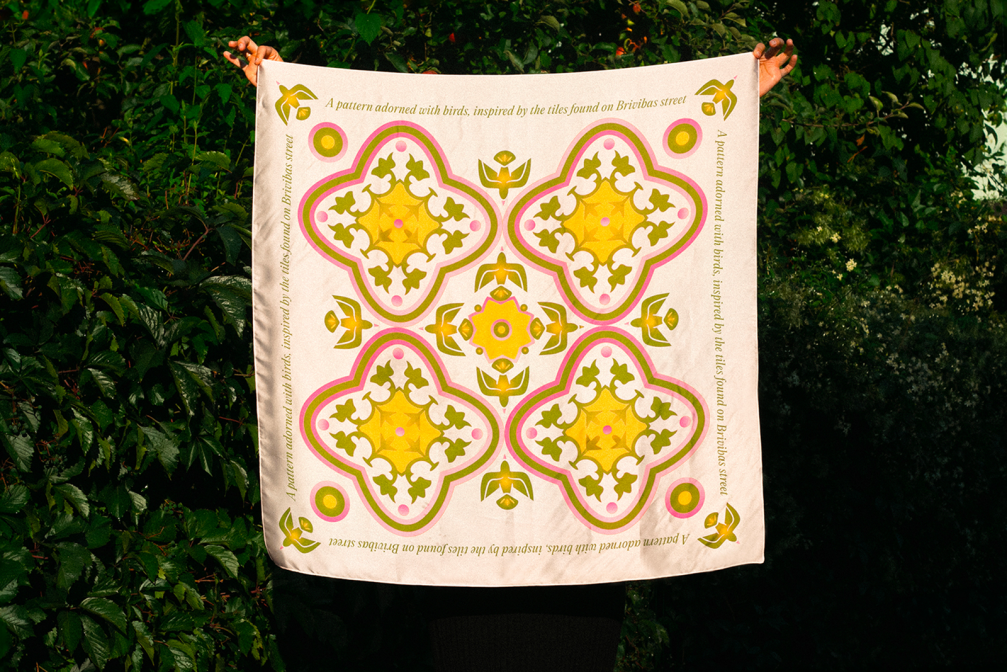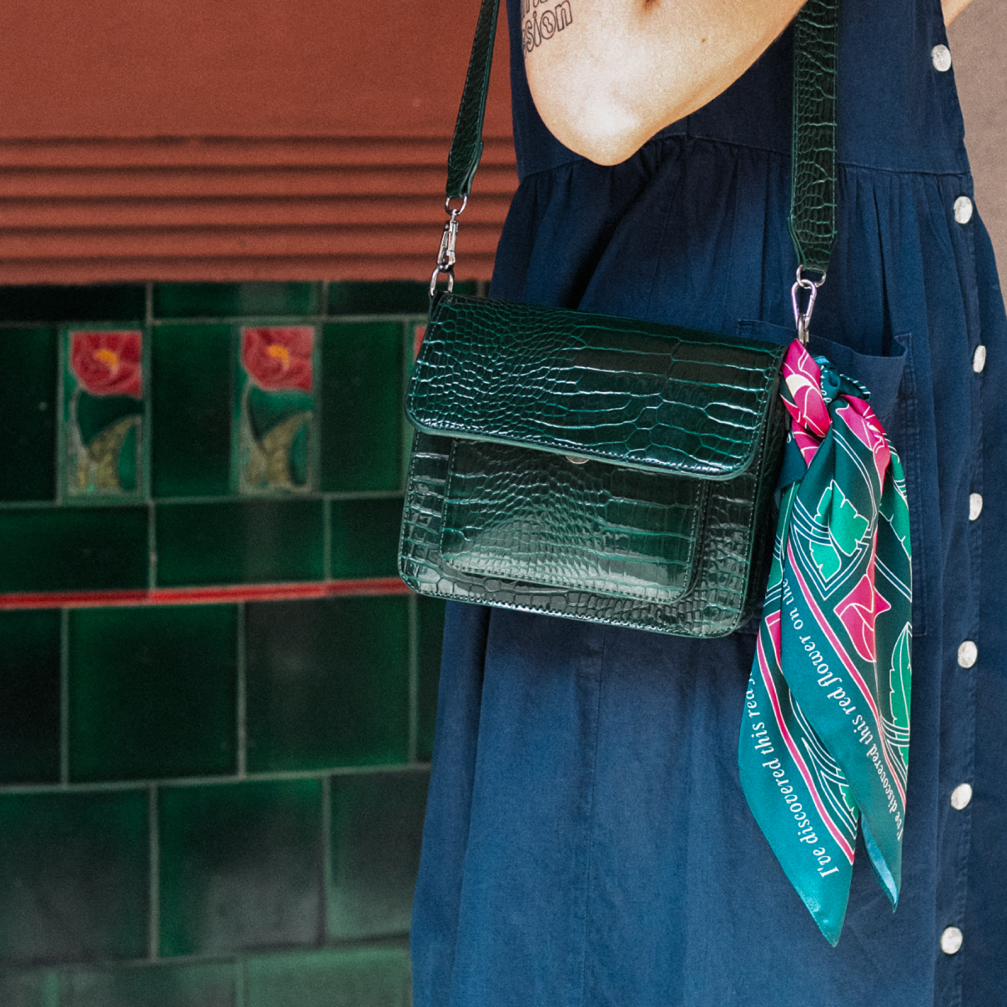 Her fascination with architectural details began during the pandemic when, on long walks, she noticed the various flag holders on the facades of buildings in Riga. She compiled her findings — 57 different flag holders — in a zine called Where do we put our flags in Riga?, which invites readers to embark on an expedition around the city. The creation of ornaments had already been in the designer's sphere of interest as well. «When I started my design journey, I was deeply fascinated by traditional Latvian patterns, ornaments, and symbols. I created my own while learning to work with Adobe Illustrator,» Karola reveals.
The designer points out that, in creating the scarves, her main goal is to revive the diversity of patterns found in Riga's vestibules and stairwells by dressing them in colours. She admits that part of the joy lies in the search for tiles: «My enthusiasm is so great that I look for ways to get into locked stairwells to find something more interesting than checkerboard tiles or cheap new tiles. Unfortunately, it is not uncommon for them to replace the historical tiles, deeming them forever lost.»
Currently, Karola has transformed five tile designs in various colour combinations into ten differnet scarves. To avoid excess, the scarves are produced in limited quantities on demand. Only eco-friendly inks are used for printing on polyester fabric, and Karola continues to look for ways to make scarve production more and more sustainable. At the moment, she has no plans to expand production, and the scarves are available by contacting the designer. You can follow Karola's creative work on her website and Instagram account.