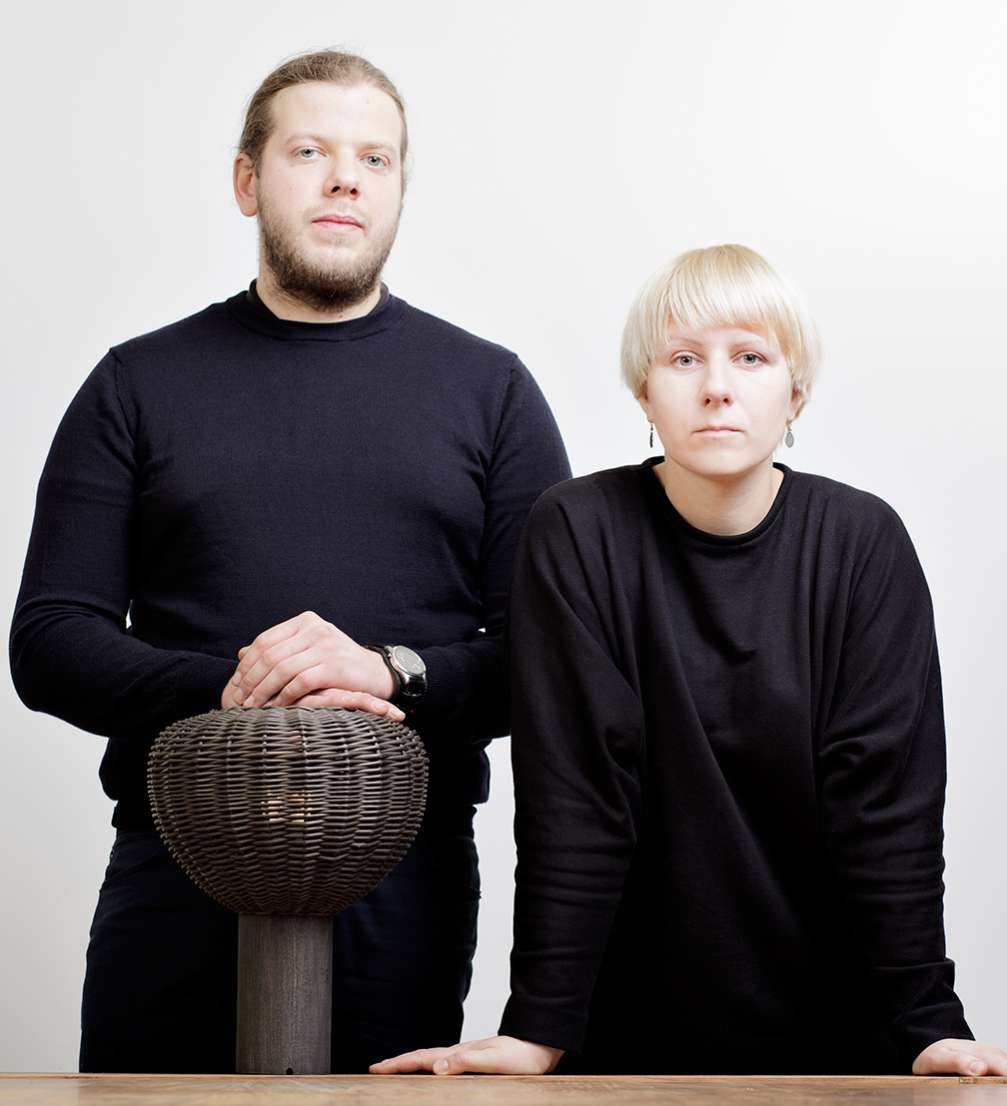 Uģis Gailis and Baiba Lindāne. Photo by Andrejs Strokins
Now, when most of daily routine takes place after dark, we met with leaders of «Mājo» design studio, Baiba Lindāne and Uģis Gailis, who are now dedicated to improving their collection of wickerwork lamps, to talk about light. Although the lamps are yet to be launched into market, milestones for success are already set: a design based on local traditions of craftsmanship, and a precise manufacturing technology.
What is the philosophy behind «Mājo» design?
Uģis:
— Our goal is to create a cosy and comprehensible product for a long-term use. Products that wouldn't be tiring, but create a personal atmosphere.
Baiba:
— We want people to be at home with our products. That is where the name of the studio comes from  — «Mājo» («mājot» — to dwell in Latvian).
In your work, craftsmanship traditions play an important role. Where does this approach come from?
Uģis:
— Common intentions are the core: both a craftsman before and a designer now seek for the most rational way to create things. For example, using wicker — an easily obtainable and simple material. It's for a reason that traditional craftsmen worked with it, preparing different objects for household use, gathering experience on how to do it properly. By combining craftsmen's skill with design thinking, a product can be manufactured more quickly; it acquires an extra value and is still comprehensible on an emotional level.
Baiba:
— The traditions of Latvian craftsmanship are still alive and available nowadays; there are many craftsmen with great experience, who still work by hand, in an authentic manner. Therefore, we, too, can use it in design; we don't have to study these approaches in books — we can simply meet with craftsmen, talk it through and work together.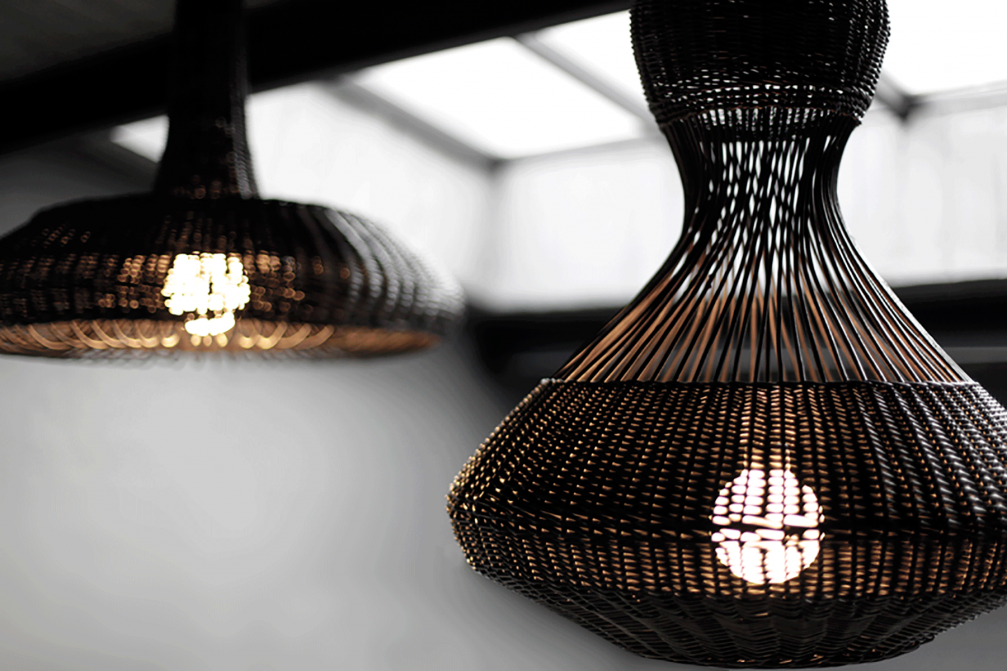 What current projects are there for «Mājo»?
Uģis:
— If we talk about traditions, then, in my opinion, it is sad that, in Latvia, there is still no culture of light. I don't know why it is so, but, unlike other Nordic countries, we have only a few lighting objects at home — a chandelier, a desk lamp, or maybe a grandmother's floor lamp. Yet light is what mostly affects an environment and mood! We want to challenge this monotony of interior lighting, and we are currently working on improving our wickerwork lamp design and technology. In creating it, we collaborated with an experienced weaver, and now we are working on simplifying the production process and delivering a product to an eventual user. We also have to think about certification, in order to affirm that the lamps are actually functional and safe, as well as about graphic design and packaging.
Baiba:
— We set up a business plan so that we could participate in various grant competitions [«Mājo» project «The Light of Nature» received funding from the State Culture Capital Foundation under the program for pilot projects in creative industries] and could begin selling the lamps. Also, we are now studying basic entrepreneurship at the «Nordea» business school.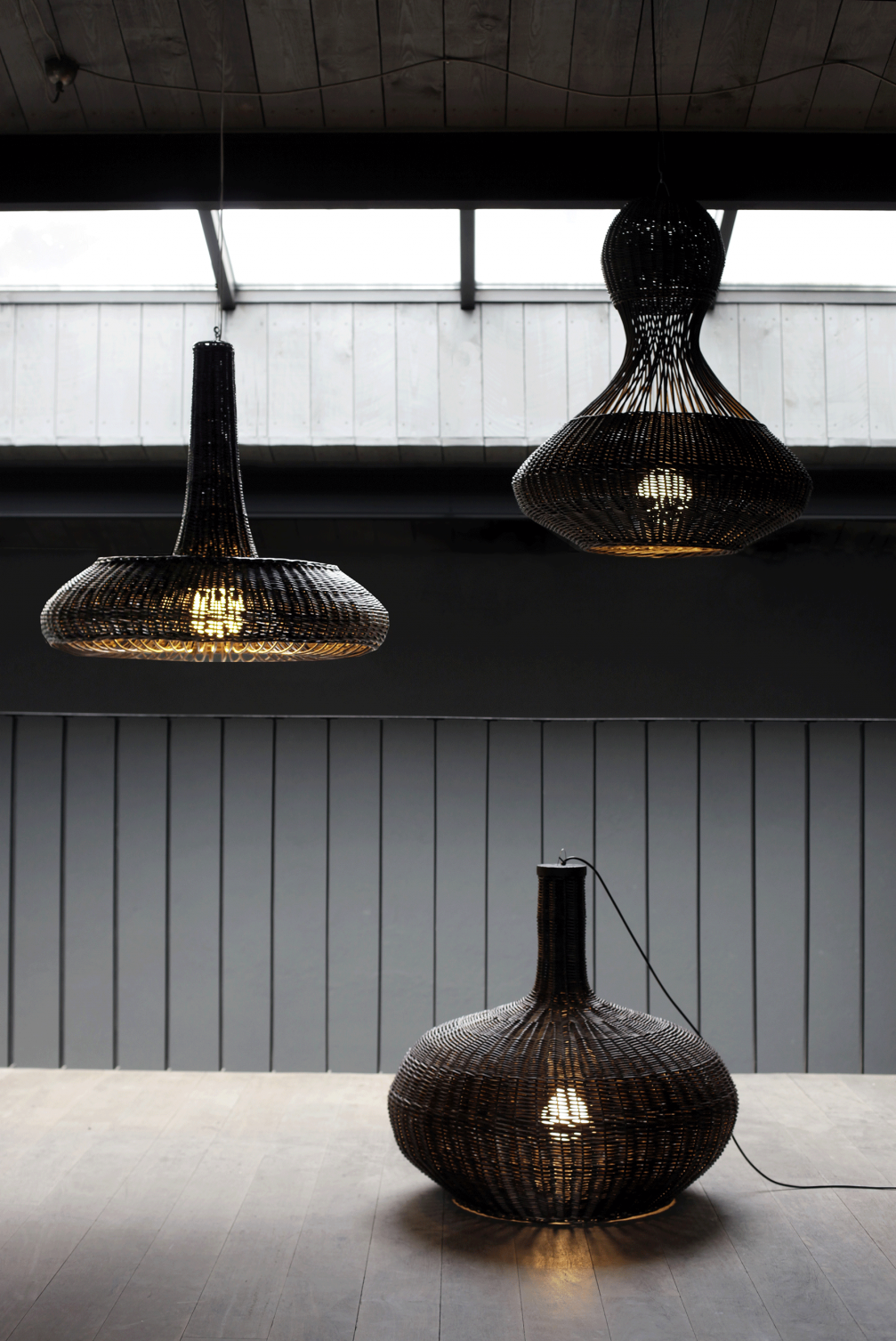 There a many brands in Latvia that use ethnographic patterns, traditional materials and forms. How viable is design inspired by folk traditions?
Baiba:
— For me, successful are those works that interpret a certain traditionally Latvian ornament or a geometric form, creating something new by combining the antique with the contemporary.
Uģis:
— Details are important. An ethnic identity can be similar in different regions, while distinctive details in folkwear make design interesting and special, but also comprehensible to everyone. The question is, how do we adopt this influence — is it just graphic signs, or the whole feeling, understanding of things and our home.
For you personally, what is the most interesting part in the designing process?
Baiba:
— Concepts, first sketches, and the stage where a rational production process is developed.
Uģis:
— A situation when, after trying to figure out something difficult, you finally find a way to solve everything and make it simpler, thus saving a lot of time and money for the manufacturer. Users might not even see how much work is invested in a product's rational solution, but they perceive the design's feeling and its emotional side.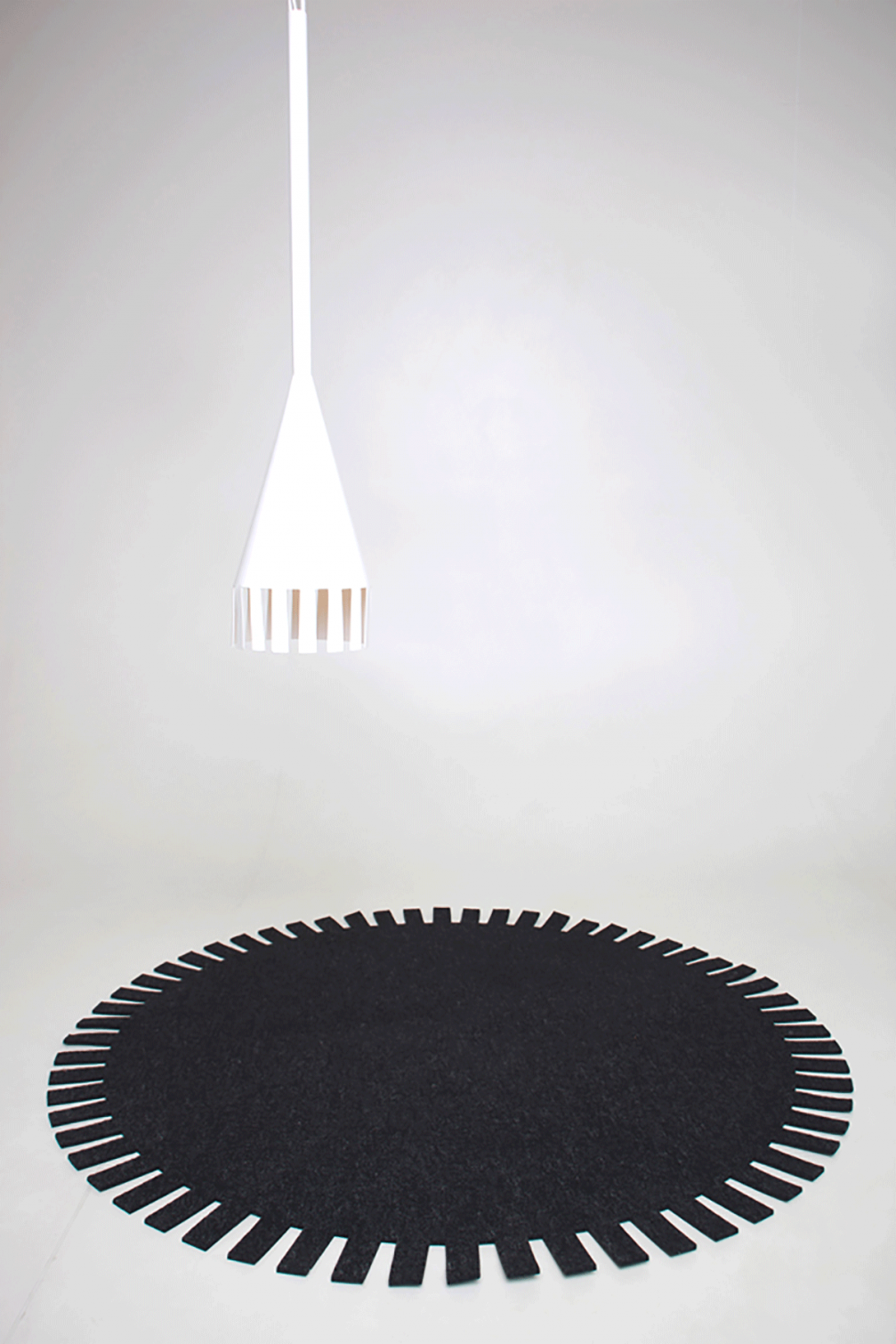 How would you describe Latvian product design environment? What problems have you encountered?
Uģis:
— Latvian design has two weak spots: firstly, a poor production technology and a lack of logistics in choosing materials, which increases the product's cost; secondly, underdeveloped products which, in terms of quality, fall in–between design and craftsmanship while costing like a full–value design object.
Baiba:
— In Latvia, a designer must have a strong enthusiasm to work and not to get paid. Product development requires all the attention, eight hours every day. But it has to be combined with working on other projects, because one can't be sitting in a workshop without a salary. It slows product development down.
Uģis:
— As I see it, a local market has to be created by the design industry itself, in the long run. Like a farmer who for years has been explaining why a local product is of higher quality and healthier, until they begin to buy it even if the price is higher, a designer also has to explain why quality design is important, and results cannot be expected straight away. There is also not enough Latvian–made design products of high quality in an affordable price range.
Baiba:
— For the small circle of product designers it is quite difficult to reach people and explain why exactly they should be buying Latvian design. In comparison [with other fields], Latvian fashion design has developed more successfully, thanks in large part to activity on behalf of the fashion industry, who have organized shows and competitions for young designers and opened stores.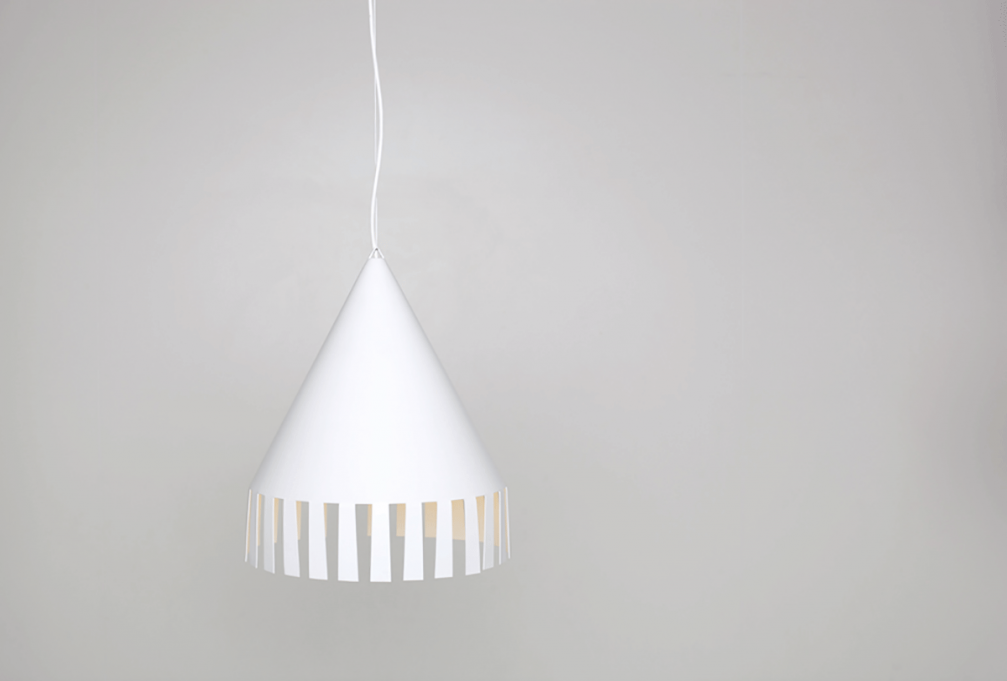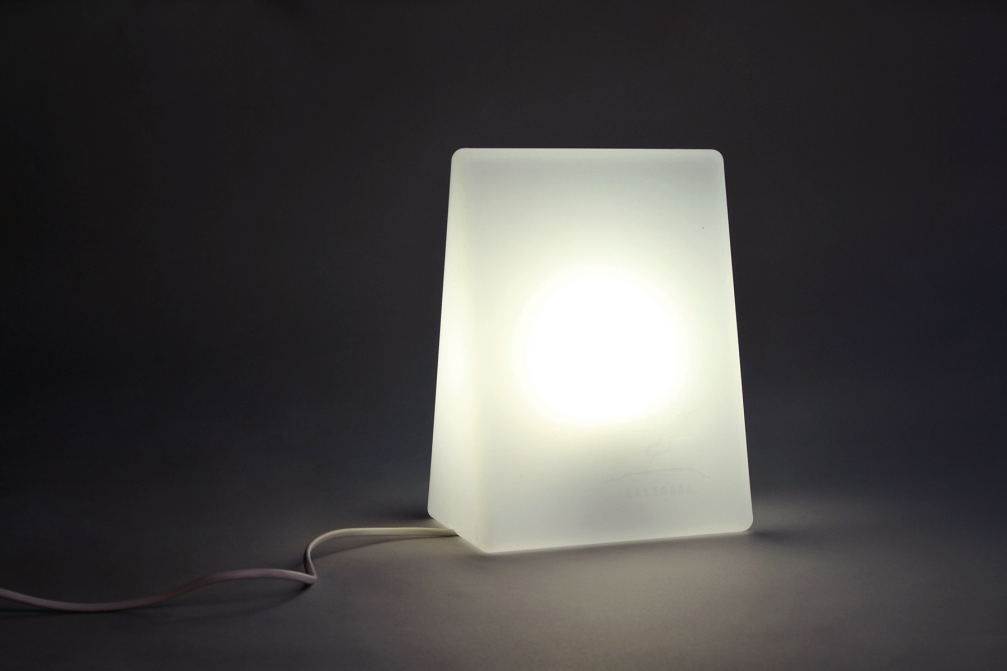 What should be done in order for Latvian product design to develop as an industry?
Baiba:
— State support for manufacturing, because product design depends on it, and it should not be managed by the Ministry of Culture but the Ministry of Economics.
Uģis:
— Production of any sort of products is a long–term business that needs a large investment, but the return is relatively slow, therefore it is less attractive for investors and lenders. Therefore, designers must work smarter, they have to think how to develop a market, how to rationally solve technical details, so that their use of materials and production cycles would be effective. A successful example is «an&angel» tableware, where high–class design is combined with a precise technology. Unfortunately, there are many products which are good in terms of a content and idea, but are overdeveloped with poor technology and expensive materials.
Baiba:
— It is necessary for products to be manufactured without delay and misunderstandings, so there would be an option for immediate product delivery and a constant sales process.
Uģis:
— There's a lack of professionals with enough experience in design project management, development and sales, who know the local market and can consult about sales in other regions as well. It's obvious, because, on a Latvian scale, design is a young industry. We would be glad to see such a professional on our team.
Baiba:
— It would be good if basics of entrepreneurship were integrated not only within the Art Academy program, but also in the Applied School curricula [Riga School of Design and Art], which would teach not just how to work with a product's appearance, but also how to develop it for sale. It would also be great if general education would encourage awareness of what design is, how to use it, and its advantages in daily life.
Both of you are teachers at the Riga School of Design and Art. In your view, what is the most important message to get across to the youth?
Uģis:
A proper work process!
Baiba:
And thinking…
Uģis:
— Everyone's too obsessed with the result, as if it were necessary to achieve a good result at any price. But it is important to learn from the work process, even if in the end it turns out to be something different, and use correct methods — sketching, modelling, and talking with the client.
It's a good thing that young people can now go abroad to study. I believe that those who are away now will come back in some five years and we'll have a lot of high–quality design in Latvia.
Baiba:
— Yes, many will definitely return, because here, there are many free niches and there's a lot still to be done differently and in a better way.