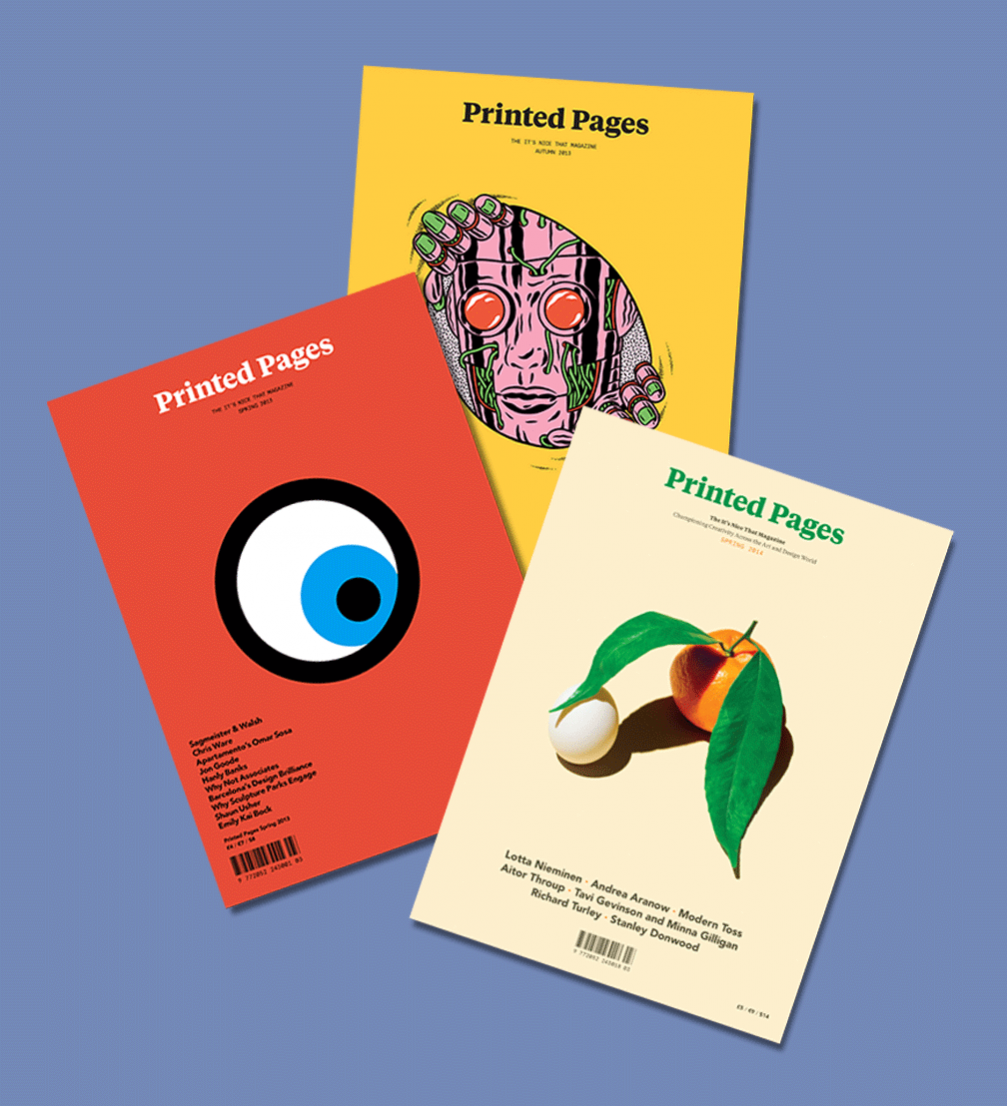 «Printed Pages» publicity photos
A continuation of the report from the «Quo Vadis Editorial Design» 2014 editorial design conference in Munich.
Day 3
I am really excited about today, because the schedule promises a talk by Jeremy Leslie, the creator of «Magculture», and presentations of magazines which I regularly buy and read, and the design of which I appreciate. Yesterday's pretzels are served for breakfast, with half a centimeter of butter in the middle this time. Germans are really good at putting butter in everything.
Christian Hanke
The day kicks off with a lecture by Christian Hanke, who explains how to give a digital life to stories printed on paper and that one shouldn't make a magazine's digital version identical to the printed one. A digital publication makes sense only if it adds something extra to the printed edition — sound, video, animation. Christian explains that in a digital environment one should take good care of users and listen to their criticism. Readers are very sensitive — there is so much distraction all around, and a sketchy layout can scare them away forever. The main aim is to guide the users deeper into the website's content by offering new materials based on what they have previously viewed.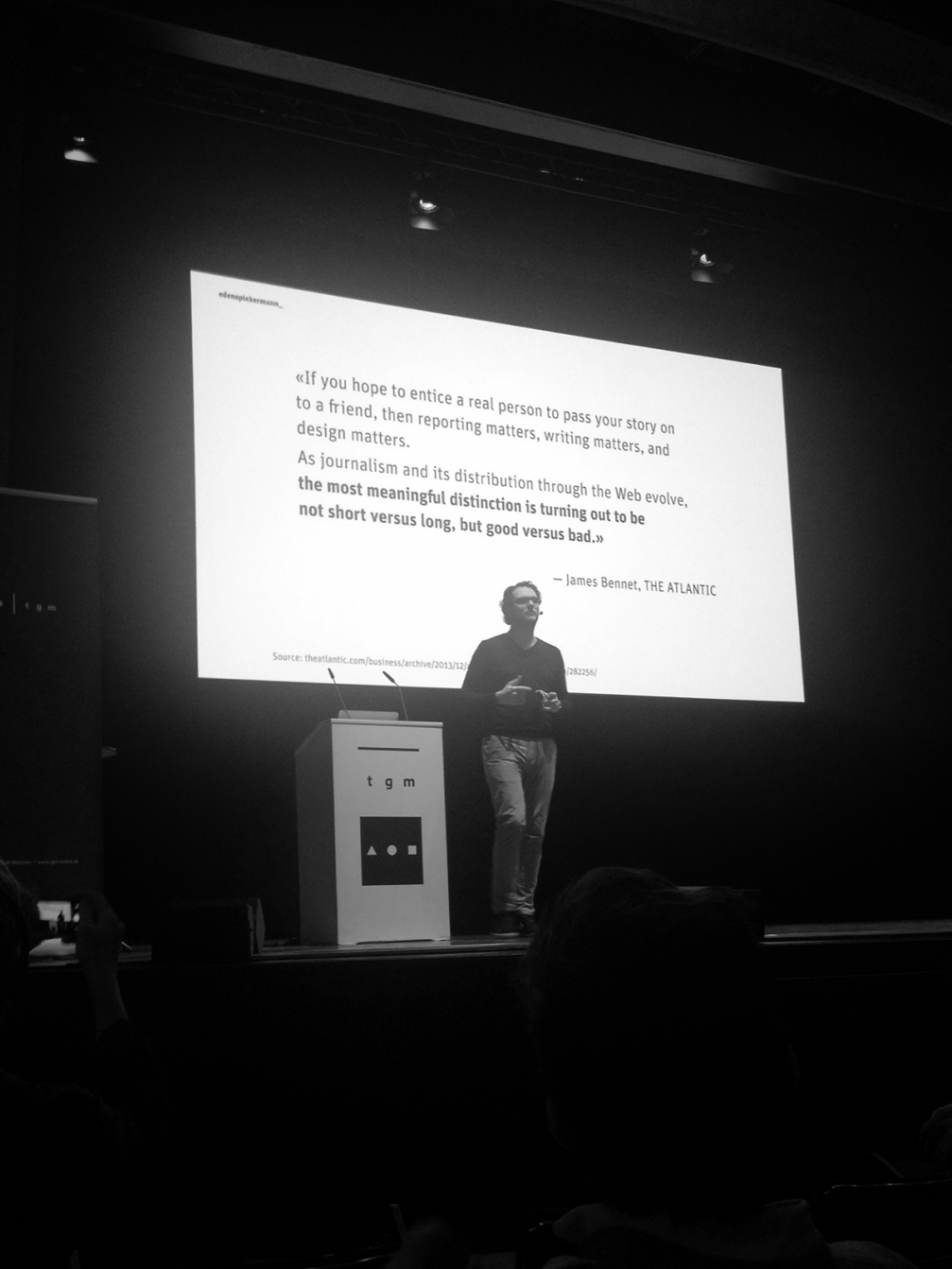 Verònica Fuerte, «Hey»
I've been familiar with the work of Barcelona–based design studio «Hey» for quite a while, thanks to their Instagram photos. «Hey» knows how to illustrate complex content in a friendly manner. Their work became widely known after making an illustrated map for «Monocle» magazine. The collaboration continued, «Hey» drew maps, and similar commissions started rolling in one after another from other clients as well. Verònica and other designers of the studio realised that there won't be any different work if they don't show what they're capable of. They started a self–initiated project — another Instagram account @every_hey, on which they post a new illustration each day.
This could serve as a lesson for every designer, because quite often potential clients don't really know what they want until they see an example, or don't even think of asking for something else, assuming that you're only capable of what is already in your portfolio.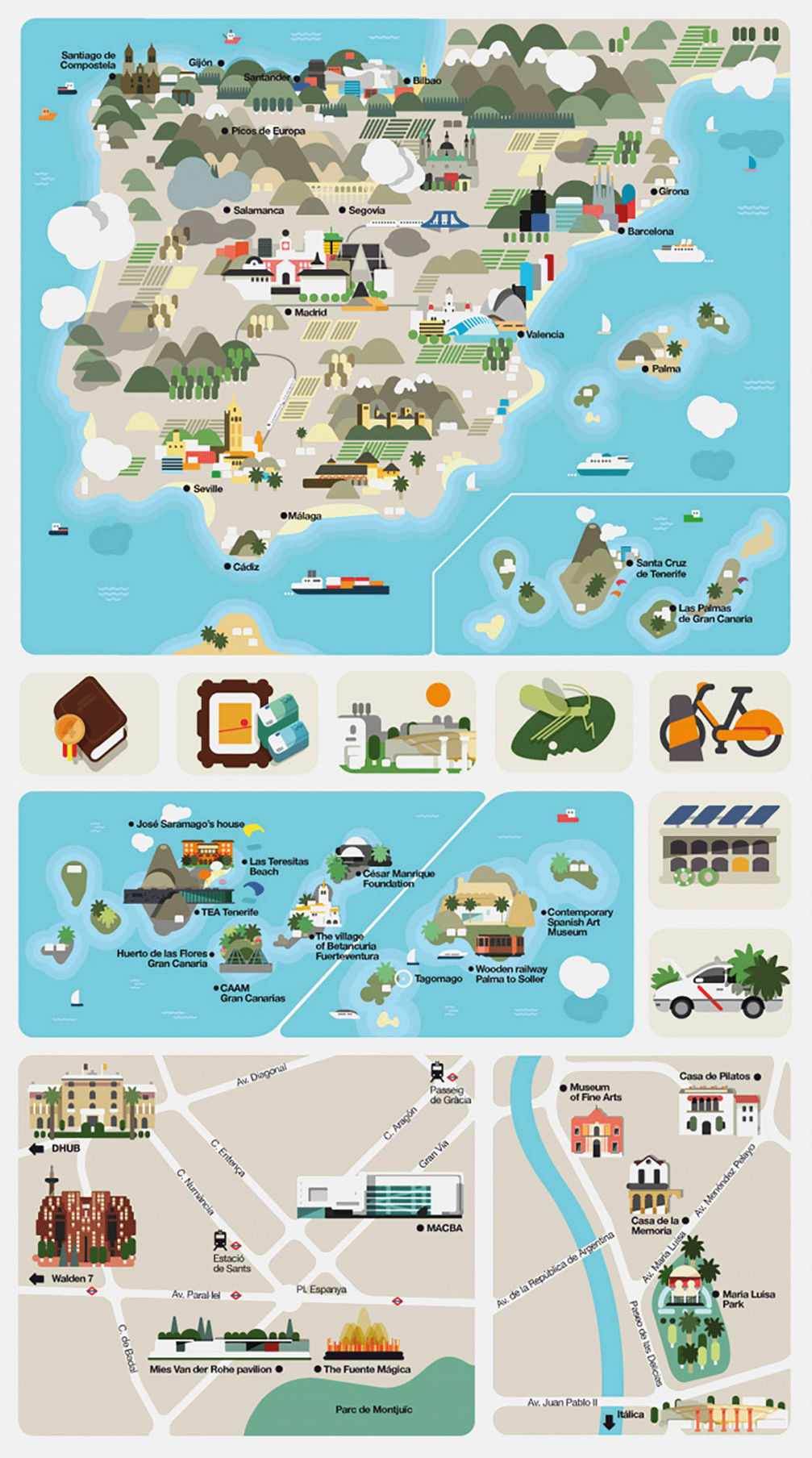 James Cartwright, «Printed Pages»
This is a lecture I was really looking forward to as I am interested in the process of making magazines from the first idea to the printed product that can be profitable as well. I have all the issues of «Printed Pages» magazine in my bookshelf, neatly lined up. «Printed Pages» is one of the design blog's «It's Nice That» side projects, and James Cartwright is its editor. He talks about the evolution of «Printed Pages» and its place in the market. Initially the magazine had the same name as the website — «It's Nice That». Even though the content was made especially for the magazine, people assumed that it is just a printed version of the blog and weren't willing to pay for what they can get for free online. After a brief hiatus the magazine got redesigned, aiming at the premium fine art market, but it still didn't sell very good, because its retail price grew along with the costs of production. The name got changed, the format got adjusted, the design got simplified, and that allowed to lower the price and make the magazine more accessible for a wider public.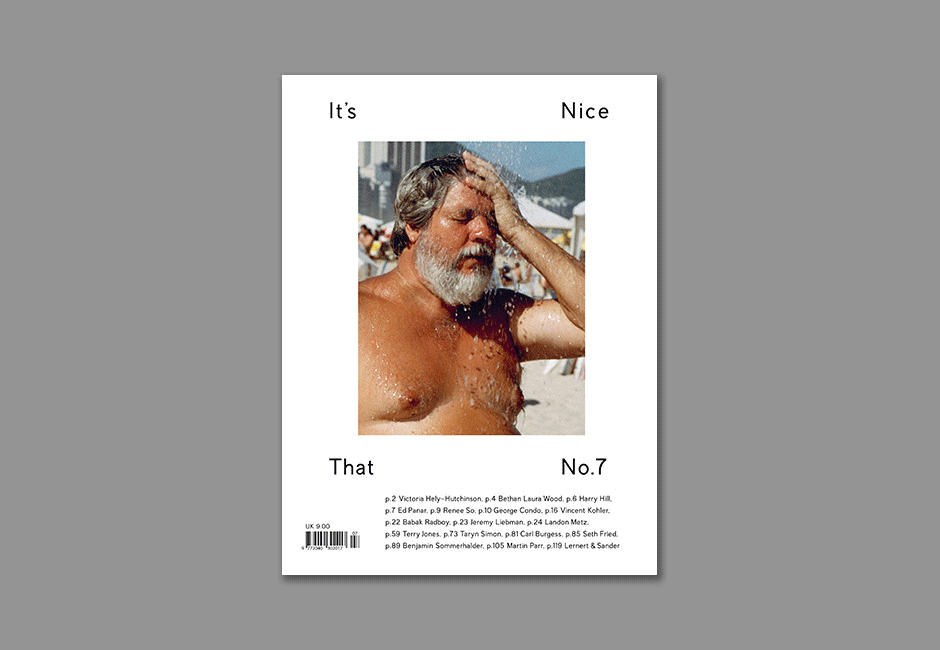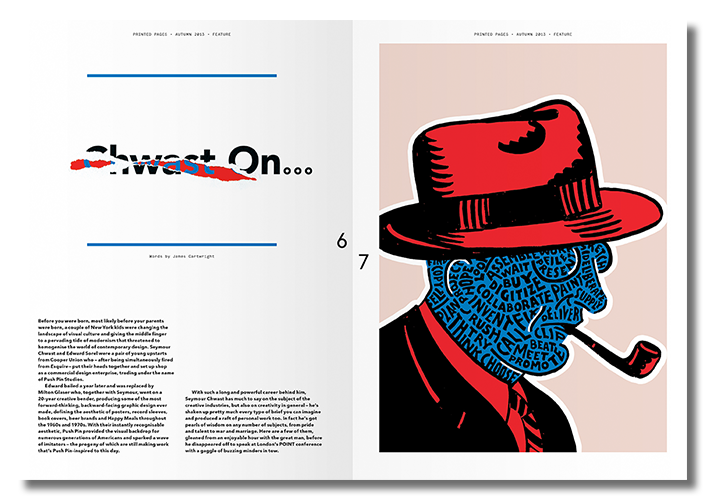 The magazine finally started to earn money, but that wasn't enough — the readers complained that it is too simple and thin in content. Beginning with March 2014, the magazine has become thicker, and the metal staples have been replaced by a perfect bound that the makers are really proud of.
I asked James too to fill in my questionnaire.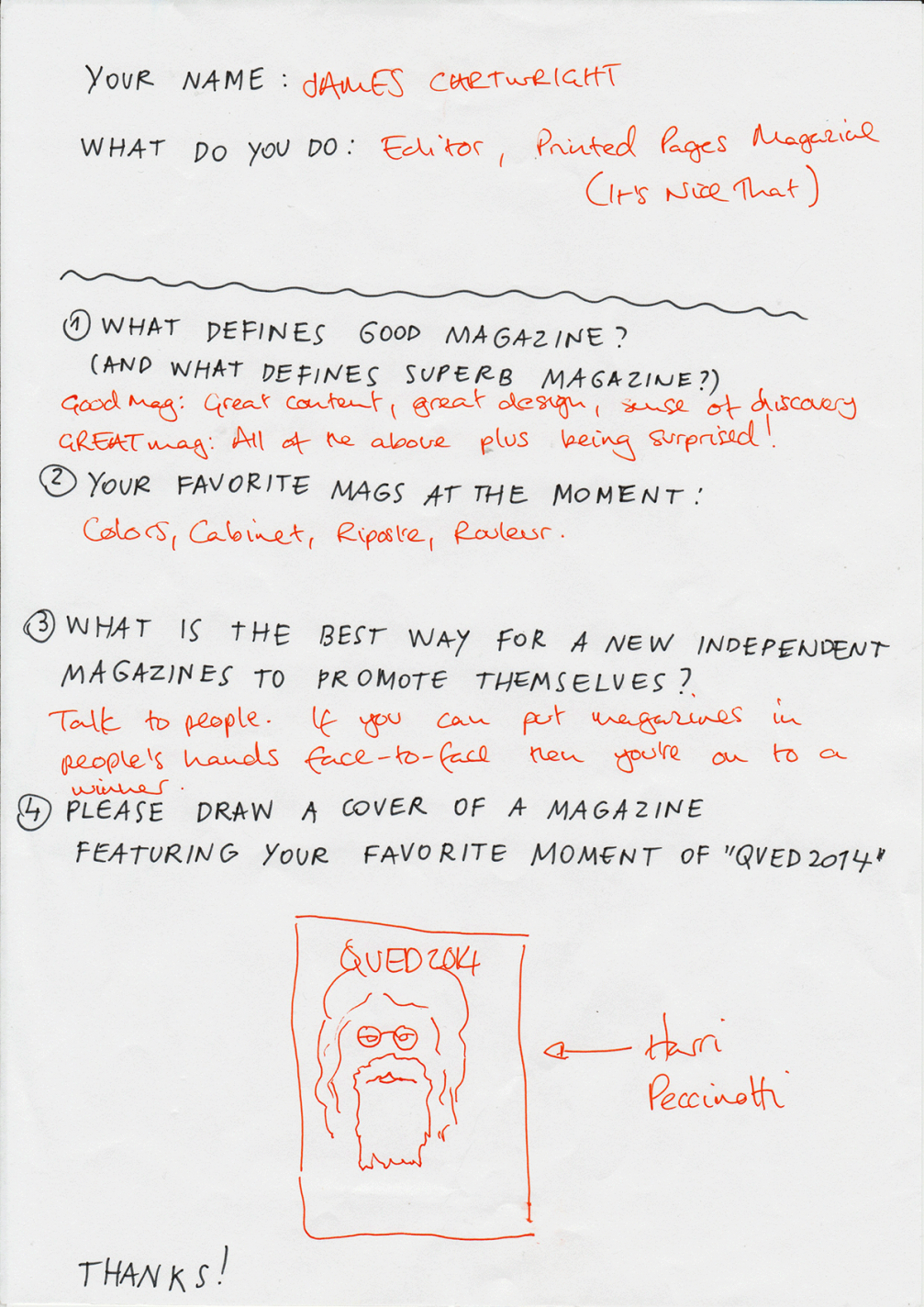 Danielle Pender, «Riposte»
I admire the team of «Riposte» for how perfectly they've matched the content with the design and how thoughtfully every detail is done. Having noticed that she buys only men's magazines, Danielle Pender decided to fill the free niche in the market and create a publication that she would like to read herself — a well designed magazine for smart women. A magazine that celebrates what women have achieved, not what they're wearing. Danielle is a real 90ies girl, an unpretentious, strong personality, and that's what the magazine she created is like.
Visually «Riposte» is completely different from what we're used to seeing at newsstands — the front cover is clean and white, with large red letters. The cover photo is on the backside — on the 4th cover. Articles in the magazine are separated by coated and uncoated papers of various sizes and thicknesses. Main principle for the photographs — real people in real surroundings, no Photoshop. A skilful photographer can capture an older women beautifully as well.
Danielle used her own savings to pay for the first issue of the magazine, avoiding advertising, so that nothing would distract from the content she had created.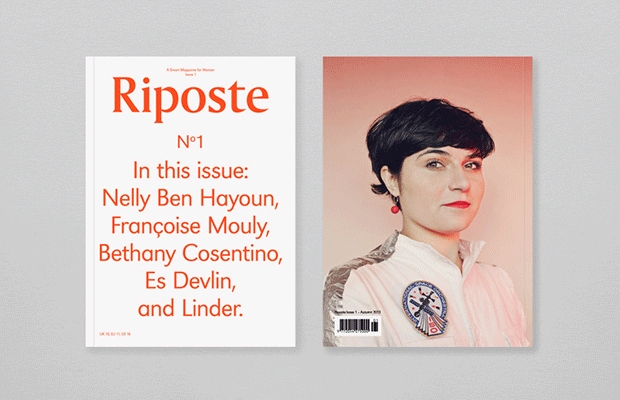 Edward Vince & Fauzia Musa, «Talc»
The success story of «Talc» magazine started only a couple of months ago — last November. Having understood that there are no good erotic magazines left — the kind with interesting articles, not just nude photos, the couple Edward Vince and Fauzia Musa got to work to create one on their own. The girls in «Talc» magazine are real, nothing is retouched. The articles and interviews are gathered from the whole world with the help of Skype and e–mails. Edward and Fauzia emphasise that where you live doesn't matter anymore, the world is open.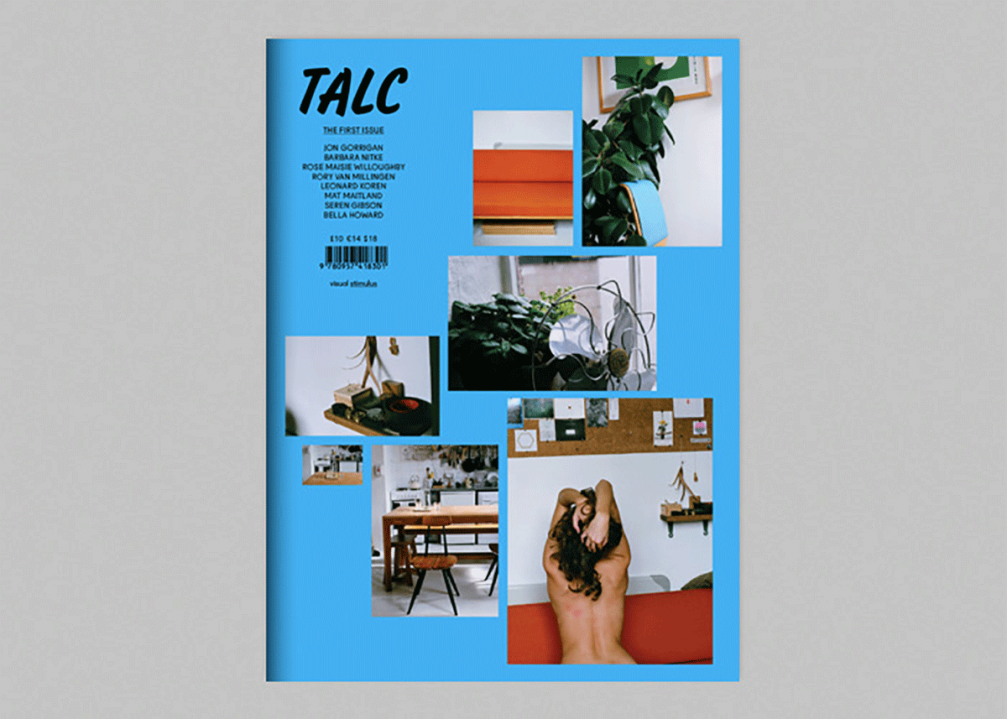 The sales have topped all expectations — 12 000 copies have been printed instead of the initial 2000, and this is just the first issue. The planned target audience — men — also turned out to be wrong, as 50% of the buyers are women. The team raised funding for the first issue on «Kickstarter».
It should be added here that «Talc» was deliberately created as a brand from the very beginning — with parties, T–shirts, stickers, hats, and other merchandise. A world of «Talc» that people want to belong to and wittingly share photos of on their social networks.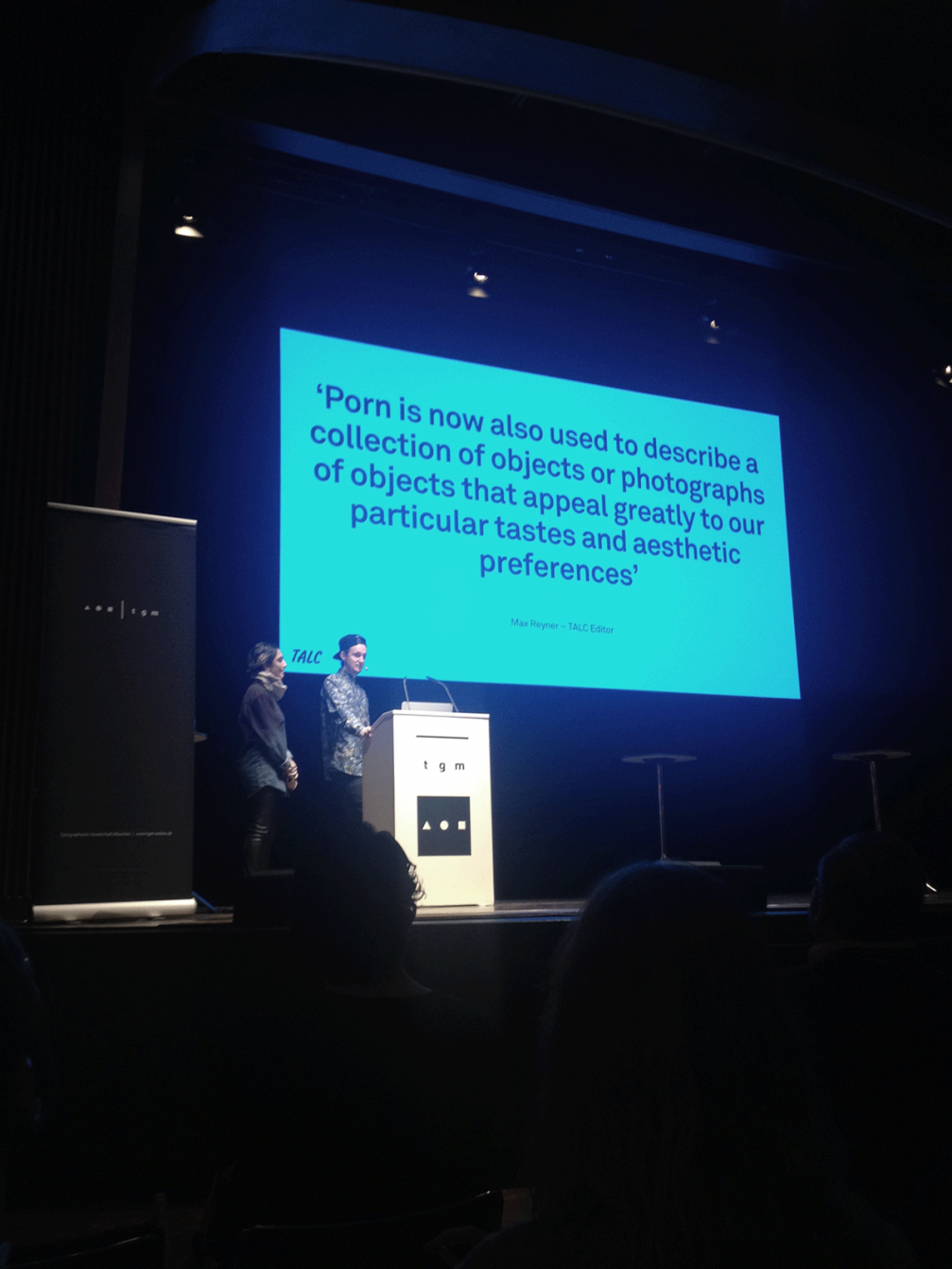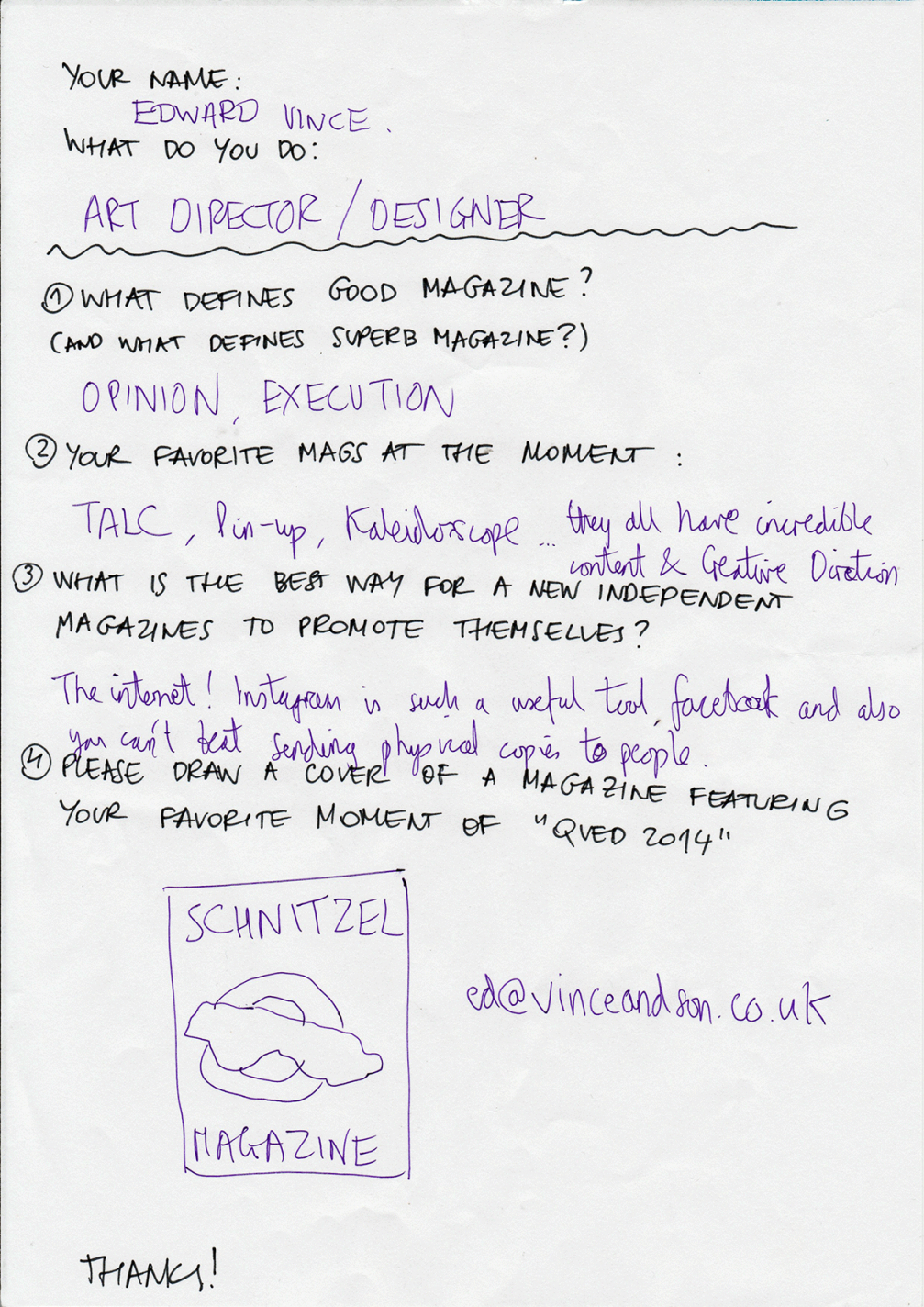 Jeremy Leslie, «Magculture»
Jeremy Leslie and his magazine blog «Magculture» were the main reason for my trip to Munich. I met Jeremy last September at the «AGI Open» conference in London. He concludes the conference with the observations he has made, being deeply immersed in the world of magazines, and his latest work. It includes the recently published book «The Modern Magazine», which compiles the best magazines of the last decade. I recommend it to everyone who is interested in mag culture. The book confirms that there is no reason to speak about the death of printed media, as they can be found everywhere in greater numbers than ever before.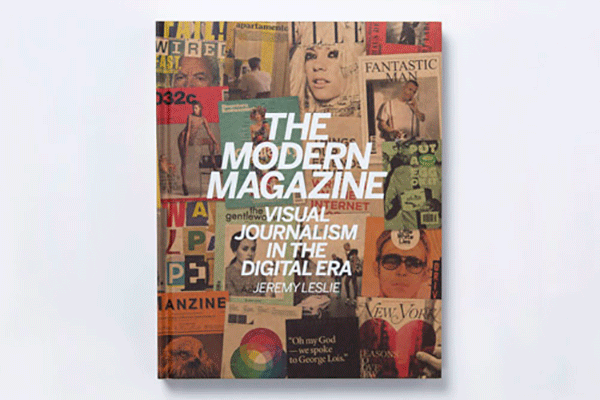 Jeremy talks about trends — the content rules over the form now. A magazine can be a shoe with changeable insoles, with a story printed on each of them, or T–shirts with texts on the inside and illustrations on the outside. Or a pile of small printed pages, held together with a rubber band.
Niche magazines are trending right now, for example, «Cat people», which only features stories on cat lovers. If you aim at the whole world, the target audience can be measured in hundreds of thousands.
There are magazines which reinvent an existing genre, for example, the surfers magazine «Acid», which publishes large, beautiful photos of beaches, or «Apartamento», which shows interiors through people. «Cereal» too belongs to the group, looking at the very usual theme of food and travel from a fresh point of view.
Self–made magazines are gaining momentum as well. «We are here», made by Conor Purcell, features travel photos he has taken with his iPhone. There are also magazines, printed on demand — in a few copies only. In this case the content really matters, as such small projects are usually printed digitally, which is of lower quality.
To conquer an international market, one has to be brave, speak clearly, and have a sense of humour, because magazines are mainly made for entertainment. There is a strong trend of magazines coming in a set with a blog, a cafe, concerts, parties, clothing or at least an Instagram, Facebook or Twitter account. It is also important to remember that a magazine can't exist without its reader.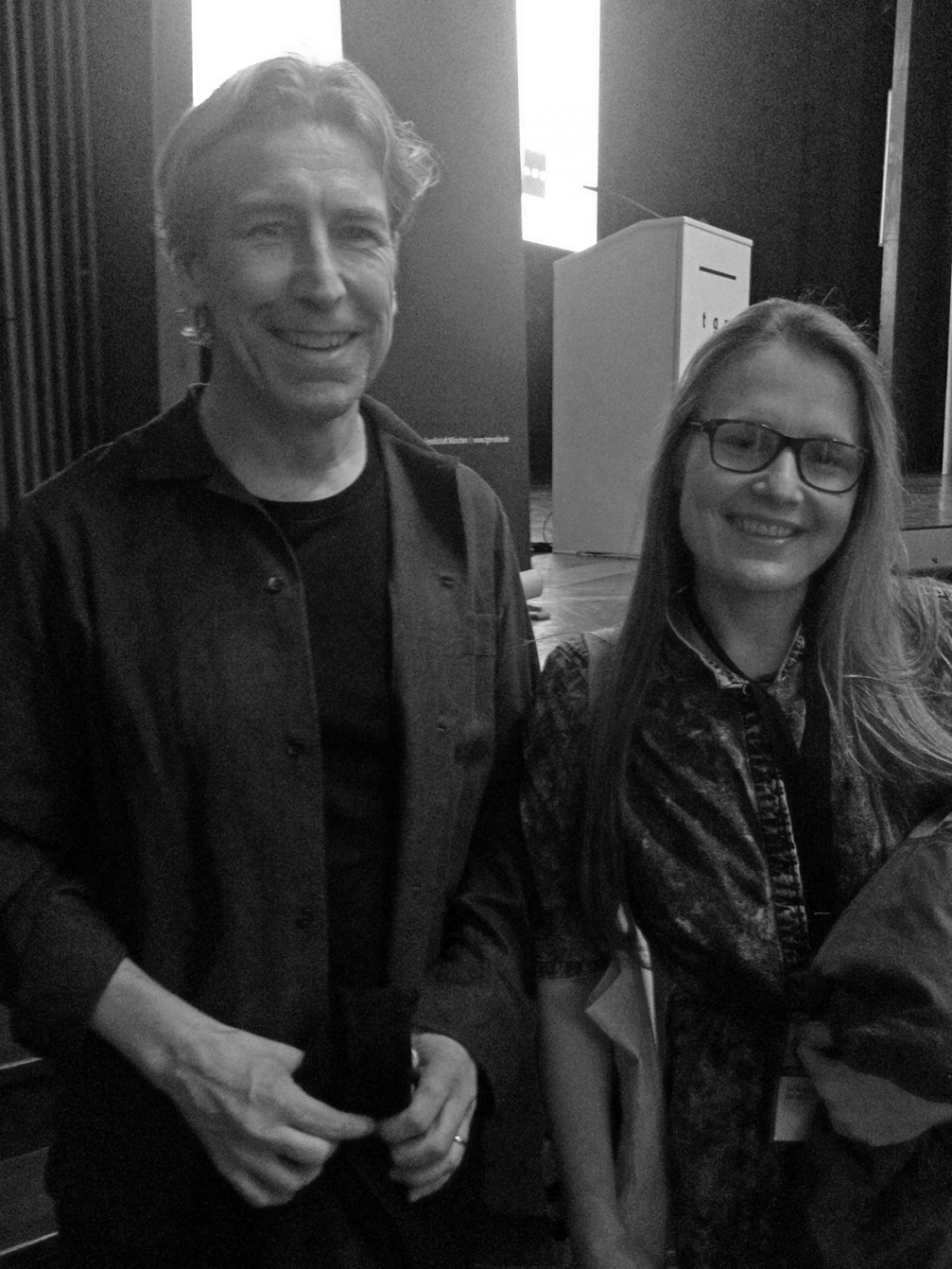 A sincere thank you to the organisers and my fellow traveler Andris Griķis.
Part 1 of the article «I love magazines» can be found here.