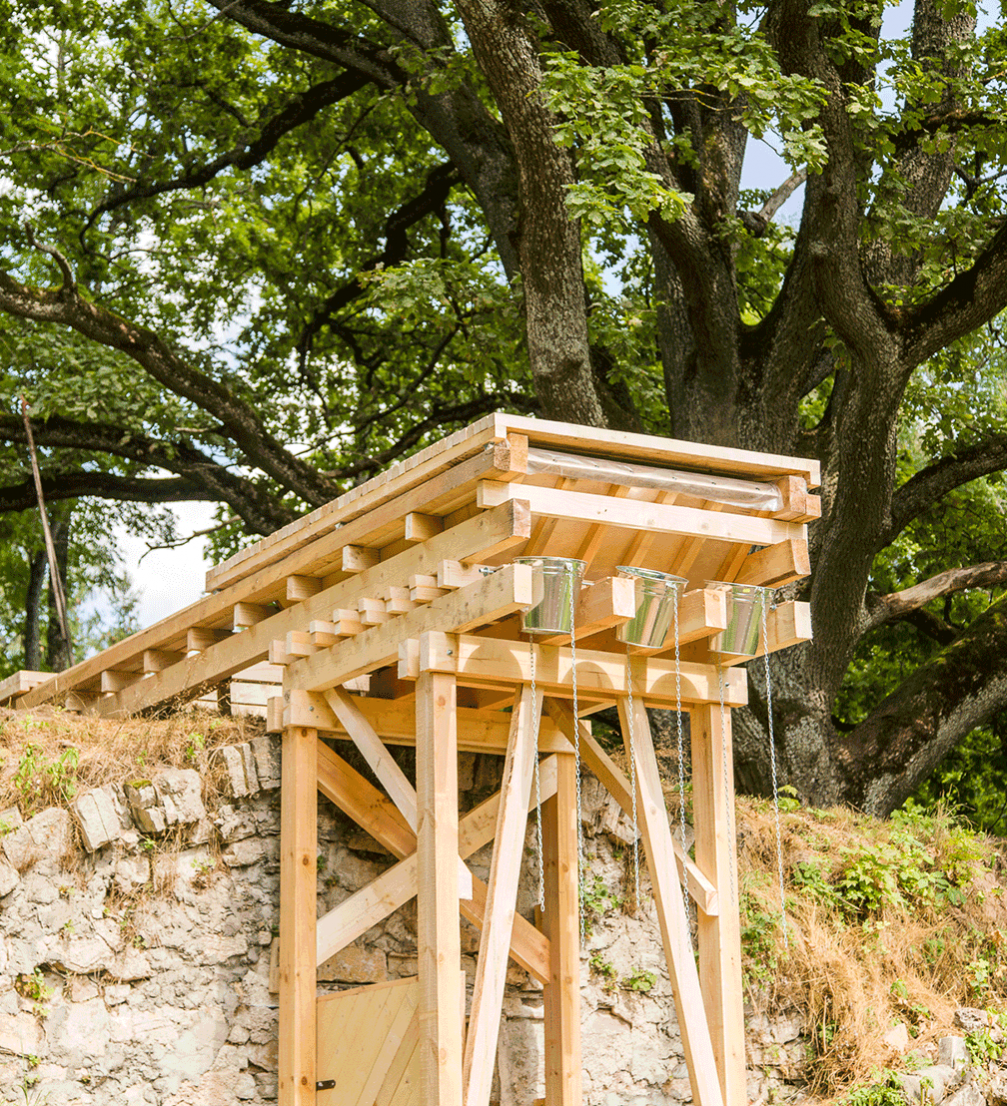 International Summer School «Get Well City» for architects, designers and urbanists, which we organise together with Riga Technical University, concluded precisely two weeks ago with two spatial installations and a printed publication.
With the Summer School we aim to encourage young architects and designers become fully aware of the opportunities and responsibilities their profession gives them — not only to create spaces, but to initiate social changes or to protect what they regard as valuable and vulnerable. In an intensive work of two weeks, the participants get to know a full project cycle: defining and analysing a problem, creating and testing a concept, realising an idea in material and seeing it used by people. It means getting one's hands dirty — besides sketching and model making, the participants use saws, hammers, screws and paint to build wooden constructions.
Each year a new theme is set for the Summer School, and with «Get Well City» our intention was to study lifestyles, traditions of wellness and possibilities for active recreation in Cēsis. We were interested to find out whether life in a small town can be healthier than in a metropolis, and it turned out to be the most often named reason for moving to Cesis. 30 students from 20 countries took part in the Summer School this time, working in three units: architecture and building, design and advertising, urbanism and research. Unlike the previous years, we didn't work in the old town of Cesis, but in the scenic Rucka Park slightly outside the centre, where Rucka Art Residency has opened recently.
A miniature sanatorium
The unit «Sanatorija» chose to design an installation in reference to a historical phenomenon — hydrotherapy establishments in Cēsis, which had gained considerable popularity in the 19th century. Among a diversity of health–improving procedures, the Latvian sauna ritual was selected, complete with the different bath-brooms and ways of using them; an appropriate space to transform was found in an outdoor cellar. The underground space now accommodates a changing room and a sauna, but the hill above them supports a relaxation deck with a small infinity pool, from where stunning views to the surrounding park open. The water from the pool flows into buckets that can be used as pressure showers after heating up in the sauna. Part of the deck can slide to cover up the pool. For the second time in turn, the structures of the Summer School were created in collaboration with local partners, and the founders of Rucka Art Residency, Ieva Goba and Kaspars Goba will now be taking care of the mini–sanatorium.
Tutors: Niklāvs Paegle (LV), Thomas Randall–Page (UK), Theodore Molloy (UK); participants: Austris Sauka (LV), Basak Kalfa (TR), Galina Mikhailova (BY), Kristina Dimitrova (BG), Leonique Winnen (NL), Lucas Facer (UK), Paula Negrut (RO), Tanya Chandra (IN), Tatiana Gurduza (MD), Tereza Vokurkova (CZ).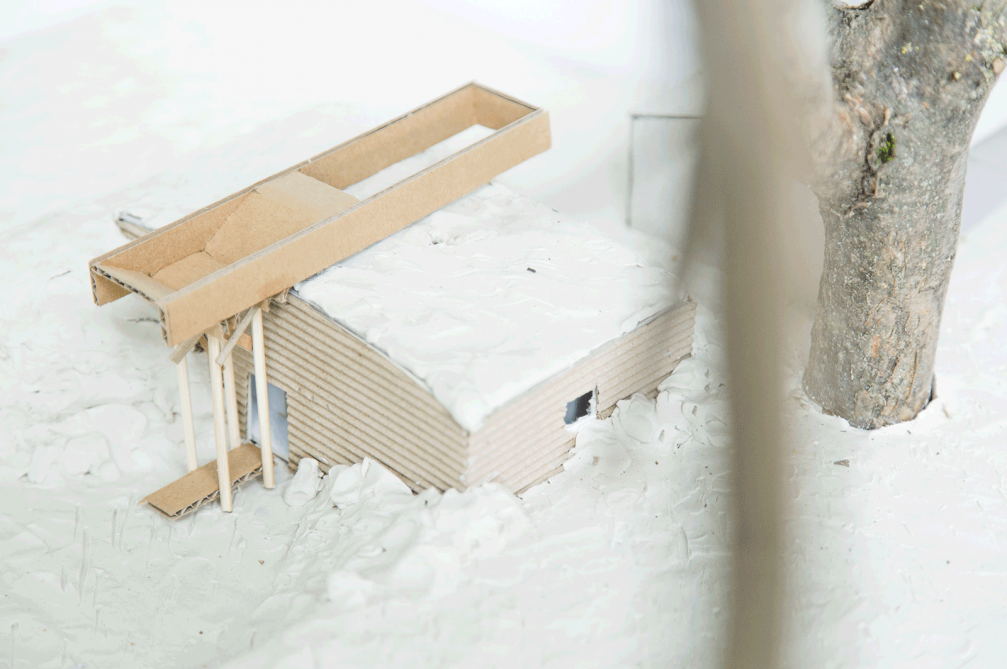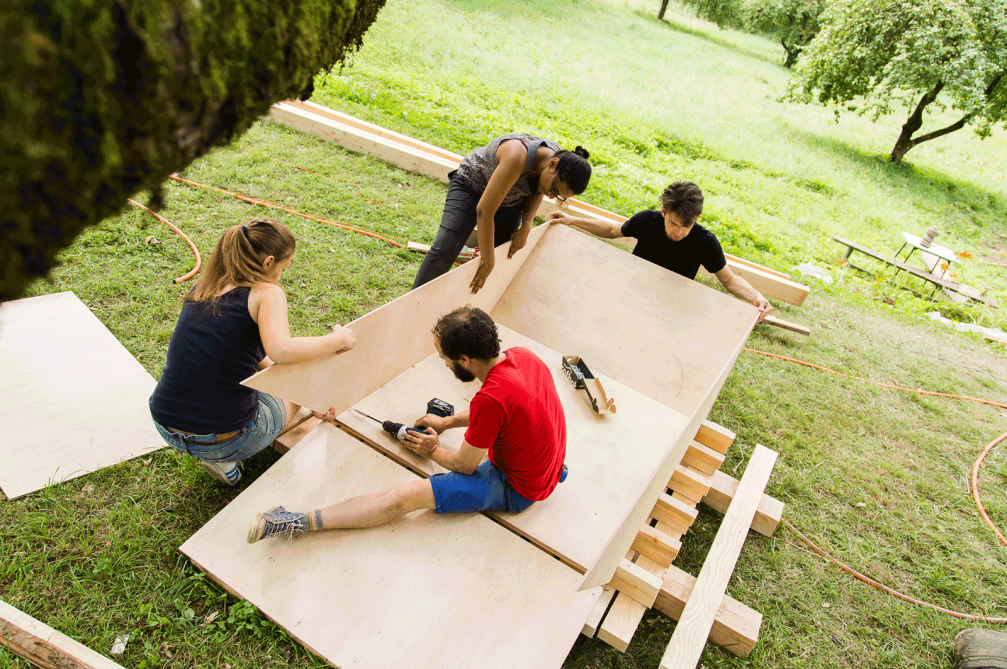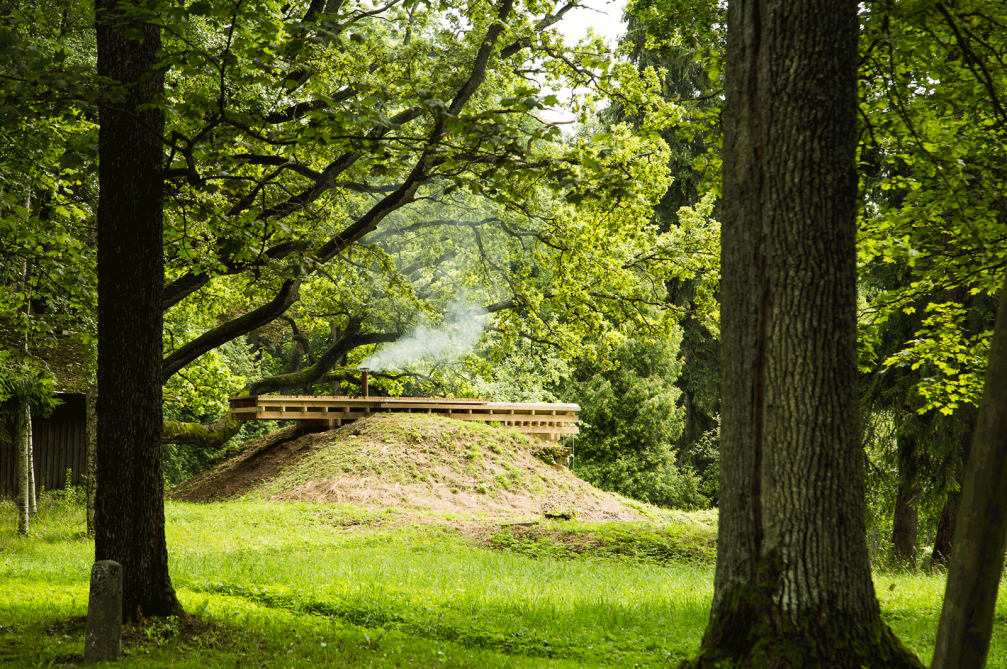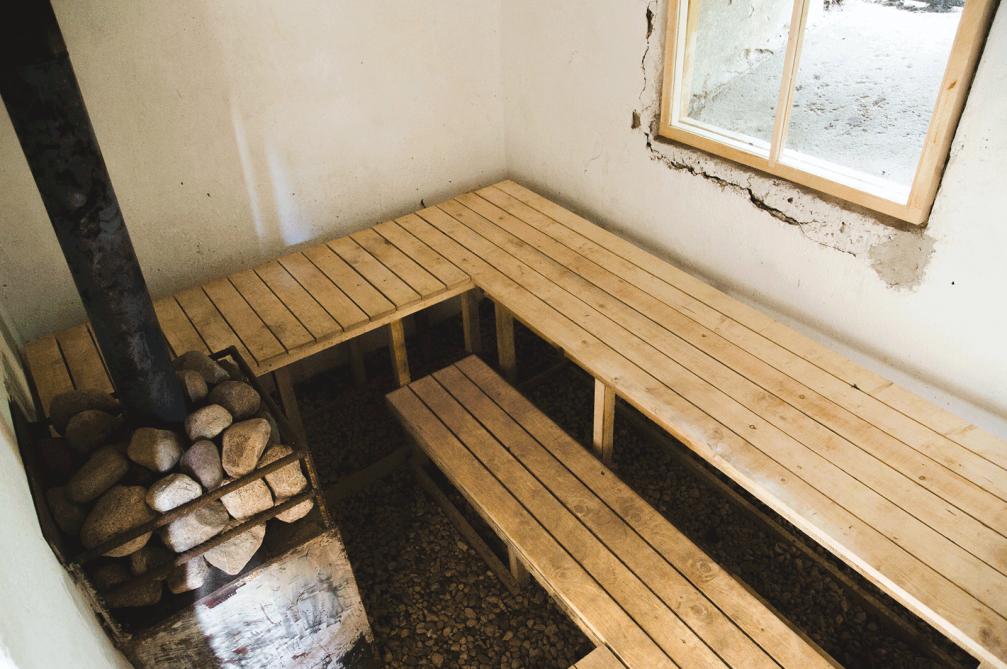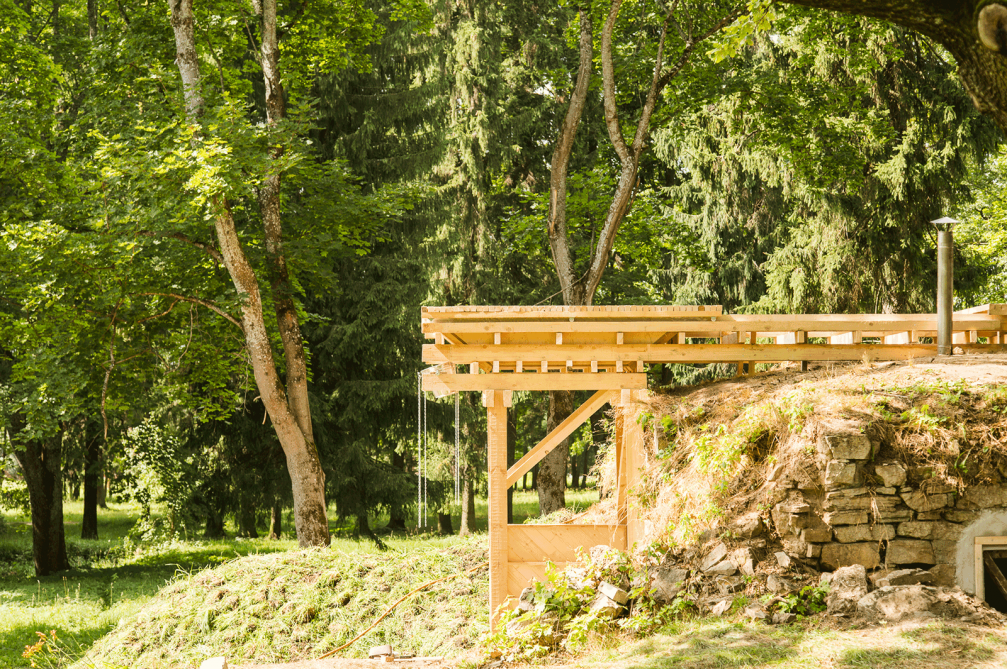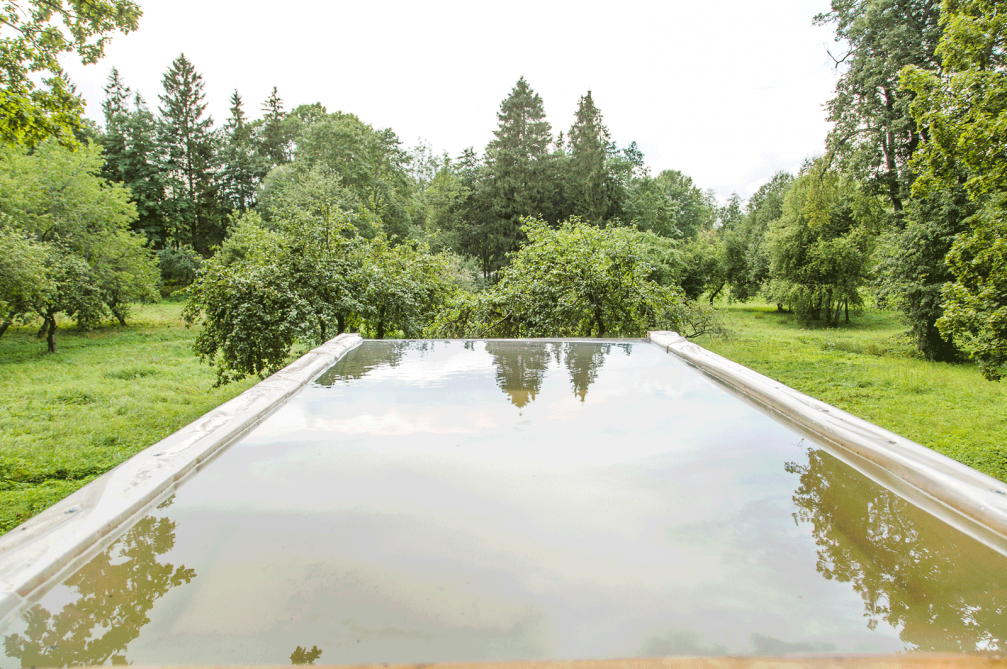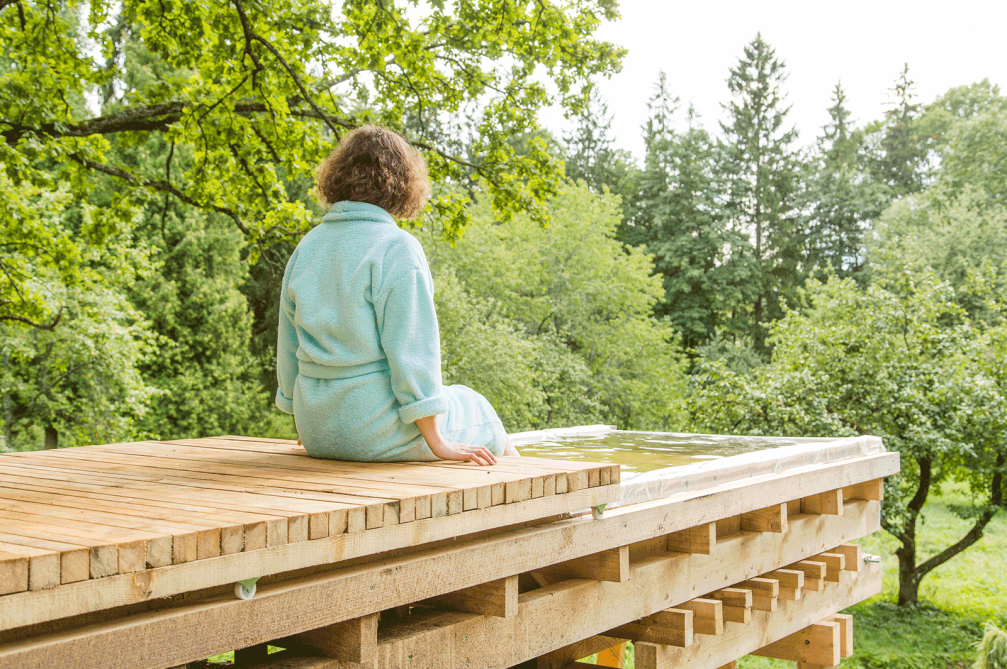 Newspaper «The Naturalist»
The urbanism and research group decided to publish results of their work in a newspaper, a medium that is easy to print and to distribute. Nature and, more specifically, the relationship between the town of Cesis and the surrounding Gauja National Park was chosen as the main topic of the publication. It contains many personal stories, as well as an analytical comparison of three neighbouring towns Cesis, Valmiera and Sigulda, a timeline of the history of Cesis as a health resort, and a guide to where food comes from in grocery stores and the market in Cesis. Edmunds Sprūdžs, the former Minister of Environmental Protection and Regional Development talks about a wave of popularity that Cesis is currently on. A Latvian–Korean couple explain why the chose to raise their child in Cesis, not Denmark. A photo essay reveals the raw beauty of a flooded dolomite quarry. «The Naturalist» / «Naturālists» is a 28–page bilingual publication, printed in 1000 copies and distributed in Cēsis for free.
Tutors: Błażej Czuba (PL), Matīss Groskaufmanis (LV); participants: Anastasia Borodienko (UA), Andreas Marx (DE), Dagmar Heiman (EE), Daniel de Castro Cunha (BR), Donald Alimi (AL), Federica Chung–I Ferraro (IT), Inès Péborde (FR), Nikoletta Moraiti (GR).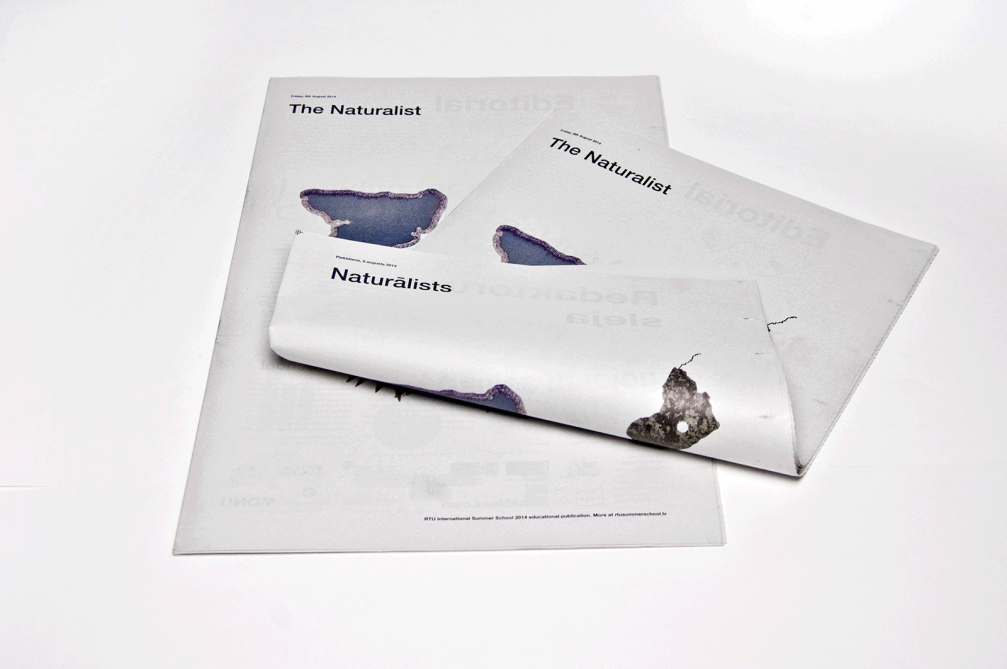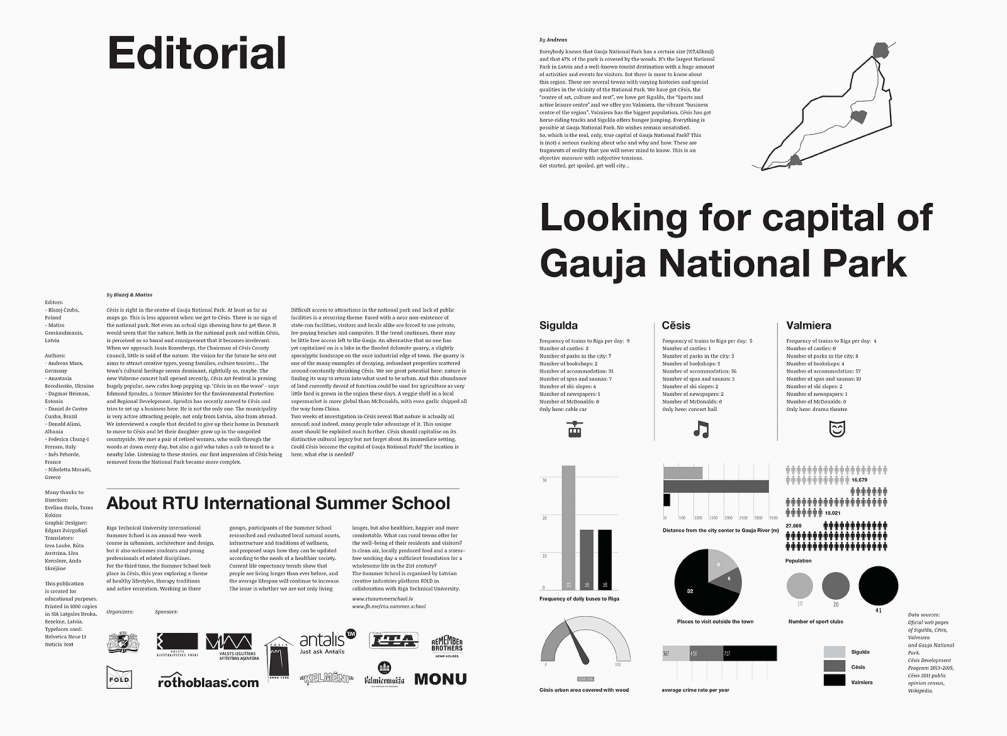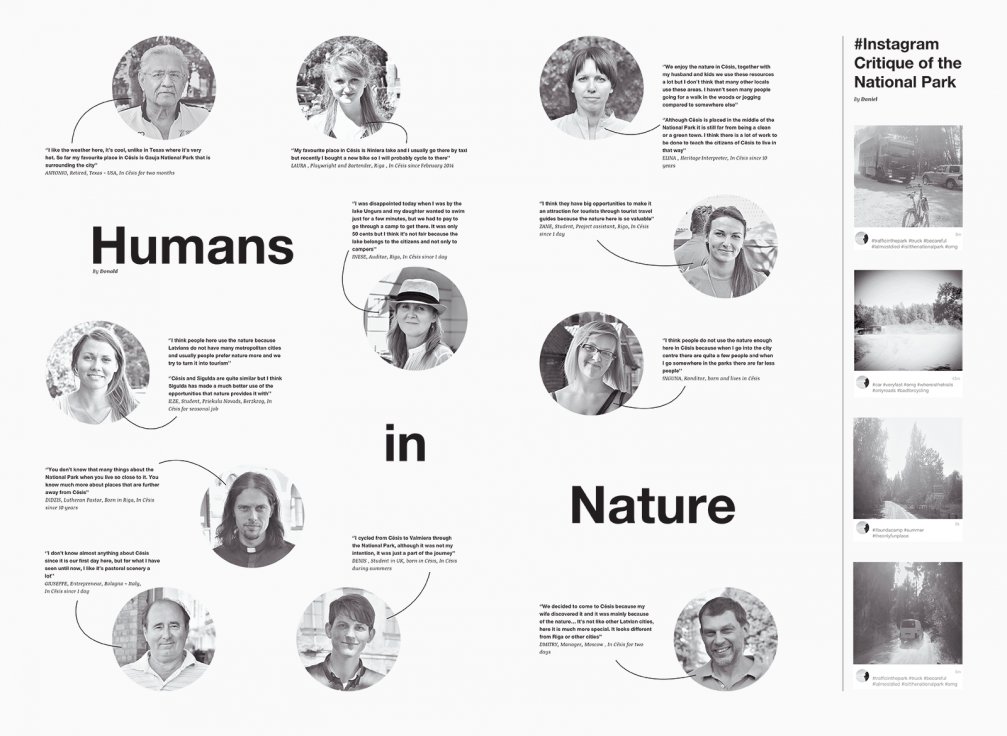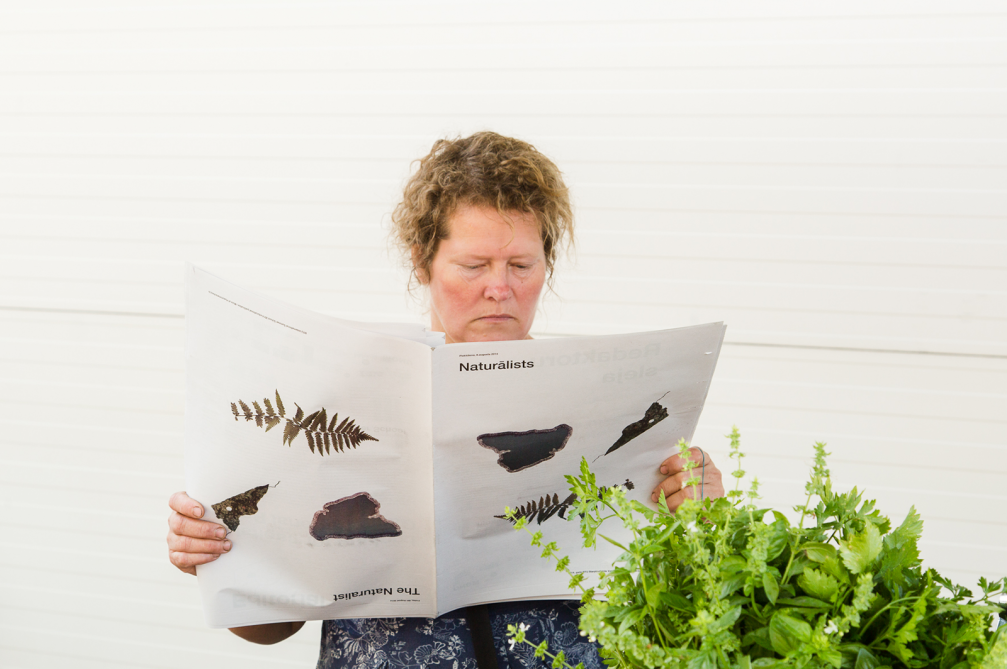 A build–board in Rucka park
The «We Are Well» studio operated as an advertising agency working on a campaign for Rucka Park and the newly opened Rucka Artist Residency. Rucka manor served as a tuberculosis hospital in Soviet years, which left an impact on the surrounding park as well — locals preferred to walk around it, fearing the disease and the ones affected by it. It takes a little convincing for people to accept the park as a pleasant environment. «We Are Well» noticed that Rucka park is the geographical centre of the urban territory of Cesis, and decided to celebrate the fact with a centrepiece — a spatial billboard (build–board) that advertises the park's natural qualities and offers a space for relaxation and play. The group suggests that new spatial structures could be created in the park in the future.
Tutors: Steie van Vugt, Frank Winnubst, Zowie Jannink, Bram Burger — La Bolleur (NL), participants: Edijs Vucēns (LV), Elizabet Ermenkova (BG), Leyla Yildiz (TR), Lore Hauck (DE), Malgorzata Polakowska (PL), Nataly Velcheva (BG), Naz Ozkan (TR), Sanita Skvarnaviča (LV), Xhesika Berisha (AL), Zhi Li (CN).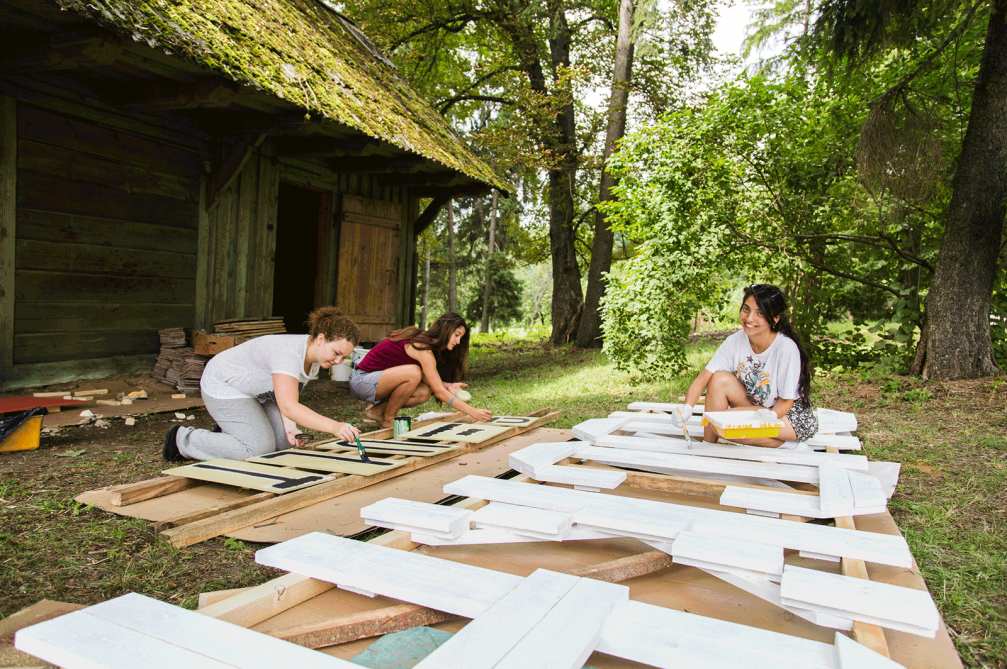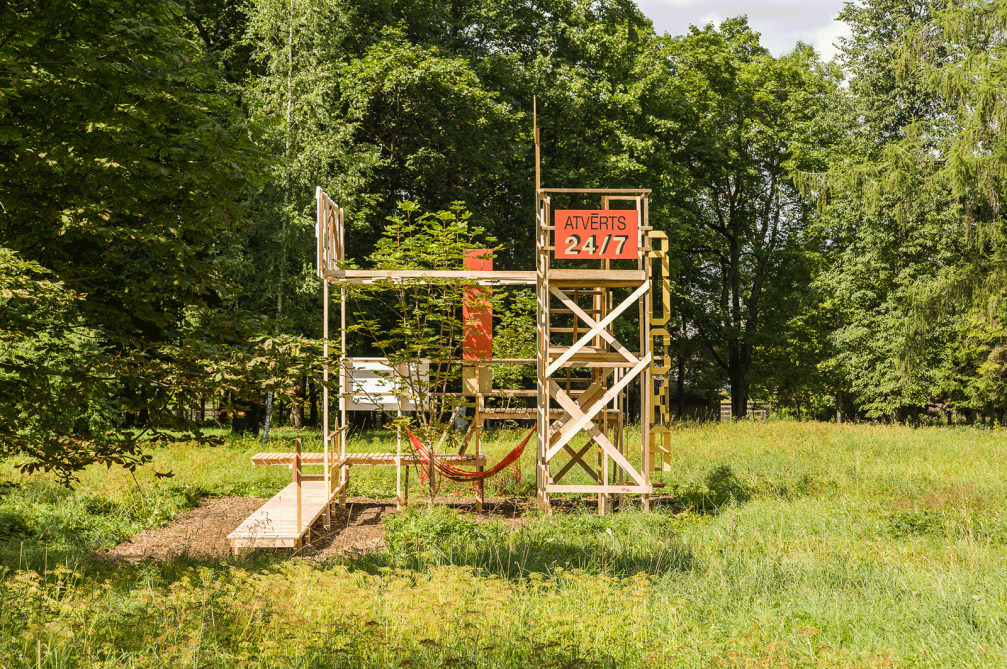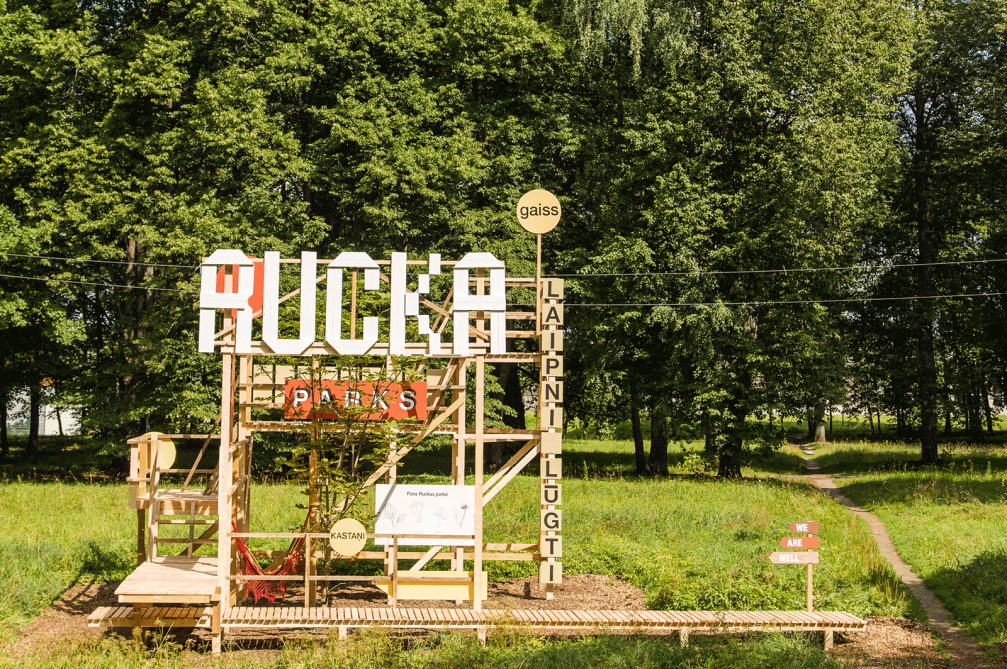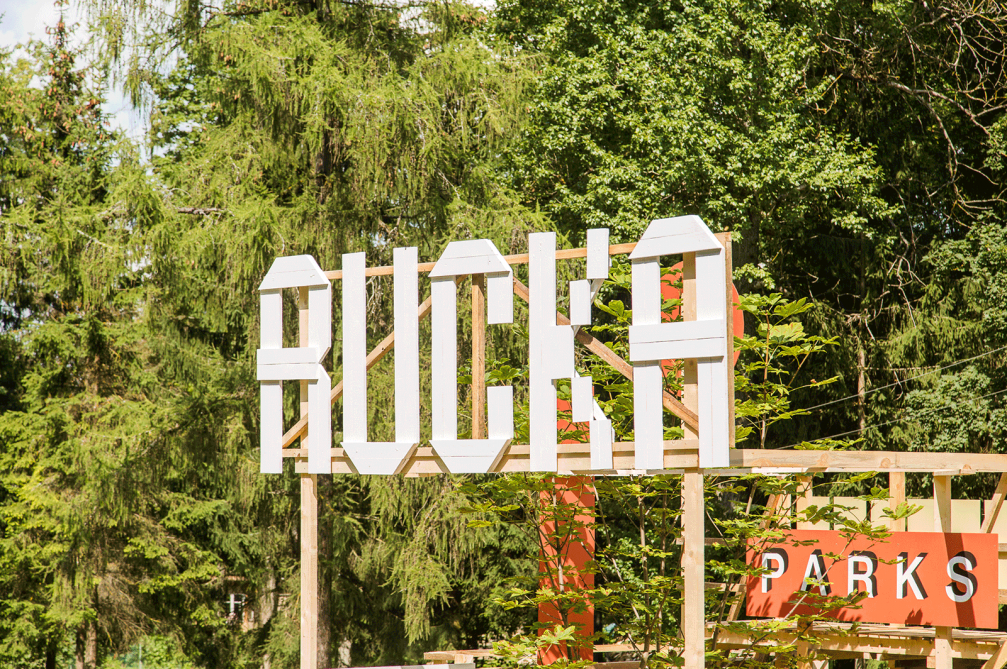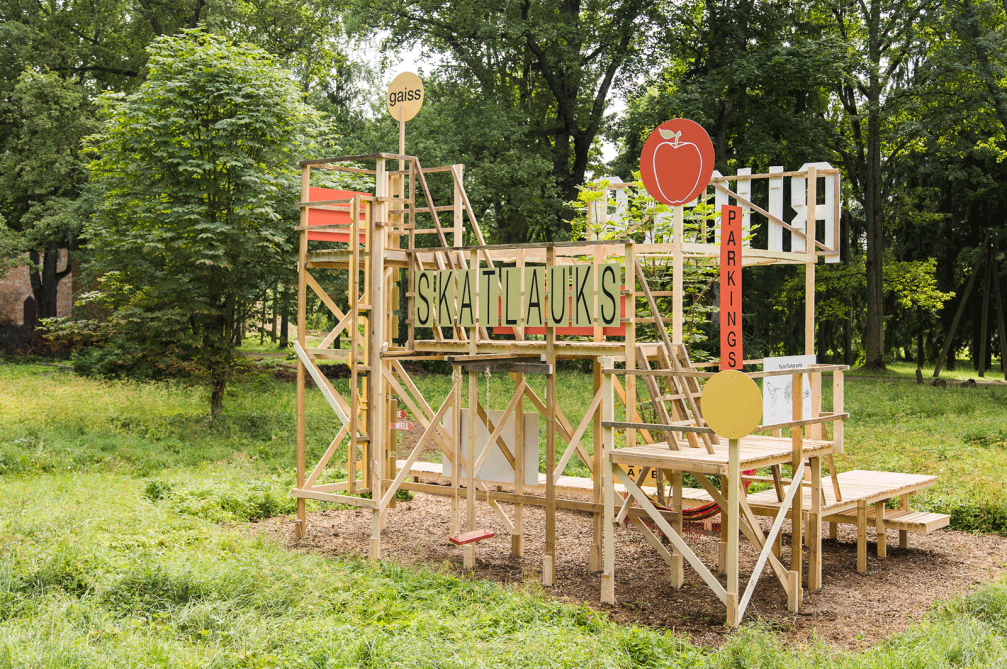 The installations built during the Summer School remain open for public in Rucka park. Free «The Naturalist» newspapers are resupplied at the cafes in Cesis occasionally. More information on Riga Technical University International Summer School is available on its website and Facebook page.
Organisers
FOLD in collaboration with Riga Technical University.
Supporters
State Culture Capital Foundation, State Education Development Agency, Cesis Municipality, «Rotho Blaas», «Remember Brothers», «Antalis», «ITA Ltd», «Valmiermuižas alus», «Ķelmēni», «MONU», «Infogr.am».