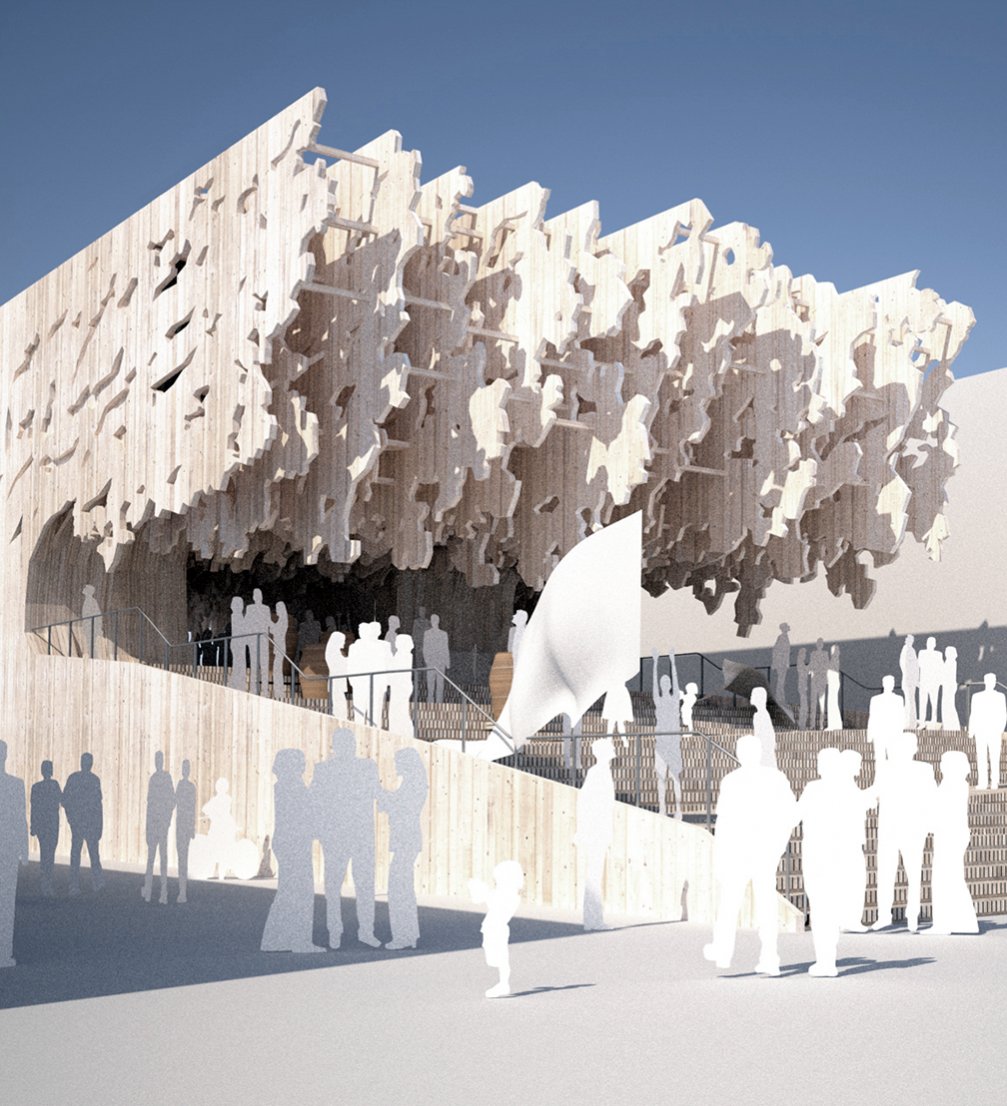 Visualisation by «MADE arhitekti»
The architecture of the Latvian pavilion at «Expo Milano 2015» is both powerful and poetic — it is shaped as a leafy oak that provides shelter underneath its branches in a special light and sound atmosphere.
A year has passed since the competition about the pavilion of Latvia at the international show «Expo», which will take place in Milan in 2015, concluded without a winner. After negotiations with runner–ups, green light was given to an alliance formed by «MADE arhitekti», «Positivus Event», Rolands Pēterkops of «Mareunrol's» and «McCann Riga». The design is now finished, the foundations in Milan are already built, and soon a contractor will be selected for the construction works that must be finished in March 2015.
The volume of the pavilion is designed in the form of a leafy oak, and the architects Linda Krūmiņa and Miķelis Putrāms tell that the most cherished part for the authors, and the most emotionally saturated for visitors, is the space under the branches, where the entrance is. An exhibition hall is hidden underneath the stairs, but the foliage covers up a conference centre, a restaurant and other spaces. The oak will be built of cross laminated timber panels, which are held together with metal constructions. The location of the Latvian «Expo» pavilion has made it possible to design it double–sided, and it is estimated that up to 8000 people could visit it daily.
Other renown professionals of Latvia's culture and art scenes are involved in the project too: the conductor Sigvards Kļava and artist Voldemārs Johansons are working on the soundscape of the pavilion, but the ceramist Dainis Pundurs has created acorn–like pots that will emit sounds of water dripping. Work on the pavilion has lead the team of authors realise that participation in such events is not just another chance for Latvia to shine internationally, but is essential for us to study and strengthen our national identity.
The theme for «Expo 2015» is «Feeding the Planet. Energy for life», and the motto of Latvian pavilion — «Apiary of Life». The exposition and events will tell the stories of nature, art, business and cuisine in Latvia.
The exhibition «Expo Milano 2015» will take place from May 1 to October 31 in Milan, Italy. More information on the Latvian pavilion can be found on its website, and on the international show — on the homepage of «Expo».