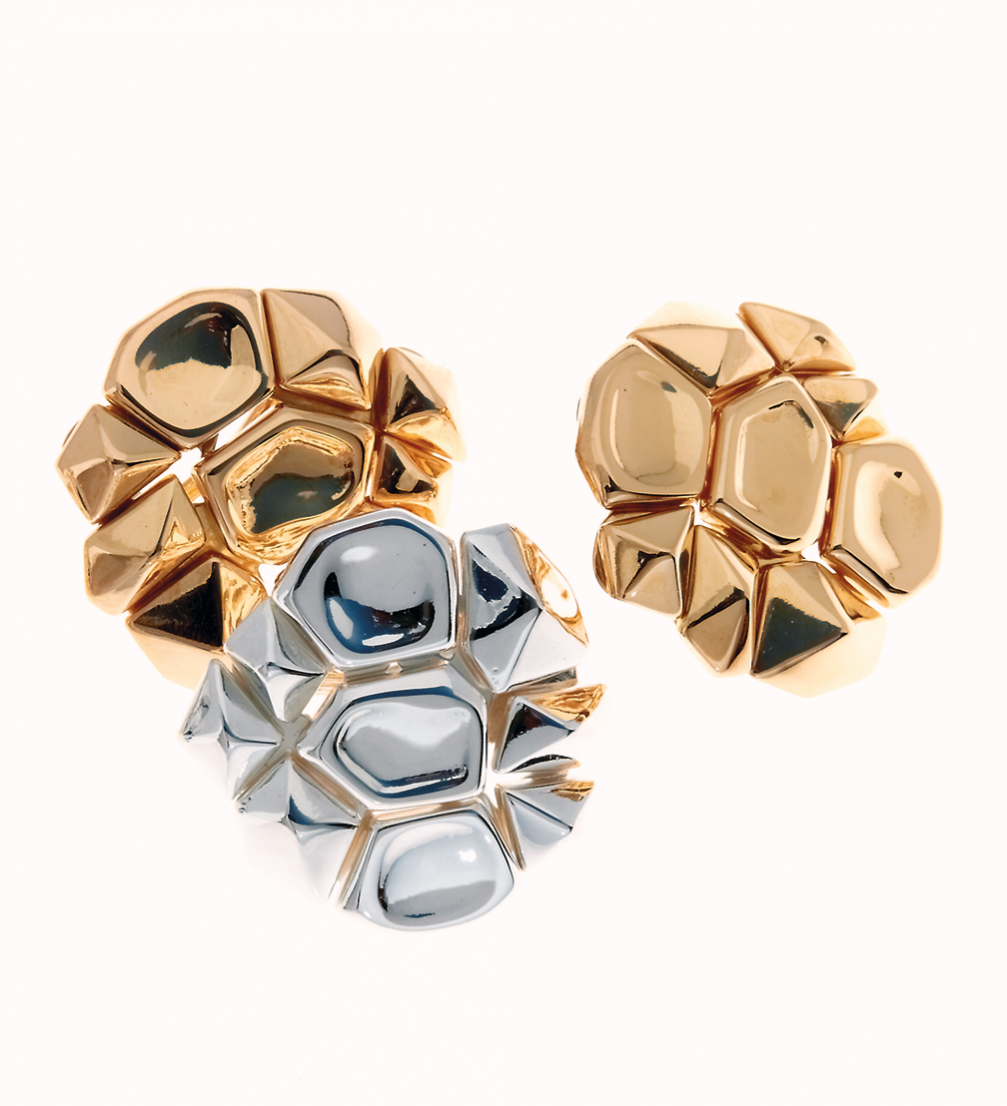 Earrings by «Ripa». Photo by Polina Viljun
Forget felt brooches and woven wristbands — in Latvia, jewellery design is an active creative industry in which talented artists work with gold and silver, diamonds and pearls, nylon and silk. Mastery and an unconventional outlook have brought these authors recognition and wearer's appreciation.
For more than ten years works by excellent jewellery artists can be found in Riga's Old Town, an art gallery «Putti» that regularly hosts exhibitions not only by local artists but also by internationally acclaimed designers. «When speaking of jewellery, one has to draw a line between bijouterie, jewellery, ethnographic decorations and the contemporary art of ornamentation,» right in the beginning of the conversation clarifies Agita Putāne, the owner of the gallery, when asked to paint the picture of Latvian jewellery art scene nowadays. She stresses that in the context of «Putti» one can speak only of the contemporary art of jewellery, which is represented by a range of professional artists. Almost all of them belong to a single generation, one that in the nineties studied and worked outside Latvia, and, thanks to the foundation of the gallery, their works became available to the local public. Agita disagrees that one can talk about a certain succession in Latvian jewellery design, and notes that what is most important is artist's individual vision and style.
The core of «Putti» art of jewellery
One of the artists represented by the gallery is Jānis Vilks (1971), a stage designer whose stage is now jewellery design. Vilks has obtained considerable knowledge in the world of precious stones and has become a master of their treatment. Grinded details in silver with gold dominate in his work, while his stage designer vision allows him to see them as small sculptures.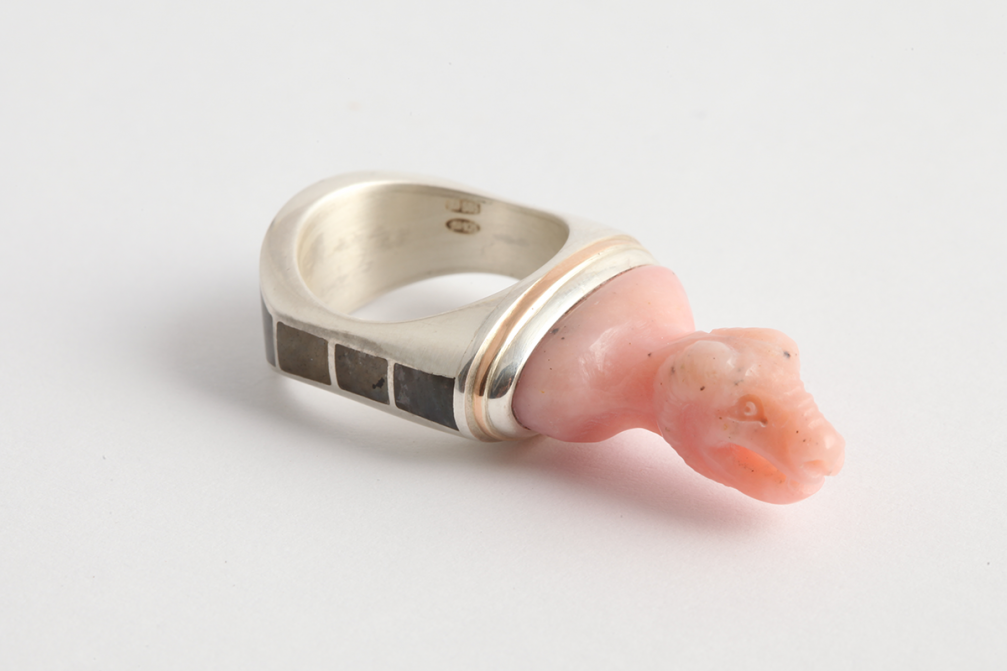 Jewellery artist Guntis Lauders (1965) is most inspired by nature. In his works, by combining silver and exotic materials, nature motifs reveal themselves as mythical live creatures. Meanwhile, one of the few designers in Latvia who himself grinds mountain crystals, aquamarines, topazes, quartz stones and other gems is Māris Auniņš (1949). The artist grants them a unique form whose clarity can be traced to the influence by the Bauhaus school of architecture.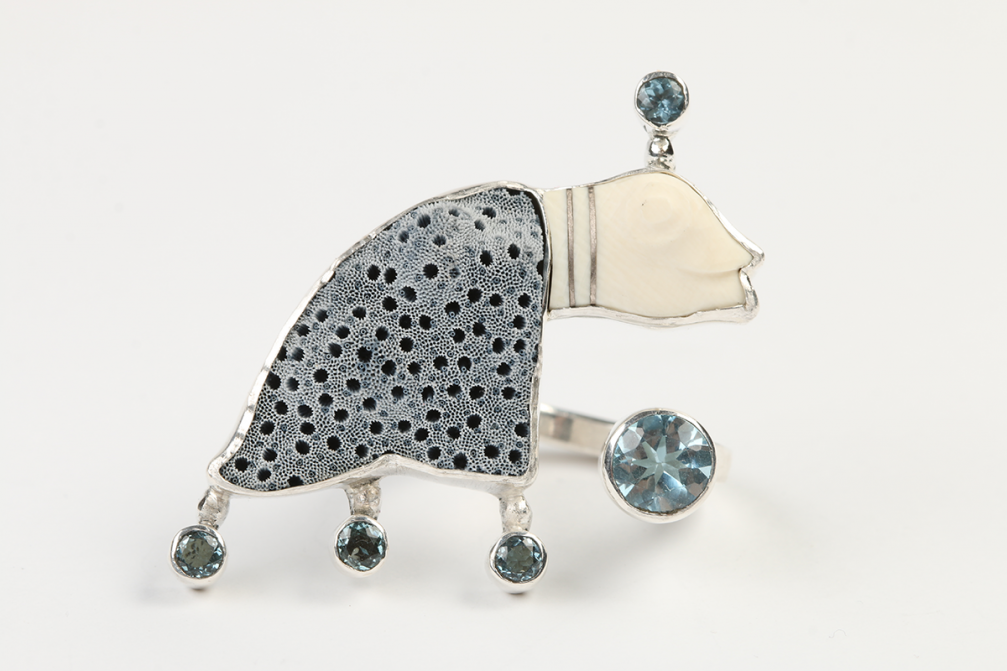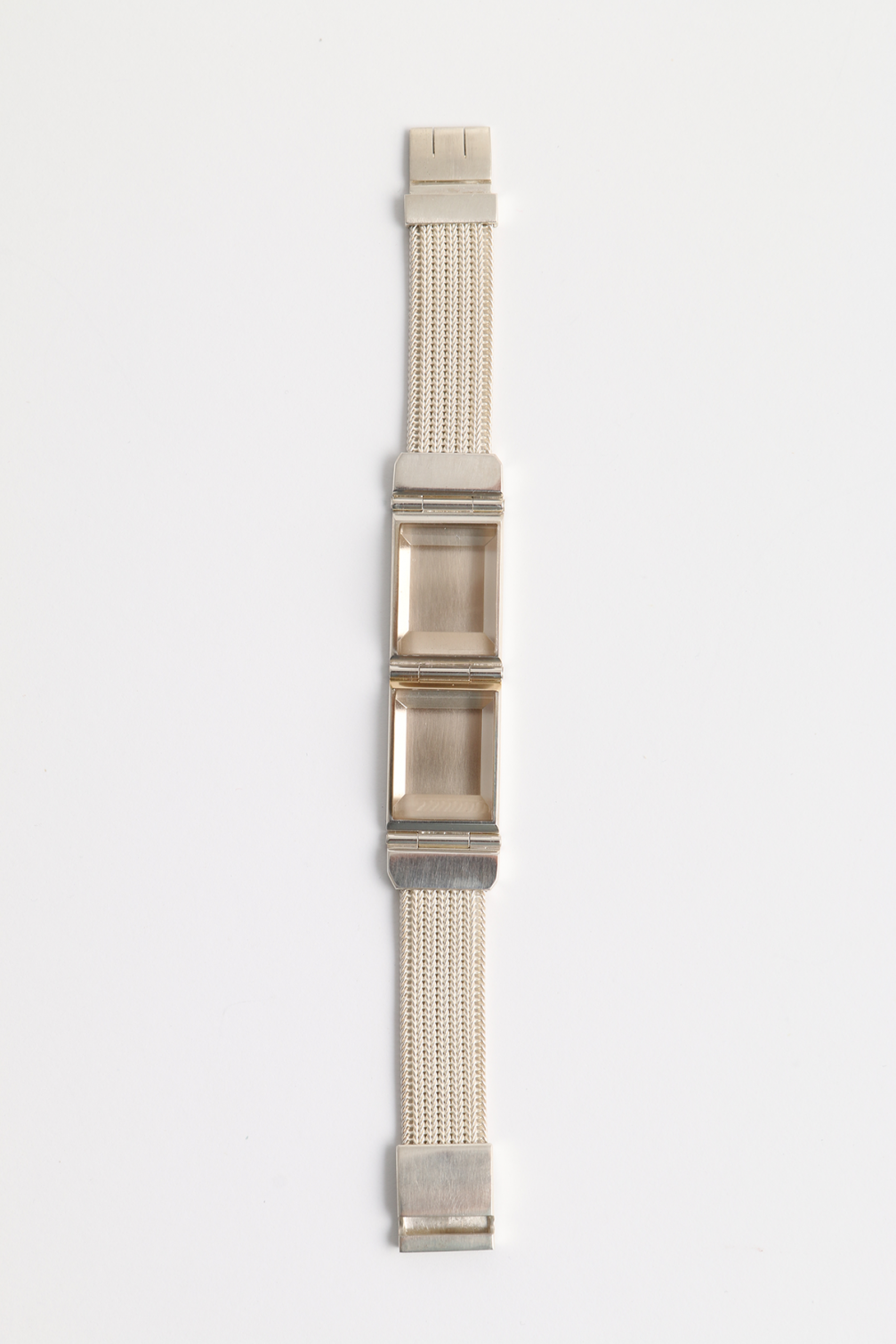 Some artists represented by «Putti» learned the craft in the Art Academy in Riga, while others brought the skill from Tallinn. Agita Putāne argues that the Design Faculty at the Estonian Art Academy still is the closest place where students can discover a strong tradition of jewellery art. It is very much thanks to the head of the faculty, Tanel Veenre, an Estonian contemporary jewellery artist whose creative biography was just complemented by an exhibition at «Putti» gallery.
A graduate of Estonian Art Academy (then Institute) and one of the most renown Latvian jewellery artists is Andris Lauders (1961), whose special approach, which went against the conventional norms of the Soviet times, has become distinctive with its special combining of gold and silver in one work. These basic materials create an elegant interplay that by means of contemporary language tell about treasures left by the Ancient Egypt and other cultures.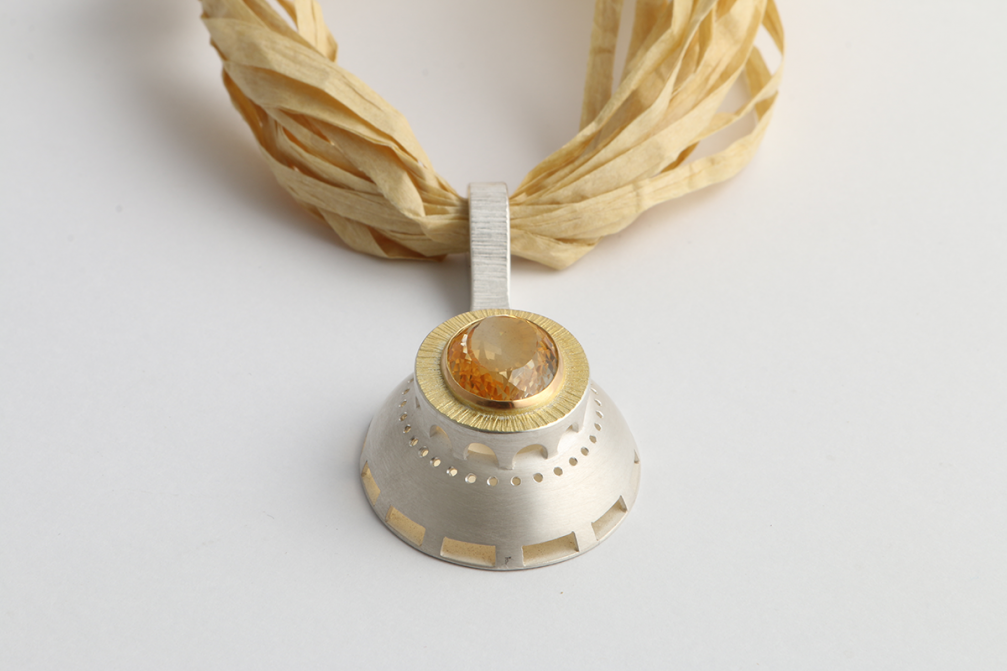 According to «Putti» website, «one of the most romantic» Latvian jewellery designers is Māris Šustiņš (1970) whose works can be characterised by flexible casting in silver, use of precious stones, corals and pearls. The diversity of his work goes from simple forms to technologically complex solutions, and yet they always remain curvy lines and something of the lyrical motifs the Art Nouveau.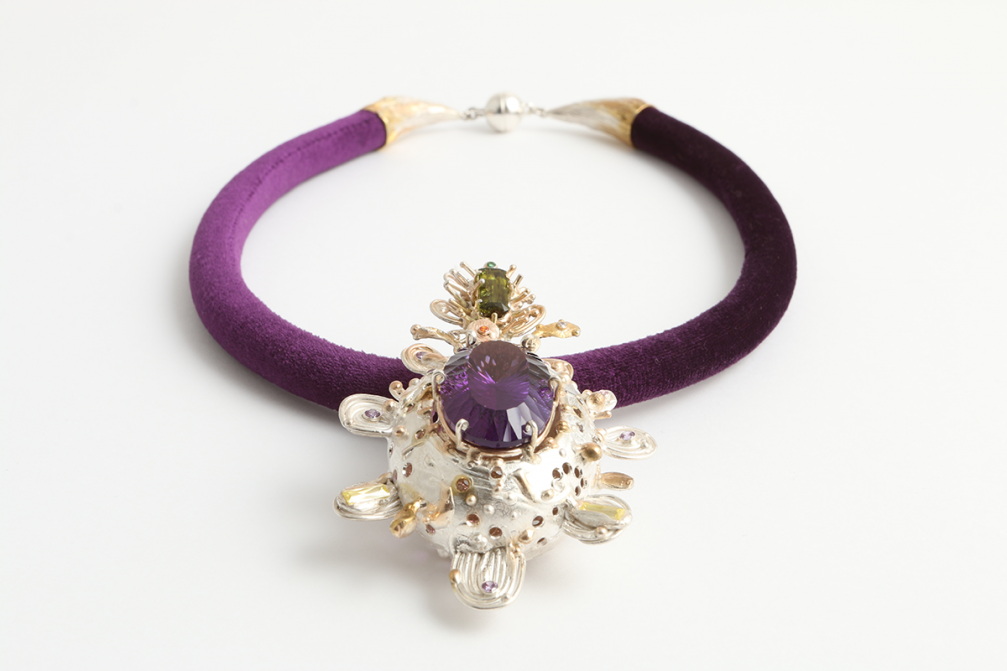 The artist Valdis Brože (1974) and his jovial works reveal unusual characters and surprising combinations of colours in which he demonstrates his mastery at working with enamel. Brože's works have less of classic reservations and more liveliness, courage and surreal motifs.
Each of the mentioned artists should be examined separately, but together they make up for a highly rich core of the Latvian jewellery art scene. Meanwhile those who are willing to make a special present to someone and purchase some of the original works from «Putti» must keep in mind that it will set you back for at least 300 euros.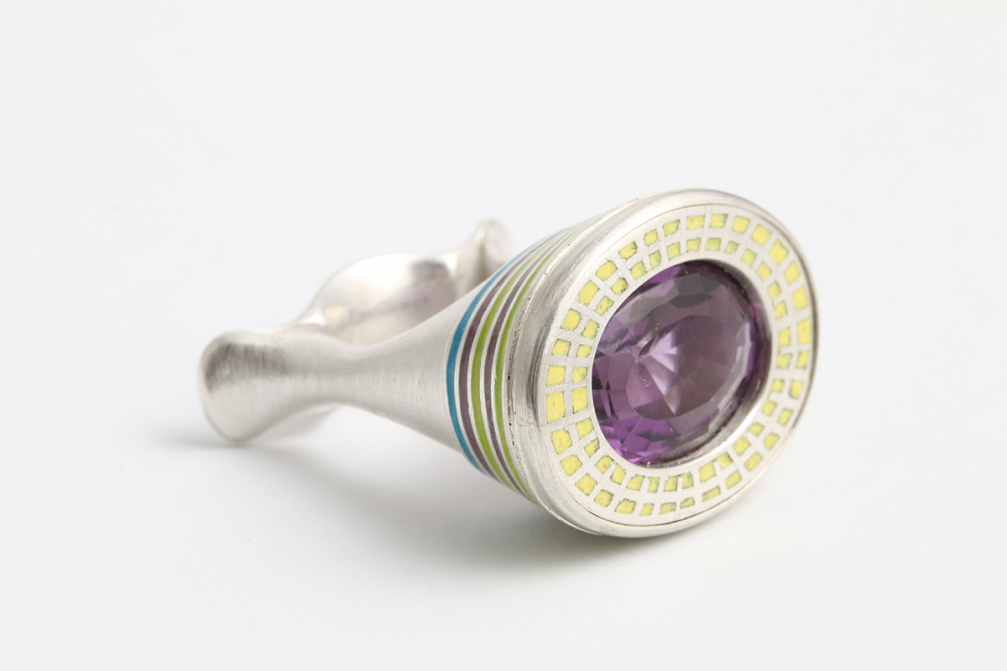 A need for something lasting
What about young artists who would like to join «Putti's» team of stars? Agita Putāne admits that the gallery does not specialise in discovering new talents nor does it attract them. She believes that an artist should talk about their work, but young designers usually don't approach the gallery with their works.
When asked who of the members of the contemporary art scene must nevertheless be mentioned, she names Aldis Lorencs, whose name is not on the gallery's official list. The range of his mastery is wide: starting with elegant jewels made of precious metals to large forms of metal, among which is a work for this year's Latvijas Gāze Opera Grand Prix. The artist believes that working with «splendid» materials does not only acknowledge the need for something lasting but also a challenge to deliver a perfect performance.
«Listen to your heart, give yourself to the natural flow of life, and everything will turn out the best way right when it should,» says the jeweller Anita Savicka, the creator of the brand «Anita Sondore». This advice describes her own road to jewellery design — although she had been interested init from early on, the designer began to learn the practical side some six years ago. She learned the basics in Latvia, but when she realized that the craft would not just remain a hobby, she went to Rome to develop a broader view and gather knowledge. Anita's works are radiant, gorgeous, and expressive. The works of precious metals and stones reveal geometrical forms in which a closer look will show motifs of both ancient Latvian ornaments as well as architectural themes. This summer «Anita Sondore» caught an eye of professionals in the USA receiving a chance to participate in the ten best young designers' exhibition (New Designer Gallery) which is part of the American jewellery summer show in New York (Jewelers of America New York Summer Show 2014).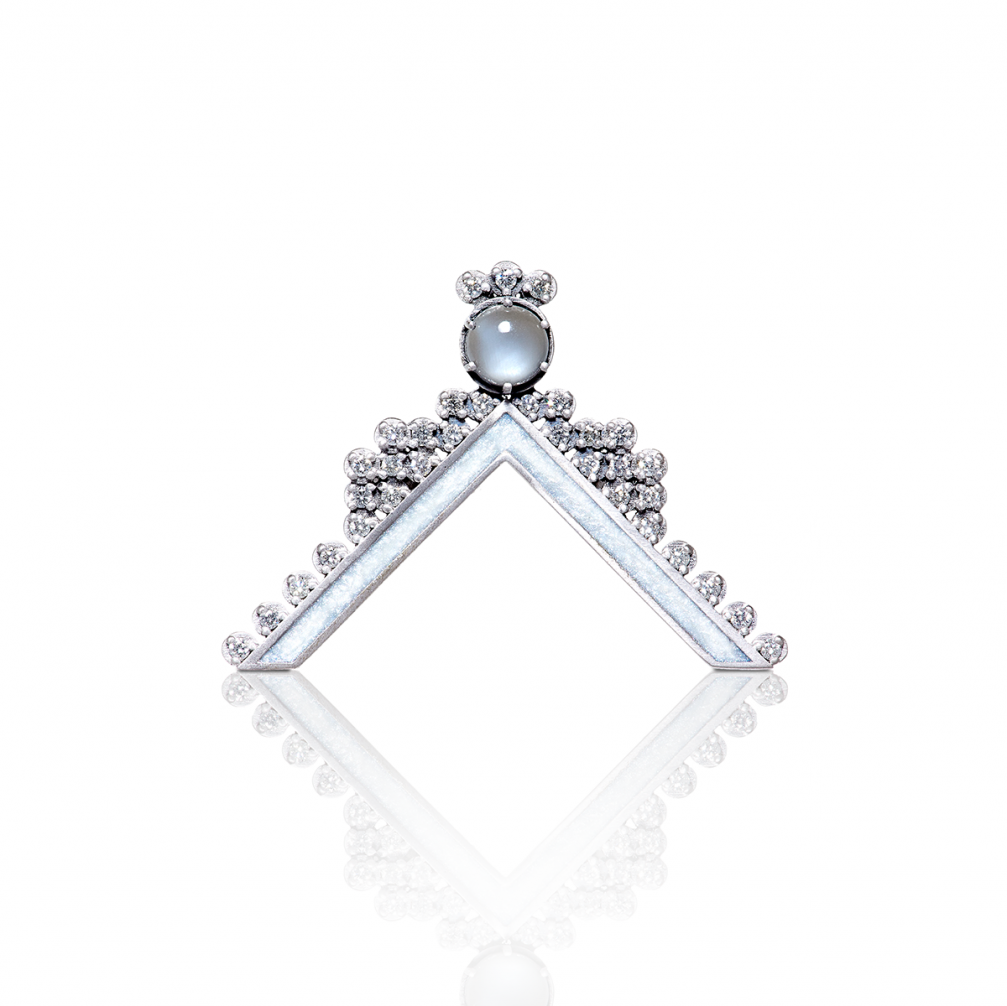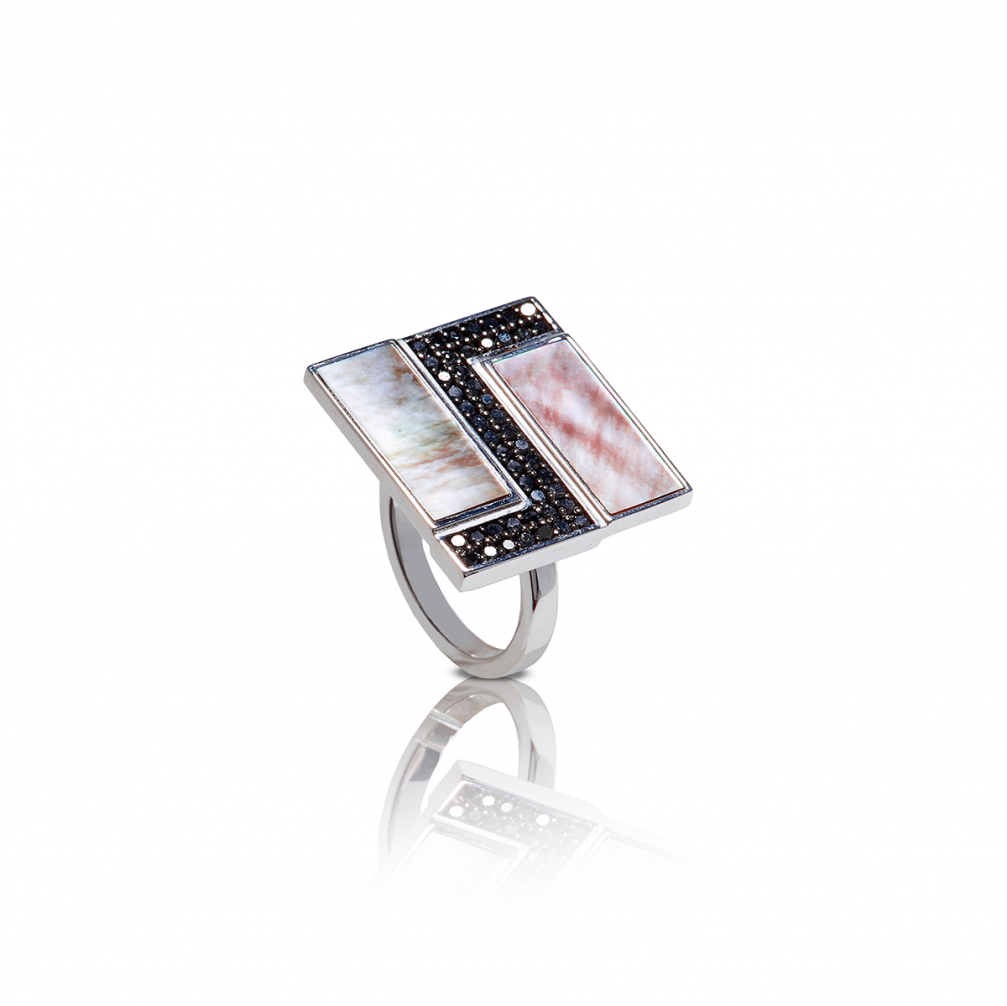 Gold and nylon
Creator of the brand «Ripa» is Pēteris Ripa (1974), who, after graduating from Riga School of Applied Arts went to study in Hamburg, in the department of Industrial Design at the School of Visual Art (HFBK). There he gained experience working for the acclaimed German jewellery designer Hilde Leiss' gallery, then later at Barbara Heinrich's studio in the US. Upon returning to Latvia, Ripa spent ten years working in advertising before returning to the roots — jewellery design. In his earrings, rings and bracelets silver and gold are combined with magnificently beautiful minerals, diamonds and even locks of nylon hair. The artist likes to experiment by using stylised ancient signs — for instance, the blossom of lilies or an Egyptian cross, or creating conceptual collections inspired by forms found in nature. In 2011, Pēteris's works accompanied his sister Baiba Ripa's fashion collections in Berlin, Vienna and Paris fashion weeks, as well as in other shows across Europe. Pēteris Ripa's workshop also accepts private commissions, but the prices vary from a hundred euros for a pair of lustrous silver earrings up to a thousand euros for a massive golden ring with a precious stone.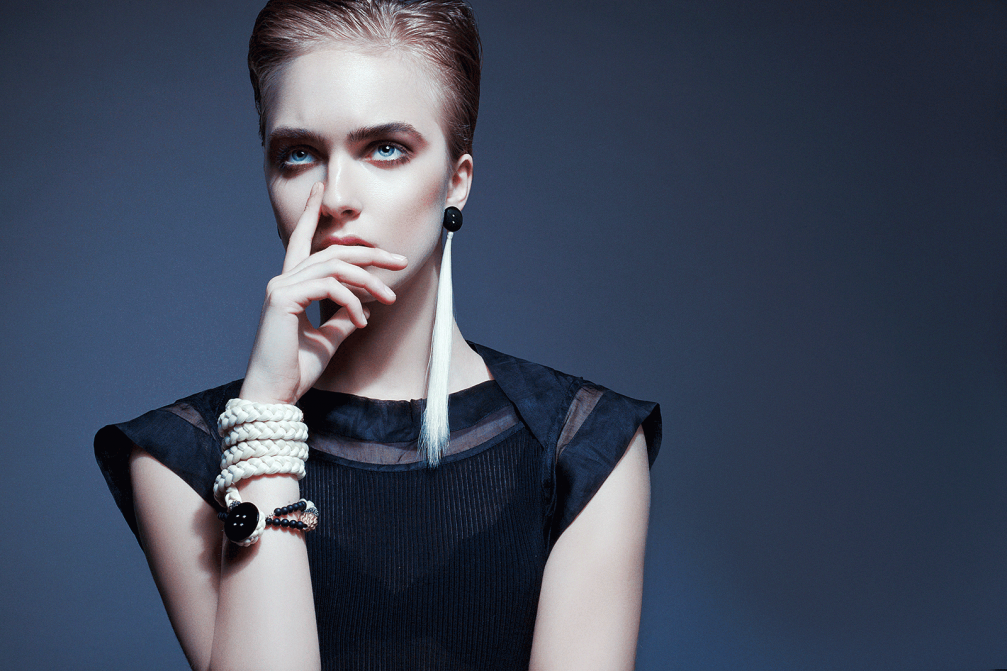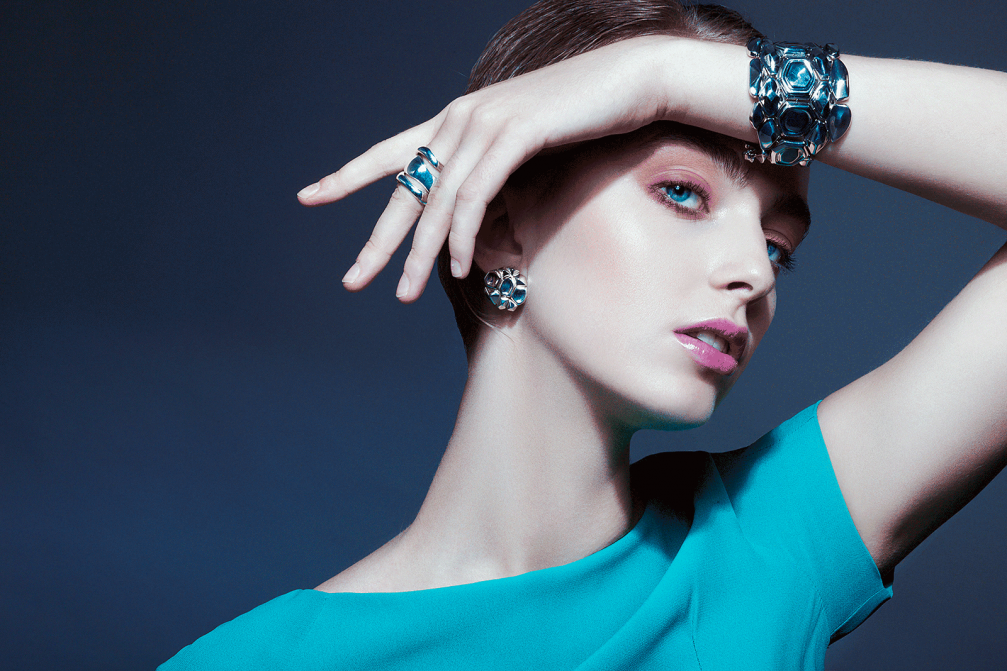 More than words
Next year will see the 10th anniversary of the brand «Verba». Their works are definitely known to design shop customers because of their reserved elegance and Latin phrases engraved in silver and precious stones. The author is Anna Fanigina who has actually majored in mathematics rather than the art of jewellery. «I had to walk a long way to understand what I really want to do in life. I started creating jewellery right after graduating from Riga School of Design and Arts, in 2000, but 2005 was the year when I gave it a name,» she says. «Verba» means «words» from Latin, and these words is what allows Anna to encode a certain meaning in each work. The artist thinks it essential that the language of the Ancient Rome, engraved in rings and charms, not only gives them a special meaning but also revives ancient values in modern forms. For example, one of «Verba's» pieces has an engraved phrase that says «Caritas et amor» (meaning «tenderness and love»), while another piece of jewellery will always remind its wearer, like a tattoo would, — «be with those who will make you better».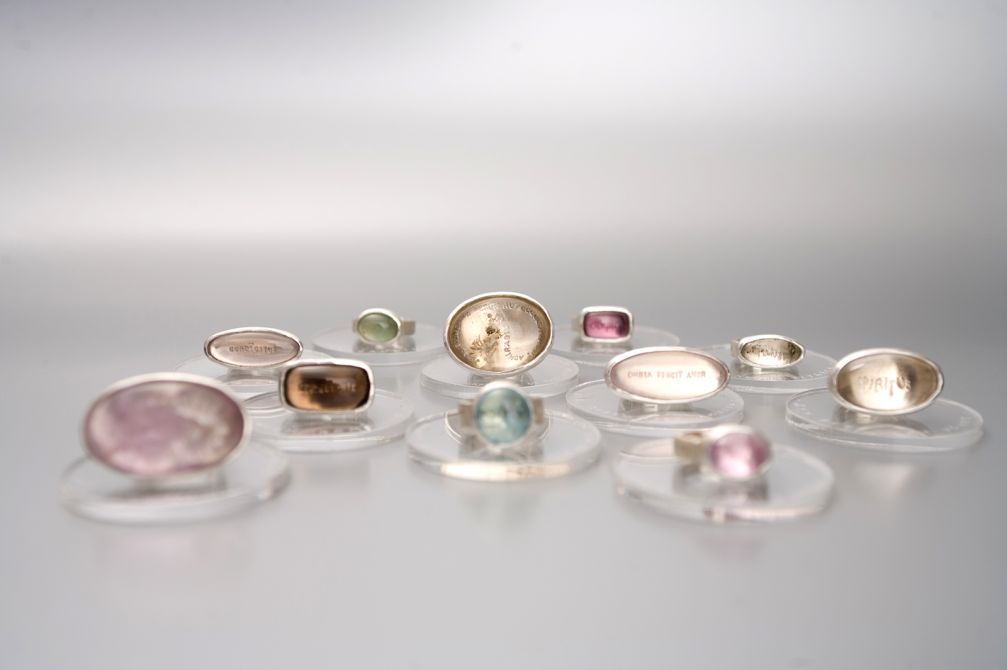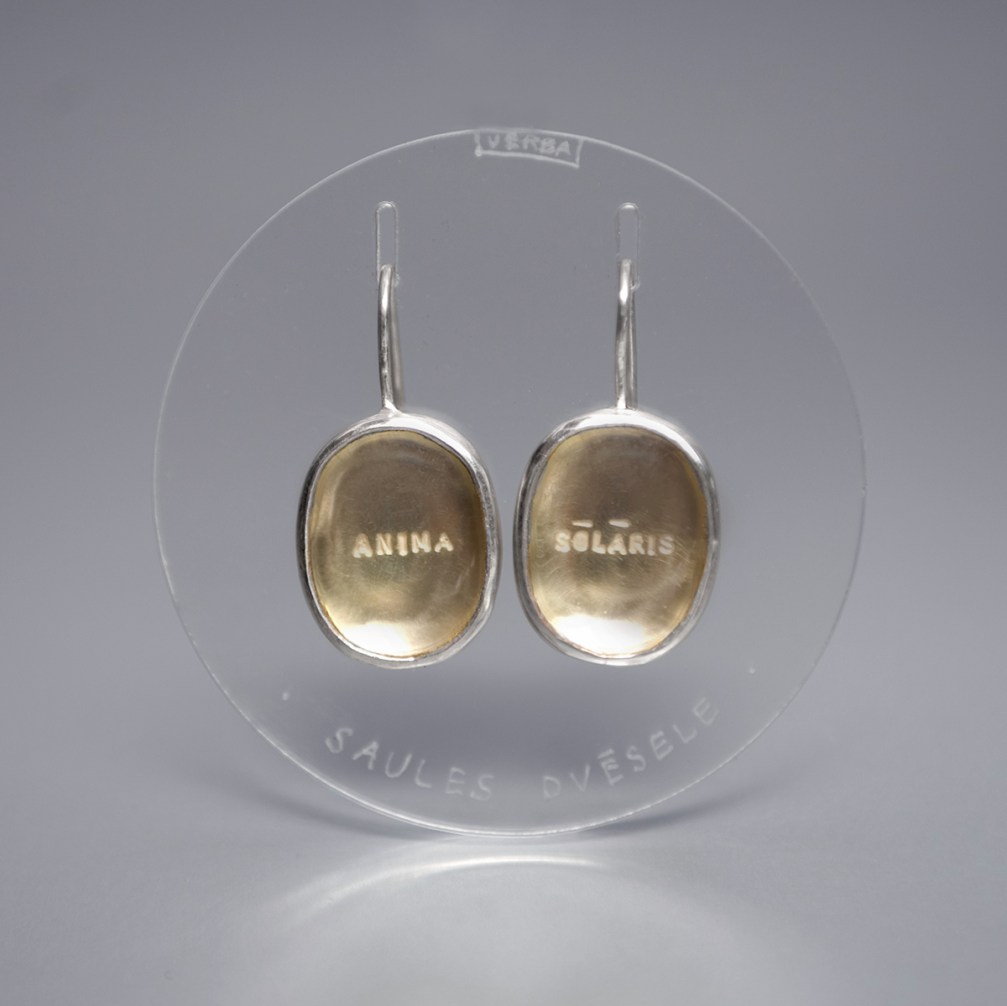 The aesthetics of «Verba» is based on ascetic forms, simplicity and transparency. «I like that in a piece of jewellery, a little thing, one can invest and put so much content in. And what is said lasts for a long time; it serves the person and remains in the closest contact with them. Multum in Parvo,» the designer adds a phrase which from Latin translates as «a lot in little». She is glad that some clients even sleep with the jewellery still on — it matters to her whether the jewellery is easy to wear.
Some works by Anna Fanigina are already acquired by the Museum of Decorative Arts and Design, while her works are available for purchase in shops and galleries in Riga, Vilnius, Antwerp, Kiev, Moscow, and Saint Petersburg.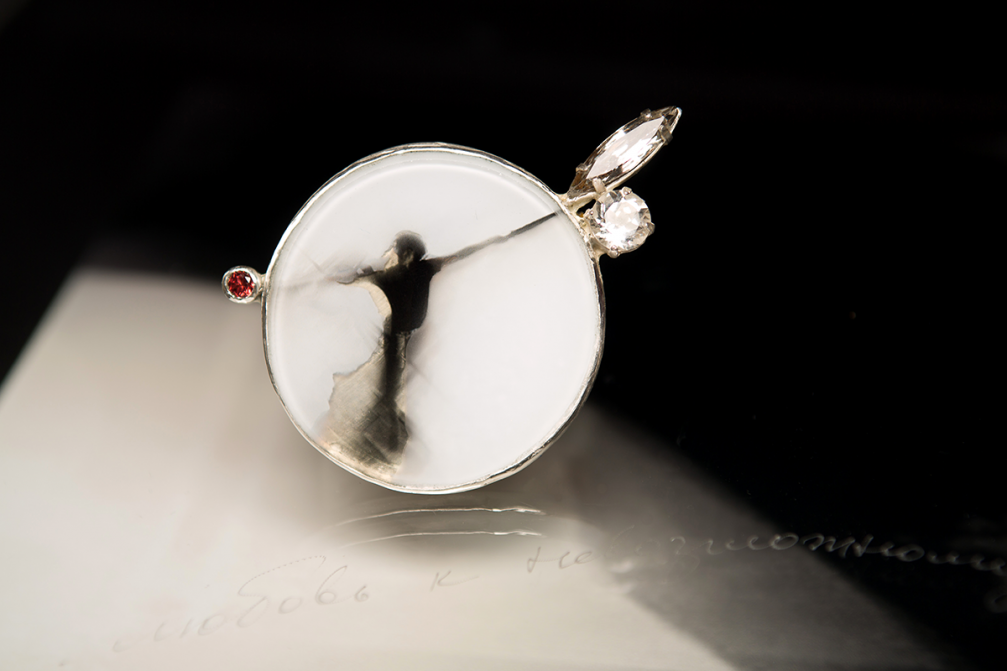 Gifts of nature and the air of a metropolis
It took only a year for a new brand «Yayoi», created just last August, to gather praise. It was founded by Jevgenija Doroshenko, a graduate from the Art Academy of Latvia. She had been working with jewellery is her pastime since high school, but it didn't take long before the hobby turned into a profession, and currently «Yayoi» jewellery can be purchased in stores in Riga, Amsterdam, as well as on Etsy. They cannot go unnoticed — the necklaces and bracelets are bright and massive. The author describes them as a mixture of Mediterranean freedom and the breath of global metropolises where fashion goes hand in hand with natural phenomena. The brand's name was inspired by the famous Japanese artist Yayoi Kusama and her expressive works which have also left their mark on the designs of «Yayoi». The gorgeous objects use decorative ropes and fringes of various colours, gold–covered, silvery and bronze details, as well as semi–precious stones — natural crystals and corals.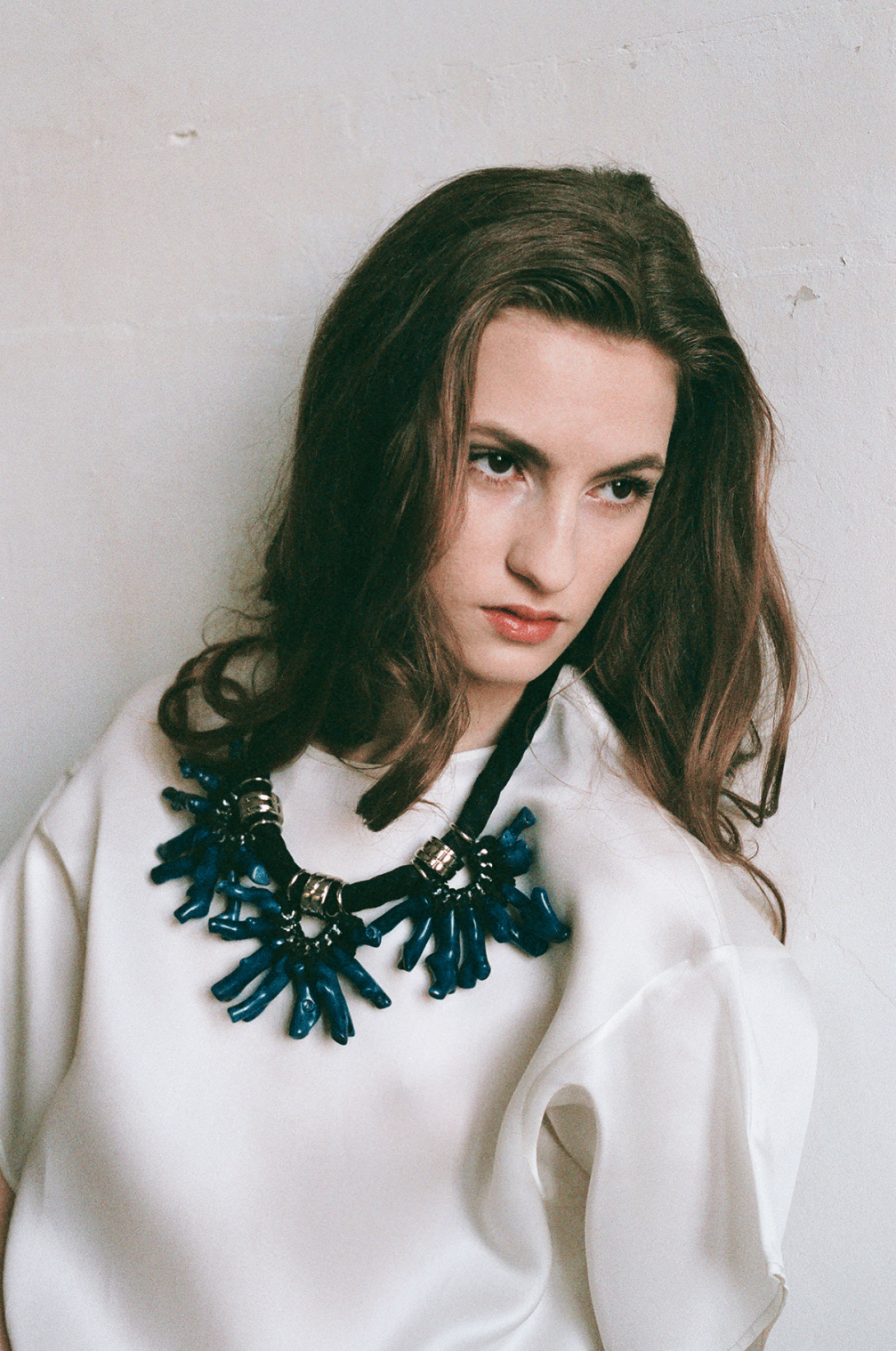 Currently «Yayoi» team, besides Jevgenija, also includes Annika Petraškevica, who has taken over the issues of communication and marketing. «We believe in fashion that leaves an impact on and reflects personality. Each piece of jewellery is unique due to the free form of natural stones,» she says while noting that the main cornerstones are originality, quality and professionalism. Meanwhile the wearers of their expressive jewellery are brave, creative people who are not afraid to experiment.
At the moment «Yayoi» offers two collections of jewellery. The first one, «Long Time Ago», embodies summer heat; it is bright and playful; the other one, «Element One», is more down–to–earth and tells of one of the basic elements — water and its various stages. Currently «Yayoi» are working on a new collection while work is just finished on their new online store. «It definitely is an experience how to create your own product, promote it, and, most importantly, gain the customer's trust. We plan to promote «Yayoi» in both local as well as global market,» the brands authors speak of their previous experience and future plans.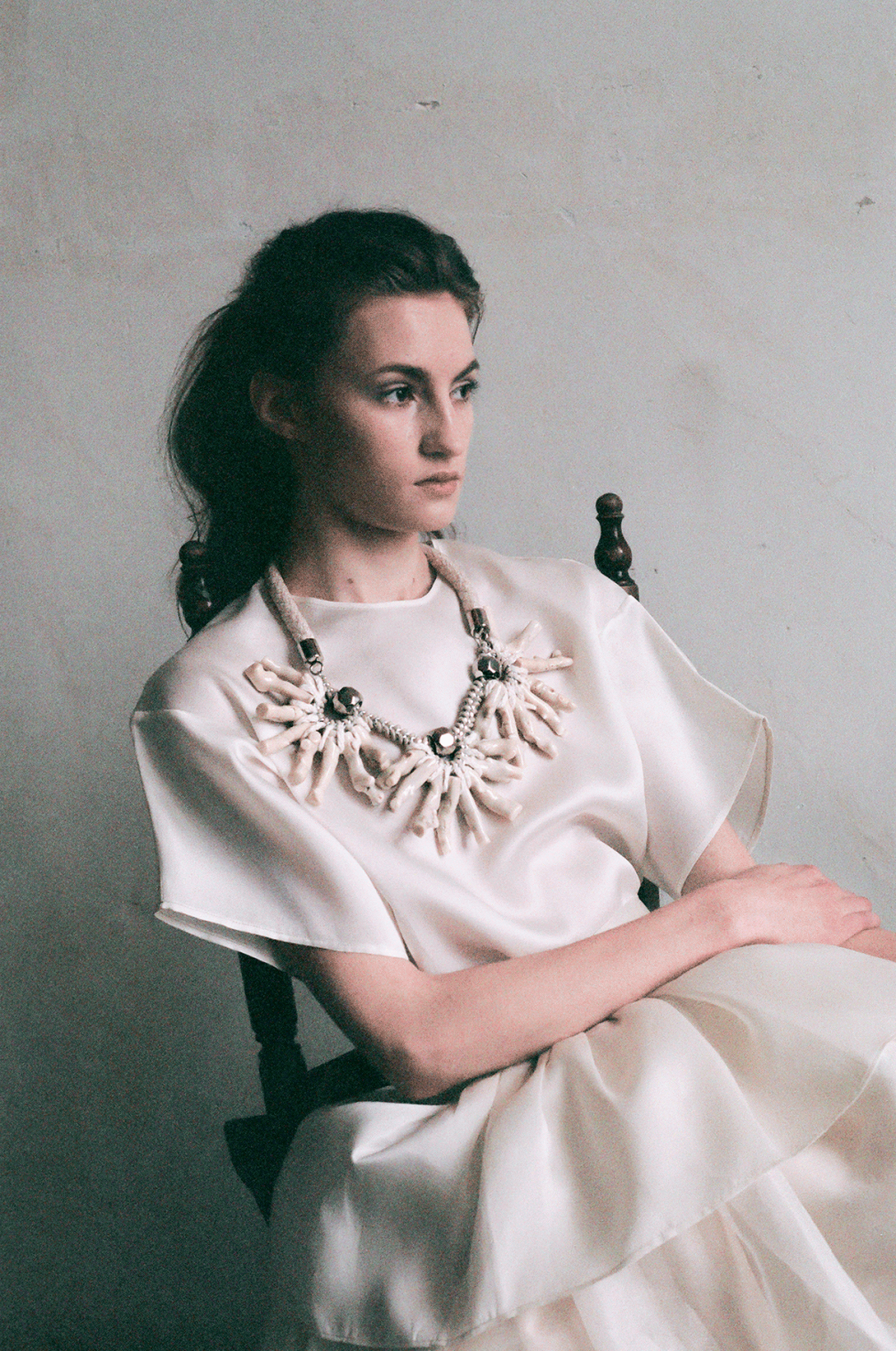 Highlight the beauty
«A woman shows her nature in various ways, and jewellery is one of the ways,» confidently says Laura Selecka, the creator of the brand «Sofia Riga». Her designs combine force and fragility, romantic themes and thoroughness. The first collection of «Sofia Riga», which was created a few years ago, includes elegant rings and earrings from a set of unconventional materials — silver, porcelain and Murano glass. These works resemble stylised flowers, freshly opened buds, yet they don't seem banal and do not try to copy nature. Works from another series — earrings in the form of a butterfly — are made of copper, using electrotyping.
Currently «Sofia Rīga» jewellery can be purchased at several stores in Riga as well as at the London's contemporary jewellery gallery «@work». The prices of «Sofia Rīga» works on their online store vary from 180 to 285 pounds.
When we buy a beautiful, high–quality, Latvian–made piece of jewellery, we not only support local designers, but also invest into our own wardrobe and give our self–image a certain special feature. Quoting Agita Putāne from «Putti»: «Contemporary jewellery doesn't follow fashion. It can't be worn down and it will always look good.»