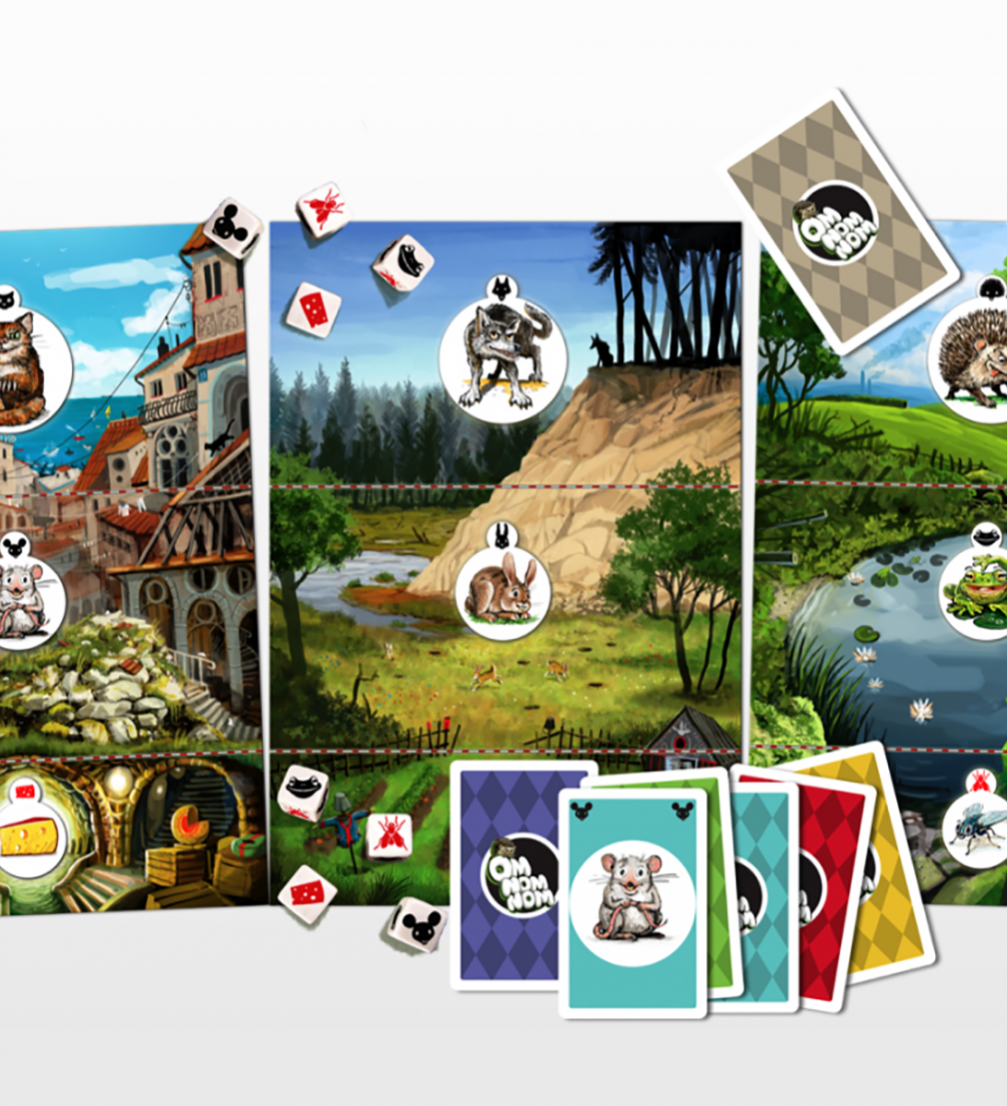 Board game «Om Nom Nom». Author — Meelis Looveer, illustrations by Reinis Pētersons, published by «Brain Games».
Long before the invention of tables, tabletop or board games were used for socialising, entertainment and for sharpening of the mind. Painted and identically shaped pebbles found in 5000–year–old burials in south eastern Turkey might be the most ancient game figures, and throwing of dice was not uncommon in either Mesopotamia or Ancient Rome. The activity is mentioned in Hindu Vedas and the Bible, and depicted in ancient frescoes and mosaics.
Board game culture can almost be deemed universal. For instance, the current world champion in chess is Norwegian, while the game of chess itself originated from the Chaturanga game invented in India. The game «Circus» loved in Latvia by generations is globally known as «Snakes and Ladders»; the board game «Alias» adapted into Latvian was created in Finland, and «Monopoly», in the global edition of which we tried to vote in Riga this past spring, was invented during the Great Depression in the USA. Yet despite the game creation tradition of many thousand years, enthusiasts in Latvia accept the challenge to come up with new board game ideas.
Local experts
«Brain Games», a pioneer in Latvian board game culture, started adapting world–renowned board games and distributing them in the Baltic market more than 10 years ago. They are also behind the specialised board game store «Brain Games» (previously known as «Ludo»), which prides itself with a broad range of games and brings together like–minded gamers. Its members are offered to rent out games and meet up in specially organised game nights. «Although for the time being we cannot compete with such board game superpowers as Germany or the Netherlands, these games are still quite popular in Latvia», comments Egils Grasmanis, Chairman of the Board of «Brain Games Publishing».
Since 2011 « Brain Games» have not only been localising existing games, but also creating new ones. Similarly to book publishing, authors of games present their ideas to the game publisher who makes the judgment call whether a game is unique and if there would be demand for it. If a game is given the green light, there is approximately an 18 month long process to polish it off, test it, carefully design the game rules and create the visual design.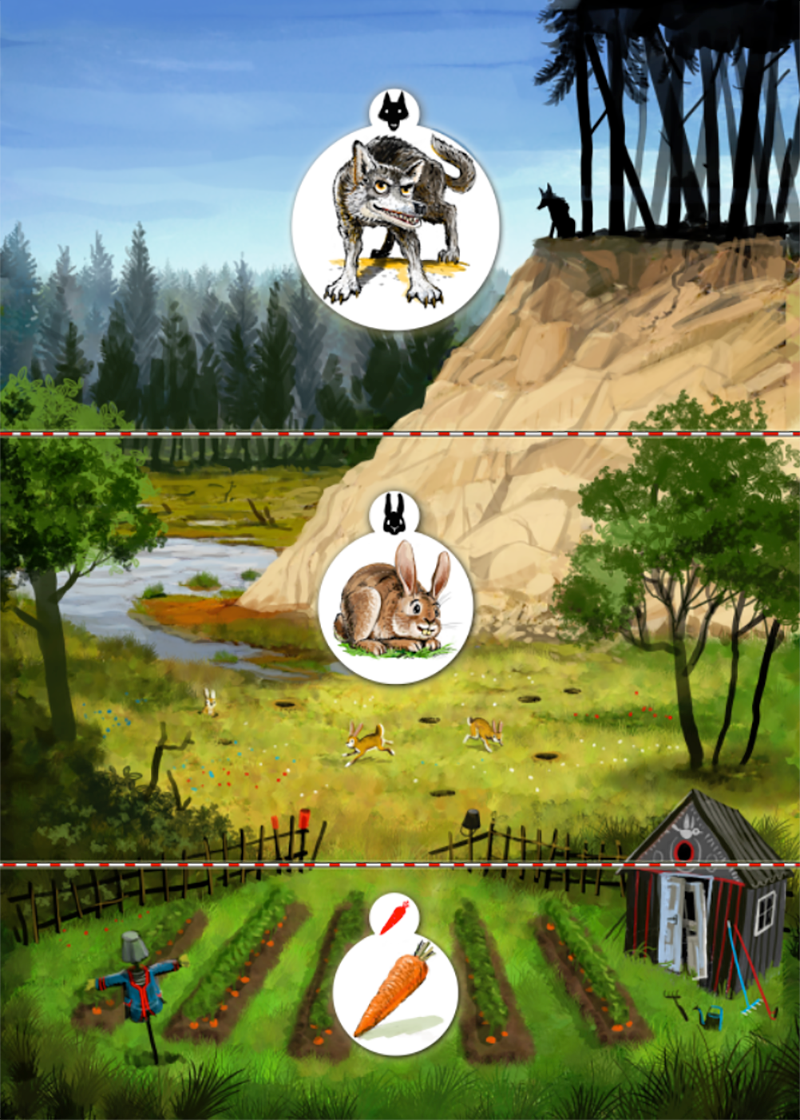 The very first board game created by local authors called «The Original Five» with the ice–hockey team Riga Dinamo fans as its target audience, did not make it. «It taught us a good lesson not to mix together sports and board games», Egils is concise. He tells us that in the following year four more games were brought out, with which the company took part in the international board game exhibition in Essen. Yet the turning point for publishers came in 2013, when they started working with a professional illustrator in game design — the award–winning artist Reinis Pētersons. Since then he has been drawing all of the games published by «Brain Games» — both those created locally and internationally. Last year one of his illustrated internationally most successful «Brain Games» board game «Om Nom Nom» created by an Estonian author, received a silver award at the board game competition  «The Imagination Gaming Family & Education Awards» taking place in Great Britain. Although the visual appearance of a game is very important, Egils stresses that it must not be an end in itself: «It is crucial for the illustration to go hand in hand with the game. For it to fit the audience, the topic and the mechanics».
Games for teaching and learning
Sometimes it is not just the game that can be educational, but also the very process of its creation. Egils Grasmanis proudly tells of the creation of the board game «Wash Dash», the authors of which are five students from grades 7 and 8. In 2014 «Brain Games» were featured as experts in a workshop organised by the youth development programme «Go Beyond», the task of which was to come up with board game ideas. This led to an unexpectedly positive outcome — «Brain Games» recognised one of the ideas as good enough to produce a game and a great amount of work was invested in its production process. «Now «Wash Dash» is up for sale, and interest that goes to the authors is credited to their parents' accounts», says Egils, who is pleased about the media attention this story has received.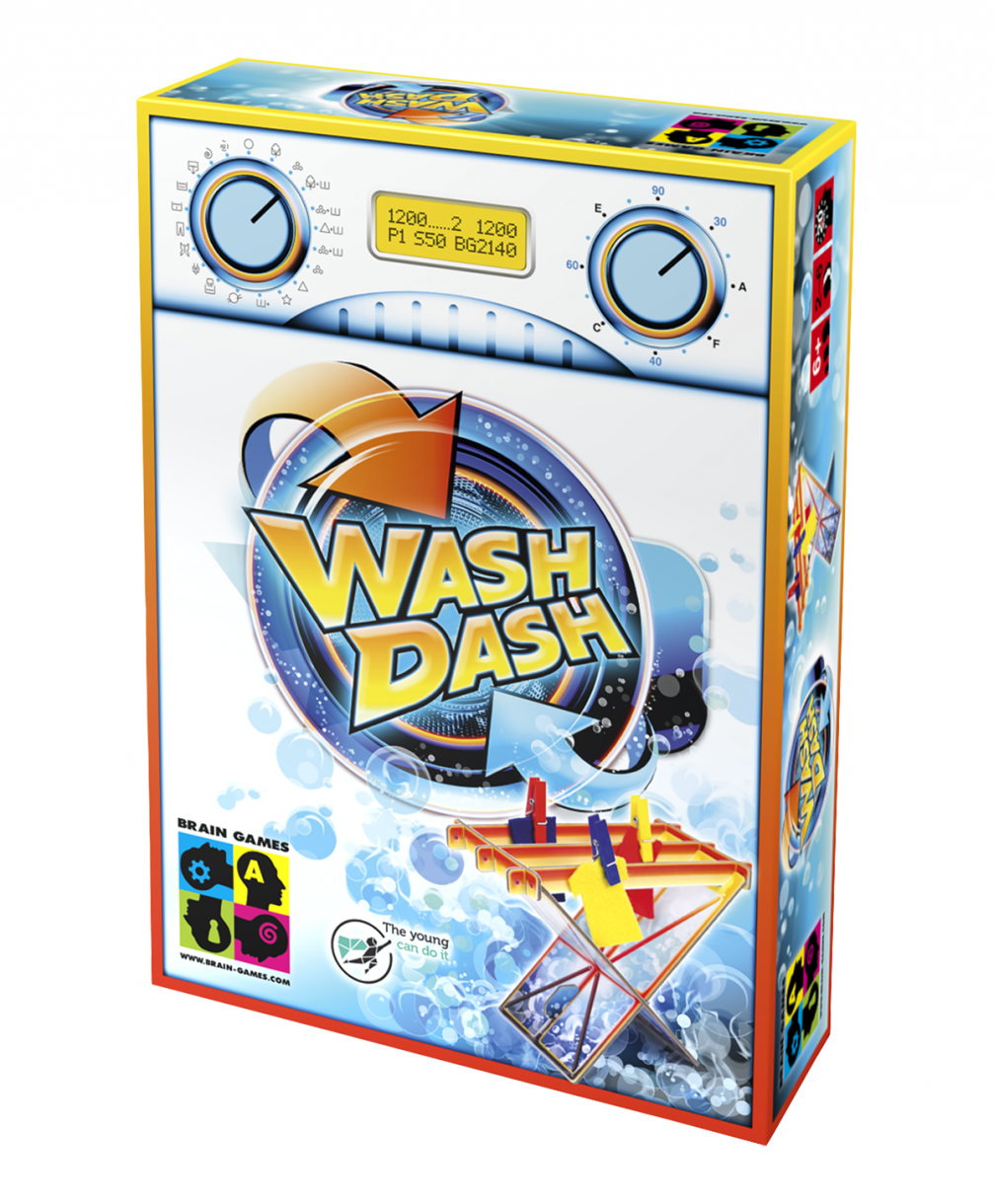 Last year a maths and economics teacher at the «Mission Possible» programme Kristaps Auzāns came up with a board game «Logic Cards» that helps to train logical thinking. It is usefully applied as a teaching aid in lessons and beyond, for the various exercises serve as an excellent mind–training tool both for students and for finance professionals. This is the first game in Latvia that is successfully integrated with the digital environment — the local augmented reality platform «Overly». This technology recognizes physical cards and enriches them with digital content, such as a task solution.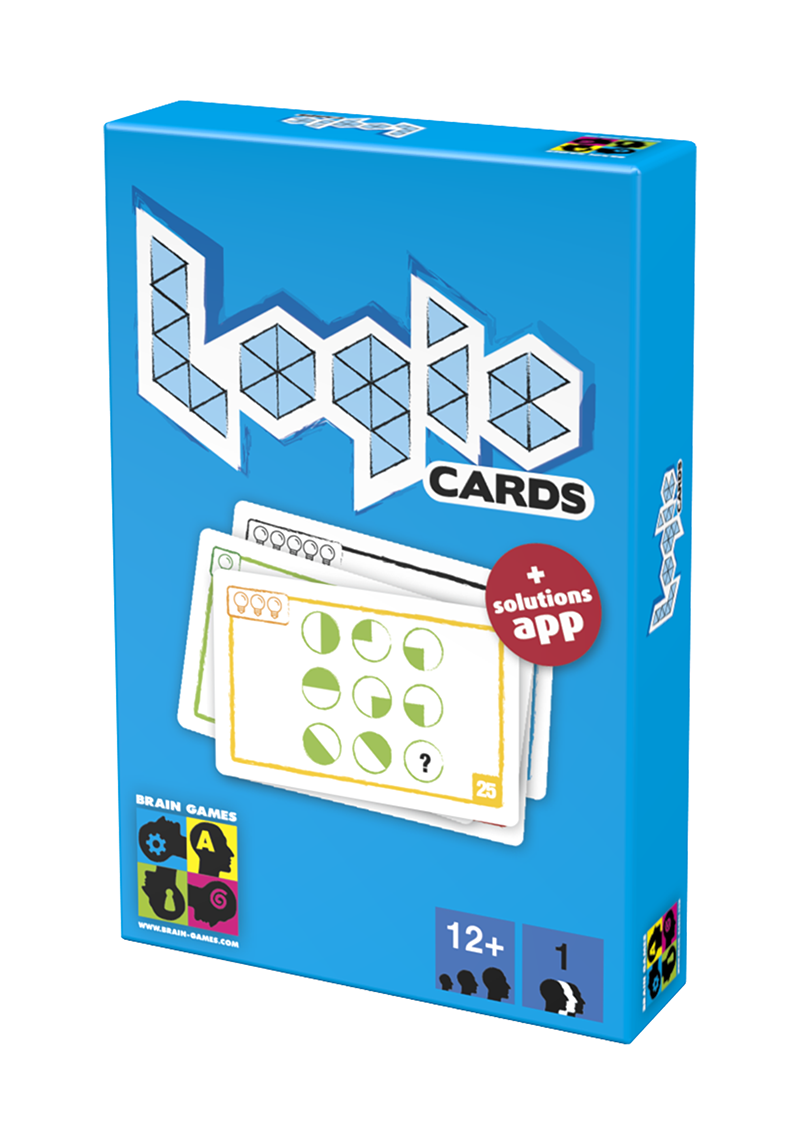 Just like other board games produced by «Brain Games», «Logic Cards» are sold not only in the Baltic States, but also in Poland and Czech Republic. Egils Grasmanis explains that different board games enter different markets, yet outside of the above mentioned their products are available in Canada, Great Britain, Germany, France, Hungary, Scandinavia, Japan and China. The games are becoming increasingly popular in South Korea and some interest has come from India. «So much has been invested in board game creation that we cannot deviate from out goal — to continue growing in quality and increasingly working in the field of export,» Egils says, adding that their next big release will be a very special children's board game.
Several years ago the National Centre for Education came up with an initiative to produce various educational board games. Aimed at improving the quality of education and generating pupils' interest in the sciences, they announced a competition on developing educational board games as part of a European Union project. As a result this was assigned to a training company «Nordic Training International», which had gathered experience in business training and simulation game production. Together with the University of Latvia Centre for Natural Sciences and Mathematics Education more than 10 different board games were produced on topics related to Mathematics, Chemistry, Physics and Biology.  These however are not the only educational board games created in Latvia. For instance, last year a Maths teacher from Cesis Laila Bērziņa created a counting game «Mācies viegli» («Easy Learning») for pupils from grades 5–6, which is played based on the domino principle.
Games for the serious
«Learning by doing is more effective, for people are more likely to remember what they have done rather than what they have heard in a lecture», the board member of «Nordic Group» Roberts Kecko explains why board games have found their place both in education and in the business world, and Roberts himself has taken part in the testing of games. Since 2009 business board games are part of the trainings offered by the company, and with their help business people improve their communication skills and other skills necessary in the professional environment. For instance, the game «Time Mentor Office», the design of which was done by Inguss Saulītis, is devoted to time planning in companies. In the first year of its existence the audience was occasionally puzzled: «Why should serious people play board games?», but later on the skepticism disappeared and now games go hand in hand with trainings taking place in Russia, the Ukraine, Belarus, Poland, Lithuania, Sweden and China. Board games as a teaching element are also used by the «Nordic Training International» partner «Viennese», which focuses on topics dedicated to personal growth. When asked about the role of design, Roberts acknowledges its importance, adding, «a designer can both improve and damage a board game». To avoid games being similar to one another, artists working in different styles are attracted for various projects.
How to make a million
«Having experienced the negative consequences of the economical changes in 2008, I began researching different causes of crises in world history. I decided to pass this knowledge on to the world through an entertaining and exciting game", explains the businessman Haralds Salmiņš who is the author of the board game «Oligo», released in autumn of 2013. His own experience comes from working in the banking industry. The game which serves both educational and entertainment purposes, is a business simulator that received a «Swedbank» and Riga City Council programme «Atspēriens» («Take–Off») grant in 2010. In it, just like in life, it takes just a few steps to go from successful entrepreneurship and exclusive purchases to full bankruptcy or even imprisonment. It took 5 years to create and develop «Oligo», during which over 150 test games with 560 test players were played to collect recommendations on its improvement.
Another strategic board game that reflects an important sector of the economy — transit — saw the daylight just last year. Arturs Jaunzems, the author of «Cargomaster», a board game enthusiast and at that time a masters student at Riga Technical University, was joined by the like–minded Liene Ziediņa, but the design was made by Linards Kristovskis. The main idea of the game is to take on the role of a logistics planner and figure out how to deliver cargo to its end destination overcoming various obstacles on the way.
Everyone wants to go to Mars
Last February, just before the world was hit by the news on water being found on the planet Mars, graphic designer Dagnis Skurbe collected 6180 euros on the crowd sourcing environment to bring out the board game «Mission to Mars 2049». The idea was supported with funds exceeding the required amount by 36%. The author had previously worked on visual identities of the «Positivus» music festival, the University of Latvia online programme «Open Minded» and the business incubator «Creative Andrejsala», hence the design of this project has been given much attention.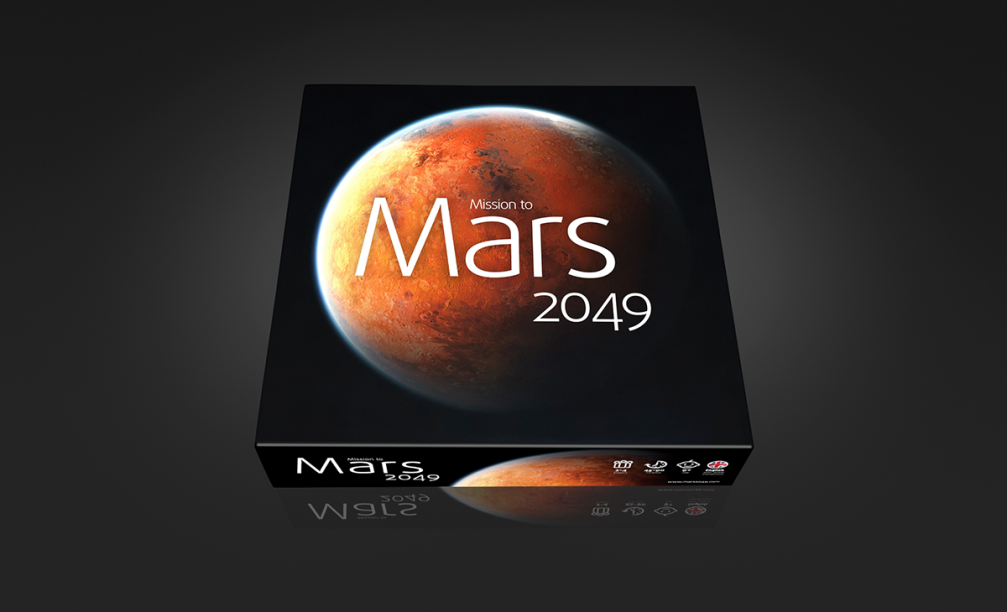 Dagnis describes «Mission to Mars 2049» as a «creative strategic» board game, in which each player is tasked with colonising Mars within the shortest amount of time. This is achieved by collecting resources and spreading the colony until the player has enough resources to build a water extraction station on the Martian polar ice cap. The game is intended for 2–4 players from the age of nine. Children can easily win in the game against inexperienced adults, yet they most likely will not be able to compete against a serious player who is well aware of the game rules and has practiced using different strategies. The production of this game has just been started and its author admits that the funds initially collected through «Indiegogo» will not be sufficient to ensure the highest quality of print. Dagnis has considered his options and set a high standard of quality, which led him to decide on printing the game in Germany. In the meantime social networks are full of enthusiasts eager to get hold of the game.
The «Indiegogo» platform was used by Reinis Butāns too — to raise funding for his board game «Deserted Animals». The campaign wasn't as successful as he had hoped, and to produce the inventive game the author took a loan in a bank. Reinis had planned to give part of the income to charity — to save real animals, which was partly realised in collaboration with the animal shelter «Labās Mājas» («The Good Home»). Since then Reinis has gathered experience and is currently an employee at «Brain Games». He admits that prior research of the game industry and advice from professionals would have helped to launch the game more successfully.
In the sauna and on the road
«Ideas are often born in groups of friends, yet they are rarely turned into action», explains Ēriks Danilāns, one of the co–authors and designers of the board game «Abra» («Kneading Trough»), which was created in 2010. The game consists of 900 Latvian folk riddles and their answers, and initially it was intended for personal use, while now several thousand copies have been published. It has taken a year to move from the idea to the end product, during which a great deal of work and resources had to be invested. Ēriks is head of the design agency «Danini», therefore production costs could be cut thanks to his own skills and the available printing equipment: «We produce everything here, except for paper and dice».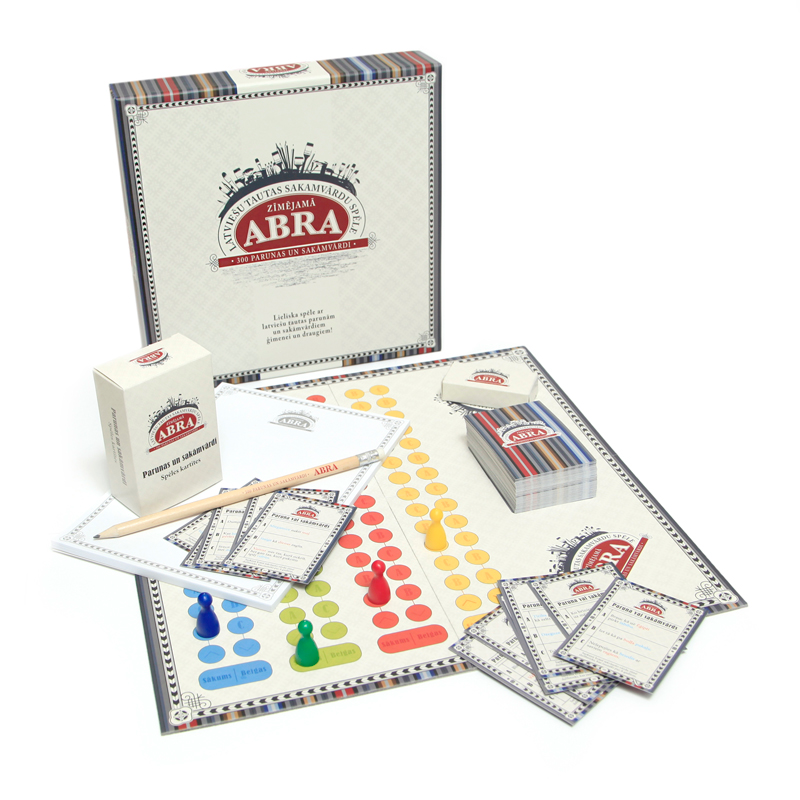 The game can now be purchased through the distributor «Anvol» in shopping centres, at bookstores and at toy stores. At trade shows Ēriks himself likes to stand at the counter, as this is the quickest way to receive feedback directly from customers. The author is pleased about how loved this game has become, with many people playing it in the sauna and at a bonfire on Midsummer Night. At times people bring along game cards to kill time while travelling. Equally the game has received recognition from Latvians abroad. Alongside the Latvian folklore riddles, a Russian foklore riddles version in Russian was brought out, followed by a «Zīmējamā abra» («Kneading Trough for Drawing») with Latvian sayings and proverbs. Game creators are not planning to stop and are bouncing with ideas on a riddles game for children, and an English language game, which would open doors to foreign markets.
A dreamt up kingdom
The author of the game «Goldingen» Jānis Gruzinskis explored the vastly developed board game culture of Germany as an exchange student over a decade ago. His experiences inspired him to produce his own board game and in 2009 he began its development work. «Goldingen» is a strategy board game, in which 5 to 6 players aged 12 an older compete for a duke's title and construct masterpieces. The game takes place in late 16th century and although the game's title has an association with Kuldiga, it is actually purely fictional. After spending four years on its development, the game was released in 2013. «Goldingen» is now on sale in game stores and toy stores, as well as at bookstores and via the company's website.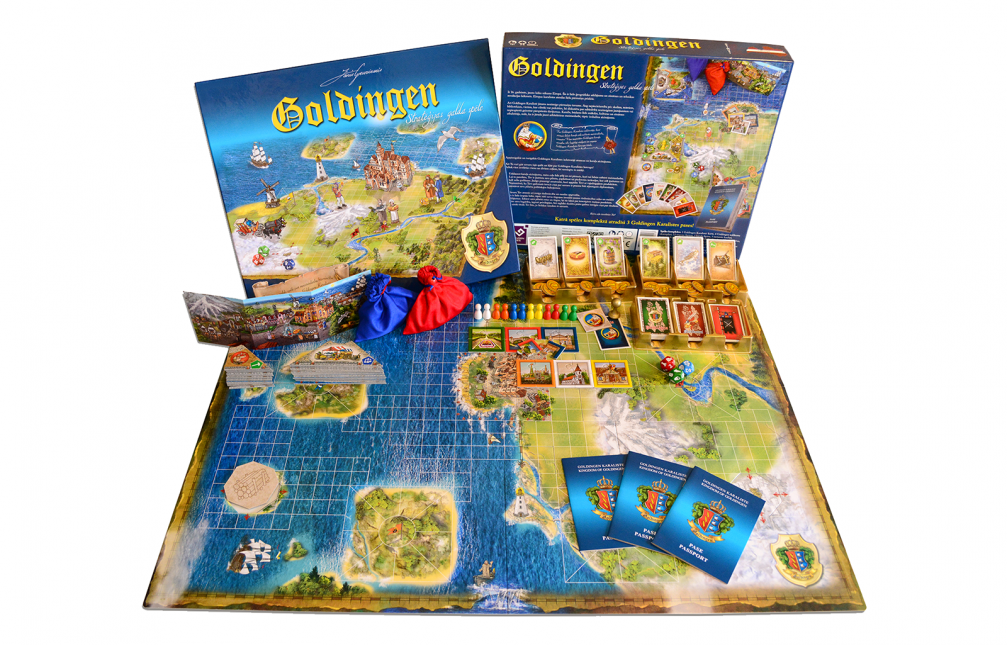 Bringing cultural heritage to life
Quality, functionality, design and longevity are the central values that Baiba Altena, manager of the design project «Kokmaizītes» («Wood Sandwiches») ascribes to the board games produced by the company. Eight games have been released since 2009, which are mainly board games dedicated to Latvian culture, the visual images of which have been repeatedly appreciated by the Latvian Designers' Society. The game is designed by the graphic artist Anna Orniņa, who among other things has designed the Kuldiga city logo.
Latgalian dominoes, memory game «Vidzeme» and «Kurzemes vēja rati» («Kurzeme Wind Wheels») reveal the most interesting and notable things found in Latvia's regions. Whereas «Laimes nams» («House of Fortune») presents historical wooden doors of Kuldiga, the design prototypes of which are used in the game's visuals. The latter is also available in a more unusual format — the playfield is printed on a tablecloth. And in 2011 its packaging received a second–degree diploma in a competition organised by the Latvian Packaging Association.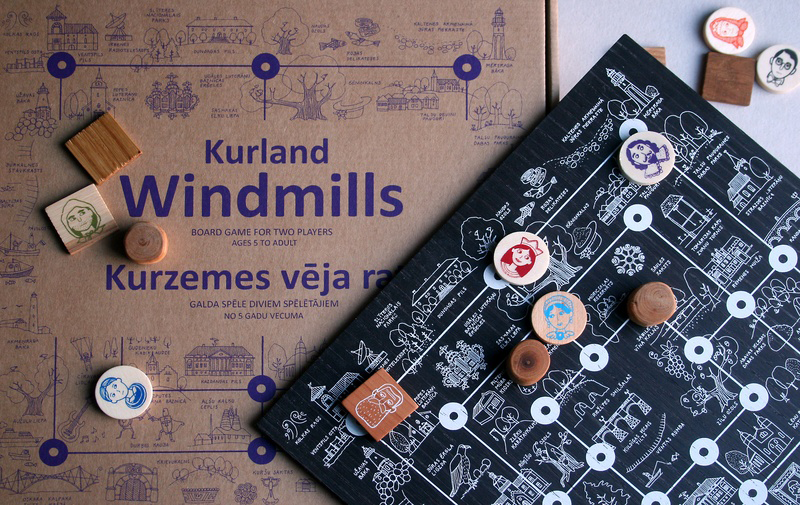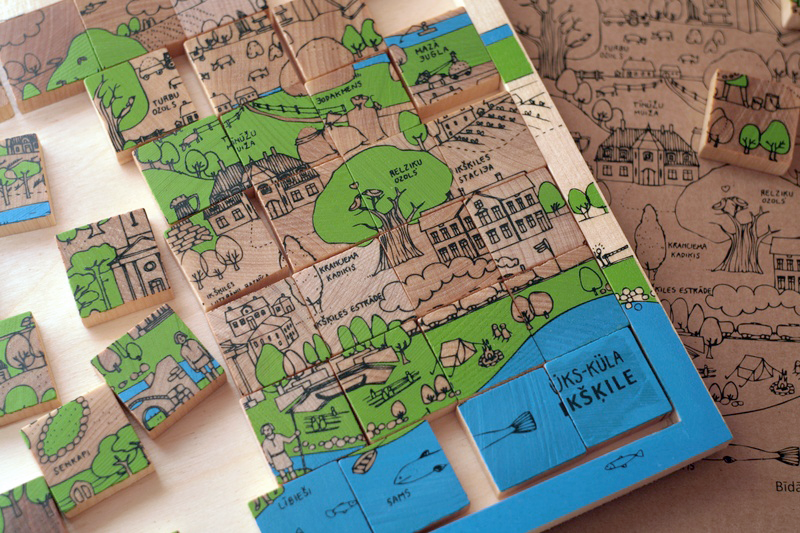 Although customers often choose the existing board games as gifts for special occasions or corporate solutions, attracting financial means for developing new games and for larger print runs, remains a challenge. «Such local products, the added value of which is to revitalise and actualise cultural heritage, are not particularly appealing to profit–oriented business support tools,» explains Baiba. Development and first editions of several products were financed by the State Culture Capital Foundation, while more than 1000 euros that were required for the newest game promoting reading skills «Burtošanas čempionāts» («The Spelling Championship») were collected through the local collective investment platform «Projektu banka». The game was developed based on recommendations of teachers, and its aim is to engage children in learning to read both at school and in the family. «You need to understand exactly what your product will be and what purpose it will best serve. That also makes it easier to attract financial support,» Baiba shares her suggestions on how to turn an idea into an end product.