Linda Blanka and Mārtiņš Blanks. Photo by Mārtiņš Cīrulis
In the midst of fashion seasons, showroom dates and cash flow Excel sheets, fashion designers have little to no time at all to take a look at the big picture — to assess what has been accomplished and to look ahead into the future. While preparing for the Spring–Summer 2016 collection release, creators of the BlankBlank brand Mārtiņš Blanks and Linda Blanka did find a moment to talk about bestsellers, self–identification and black hands.
Agnese:
— Back when we first met four and a half years ago at the silkscreen workshop in VEF, you were about to launch your very first collection — shirts and jumpers with the now legendary deer prints. At that point you called yourself You&Me and BlankBlank was born somewhat later. What stage of development are you in now?
Mārtiņš:
— We are in a swimming stage, that is — we are only moving forward. And we are trying to stick to the principle of having collections.
Linda:
— What we do is structural swimming — it is very clear which swimming pool track we should best swim in.
Mārtiņš:
— We represent conceptual fashion. That is, we have our own concept of fabric prints created with our own author's techniques. Form and fabric structure are both important, but what is even more important is what you place on it — for people to be able to identify themselves with it. By the way, many are still set on getting one of those deer from four years ago.
Agnese:
— They may have only just noticed them or maybe you are quickly moving forward?
Mārtiņš:
— That is right, we might be quickly moving forward. It is interesting to observe our international customers at the Not Just A Label online store. They do not recognize our brand — they simply spot something cool and buy it. There are four or five models that are most saleable and that everyone loves, and the rest is just background. But that's the case with all of the designers — there are showpieces, outfits that attract attention and then you have your breadwinners.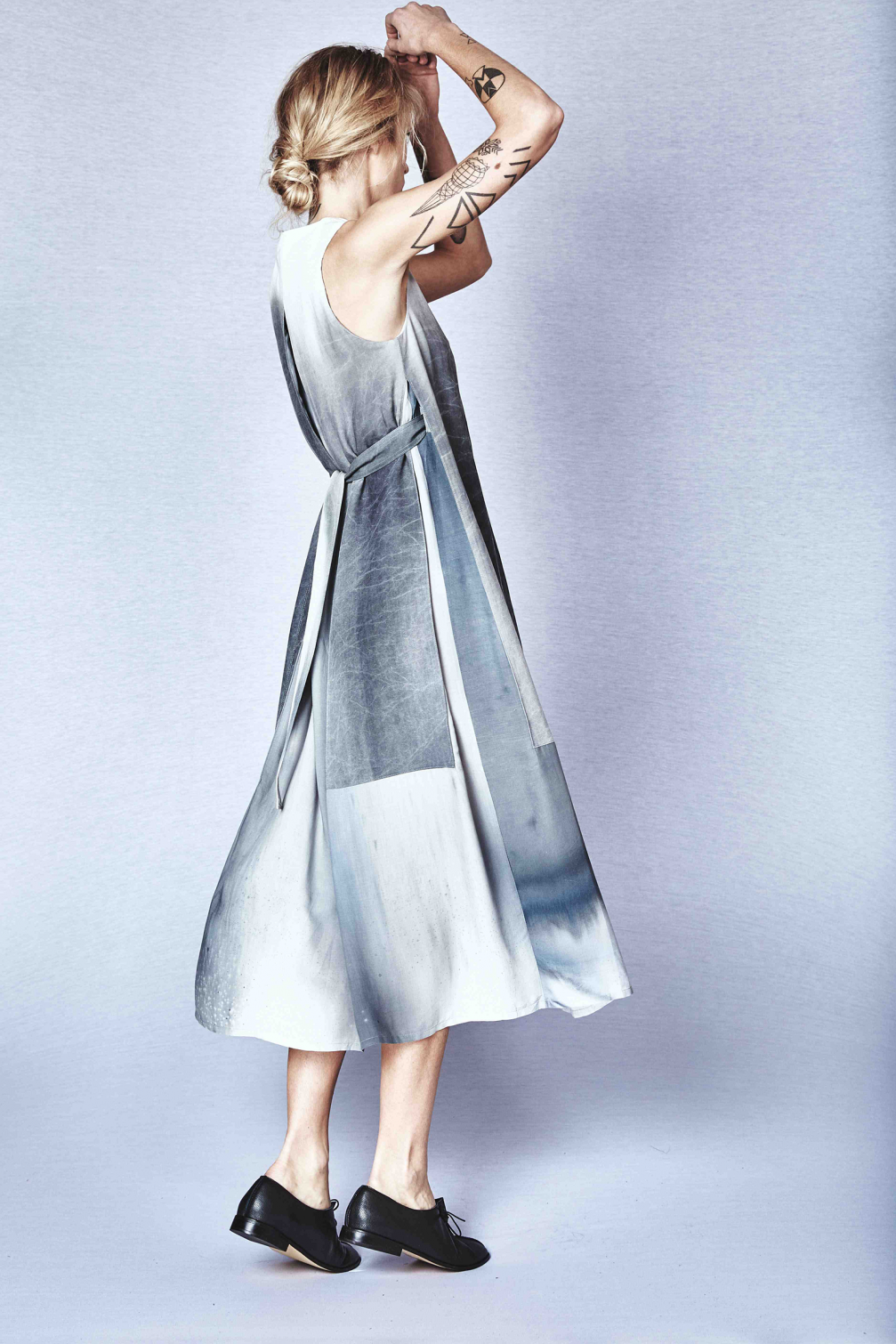 Agnese:
— Which countries are online orders mostly placed from?
Linda:
— We are talking the whole world. UK, Japan, Australia. There are always active orders. Not Just A Label is definitely happening, there is a good traction. The first orders from stores came through them as well. We placed our first collection in the Lookbook section and all kinds of small boutiques started emailing us. Online platforms are a good starting point for young and independent brands, as they do not require a big investment.
Agnese:
— Māris Gailis in his Benji Knewman interview says it takes five years to see how a house you are building starts to acquire its first serious shape. Same goes for business, he says.
Mārtiņš:
— My story is different. For the past 10 years I have not been professionally tied to anyone, and I am trying to earn money with my own ideas and my own work. At times I am successful, and sometimes it does not happen as quickly. I've heard it takes three years for a business to become successful. You work for three years, and then it turns out you need to work for five. A serious businessman told me lately you need 15 years. That means there is no time to listen — you need to be on your feet.
Agnese:
— Everything is accelerating, there are more and more opportunities to go out in the world.
Mārtiņš:
— In business things do not happen that quickly, nor do they in fashion. Recognition cannot be achieved in a day — you need to prove that your brand is stable. We send our collection lookbooks to stores, but they pass, because they have hundreds of brands like us arriving in their mailboxes on a daily basis. At the same time some have already noticed us and when we send something for the third time, they say: «Oh yes, we were just waiting.»  They do not just immediately delete your email — they take a look and then follow how the brand develops.
Agnese:
— To what extent do you explore what's going on globally? And what is it that you want to tell the world yourselves?
Linda:
— One thing would be to sense something in the air and to capture it — purely in terms of trends. There is this sensitive part that we have, which senses vibration and passes it on. You may capture something and then within a couple of years you realize that it is everywhere. I do of course look at what is going on in the world, but sometimes I try not to look at all and to distance myself from it. There are some periods when it is very important for me to have a look around and then to just take a break.
Our motivation and sources of inspiration do not have to do with fashion as such. We are interested in creating sensible, responsible and aesthetic design. This definitely ties into our professional experience even before BlankBlank, which is based in graphic art and functional design. We follow our intuition and understanding of what is valuable and we see fabric, texture and form as our platform — not fashion as such. We want our products to be messengers of a particular story, because stories inspire us. It is significant to follow our own values and impulses, which come form nature.
Mārtiņš:
— I am trying to distance myself from looking around. We tried to create both our latest collections (Autumn—Winter 2015 collection Fields and Spring–Summer 2016 collection) in one breath. We did not waste much time contemplating. It is important for us to like what we do, yet it has to be more than our self–expression — we are motivated to please others as well. There are many to share our values, senses and aesthetics with.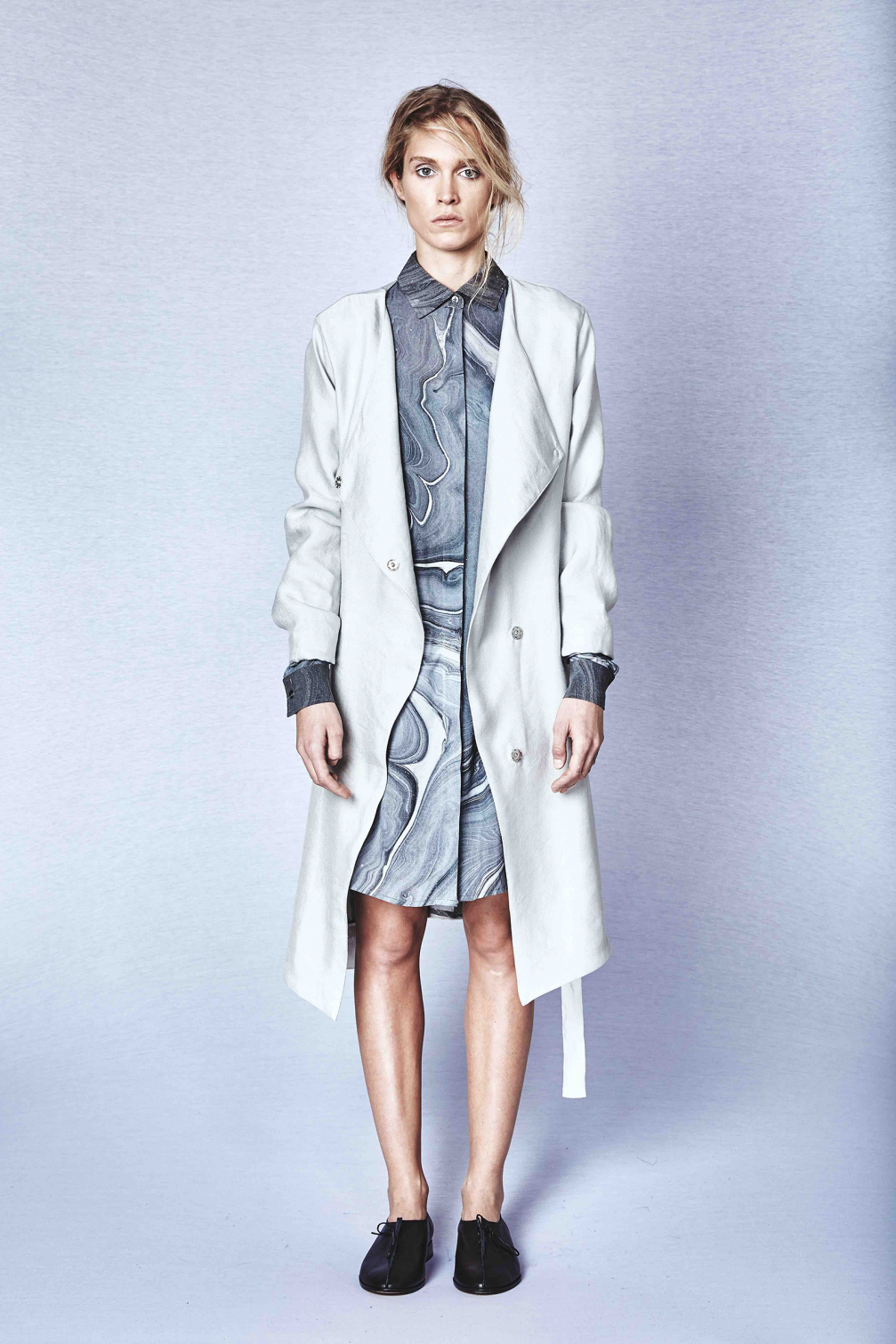 Agnese:
— How are you doing at international fairs?
Linda:
— We try to go out in every season. You can't not go! We were in Paris, at the Capsule showroom. Paris is the most valuable destination — everyone is there, why would you go anywhere else.
We took two collections to Japan, to take part in the Fluorescence showroom as part of the Tokyo Fashion Week. It all happens gradually, season after season we gather experience and there are new stores purchasing the collection.
Mārtiņš:
— But it's also tricky. I talked to some Lithuanian buyers who went to Paris. It is clear that they go through those showrooms and end up ordering the same items as others. For instance, Maison Margiela… We spent a whole month online putting together a database of stores, which we wanted to introduce ourselves to. They all have a standard offer, circulating around the same designers.
Agnese:
— And this is completely normal — they have the same target audience wearing this stuff. Is this also your audience?
Mārtiņš:
— Of course it is, you just need to find a way to speak to them!
Linda:
— You need to work even harder and be there regularly, constantly talking about yourself and reminding them of your existence. You need to be saying the same thing over and over.
Agnese:
— What is it that you are saying?
Linda:
— Our story is more about the fabric — that we do our own prints, that it is our added value, because this is what makes us different. You need to start with something that distinguishes you.
Mārtiņš:
— Once at a showroom we met a girl with black nails and we thought — hey, she is one of us! She was doing something similar to our prints, only with more colors.
Linda:
— This lady from Holland, she works with natural colours — henna.
Agnese:
— Black nails?
Mārtiņš:
— Yes, that's completely normal — you can never fully clean the paint from under your nails. You get used to it. And you always notice those who do something like that themselves.
Linda:
— As I mentioned, our interest in processing fabrics through different techniques is also tied to our education. As artists we have always had the desire to create something with our own hands. This is the joy of our art. Several technologically more advanced methods were picked up somewhat later, when we began to more seriously get involved into the fashion and design market. We understood that the combination of handmade items and larger orders becomes a very complex and expensive process that takes up a lot of time and energy. But this is part of the BlankBlank handwriting and we invest our efforts into maintaining it. These unique prints are always going to be more costly. But there is another aspect to it — to do this, you need people who recognise the importance of wearing something unique. While there will be others who want to receive their items with the exact same prints as seen at the online store, and we completely understand that as well. For that reason, to satisfy the needs of both categories, we make use of different technological approaches. At the same time this is not just because of practical considerations, for we love to experiment with different techniques of fabric processing. The result and quality are the most important — both in the creative sense and for the product as such.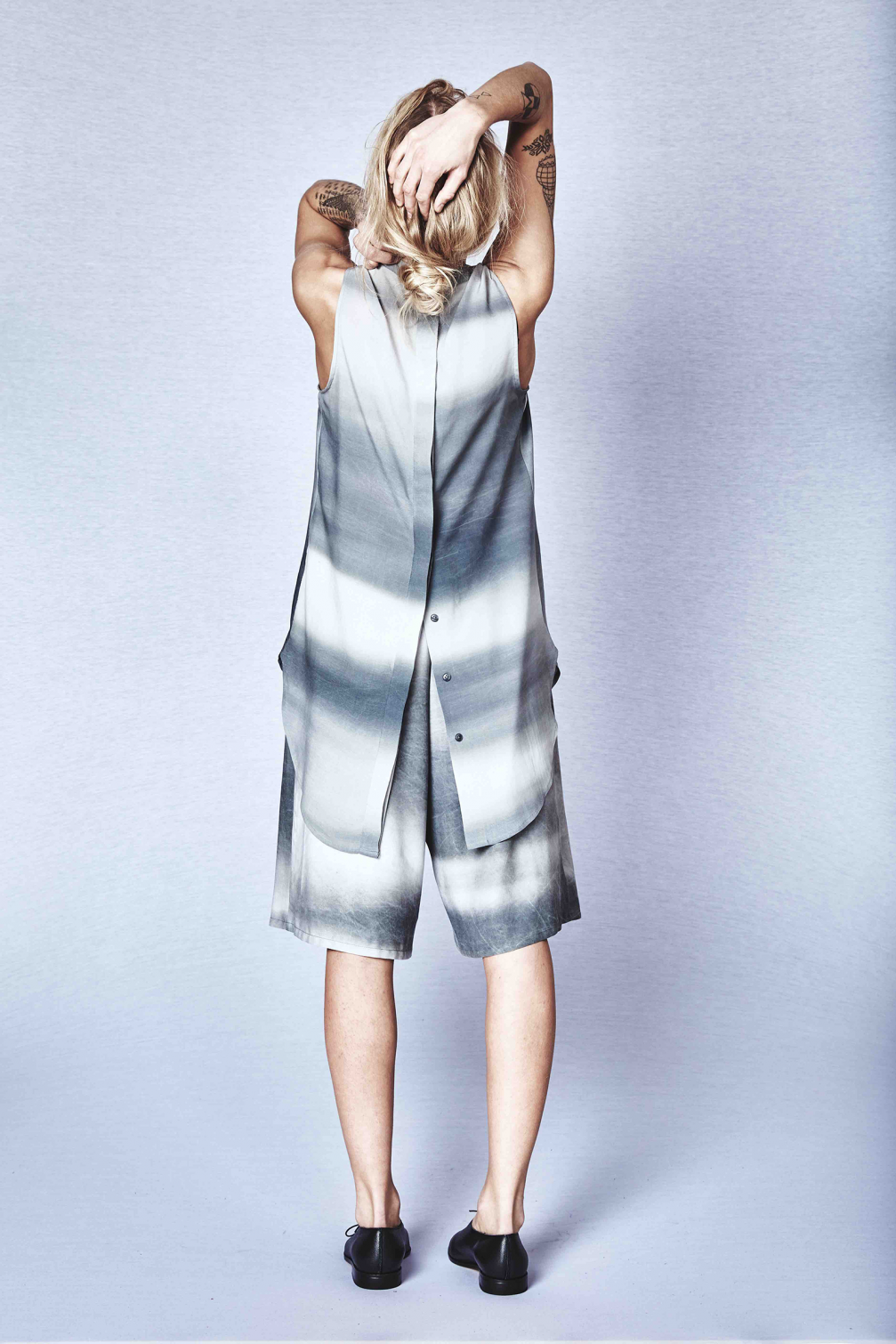 Agnese:
— Would you be able to say that you have understood the Latvian market?
Mārtiņš:
— Of course we are interested in Latvian stores buying in from us. We can no longer afford keeping our collection hanging in the stores, waiting for customers and then receiving back just a dusty little rag.
Linda:
— That is frozen money. It is great to have stores that are happy to take on BlankBlank items, but we also need to apply rational thinking. Therefore we are happy to work with the store Bang Bang, which has slightly changed its concept. This is where our Autumn–Winter collection is currently available.
Agnese:
— In the second half of summer you released another bestseller as you call it — a T–shirt with the word «Latvian» written in the handwriting of Ritums Ivanovs. You borrowed this idea from the stunt done by Krišjānis Valdemārs. While he was studying State and Economic Science at Terbata University between 1854 and 1858, he proudly attached a business card to his dorm room door, which said «Latvian». He was the very first of the educated Latvians to openly declare his nationality and suggested not to be ashamed of it. Did you know from the start that this T–shirt would become a bestseller and most likely would follow in the footsteps of your previous «Rīgai nav kauna» (Riga has no shame) T–shirt?
Mārtiņš:
— It makes perfect sense. The T–shirt is a compilation of all the essentials. Our history, male and female nouns for «Latvian». We combined our T–shirt making experience with a new idea from the authors Ritums Ivanovs and Raivis Struncens. The costs, the final price, production, the shirt model and print run were clear to us from the beginning.  We are self–taught in practice.
Agnese:
— How do you explain this phenomenon of Latvian shirts being so popular?
Mārtiņš:
— It's difficult to be a Latvian, because Latvians constantly need to identify themselves with something. Had we been without an identity, we would all have left to Ireland. Identity is here in this place and I cannot walk away from it.
Linda:
— Humans are cultural beings, and belonging somewhere is important to them.
Agnese:
— This might sound ironic, but neither you nor me is exactly wearing anything with the Lielvarde's belt patterns.
Mārtiņš:
— It's not the Lielvarde's belt that carries the identity. «Rīgai nav kauna» — that is also an identity. Ten years ago we also had this search for an identity, only through different expressions. And some 25 years ago everyone walked around with «auseklīši» (symbol of the morning star).
Linda:
— Globalization continues and people want to belong to a certain part of the Earth.
Agnese:
— You have this tradition to travel to Nordic countries to create and photograph your newest collections there. Last year it was Iceland, and this summer you went to Greenland?
Linda:
— Each of our collections has a certain source of inspiration and a story behind it. One of the greatest sources of inspiration is the phenomena of nature, its very character. We admire textures and hues that are found in nature, and we admire its majesty. And for this reason we travel — to find it and to apply it in our work, to express it in our collections through forms, colours, motives and stories. We wish to pass on these wonderful feelings as vividly as possible — by stimulating associations and imagination.
Mārtiņš:
— We had an interesting photo shoot in Nuuk, the capital of Greenland. We found rock surfaces with structures and textures similar to our fabrics, but the photographer was a little puzzled about our joy. To him this view seemed commonsensical and mundane. Simultaneously we are searching for the ideal Latvian landscape. For instance, we found very good motives in Lielupe.
Agnese:
— You found them by accident?
Mārtiņš:
— On purpose. You simply drive and see that everything is there. For instance, a beautiful motif of water plants. There are things you notice and see how these will be transformed into clothes, and this gives inspiration for creative work. In Greenland we went on this existential hike. Five days with our backpacks. There has been a case when we arrive somewhere with our collection, but there is no photographer and no model. In Iceland we found a photographer through social networks, got a reference for a model and shot the collection. Same goes for Greenland. It is an interesting way how to meet different people. Occasionally Linda does not like it, but I am not a man carrying around a ruler — I prefer to measure everything in parrots. I prefer to deal with all my relationships and processes in a flow.
Linda:
— And with the help of our friends and acquaintances everything is settled!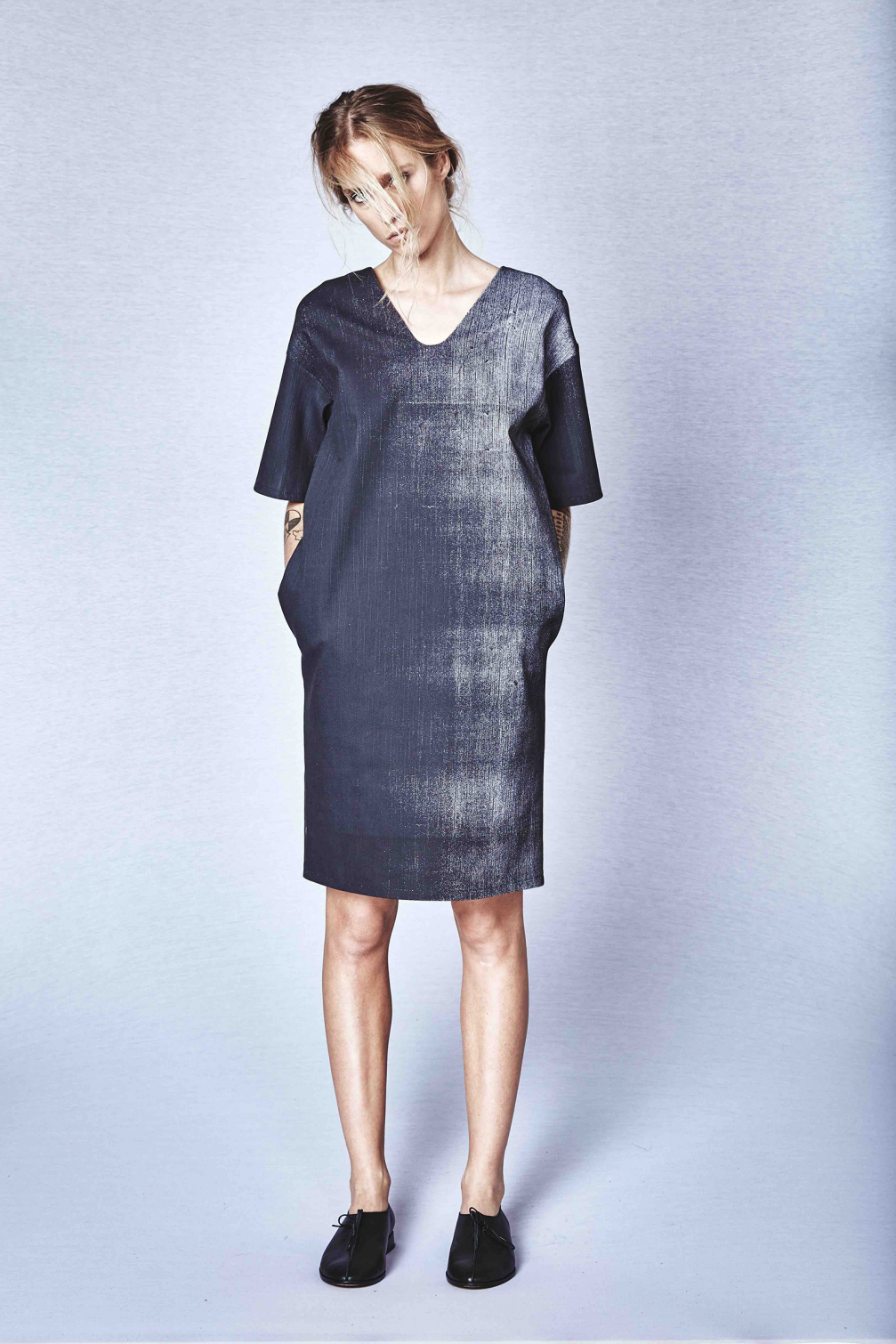 Agnese:
— Now returning to civilization, how do you live with this division of fashion weeks for men and women if in essence the fashion you are creating is unisex?
Mārtiņš:
— Indeed, many brands would benefit from a separate unisex fashion week. For instance, the Paris Fashion Week only distinguishes between two — men's and women's fashion. To an extent we are suffering from the fact that we do not fit into the one or the other. We cannot join both categories together, so we need to take part in both the women's and the men's. It may be just a matter of time though. For there are some showrooms that accept unisex collections, as evidently there is demand for them.
Linda:
— When we are working on a collection, the idea is to make sure Mārtiņš has something to wear, then I have something to wear and that we can share the items between the two of us. We have these client couples that share their clothes, and which look good on both of them. They just agree who is wearing what and on which day.
Mārtiņš:
— Everyone is wearing oversized, black clothes.
Linda:
— Somehow it allows us to feel freer rather than darker on the inside.
Agnese:
— Then what are we thriving for?
Linda:
— We all want to be «comfortists», and feel comfortable in our own skin.