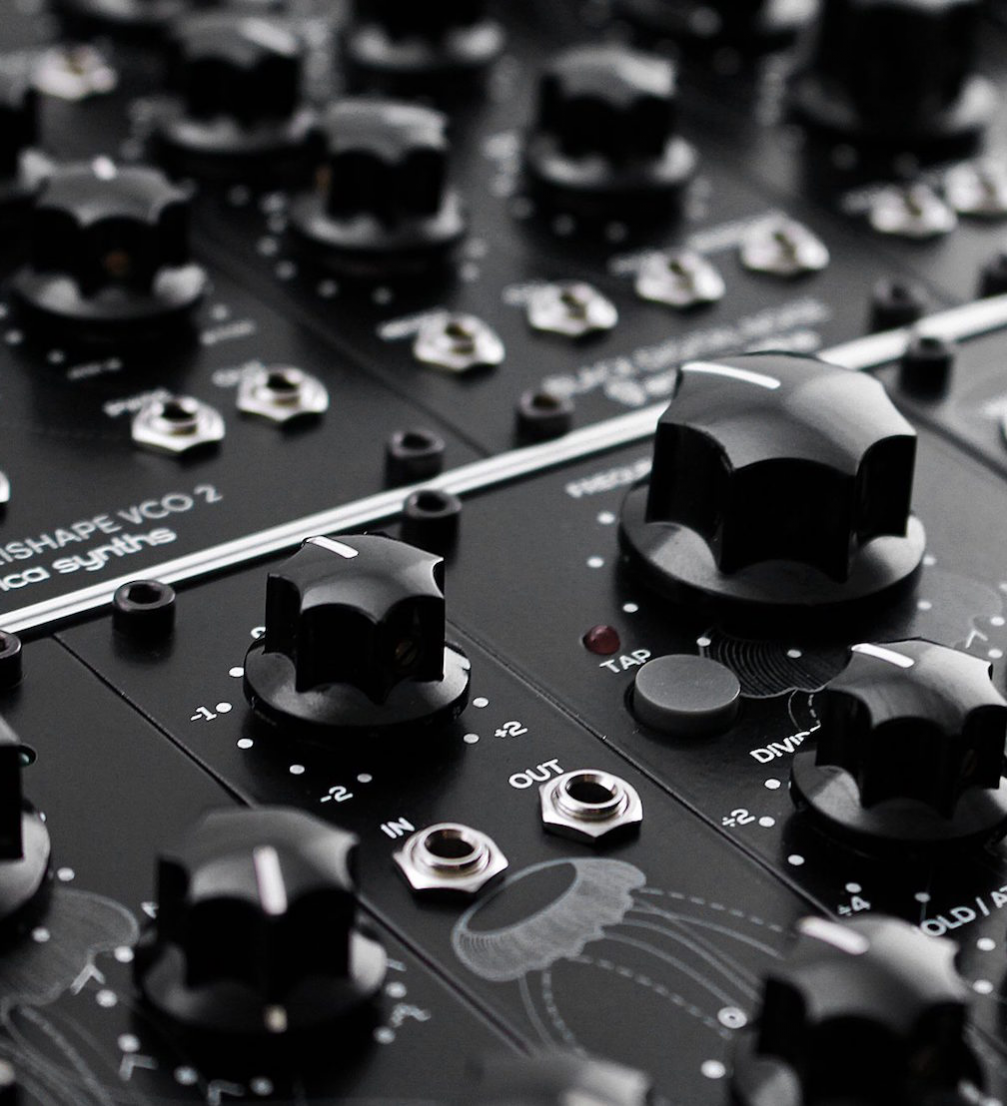 Erica Synths publicity photo
At Erica Synths, sometimes just half an hour separates a sudden idea from a complete understanding of how it will be implemented. Their business is fast, innovative and export-oriented. It is the only modular synths manufacturer in Baltics whose instruments are played by many well-known musicians.
Modular synthesisers are electronic musical instruments which, as the name suggests, can be built from individual modules. «The modular architecture means that there are no boundaries in terms of what and how the sounds are created. By connecting the modules together one is able to create a unique synthesiser that fits the musician's needs and preferred style of music,» says Ģirts Ozoliņš, the founder of Erica Synths, who calls these instruments «the highest level of creativity in music». «If the module has hundreds of different slots, with cables it can be connected to others in countless combinations. Each has its own character and a way to create and process the sound. We have several modules that remember settings from yesterday, however almost none of them has pre-sets. Every turn of the button can change the sound radically. It is an infinite field where musicians can grow, experiment and simply be creative,» Ģirts continues.
Black classics
At the moment Erica Synths offers around fifty different products including both ready to use synths and DIY kits for enthusiasts who want to build their own musical instruments. For beginners Ģirts recommends the Black Classic System series, an already developed kit of modules for traditional electronic music. It is also praised as one of the prettiest. When it was first made, the priority was easy playing and intuitive control, and it differed from the grey and silver modules in the market at that time. Erica Synths has worked with several designers and some of Ģirts' visions were also implemented, but he especially commends the cooperation with Carre Branding who took care of the design of the above-mentioned «black series».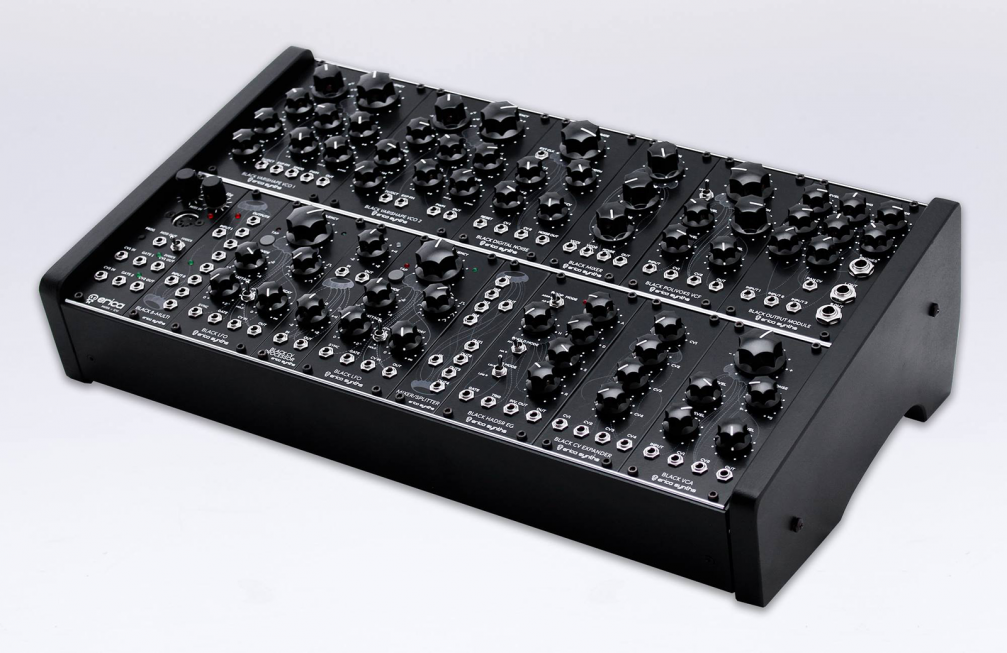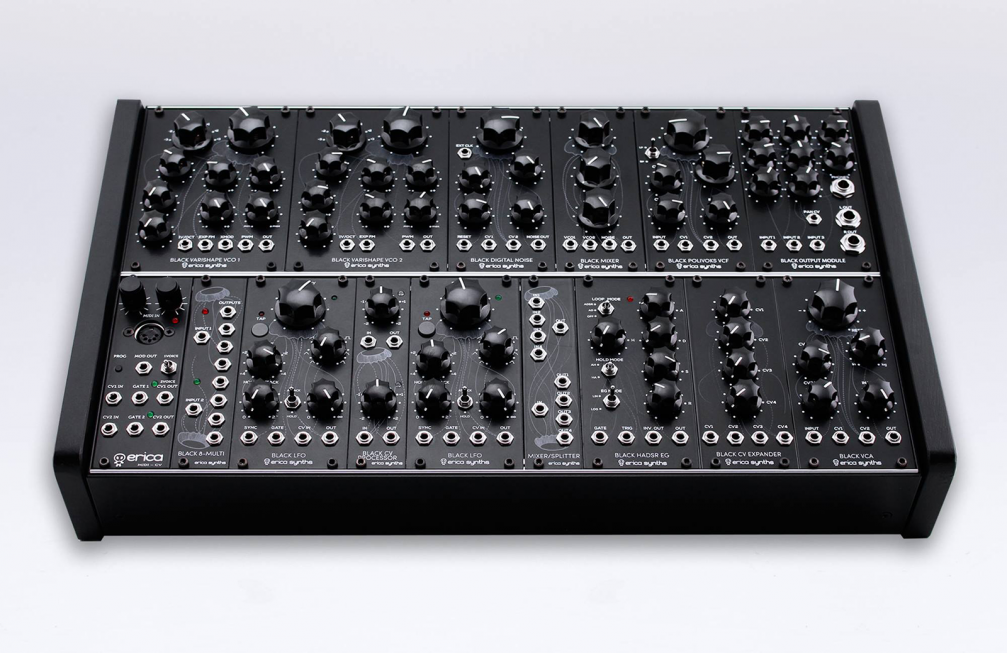 From a hobby to a business
When asked about the very beginnings of Erica Synths, Ģirts Ozoliņš evokes an event from the time when he was still in the elementary school and stole a book titled «The New Radio Amateur» from the physics room. Inspired by it, he started to make use of his interests. By high school he had already come to making musical instruments, but in the early 90s Ģirts created guitar pedals that looked exactly like those from abroad, and even sold them in a commission shop. After spending twenty years in the advertising industry, Ģirts returned to his passion six years ago, and in the autumn of 2014 Erica Synths was registered. «While working at the agency, I realised that what I do is actually quite unimportant. I was looking for possibilities to make bigger changes in the world. With this company we export, which is a real contribution to the economy,» Ģirts rejoices, adding that the experience in advertising can be very beneficial in terms of contacts, project management skills and criteria for the quality, also branding for him is not a problem at all.
Do it yourself
Both musicians and engineers work on the development of Erica Synths modular synthesisers, and they do not discuss who was the first to invent ideas for new products. «Each module means the development of concept, scheme, preparation for production, testing, programming, design, and marketing activities,» Ģirts counts. During this process, there is space for a continuous improvement: «I come up with the idea, then Raivo [musician Kodek] adds something to it from the perspective of a musician. Jānis [engineer Jānis Zaharāns] says that the implementation is impossible, while for him just half an hour separates the «impossible» and the solution.» When six years ago Ģirts did his research, he counted around 30–50 similar manufacturers in the world and he saw plenty of room for improvement. But in the last two years the number has reached at least 200. That can be explained by the DIY trend, the desire to make use of something self-made, besides «niche manufacturers create a product with personality».
Yet the entrepreneur is not afraid of his competitors: «We are able to produce innovative products faster than others. This is because we know exactly which direction we are going and we are getting there without any sidesteps.» As soon as the modular system moves into the testing phase, Raivo tries it out in a concert, and the next step is the market. «Creativity in business means innovations,» Ģirts quotes Jack Welch, the founder of General Electrics, and to be a step ahead is exactly what Erica Synths are trying to do.
Across the borders
Erica Synths receives almost all of the orders in its online store and Facebook page from abroad, and they also cooperate with wholesalers both in Europe and the United States. «To create a new business that does not have an export potential is not wise, not to say — it is irresponsible. We are becoming fewer and the local market alone should not be trusted. The world is big and the market is available if you are smart enough,» Ģirts recommends. He started its exploration with online forums where music and tech enthusiasts gather: «Half of the users produce something themselves and sell it to the rest. Just like in online poker — everyone is playing and some of them are making money.» However, to introduce Erica Synths to a wider public, they have participated in various important events of the industry, like Knobcon (Chicago), Musikmesse (Frankfurt), Music Expo (Budapest), Noise Kitchen Synth Fest (Brno). They also consider going to an exhibition in Japan this June. Japan as well as Australia are the company's next target markets. Among the company's clients there are such big names as Hans Zimmer, Gus Gus, Ville Valo, Tom Demac, and others, while last year the readers of Future Magazine chose the module MIDI to Trigger by Erica Synths to be among the best eight in the world.