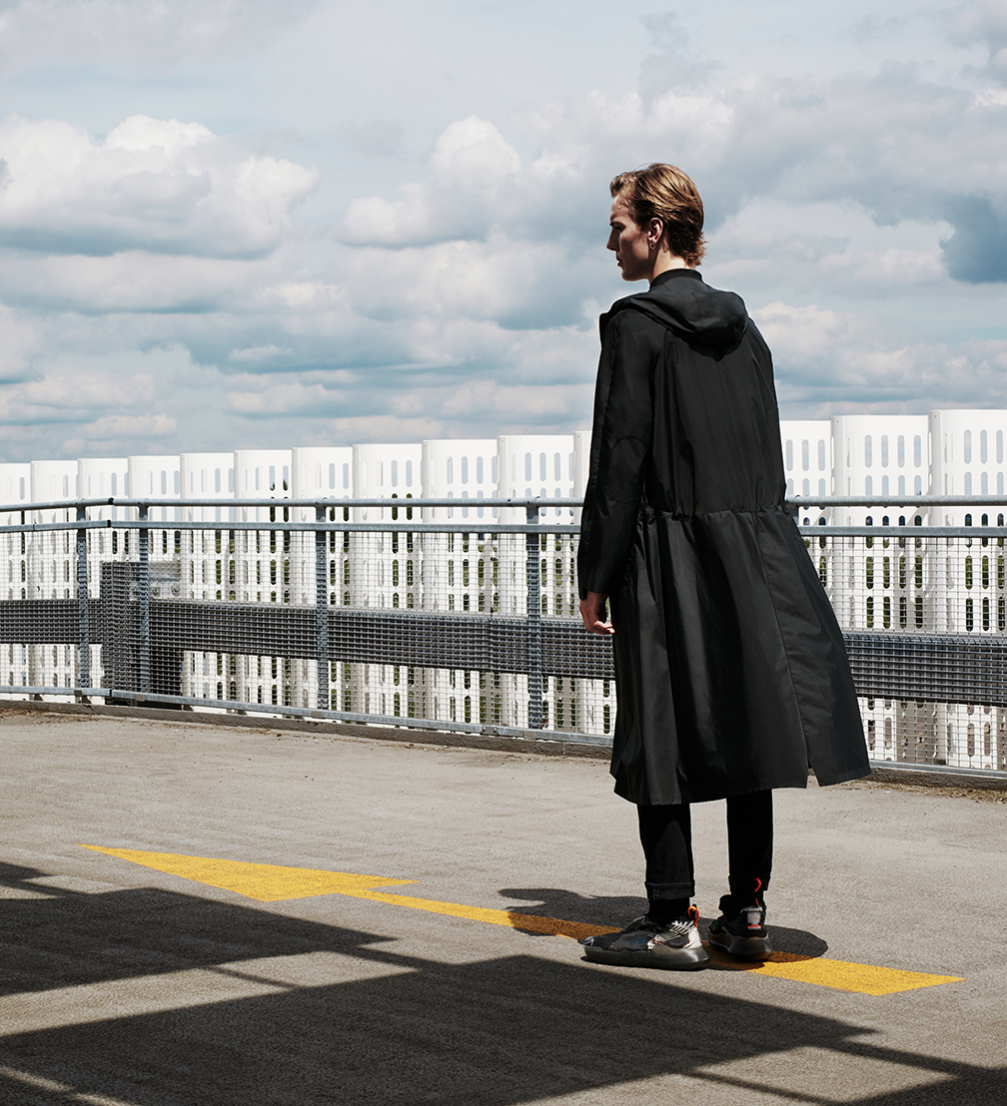 Photo by Sabrina Bongiovanni
Fashion designer Laura Šilinska has debuted her label «senscommon» and its first product — a minimalistic raincoat, designed especially for cyclists. To raise funding for the production of the apparel, she has launched a Kickstarter campaign.
The raincoat is designed to be comfortable and safe during cycling. Its lower part features push buttons that allow to fasten the coat around the legs so that thighs and knees would stay dry when pedalling and the coat wouldn't flap around in wind. The special–fit hood is designed to provide a clear peripheral vision. The sleeves are elongated for the forward held arm position whilst cycling, and black reflective ink is used on the elbow parts of the sleeves for safety at night. The cut of the cyclist raincoat balances between masculinity and femininity; it features an elongated A–line silhouette and a lowered adjustable waistline that even allows to carry a bag underneath.
The cyclist raincoat is made of a matte black melange of nylon and polyester that's backed with a waxed and airbrushed waterproof yet breathable coating. The raincoat is exceptionally light — it weighs only 400 grams and can be folded in to a little pouch.
Laura Šilinska has spent 4 years working on the design, experimenting with various constructions and fabrics that are suitable for cycling. Residing in Amsterdam, the designer herself is a passionate all–year–round cyclist. In 2014, Laura's design was shortlisted at «Muji Design Awards», and the raincoat was to be stocked in «Muji» stores by September 2015. Last minute, «Muji» cancelled the product, and Laura made the decision to carry on by herself. She created «senscommon», a fashion brand that focuses on restraint, utility and simplicity. Laura has gained experience in apparel design and production whilst working at the «Viktor&Rolf» high fashion house in Amsterdam.
The cyclist raincoat is available for purchase by supporting its production through a Kickstarter campaign. In collaboration with «Bookman», Laura has created a black bicycle light and a waterproof backpack especially for the campaign.