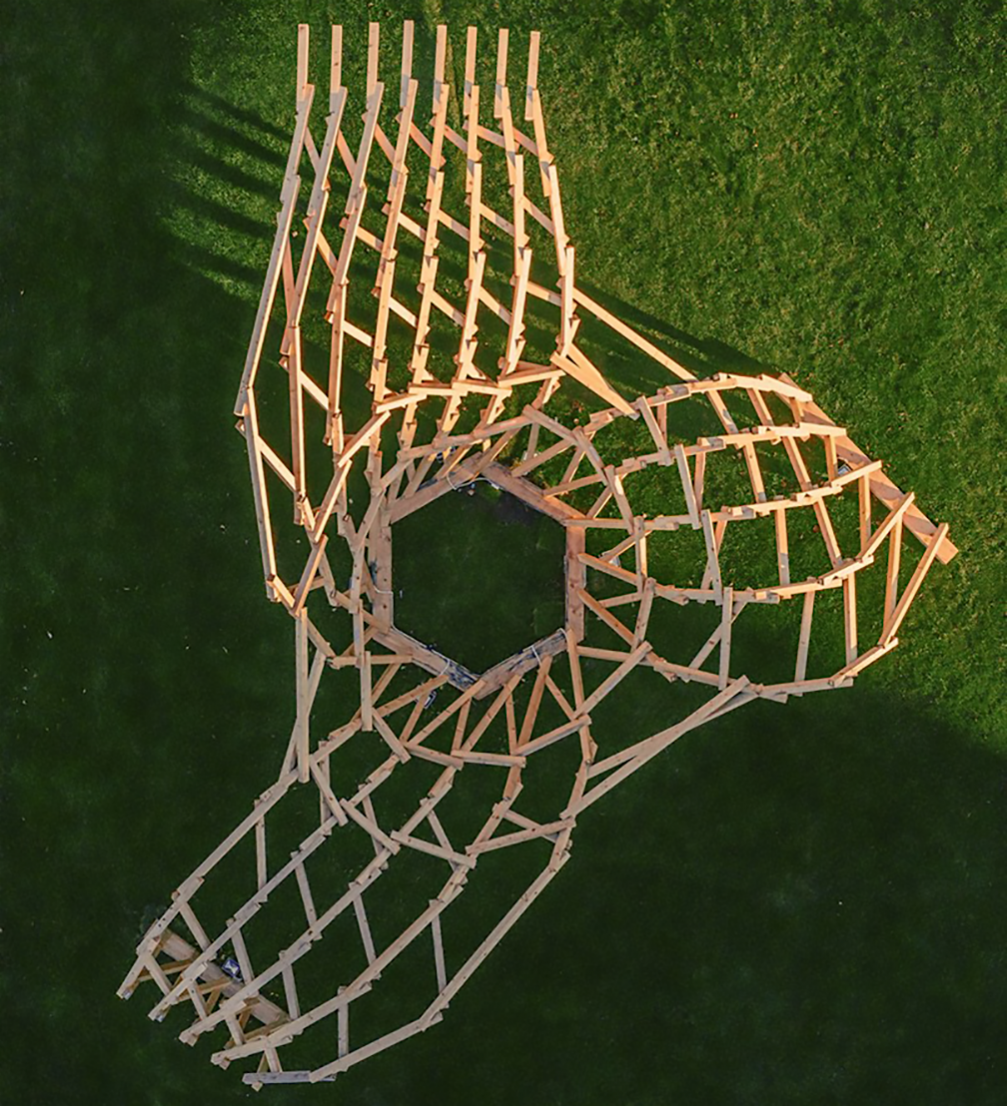 Installation «Body Building» by «Part». Photo by Tõnu Tunnel
Tallinn Architecture Biennale 2017 has announced TAB 2017 Urban Installation Programme open call, offering emerging architectural talent the opportunity to design and build an experimental wooden folly in the heart of Tallinn. The competition has two stages — digital portfolios can be submitted for the first competition stage until October 15, 2016.
The international open two–stage competition is challenging participants to develop creative designs for a temporary outdoor installation, making innovative use of the fabrication capacities with the Estonian wooden house manufacturers. The aim of the Urban Installation Programme, organised within the framework of Tallinn Architecture Biennale (TAB), is to promote synergy between emerging designers and industry.
Curators of the TAB 2017 Installation Programme, architects Sille Pihlak and Siim Tuksam («PART»), say the open call is driven by TAB 2017 main topic of bio–technology in architecture and urban design: «The convergence of biotechnology and IT, applied to landscape and urban design is considered by many pioneers as one of the more promising future developments for our civilization. TAB 2017 will provide a showcase for the most interesting emergent actors in the field.»
The jury of the competition is led by Michael U. Hensel from the Oslo School of Architecture and Design, one of the key players in the field of sustainable architecture; other jury members include TAB 2017 curator Claudia Pasquero and the head of Estonian Museum of Architecture, Triin Ojari.
The folly will be built in August 2017 in front of the Estonian Architecture Museum in Tallinn, on an all–grass area, with a flat area of 17x17m on top of a slightly elevated area. Penetrative foundations cannot be used on the site; the folly can have a maximum height of 5m and should have a lifespan of at least 23 months. The winner of the competition will receive 10000 euros to implement the project. Further information and terms of the competition can be found on TAB website, where digital portfolios can also be submitted until 15 October to enter the first stage of the competition. The participants of the second stage will be announced on November 1. All entries qualified for the second stage will be published in a book and exhibited at TAB 2017, which will open with series of events taking place from September 13 to 17, 2017.