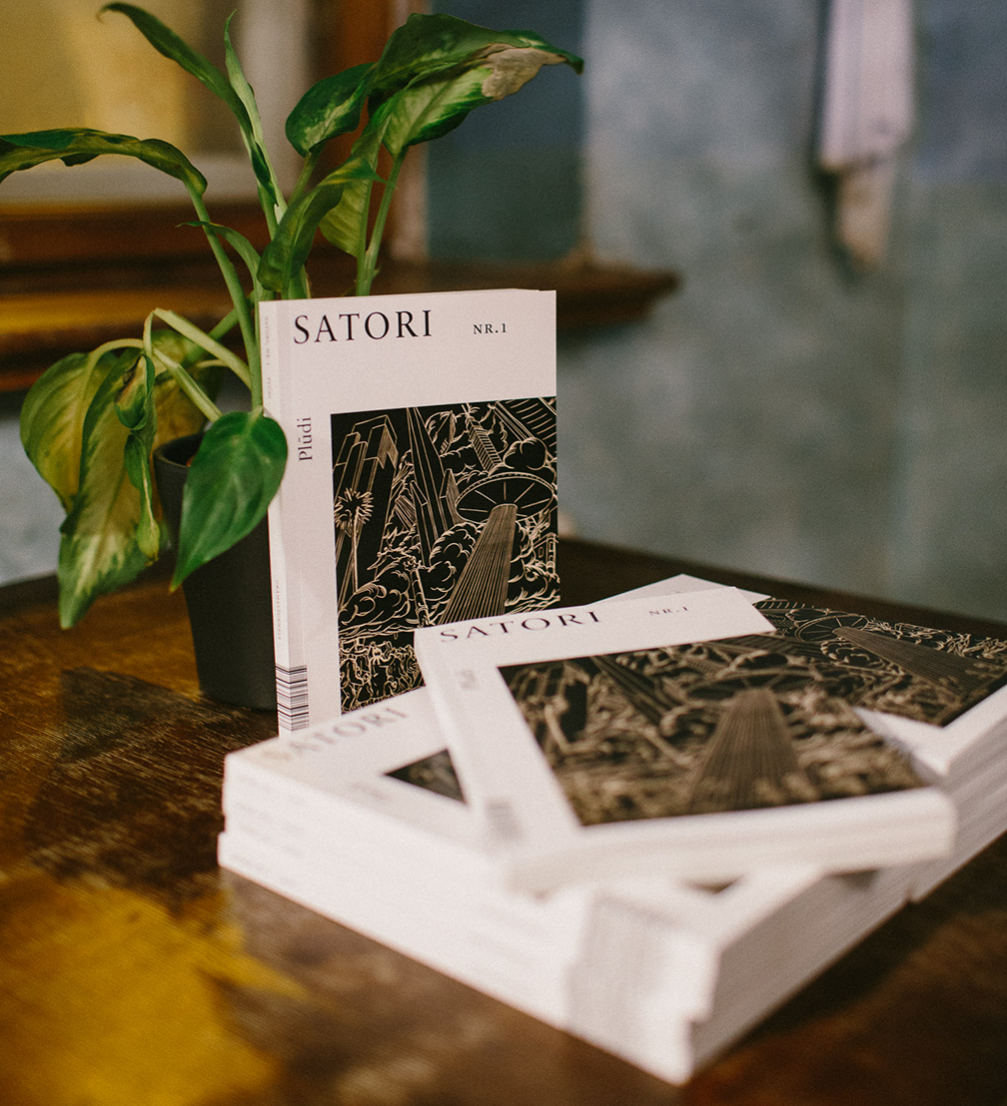 The online magazine «Satori.lv» has launched a new literature, publicism and arts bookazine «Satori», and the theme of flood is chosen for its first edition. Its ascetic design allows the content to stand out, featuring texts by various authors as well as the works by Latvian illustrators and photographers.
The «Satori» bookazine No.1 is a new printed edition that compiles the latest Latvian prose, poetry and documentary prose, thus marking a new generation of authors. The first volume includes works by such writers as Inga Žolude, Inese Zandere, Jānis Ķīnasts, Kārlis Vērpe, Pauls Bankovskis, Henriks Eliass Zēgners, Kārlis Vērdiņš, Inga Gaile, Anna Auziņa, E.F. Kuks, Pēteris Pūrītis, Ieva Melgalve, Aivars Madris and others.
The publication contains a series of literary essays and manifestos that explore flood as a universal metaphor for modern human fear of insuperable divine, cosmic, social or spiritual force. In collaboration with Latvian artists and photographers, the issue is complemented with art works that have been created as illustrations for specific texts or to comment the theme of flood independently. The designers of the bookazine are Alexey Murashko (VCG) and Tom Mrazauskas, while the woodcut by Miķelis Fišers is used as the cover illustration.
«The idea was to create a contemporary literary journal based on fine typography allowing the text to reveal itself. It was a sort of anti–design approach,» designer Alexey Murashko comments on the design of the new bookazine. The pages are mostly black and white, except the illustrations and photographs, but those also are set not to interfere with the main content. While the photo essay by Ģirts Raģelis is even printed on different paper. «Most of the choices were made rationally. For instance, wide internal margins and comparatively large type were chosen to ensure comfortable reading experience. The small and lightweight volume is so handy you can grab it along and read anywhere,» adds Murashko.
Marking the launch of the new bookazine, exhibition «Satori.Illustrated» was also opened and it will be on view at Kaņepes Culture Centre until December 14. Since 2015 students of the illustration class (led by Rūta Briede) of the Graphic Art department at the Art Academy of Latvia have collaborated with «Satori.lv». During this collaboration the students have created illustrations for more than ten pieces of Latvian contemporary poetry and prose. The exhibition features original illustrations made from 2015 to 2016 by artists Anna Zvaigzne, Elīna Brasliņa, Rūta Briede, Anete Bajāre–Babčuka, Dārta Stafecka, Anita Rupeika un Lote Vilma Vītiņa.
The bookazine «Satori», published by the society «Ascendum», is intended to be released annually. The first issue can be purchased at the bookstores «Jānis Roze», «Valters un Rapa», «NicePlace Mansards», gallery «Istaba», «Birojnīca», at stores «M50» and «RIIJA» as well as by contacting «Satori» via e–mail.