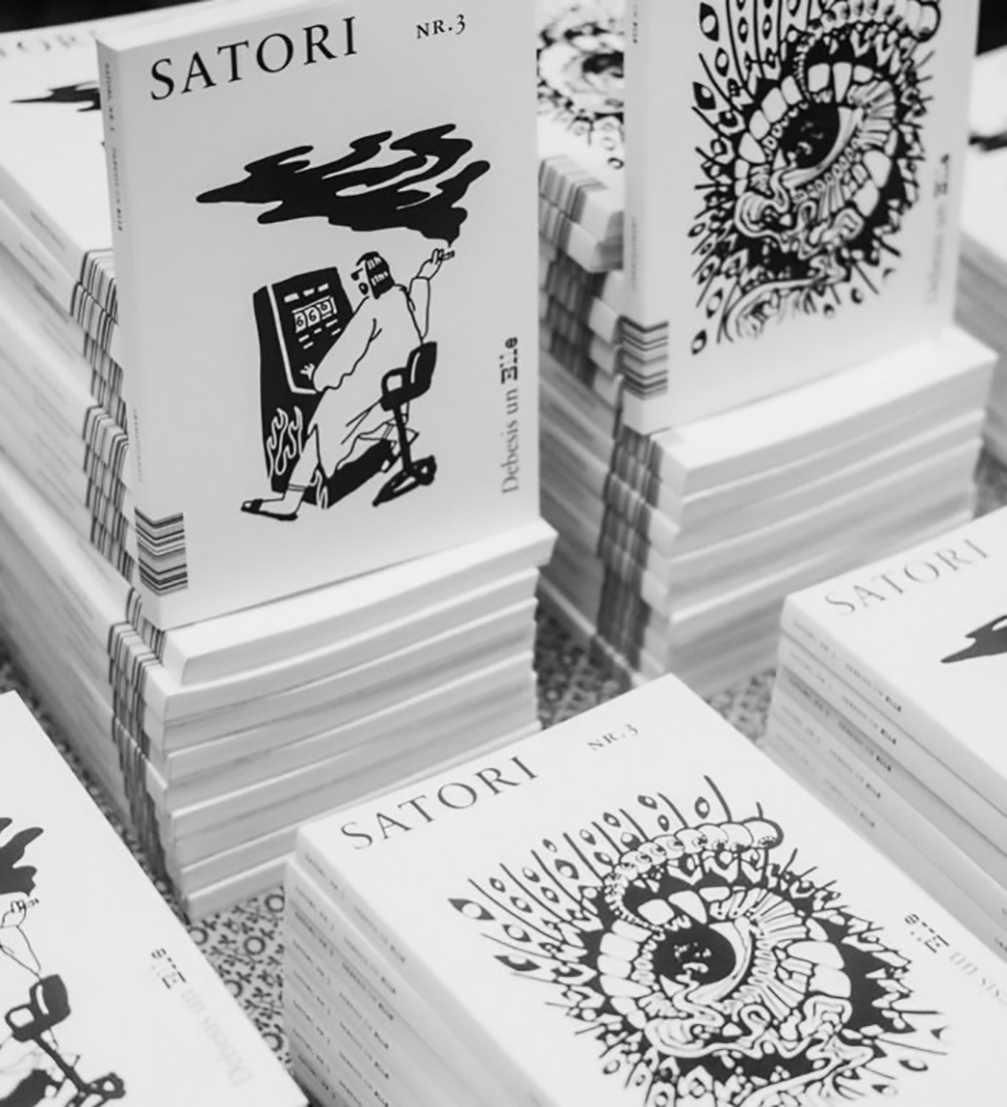 Photo by Ģirts Raģelis, «Satori»
The society «Ascendum» has released the third «Satori» bookazine under the theme of heaven and hell. The issue features texts by various authors as well as illustrations by students of the Art Academy of Latvia. Until the end of December, the illustration exhibition is also on view at the Kaņepes Culture Centre.
Stories Editorial November 27, 2018
With a performance in the Great Cemetery and a prose walk to the Kaņepes Culture Centre, the third literary almanac, «Satori» bookazine, published by «Ascendum», was opened last week.
Its theme of heaven and hell is borrowed from the work «The Marriage of Heaven and Hell» (1790) by the British poet William Blake. The poem, translated by Latvian poets, can be read in the new bookazine.
The publication contains literary essays and miniature works of documentary prose. In collaboration with students of the Art Academy of Latvia Graphic Art department and their tutor Rūta Briede, the issue is complemented with artworks that have been created as illustrations for specific texts or to comment the theme of heaven and hell independently.
Editors of the bookazine are Ilmārs Šlāpins, Pauls Bankovskis, Ieva Melgalve and Kārlis Vērdiņš. The issue is designed by Alexey Murashko who was recognized as the Artist of the Year in the book art competition «Zelta Ābele 2017» early this year.
Marking the launch of the new bookazine, exhibition «Heaven and Hell» was also opened and it will be on view at Kaņepes Culture Centre until December 31.
The exhibition features original illustrations made by emerging artists Aina Bikše, Andrejs Sidoss, Agate Lielpētere, Baiba Tropa, Diāna Jarmakova, Didzis Upens, Dina Danosa, Evija Pintāne, Guna Poga, Henrihs Bināns, Ingrīda Ivane, Ivita Brūdere, Jūlija Blaževiča, Kristiāna Doroščonoka, Kristīne Martinova, Linda Jākobsone Viškere, Līva Ozola, Linda Lagzdiņa, Patrīcija Māra Vilsone, Renāte Kloviņa, Sanita Skalbe, Svens Neilands and Vivianna Marija Staņislavska.