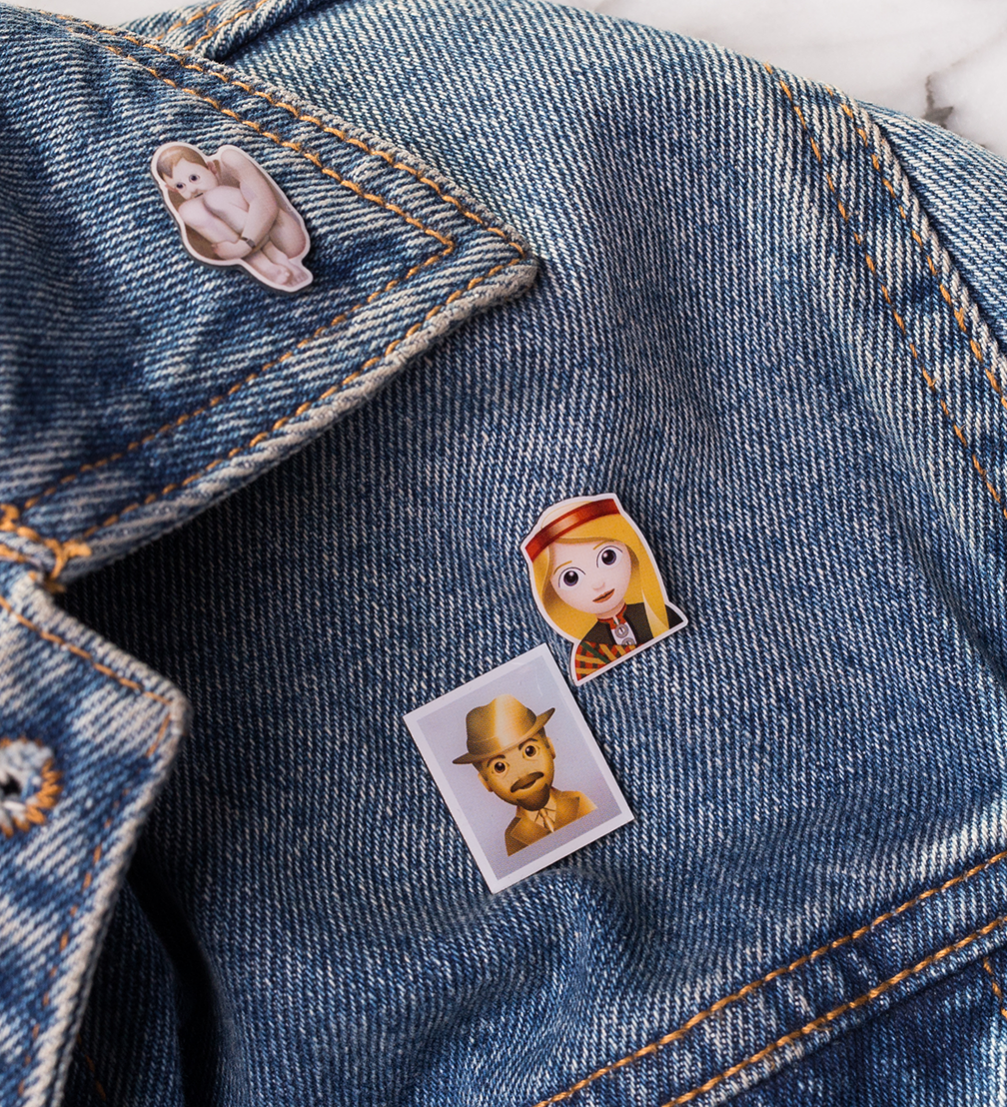 With the exhibition «Top in formation» at the Latvian National Museum of Art, curated by Mūkusalas Art Salon, a new line of souvenirs has been made — emoji of Latvian artists. The first artists to acquire their own emoticons are Auseklis Baušķenieks, Džemma Skulme, and Miervaldis Polis. The artist emoji are available embroidered on sweaters and as pins.
The idea to give well–known Latvian artists emoji faces belongs to Agnese Kleina, communications manager of Mūkusala Art Salon, and illustrator Roberts Rūrāns has blended the aesthetic of emoji with the works of the masters. For Auseklis Baušķenieks, it is his «Recluse» from 1957 — an inner self portrait of the artist, as he classifies it himself. It has been said that the girls in national costumes in Džemma Skulme's works capture the soul of the Latvian nation. A girl from Skulme's 1966 painting «Maiden (Folk Motif)» has been selected for the emoji. Miervaldis Polis has been portrayed as the Bronze Man («Process of the Passport Photo of the Bronze Man, No. 6», 1992). The Bronze Man character was born in August 1987 when a television director from West Germany asked Polis to do a performance in Riga — paint himself bronze and walk around the town.
The exhibition «TOP in formation» introduces a wider public to the art collection of the Zuzāns family that in a couple of years will be on permanent view at the «Zuzeum» art centre in Riga. «Zuzeum» will carry on the mission of Mūkusala Art Salon — to shape the image of Latvian art by speaking to both local art lovers and a broader audience including the younger generation abroad. Therefore, in preparation for «Zuzeum», the Mūkusala Art Salon has decided to speak to the world in a universally recognised language — with emoji.
The sweatshirts and pins are available at the gift shop of Latvian National Museum of Art as well as at the «Paviljons» store.