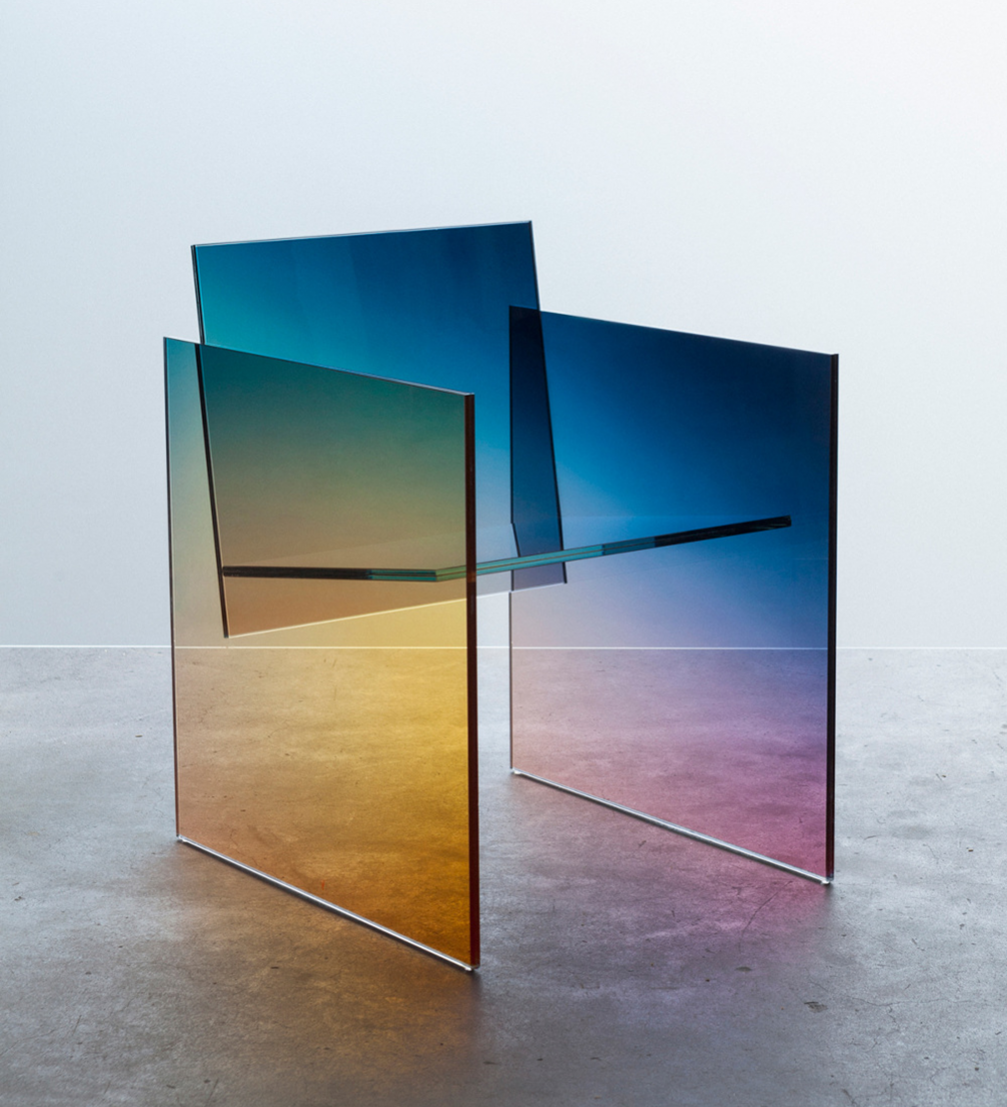 The Ombré chair by Amsterdam–based Latvian designer Germans Ermičs has been listed as one of the best works in the category «Best in Glass» in the «Wallpaper* Design Awards 2018». This chair illustrates the author's interest in the interaction between colour and form.
Stories Editorial February 14, 2018
«Constructed from four sheets of coloured glass, the «Ombré» chair by Latvian designer Germans Ermičs typifies a clear new trend in furniture design,» says the jury of «Wallpaper* Design Awards 2018». Germans emphasizes that the «Ombré» glass chair (2017) is a tribute to the well–known Japanese designer Shiro Kuramata (1934–1991). Kuramata's iconic Glass Chair (1976) is one of the most influential furniture designs of the 20th century. A breakthrough concept, and one that is profoundly true to its material, the Glass Chair set a precedent for the direction of design in glass, in which the simplicity, transparency, and seeming weightlessness of the material are emphasised. The Glass Chair exemplifies fascination with immateriality and transparency. Employing a revolutionary, new industrial product «Photobond 100», which bonds glass cleanly, Kuramata was able to join six sheets of glass without screws, mounts or reinforcements, thus eliminating all traces of structure. Formed solely from planes of clear glass, the chair's solid state seems to dissolve. Almost invisible, these planes, without tangible support, hang in the air.

The «Ombré» chair by Germans Ermičs has fewer glass details and they are complemented with nuanced use of colours — the trait that has brought Germans international recognition. «Glass and colour are media through which I implement my ideas on optical illusions, on playing with spaces,» says Germans in his interview for FOLD. Contrary to industrial manufacturing where colouring process is usually the final step, Germans Ermičs' creative process is directly connected with his interest in the synergy between the form and colour.
Germans Ermičs was born in Riga. Before founding his studio in Amsterdam, he had a  successful career in graphic design. He has studied in Denmark and the Netherlands, and during his studies at the Eindhoven Design Academy, he interned at «Studio Robert Stadler» in Paris. Now he participates in various projects all around the world. This year, Germans Ermičs is one of the jury members of the Latvian Design Award 2018 competition.