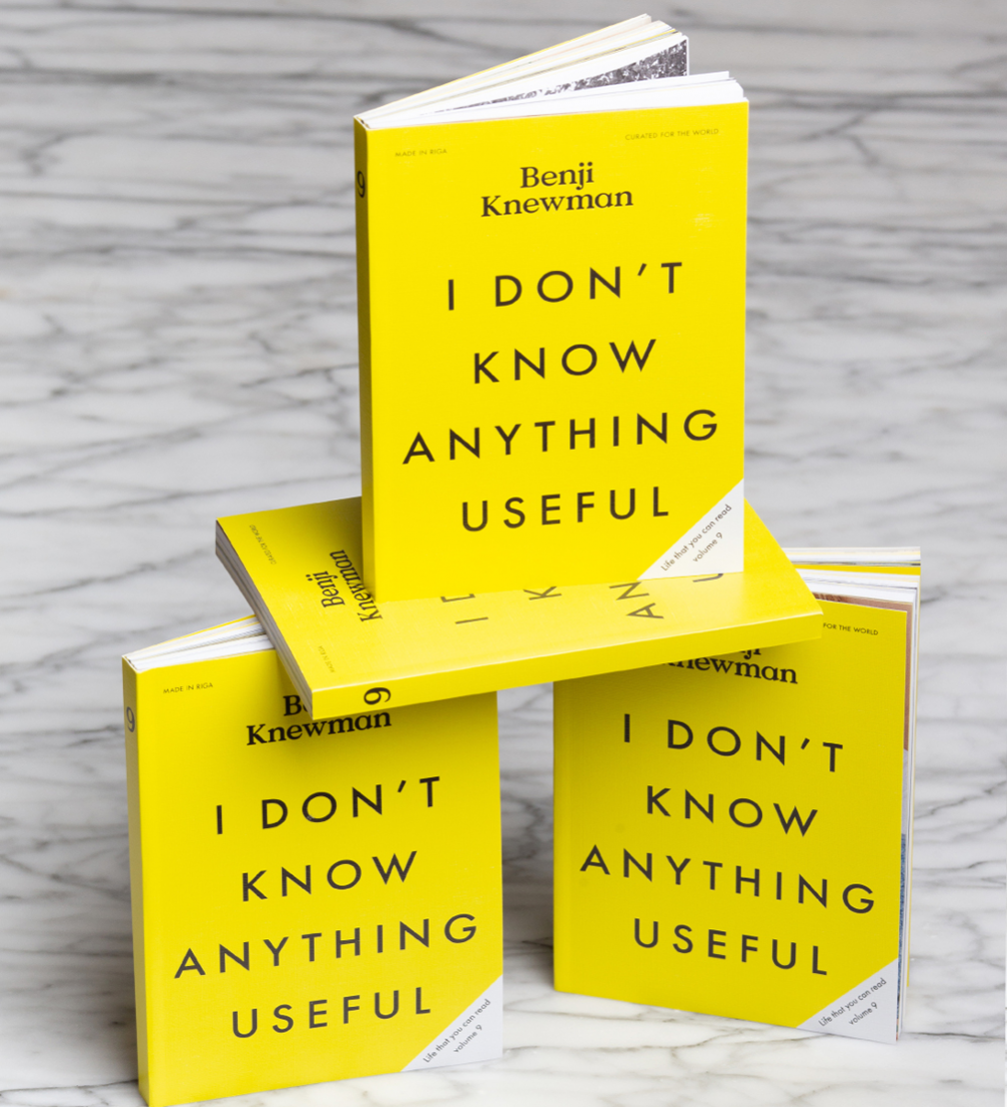 With an honest confession on its cover, the ninth issue of the bilingual bookazine «Benji Knewman» is out. The words «I don't know anything useful» are borrowed from Rvīns Varde's diary on meeting artist Vladimir Glushenkov. The bookazine, as always, contains visual stories along captivating articles and interviews with creative personalities.
The content of the ninth issue of the «Benji Knewman» bookazine lets one travel from Riga to Moscow, London, Palermo and back again through Liepaja. Anete Konste writes on occurrences at some bar in Riga, based on a true story. Anton Belov, director of the Moscow's art museum «Garage», admits that an ideal museum is of a particular size of two-hour visit. A photo film with pictures from Riga in 1970s, found at the Ikšķile flea market by Toms Zariņš, interacts with photographs of Riga this summer, taken by Pēteris Vīksna. A text by Vents Vīnbergs resonates with both series.
The issue features an interview with Lolita Tomsone, director of Žanis Lipke Memorial, article on the European Biennial of Contemporary Art «Manifesta» in Palermo, as well as simple and often humorous life lessons from eighty-year-old lady Rasma Rāva.
The latest issue is also complemented by limited edition T-shirts with embroidery — a quote from Vladimir Glushenkov's diary of 1976. The text in Russian says: «There are many things that can not be reached, there are many dreams in which you can not wake up.» The artist himself was not recognized by the Soviet authorities and never experienced the day when his works would be accepted at official exhibitions.
«Benji Knewman» has been published for four years already, keeping its mission to tell the story of Latvia in an international language through its content and design. The bookazine is available in Canada, USA, the Netherlands, the UK, Switzerland, Hong Kong, China, as well as online. In Riga «Benji Knewman» can be purchased at stores «Mr. Page», «Riija», «Nice Place», «Robert's Books», «M50», gallery «Istaba» and at the headquarter of «Benji Knewman», Lāčplēša iela 101, Riga. The bookazine is created with support from the State Culture Capital Foundation.