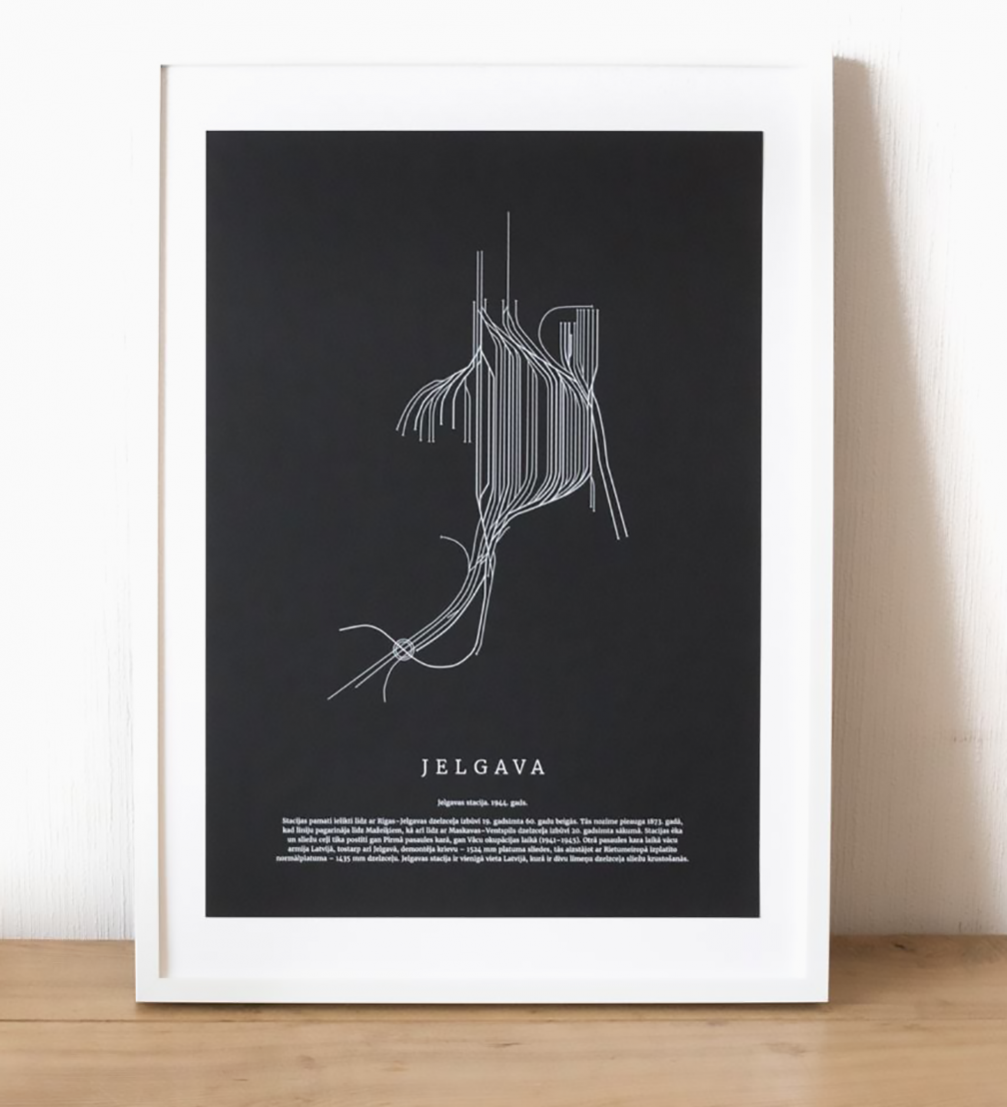 Poster by Una Grants. Publicity photo
To mark the centenary of the State Joint–Stock Company «Latvijas dzelzceļš» («Latvian Railway»), the Latvian Railway History Museum in collaboration with graphic designer Una Grants has released a poster series showing the technical schemes of five biggest railway stations in Latvia.
Five posters are created with the schemes of Riga, Daugavpils, Liepaja, Jelgava and Gulbene railway stations. These schemes are peculiar technical drawings that are used in the industry and show track layouts, switches, signalling devices, buildings and other technical information. In the series, each station is depicted in a historically significant moment. For example, the scheme of Jelgava station is from 1944 when it had only the European–standard rail gauge of 1,435 mm what will be now used in the «Rail Baltica» project. While the drawing of Daugavpils station is based on the scheme from the late 19th century when the railway in Latvia was only just about to develop. The stylized, laconic poster contains also a piece of brief information about the period.
«The idea of posters of technical station schemes came from the Latvian Railway History Museum. I was invited to implement this idea and I didn't have to think twice to agree since the Railway Museum is my son's favourite. Despite the fact that the railway schemes are very technical, I think there's something more to it. A station is a symbol of a city that is alive and abounds both with train and human trajectories. When I first saw the technical schemes, I noticed an interesting graphic drawing which somehow even reminds of the fibres of one's body muscles,» says the author of the posters, graphic designer Una Grants.
The two–coloured posters (size 420 x 594 mm) are printed in the silkscreen studio «Luste» by Sabīne Vekmane.
The posters and their sets are currently available at the Latvian Railway History Museum (Uzvaras bulvāris 2A, Riga) and in Jelgava (Stacijas iela 3).