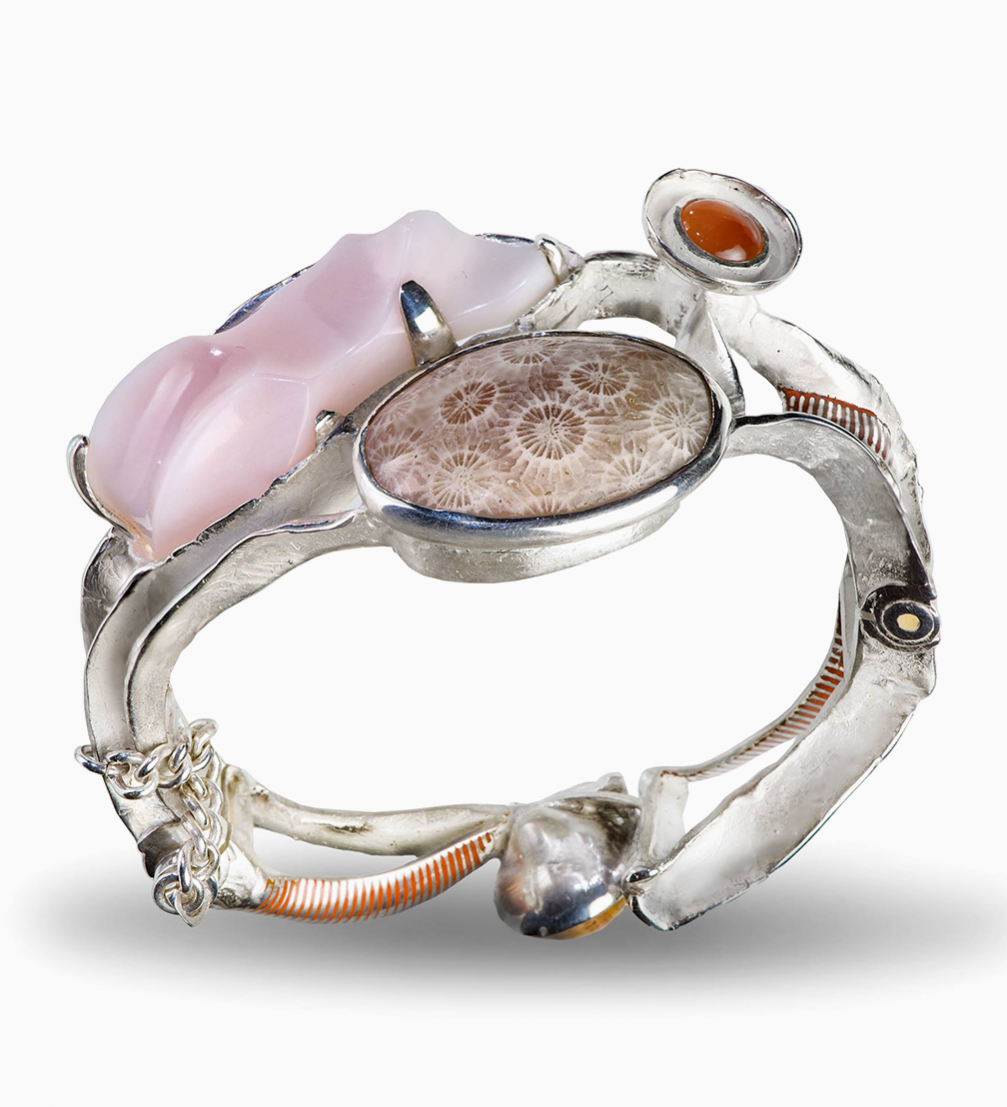 «Florescence» by Zane Vilka. Photo by Māris Grīnbergs
From June 21 to July 28, the Cēsis Exhibition House will host the first Latvian Jewellery Art Association's exhibition «A priori». The Association was founded in 2018 and unites local jewellery artists, working in various styles and techniques.
The concepts «a priori» and «a posteriori» are terms used in philosophy to distinguish two types of knowledge. The «a priori» knowledge is independent of experience. This was also the starting point for the first Latvian Jewellery Art Association's exhibition — the participants gathered, regardless of previous experience. Both recognized and well–known Latvian jewellery artists, as well as recent graduates, have joined together to show new works, designed especially for the exhibition «A priori» in Cēsis.
The Latvian Jewellery Art Association was founded at the beginning of 2018 to unite artists and designers working with jewellery and to implement ideas important for themselves and society. The Association aims to promote the exchange of information and experience in the industry, to organise events on the jewellery art and popularise the field both on the local and international level. They also wish to gather and preserve information, collaborate with educational institutions, students and teachers, attract financial support for projects in the jewellery field and cooperate with similar organisations.
The participants of the «A priori» exhibition are Māris Auniņš, Jānis Brants, Valdis Brože, Vladislavs Čistjakovs, Anna Fanigina, Ginta Grūbe, Andris Lauders, Guntis Lauders, Una Mikuda, Rasma Pušpure, Pēteris Ripa, Anita Savicka, Laura Selecka, Darja Semjonova, Jelizaveta Suska, Māris Šustiņš, Paula Treimane, Zane Vilka, Jānis Vilks and Maija Vītola–Zitmane.
The exhibition is organised by the Latvian Jewellery Art Association, curated by art historian Iliana Veinberga who is also the collection keeper at the Riga Porcelain Museum.
The Latvian Jewellery Art Association's exhibition «A priori» will be on view from June 21 until July 28 at the Cēsis Exhibition House, Pils laukums 3, Cēsis, every day except Mondays. The opening — on June 20 at 18.00. More information on the Association's activities and its members can be found on its Facebook page.