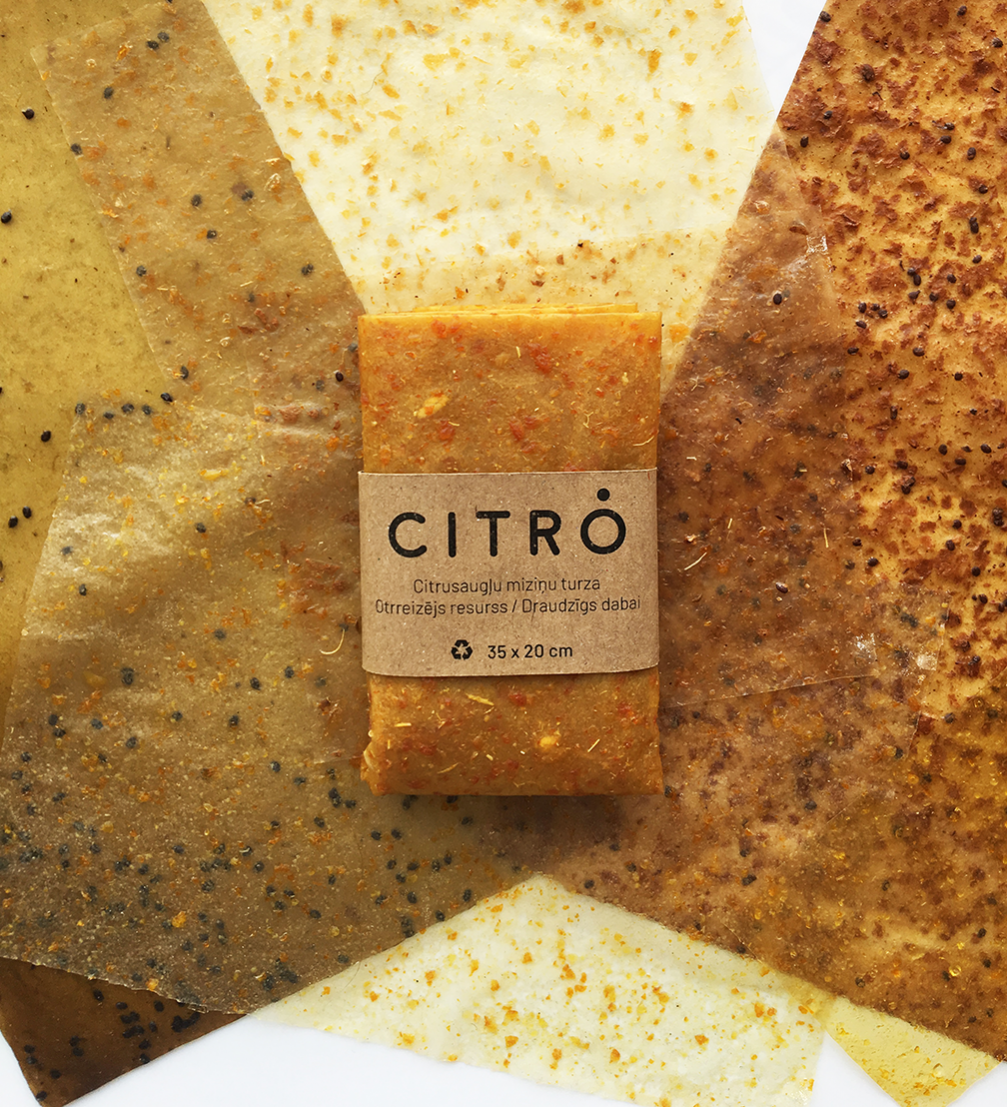 «Citro». Photo by Monta Guliaka
This summer, Monta Guliaka graduated from the Art Academy of Latvia Functional Design Department where she specialized in graphic and packaging design. Her bachelor's degree project is an innovative packaging material «Citro». Made of recycled citrus peels, slightly aromatic and tactile, it is Monta's response to the increasing environmental pollution.
In June, at the Art Academy of Latvia Graduate show 2019 in the former Faculty of Biology of the University of Latvia, Monta Guliaka's bachelor's degree project «Citro» stood out with a well–thought–out presentation and interesting idea. It was based on the author's wish to create something meaningful and tangible that would make people think about the environmental impact of their behaviour and encourage a respectful attitude towards nature. Monta says that the project began with research so she could learn more about the types of pollution and waste. Considering that one of the causes of the increasing environmental problems is the insatiable use of disposable packaging and tableware, the student decided to search for an alternative. Besides, the idea coincided with the news about the EU ban on single–use plastics by 2021.
«In our everyday lives, we only see a small part of the great environmental disaster that we have created due to our ignorance and behaviour led by mass instinct. The goal of this project was to create an innovative solution to change the society's attitude and habits, improve the quality of life and to raise emotions,» says Monta. She noticed that while in Latvia the consumption of freshly squeezed juices increases, the biological waste — citrus peels — remain unrecycled leftovers. Monta's experiments resulted in an environmentally friendly packaging «Citro» that is clean, sustainable, pleasant to touch and has a light citrusy smell. At the exhibition, the upcoming designer presented several versions of the material which differed in colour, texture and density. Monta sees that «Citro» could be used, for example, in zero–waste stores both as wrapping material or in a form of bag.
Monta Guliaka's bachelor's degree project at the Art Academy of Latvia was supervised by Assoc. prof. Gita Straustiņa.