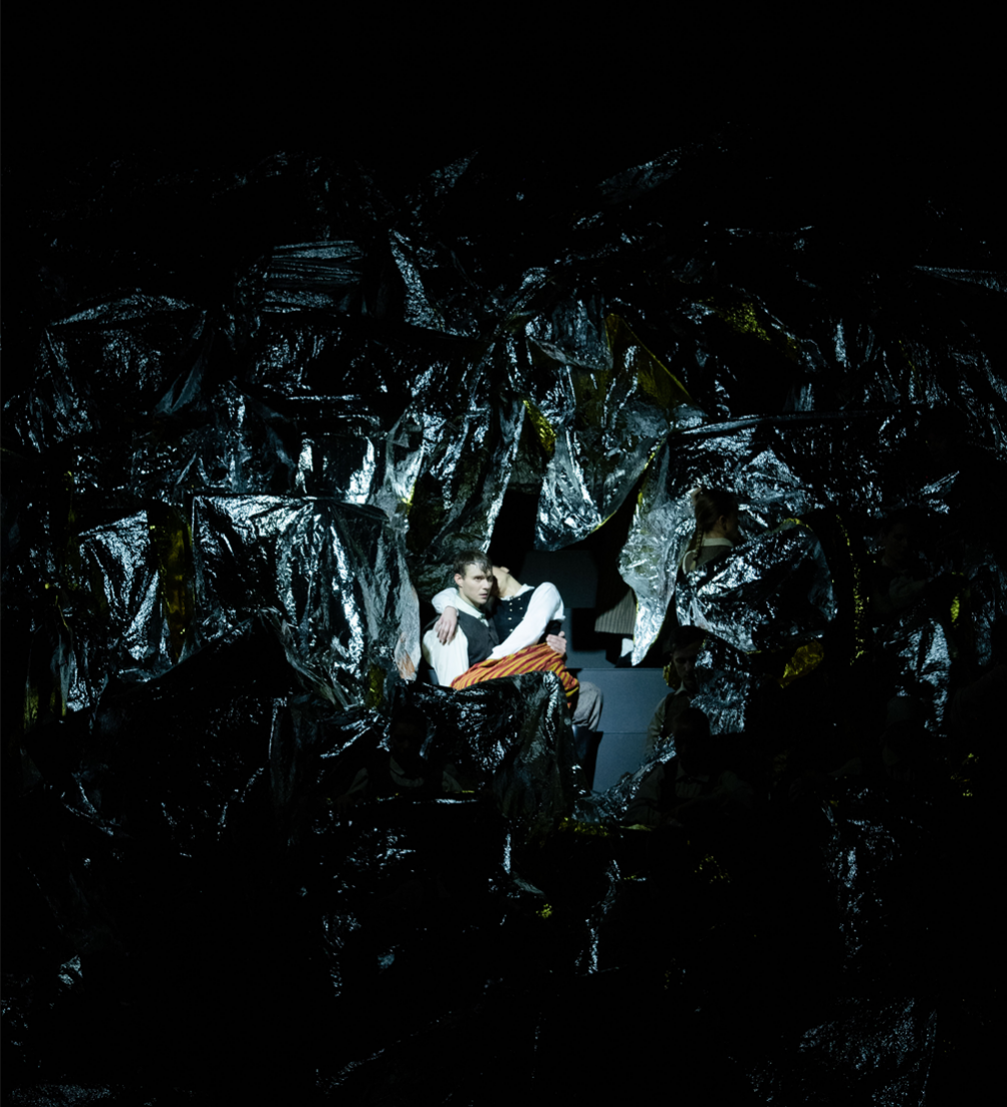 «Spēlmaņu nakts» is an annual award ceremony for best achievements in theatre. On the 23rd of November, the main prizes were awarded to Elmārs Seņkovs' staging of Rainis' play «Blow, Ye Wind!». Monika Pormale, author of the play's visual design, received the award for Best Set Design while choreographers Jānis Purviņš and Agate Bankava took home the awards for Best Choreography.
Stories Editorial November 28, 2019
Monika Pormale's set design, the costumes by «Mareunrol's» and the choreography of Jānis Purviņš and Agate Bankava merge on the stage of the National Theatre of Latvia and create a convincing, conceptual whole. During the performance, most of the stage is taken up by enormous stairs with more than a hundred dancers who make up the key element of the stage. Throughout the performance, the dancers skilfully move to create various impressions such as a family at home, a lamenting choir, the waves of the river Daugava or a mighty forest. The overall imagery sometimes resembles the atmosphere present on stage during the Song and Dance festival and features references to the set design in Andris Freibergs' astounding opera «The Immured».
Elmārs Seņkovs' «Blow, Ye Wind!» was premiered during the year of Latvia's centennial celebration which was also commemorated with the holding of the Nationwide Song and Dance festival; it is featured in the staging as a symbol of Latvian national identity. The costumes for the staging created by the fashion duo «Mareunrol's» and selected from the folk dance group «Līgo's» collection of ethnographic costumes from the region of Kurzeme do not create the kind of visual saturation that one might expect from a cluster of variegated skirts, but instead weave a living human «fabric» that feels reserved and pleasantly composed.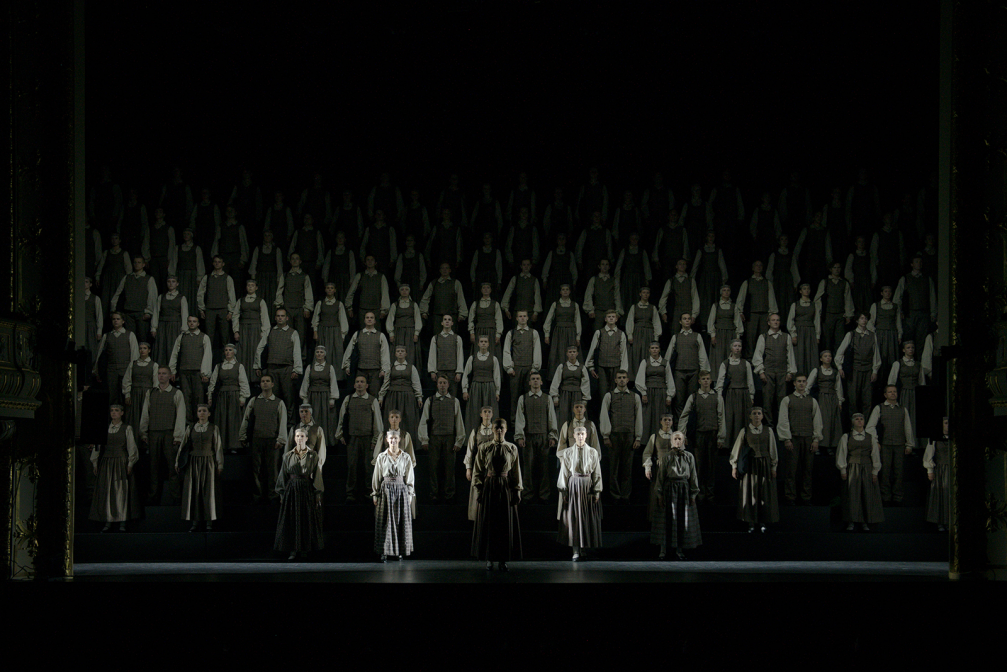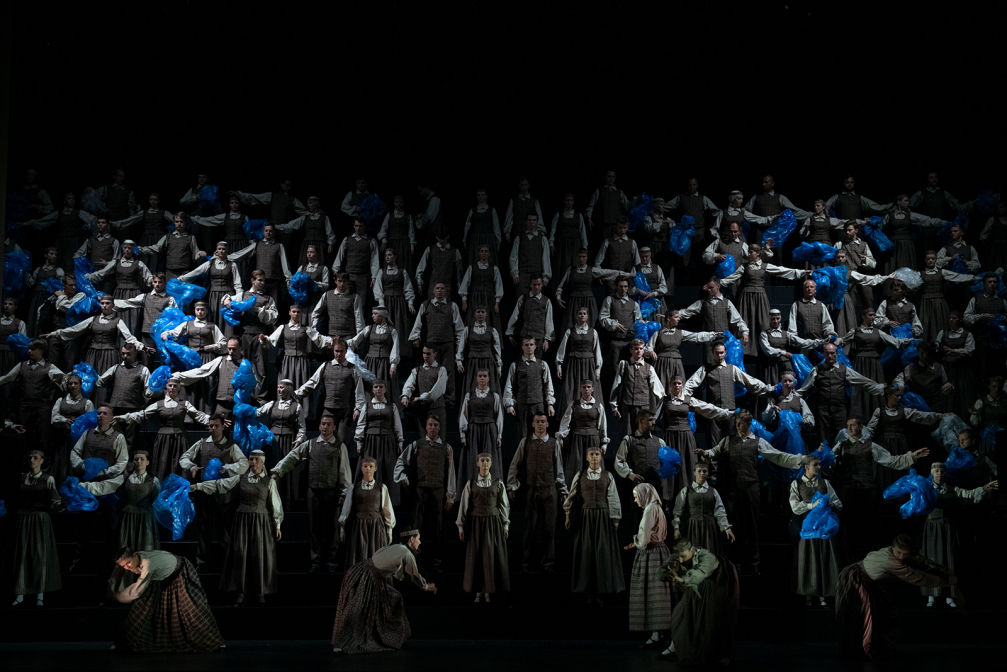 The otherwise neutral looking choir singers were provided with contemporary touches such as raincoats, caps, sunglasses and songbooks that immediately paint a familiar picture of the choirs singing at the open-air stage in Mežaparks during the Song and Dance festivals that are held there. The finale of the play saw a clever use of foil blankets during the iconic scene where the wind blows Uldis' boat out to sea towards the setting sun.
Besides the awards for Best Set Design and Choreography, «Blow, Ye Wind!» also received the «Grand Prix» of the evening, an award for Best Big Form Performance as well as the audience vote organised by the news source «Delfi». The director Elmārs Seņkovs also received the award for Best Director, as did Lolita Cauka for Best Supporting Actress, Jēkabs Reinis for Best New Stage Artist and Oskars Pauliņš for Best Lighting Design. You can still catch «Blow, Ye Wind!» at the National Theatre of Latvia.