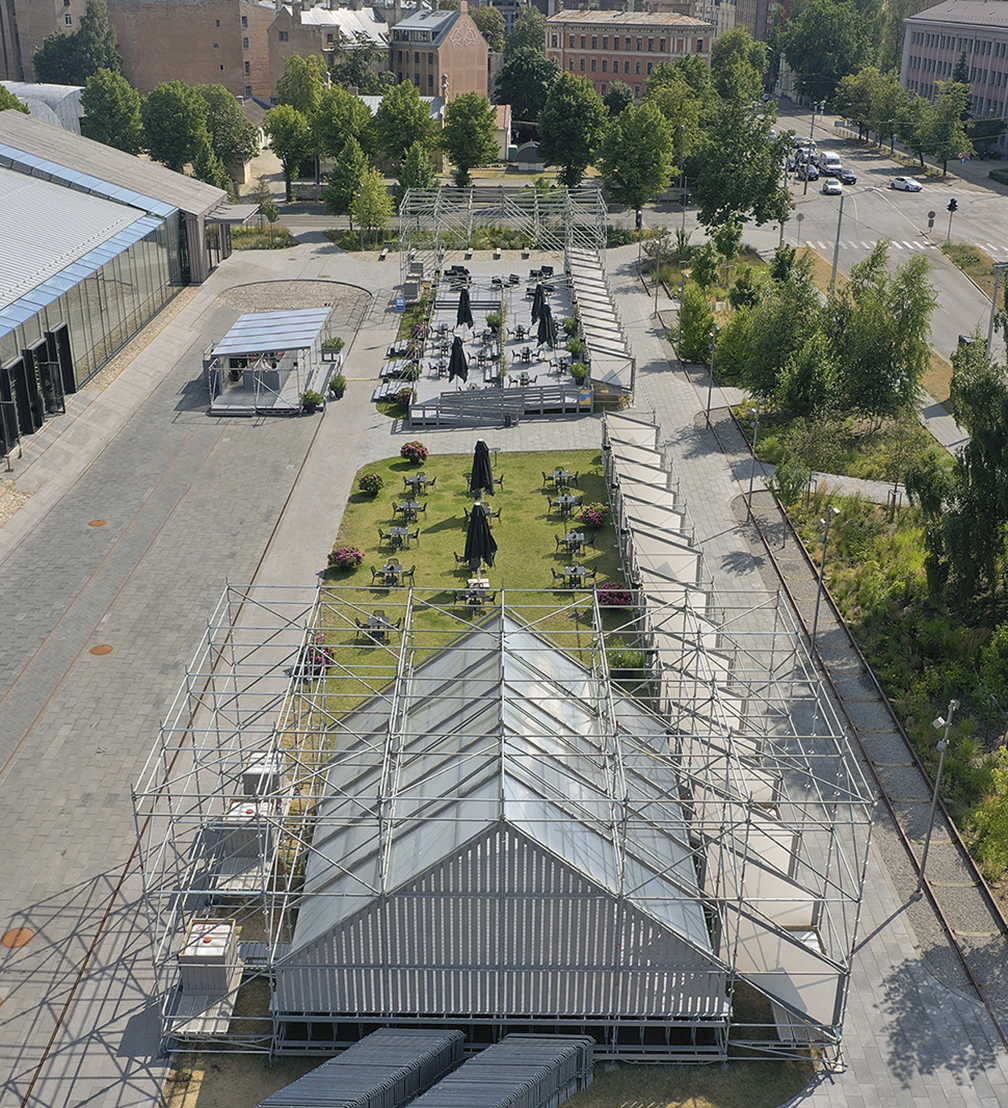 This summer, an open-air event platform was built next to the event venue Hanzas Perons. In times of limited gathering opportunities, this experimental pilot project allows socialising and attending public events in an epidemiologically safe environment with the opportunity to keep distance.
Hanzas Perons summer terrace of cultural events created by DJA refers to the shape of the adjacent and recently renovated Hanzas Perons building, which has a distinctly long volume and a two-sloped roof. The terrace is set on several levels and built as a light structure from rented scaffolding constructions with board finishing. This structure is adaptable to various events, providing the possibility to supplement it with functional and artistic elements, as well as light and sound equipment. At the same time, the terrace is a sustainable short-term architectural solution that allows the building to be dismantled after the end of the summer and all materials to be used again for the other objects.
Hanzas Perons summer terrace consists of five areas: a lounge area, a dining area, a picnic area, a bar and a stage.  The lounge area with hammocks is situated under the scaffolding structure. It is followed by a dining area on a two-level platform next to a bar, and depending on demand, the dining area can be extended to the green picnic zone. Both the bar and the dining area have ramps for easy access for people with reduced mobility. The stage is located next to the picnic area, which also serves as a place for spectators. The transparent polycarbonate roof of the stage protects against precipitation while maintaining the lightness of the structure. To create an environment where it is pleasant to stay in different weather conditions the terrace is separated from the nearby Pulkveža Brieža Street by wind shields.
Authors: DJA — Didzis Jaunzems, Ksenija Sapega, Justīne Kate Hesse, Helēna Laura Bindemane