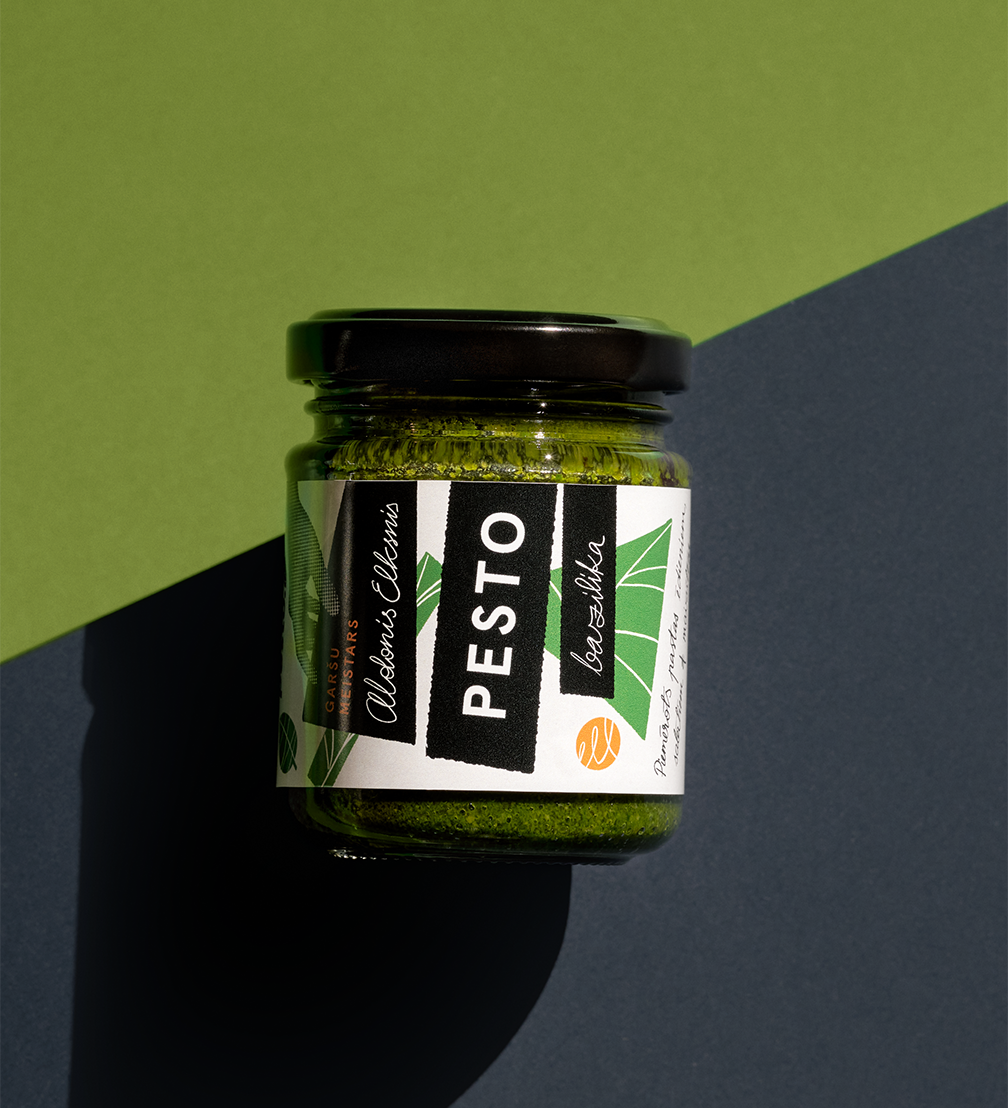 At the end of last year, design studio Nord ID Riga announced an open call offering to develop a packaging design for one of Latvia's small food producers in exchange for their products. The company Pesto.lv, which makes various condiments, was chosen for collaboration. Now Pesto.lv has a new label design that better reflects the taste of the product.
Stories Editorial February 17, 2022
While thinking about Christmas gifts for its customers and partners, Nord ID Riga wanted to do something unusual and bring joy not only to the recipient of the gift, but also to the manufacturer. «Usually, we mostly help companies that are already quite big, but we wanted to give an opportunity to one of the small, still growing food producers in Latvia, who can't afford to create its packaging design in a studio,» says Arnis Artemovičs, Nord ID Riga's project director.
Of all the applications received, the team of Nord ID Riga was most fascinated by the story and products of Pesto.lv. The company prepares various types of pesto, caramelised vegetables, and tomato sauces using only natural ingredients. Pesto.lv describes itself as an «explorer of new tastes», so it was important to create a package design that better reflects the spirit of the company. From several design versions, Nord ID Riga, together with the customer, chose a design that emphasises the careful handiwork that is put into creating the product. The different textures that appear on the labels refer to the unusual combinations of ingredients.
«Design has always been important to our team, so it is a real pleasure to collaborate with Nord ID Riga. Each time the studio provided more than we had hoped for — at the beginning it was planned to develop a design for one product, but at the end of the collaboration we obtained designs for three products and a logo. We are currently continuing our cooperation, and designs are being developed for other products as well,» said Jānis Pirsko, one of the founders of Pesto.lv. Currently, the new labels are printed in a limited quantity, but it is expected that products with the updated Pesto.lv design will soon be available to everyone.