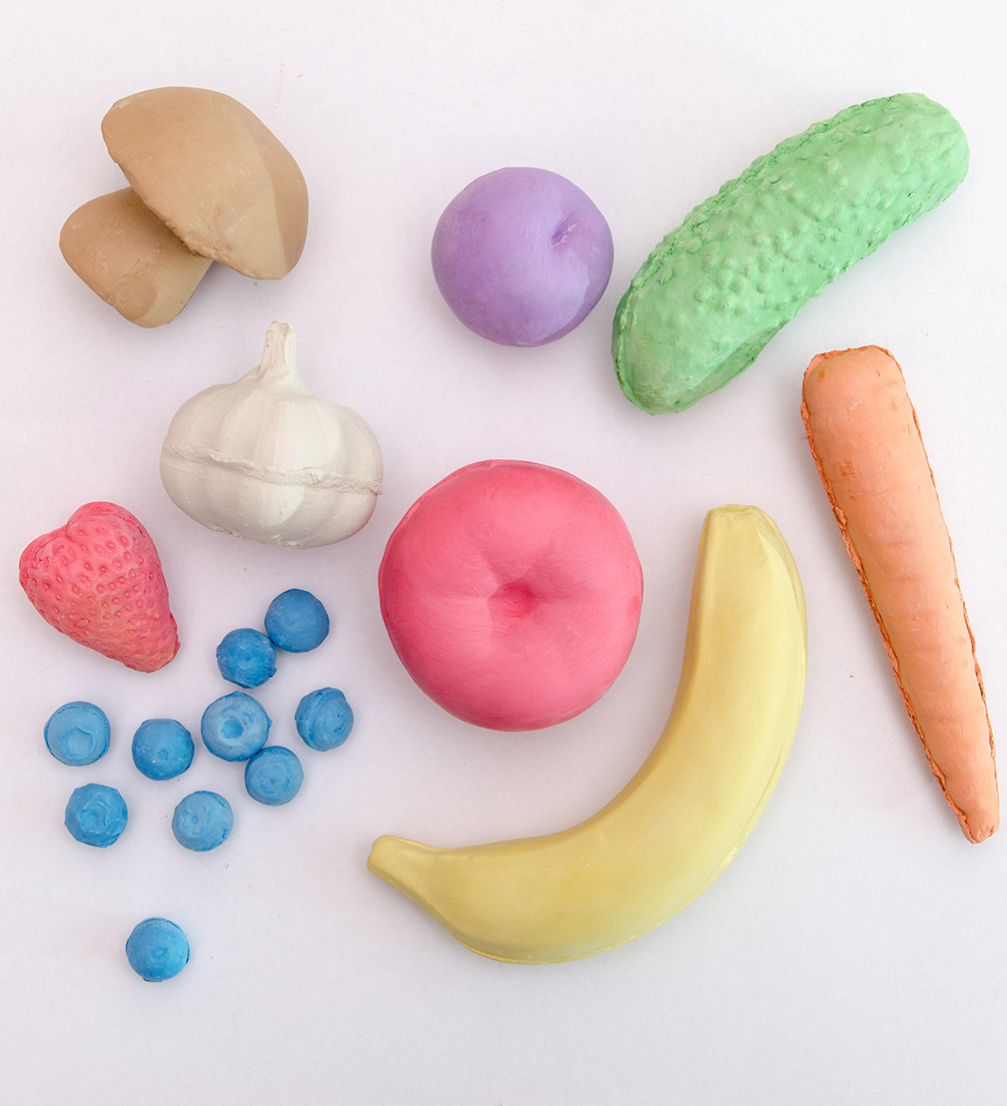 The two types of clay crayons from the brand «Drawies» by Ieva Pastare are not only for fun or to leave temporary messages on the pavement. Made with great care in terms of form and usability, they can be used in ergotherapy and learning process. «zīMULĪŠI» was Ieva's degree project, the «Colourful» crayons in forms of fruits and vegetables — her master's degree project, and all together have now become a business.
In 2013 we wrote about Ieva Pastare's degree project, the crayons «zīMULĪŠI». Due to its use of natural materials, ergonomic shapes and functionality it stood out among other works in Design graduates' days at the Art Academy of Latvia (AAL). Since then Ieva has graduated from the master's programme of AAL Functional Design Department and founded her own company «Drawies». All of the above happened almost at the same time — last year. As Ieva was about to finish her studies, she decided to participate in an international competition for creative entrepreneurs «Creative Business Cup», but it was for legal entities only. «While preparing for the competition I had to graduate from the Academy, present my degree project and in addition to that I had to start my own company. All of it had to be done in around two weeks,» Ieva remembers the intense time. However, her efforts paid off — «Drawies» got the third place in the national round and an opportunity to present in Copenhagen.
Ieva alrady had a dream of developing her ideas further when she started her studies: «When an idea comes I have to make sure if it's a strong one. It is very exiting — during my studies I could sit all night sketching and thinking, because I always had the feeling that it is still possible to invent something new.»
The clay crayons «zīMULĪŠI» were the first to make it through the designer's self–censorship. They come in natural Latvian clay shades and are suitable for drawing on paper, blackboard, asphalt and other surfaces. «zīMULĪŠI» can also be gripped by feet, and that does not only help to avoid flatfoot, but also encourages creative thinking. Alternating gripping points change muscle tension and level of motion complexity. Drawing with «zīMULĪŠI» develops fine motoric skills, which is important for small children as they start talking and writing. For adults, «zīMULĪŠI» can help in treatment of different injuries and illnesses, for example, stroke after–effects. For seniors, use of the crayons can help maintain liveliness and fight dementia.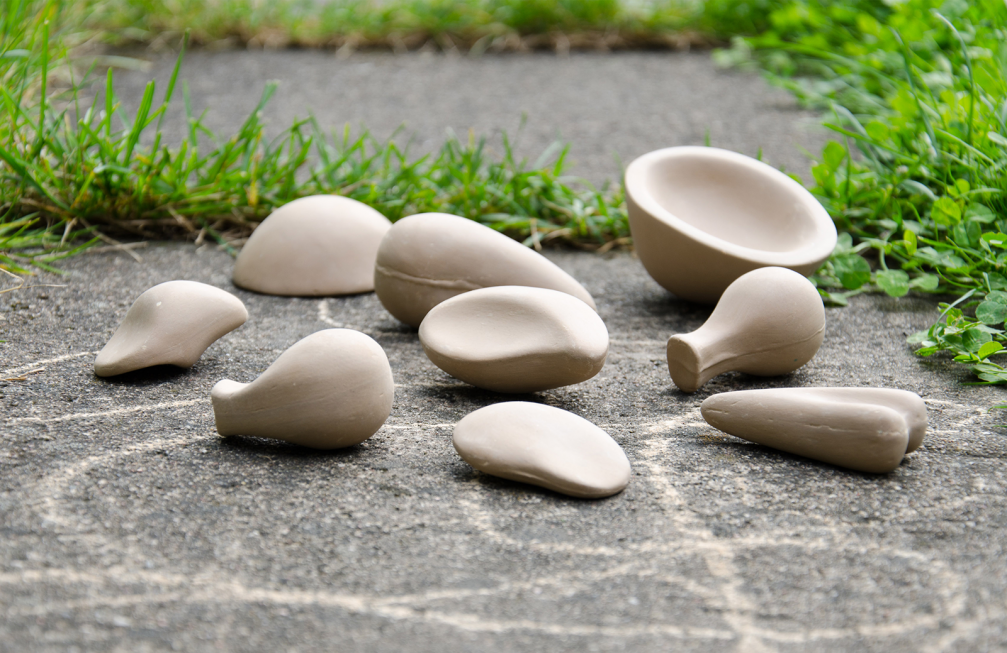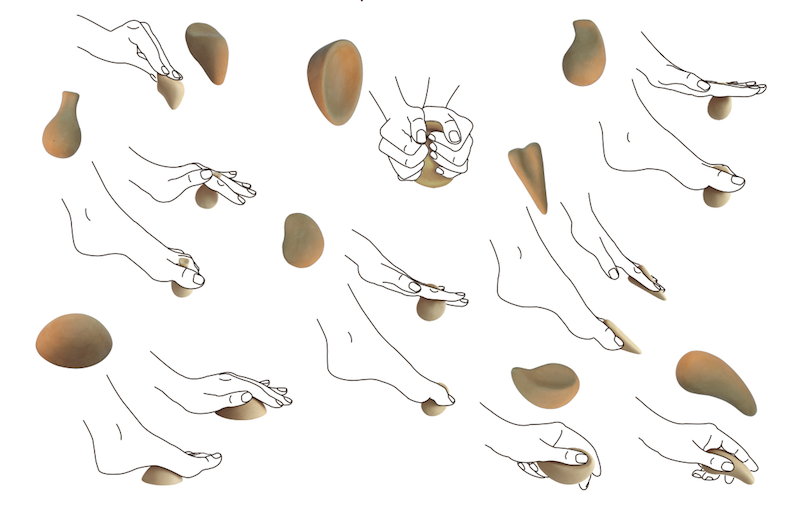 As a natural next step was Ieva's master's degree project «Colourful» crayons which, as her previous projects, was supervised by AAL associate professor Barbara Ābele. The colourful crayons in forms of fruits, vegetables and berries are hand–made of clay. They are designed to keep a maximum resemblance to carrot, mushroom, blueberry, tomato, cucumber, banana, garlic, strawberry and plum, thus introducing the user to colour through shape. Same as with «zīMULĪŠI», the variety of gripping allows for developing hand muscles, which in turn stimulates brain function, language and creativity. These crayons are particularly suitable for children with congenital or acquired visual impairments and colour–blindness. Last year the product won the Latvian Annual Design Award 2015 in sub–category Design Concept.
Ieva Pastare reveals that at the very beginning of the «zīMULĪŠI» project she had a strong intention to move further with her ideas, but hadn't thought of it as a business. Later, when she participated in the «Nordea» business school, she gained valuable knowledge on how to build a successful entrepreneurship. «It became so interesting, almost like building your own world,» Ieva shares her impressions of her experiences so far.
In the future Ieva Pastare aims to continue developing «Drawies», expand the range of products, make production more efficient and start exporting. «If you have the desire, the opportunities show up as well, all you have to do is work,» concludes the designer, appreciating support from her family, friends and business partners, which motivates her a lot.