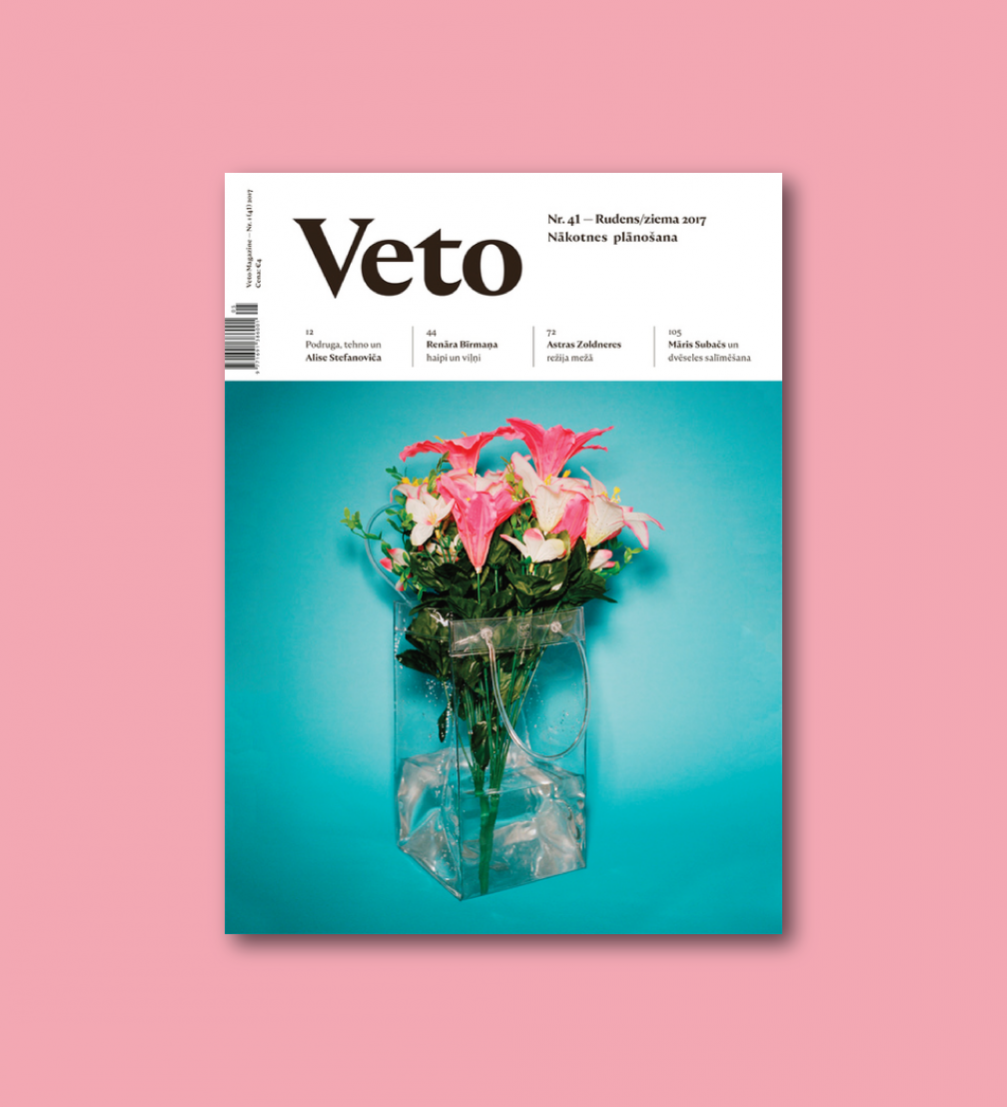 Music, art, and fashion magazine «Veto Magazine» has released issue Nº41, this time exploring the topic of future and its planning. As always, the magazine features interviews with people from various creative fields, essays, illustrations and photography. The opening event of the new issue will take place on December 20 at the culture bar «Vieta».
Stories Editorial December 15, 2017
The new issue of «Veto Magazine» features conversations with artist Māris Subačs, leader of the band «Podruga» Alise Stefanoviča, short–film director Astra Zoldnere, whose film «Blueberry Spirits» was recognized in many countries, as well as an article on the pioneer of boardsports Renārs Bīrmanis.
In the discussion section astronomer Ilgmārs Eglītis, art curator, co–director of the Zurich art gallery «Shedhalle» Egija Inzule and others talk about the future. Also in this issue — an article on the black paths in the city by urban culture researcher Justīne Panteļejeva and photographer Elmārs Sedols, ecopoem «Immigrants» by Artūrs Punte. The issue was created in collaboration with art director Anna Ceipe.
This time a big role is given to photo stories and visual language. The issue features visual stories created by stylist Jūlija Volkinšteine in collaboration with photographers Evita Goze and Kristīne Madjare, as well as fashion pages by Anna Volkova and Vladimir Svetlov. The issue's illustrations are created by artists Anna Ceipe and Līva Rutmane.
The celebration of the new issue's release will take place on December 20 at the culture bar «Vieta» (Krišjāņa Valdemāra iela 61, Riga), featuring a musical performance by Alise Stefanoviča and her band «Podruga».
«Veto Magazine» can be purchased at all «Narvesen» newsstands, supermarkets, book and lifestyle stores, museums and exhibition halls. The magazine is supported by State Culture Capital Foundation.