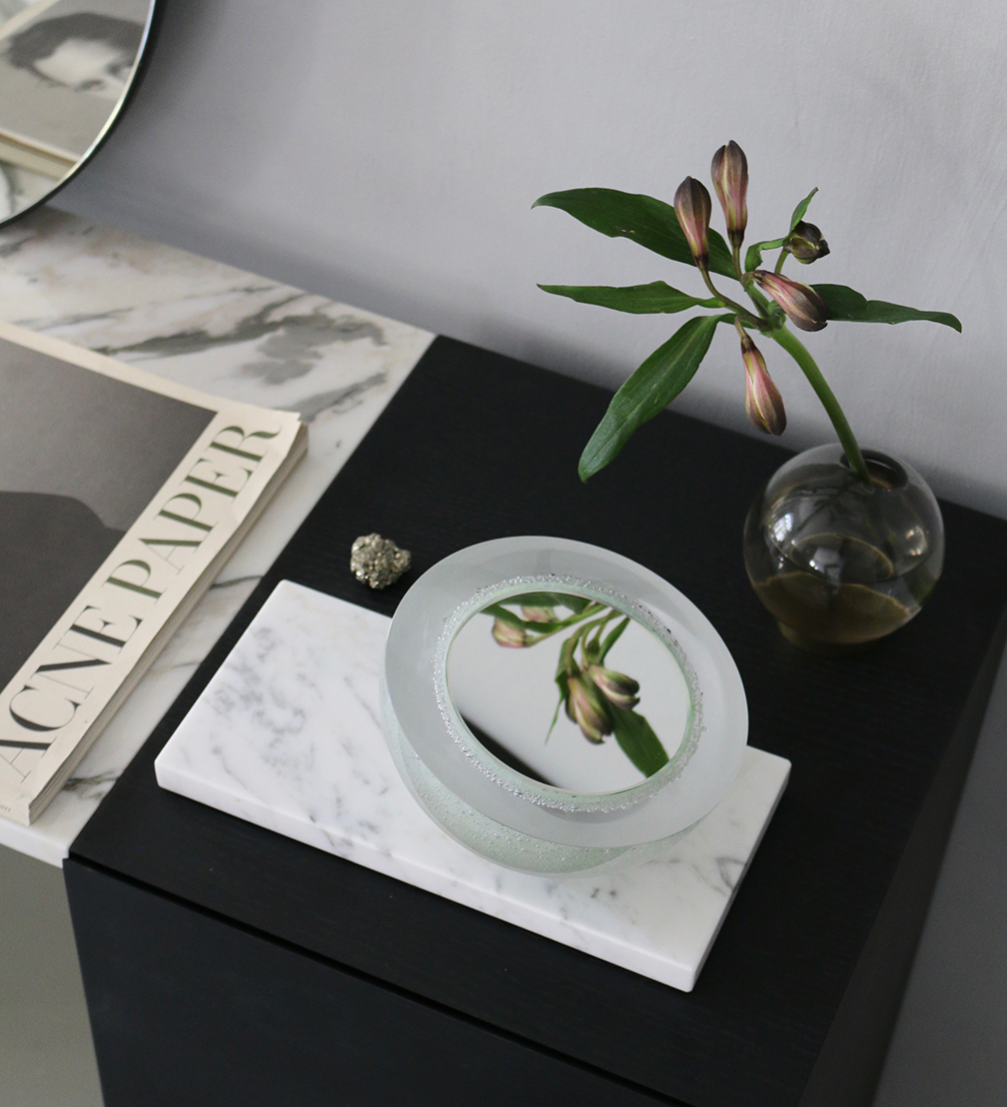 On July 17, a presentation of sculptural glass tableware, mini mirror and interior objects took place at the new interior design and art gallery «Experimental». The event marked the collaboration between glass artist Baiba Dzenīte and furniture designer Sabīne Mežkaze.
The new dressing table accessories collection is a result of a fruitful collaboration between the brand «Baiba Glass» by Baiba Dzenīte and gallery «Experimental». This is a follow–up on the tabletop mirror «Small Moon Mirror», created by furniture designer Sabīne Mežkaze. The authors reveal that by combining the practical and aesthetic, the laconic while sophisticated mirrors in blown glass technique were inspired by works of the Venice glass artist and designer Carlo Scarpa and playful designs by Ettore Sottsass. The mirrors have marble bases with polished edges.
The new collection of glass art objects as well as tableware from «Baiba Glass» previous collections «Calm» and «Celestial» are on view and available for purchase at the «Experimental» gallery, Stabu iela 49, Riga. The gallery is open by appointment only (call +371 29354142, Sabīne).
During the opening event, a video on the internationally recognised «Baiba Glass» collection «Calm» was also presented, revealing the glass–making process from the beginning of the idea to the finished product.
To continue her experiments with glass, Baiba is invited to participate in the international ceramics and glass art residency in Sato, Japan. For more than a month working at the local glass workshops, Baiba will have an opportunity to develop her technique, share her skills and knowledge, thus strengthening the intercultural cooperation in the glass and ceramics industry. By the end of the residence in mid–September, Baiba Dzenīte will represent Latvia at the Glass Education Network conference.