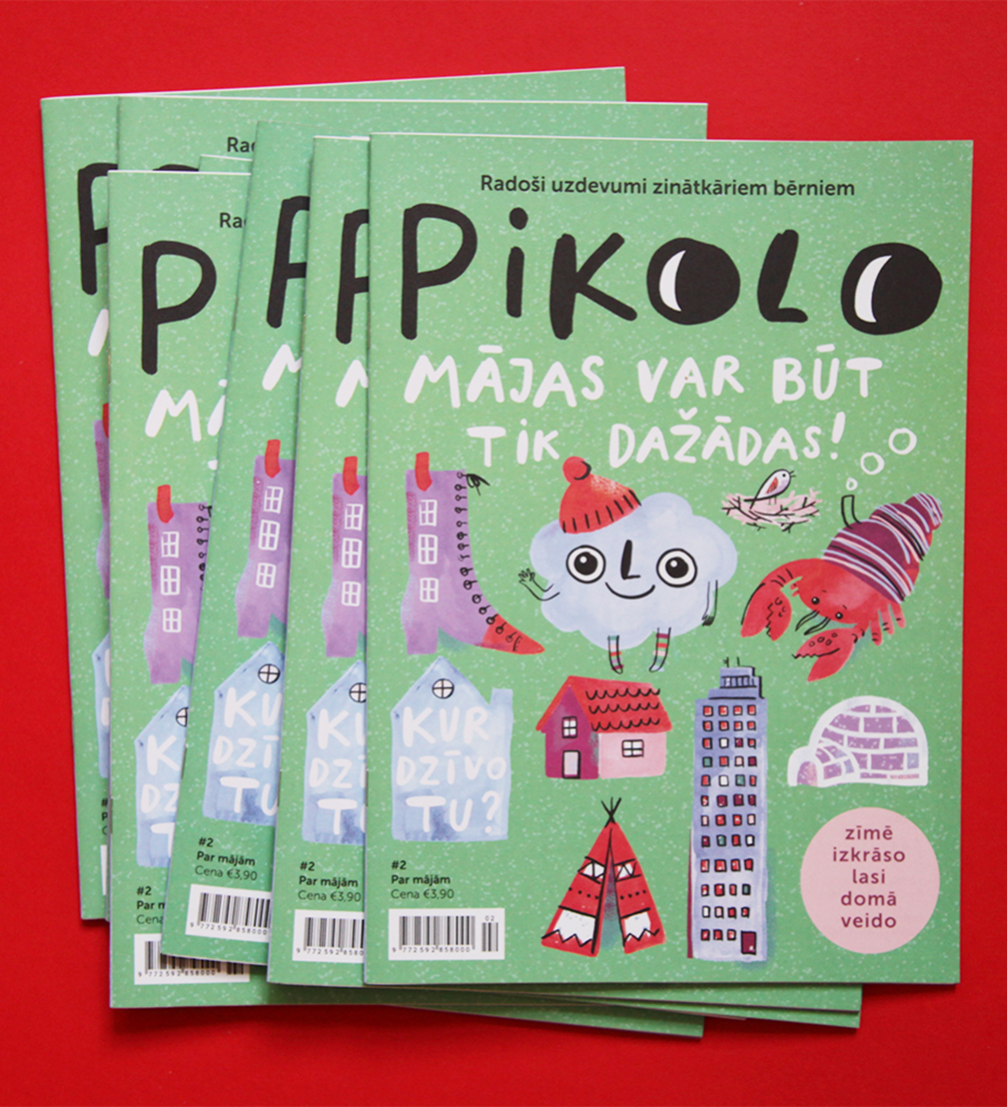 With its second issue, the magazine «Pikolo» continues to offer meaningful and creative activities for pre–schoolers. Its textual and visual content was created by a team of Latvian illustrators and authors, this time introducing children with the diversity of homes all around the globe.
Stories Editorial December 11, 2018
The initiator and creative director of the «Pikolo» magazine is illustrator Līga Kitchen, publisher and project manager — Katrīna Tālberga. The first issue was released at the end of August and got a positive feedback from little readers.
The editorial team of the magazine emphasizes that the aim of «Pikolo» is to establish a quality communication with the child and to be able to empathise with children's world and language. Each new issue is intended to be different from the previous one since a new team of Latvian illustrators work on it. The second issue of «Pikolo» features illustrations by Rebeka Lukošus, Zane Veldre, Zane Zlemeša and Līga Kitchen. In the latest magazine, its main character, little cloud Pikolo and his friends tell stories on the importance of feeling at home, invites the readers to think about our neighbours and wonder who lives on the other side of the globe.
The authors emphasize that paper quality and thickness of the magazine were especially considered so that children can work with it by cutting, colouring and even painting on it.
The texts for the second issue were written by Sondra Zaļupe and musicians Māra and Jānis Holšteins–Upmanis who also wrote a special song for «Pikolo» readers.
Both issues of «Pikolo» are available on its webpage where readers can also subscribe for the next magazines that will be launched in 2019. «Pikolo» can be purchased also at stores «Mazā cilts», «Manilla», «Mr. Page», «NicePlace Telpa», gallery «Istaba», the souvenir store at the National Art Museum of Latvia, bookstores «Jānis Roze» and the newsstands of «Rimi», «Maxima» and «Narvesen».