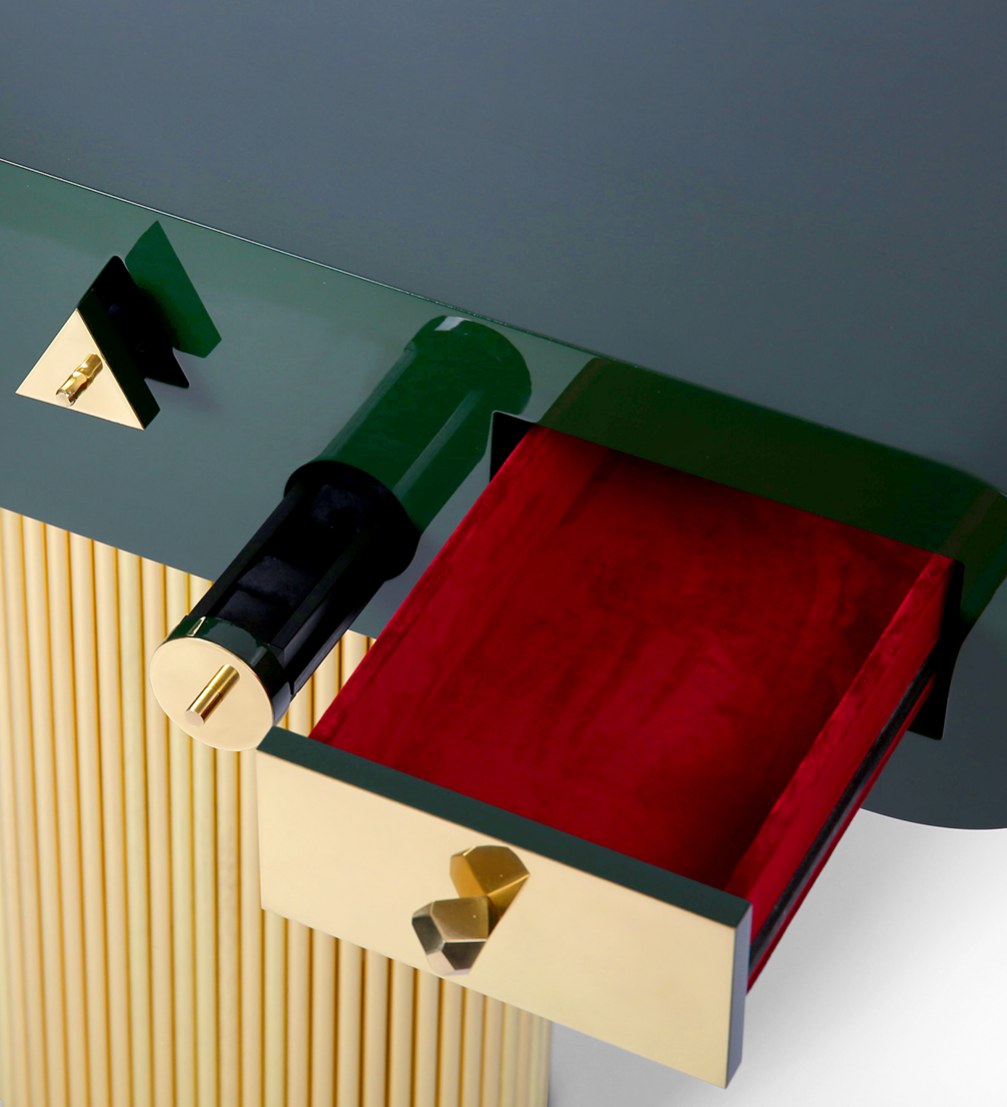 Dressing table «Mona». Photo by Krists Spruksts
It is easy to distinguish «Kanttari» among other brands — the furniture features expressive wooden textures, often in combination with polished copper and brass, and a 1950s style that is complemented with modern elements. Established in 2017, the company has already proven itself by winning several international awards, and continues to draw attention to itself in Europe's largest design shows.
«Kanttari» is the brainchild of Renāts Kotļevs and Agnese Stalte. Renāts is the company's creative and technical director, material expert and production supervisor, while Agnese is responsible for the marketing and communication with customers. The company's tight–knit team is complemented by Renāts's brother Ruslans — quality control and production manager, as well as highly skilled, talented, and experienced craftsmen. «Renāts and I, we are a very good team — he is the creative one but I am grounded. A tandem of that kind moves forward very well. Now and then we can slow down one another or, on the contrary, urge to speed up. It seems to me that different people with different knowledge and approaches are able to further the development of a small company very quickly and successfully as our competences do not overlap,» says Agnese.
The idea of a luxury furniture brand is to a large extent attributable to Renāts's talent, passion, and knowledge of timber and metal processing combined with an eagerness to discover new things. Years of woodworking and endless experiments have allowed him to accumulate experience that «Kanttari's» creators now consider to be the company's main added value and the reason why it began to bear fruit so quickly. As the number of customers and followers gradually increased, the young entrepreneurs reached a self–defined point of reference — a realisation that they are able to «draw beautifully, create technically correct designs and produce in high quality any piece of complex furniture».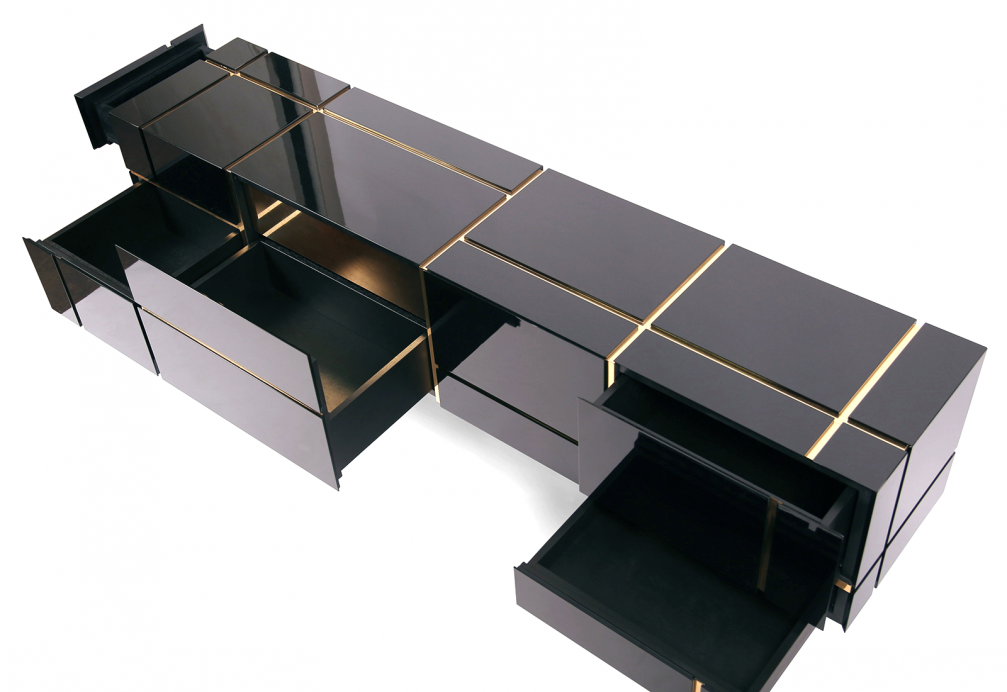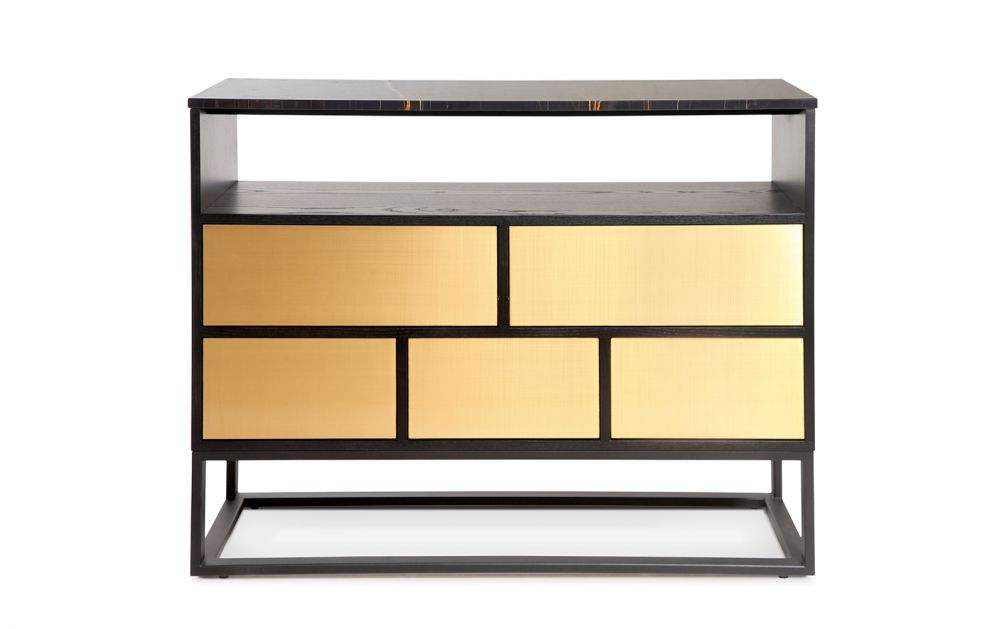 Metallic sheen and wood textures
«Kanttari's» furniture falls into two main stylistic categories: mid–century–style furniture complemented with modern details, and the so–called «luxury collection» that is designed in a more eccentric manner. Both lines have «Kanttari's» unique features: unusual colours, and combinations of various metals and wood textures that authors describe as «retro style with a modern touch». The design plays with contrasts — for example, a massive oak dining table is supported by copper hairpin legs, and the drawers of a matte black TV table are finished in glossy polished brass.
Any piece of «Kanttari» furniture is the result of Renāts's inspiration. Some ideas are envisioned and cherished as part of the collections, while others are custom–designed for a specific order. Customers turn to «Kanttari» with both specific wishes and parameters and abstract ideas that are later transformed into unique products. The founders admit that the biggest excitement for them is to create and experiment when the client has ordered something unconventional, new and unprecedented. Agnese explains: «In order to get to the end product, one has to go through a long process of research. Metalworking specialists in Latvia are scarce, and not everyone is able to create something aesthetically pleasing. That is why we have produced countless samples ourselves until we achieved something beautiful. Furthermore, beauty is not enough — the furniture must be functional, easy to maintain. At other times, competitors come to us and ask how a specific effect can be created. In my opinion, the very fact that we ourselves have created the technique makes it so special.»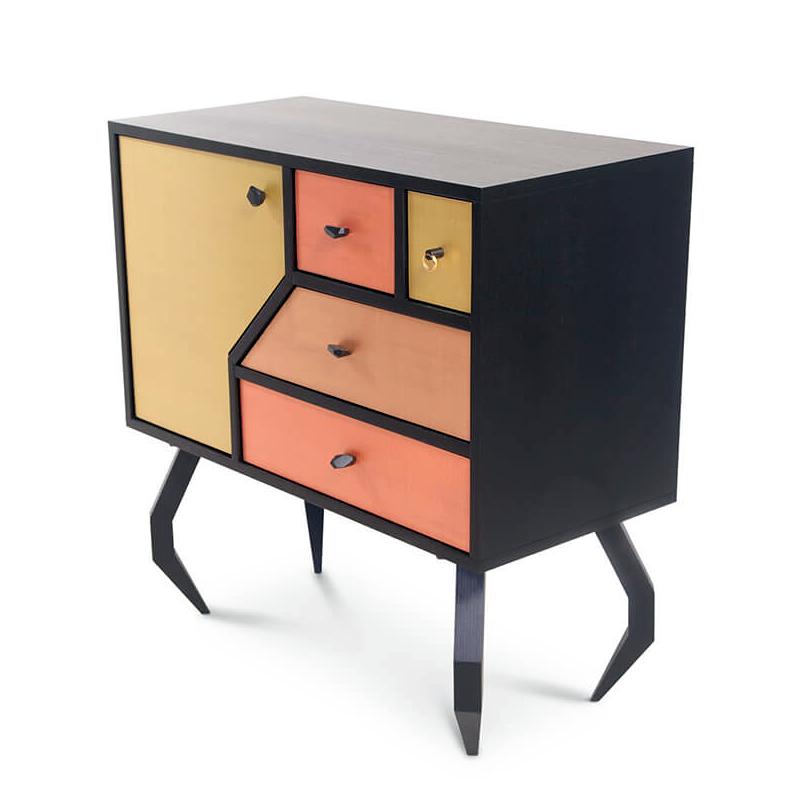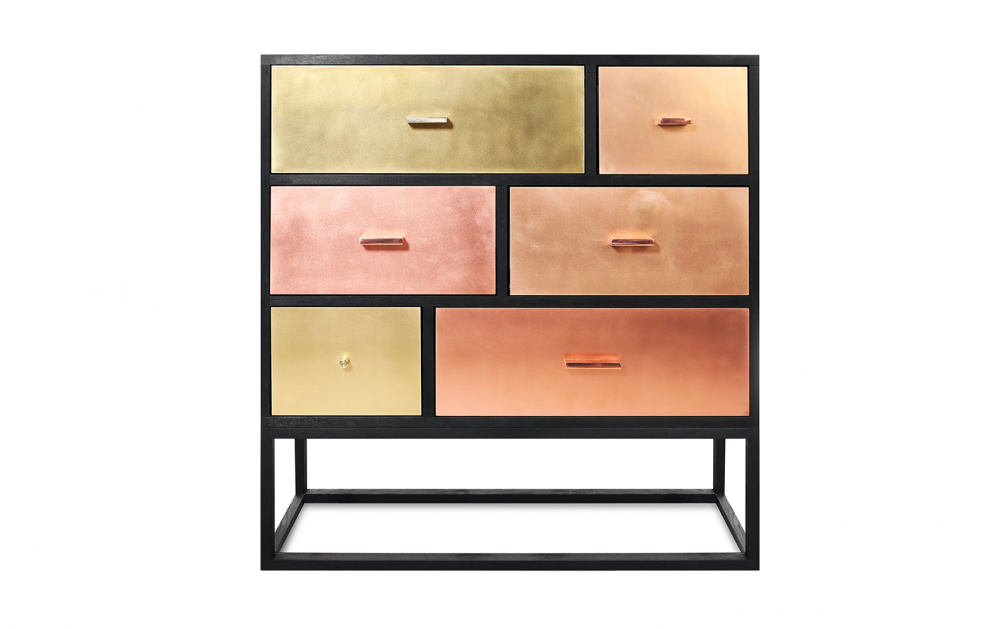 In the production of furniture, modern technologies and craft traditions complement each other. New finishing effects are created in search of different visual, aesthetic and technical solutions. Different types of wood are combined with metal inlays, often also epoxy resin; non–ferrous metals are treated in a variety of ways — scratched, polished, patinated, aged, by that creating different moods. The shiny metal accents have also served as an inspiration for the brand name and logo — there is a similarity to metallic–hued beetles (the Latin name for the species is «cantharis» — auth. note). In nature, they are endlessly different: metallic green as patinated metal, russet as weathered steel, as well as shiny golden as polished brass.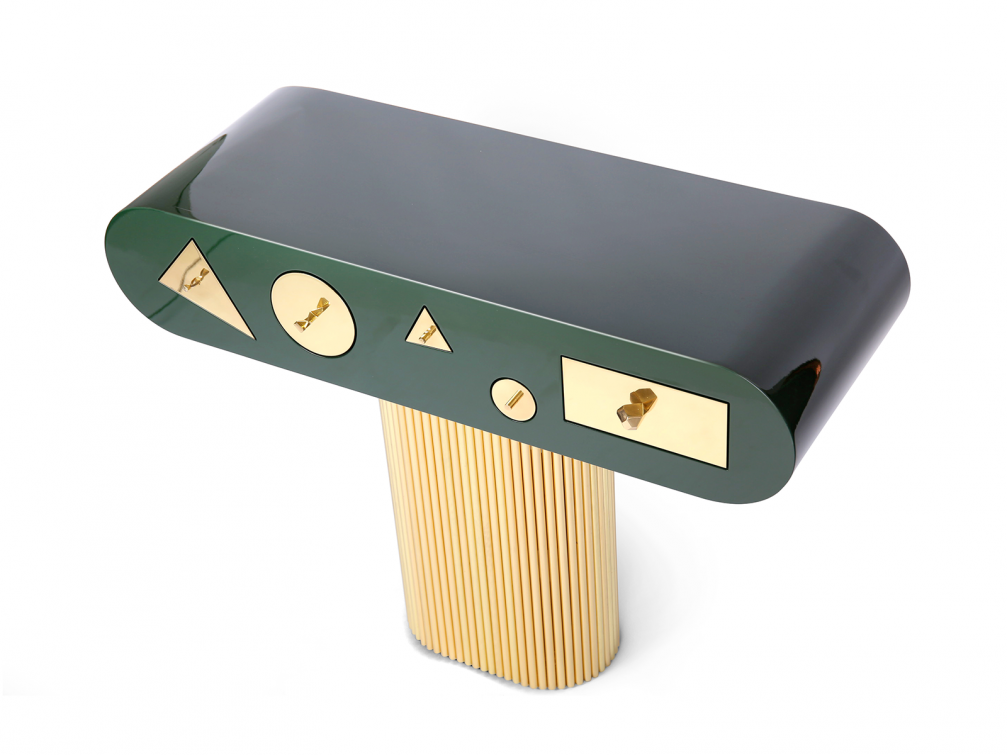 A contender in competitions and exhibitions
The creators of «Kanttari» have used the support provided by the LIAA Creative Industries Incubator, the development finance institution «Altum» and the grant program «Atspēriens». The «Altum» loan for creative trips has made it possible to represent the brand at international exhibitions while winning the «Atspēriens» competition has helped to finance the purchase of new production equipment. «I follow closely all the programs offered by the state because there are many different possibilities in Latvia. I don't understand the entrepreneurs who claim that no help is available here. One just needs to look for possibilities and understand how to adjust the idea to the requirements of different projects. Of course, we have also been rejected and haven't succeeded in competitions, but the negative experience has also been valuable,» says Agnese.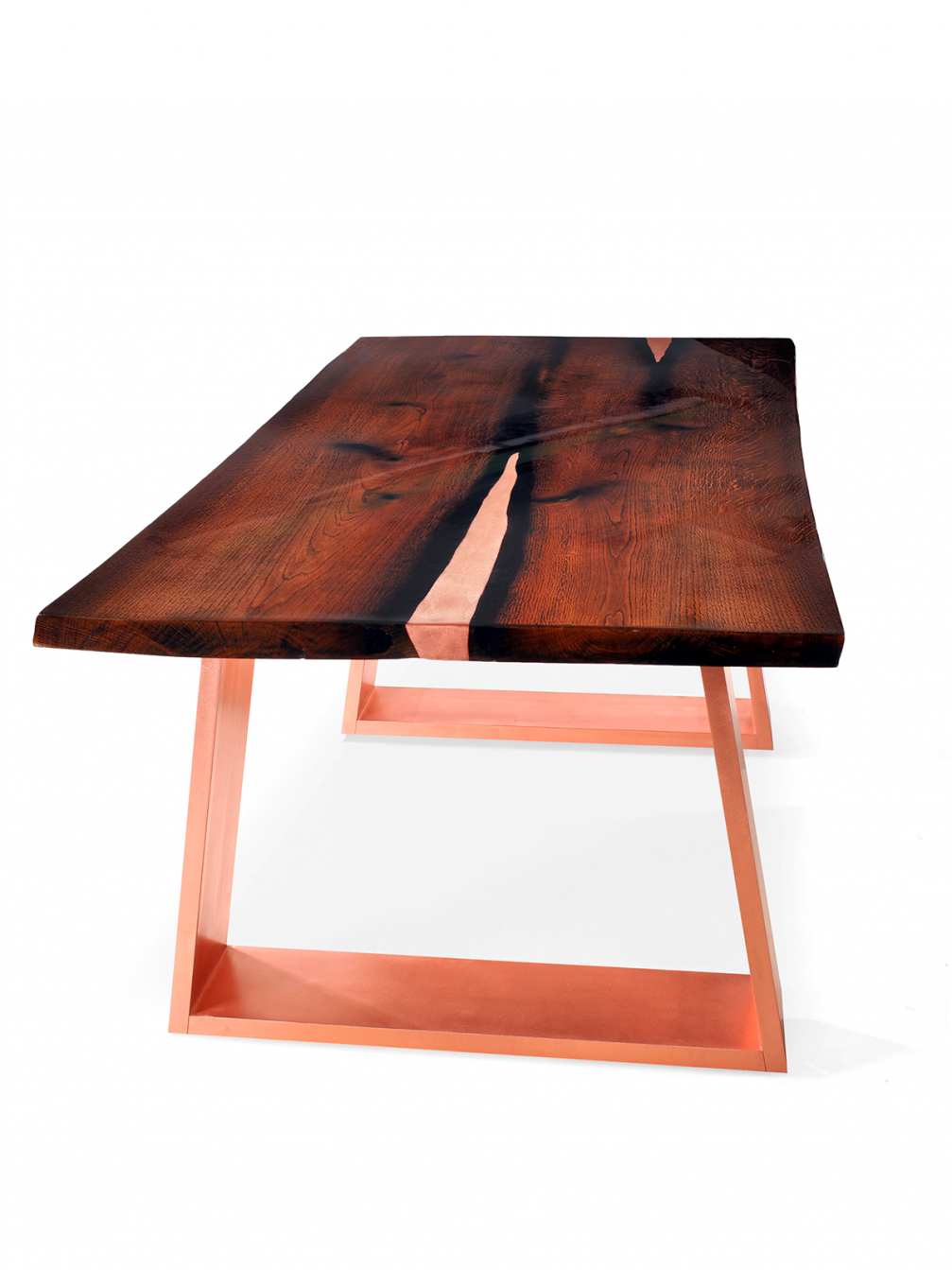 In its first year of operation, «Kanttari» has already won several international design awards. The dining table «Sarma» received both the European Product Award and the A' Design Award in the «Furniture, Decorative Items and Homeware Design» category. In April 2018, A'Design Award was also awarded to the «Hundertwasser 100 H2O» chest of drawers. The recognition of international juries has granted the products greater visibility and a sign of quality as well as helped to earn the trust of potential customers. After participating in these competitions, «Kanttari» is increasingly addressed by people who have not known the brand before.
At the beginning of last year, «Kanttari» was among the representatives of the Latvian national stand at the design exhibition «Interiors Show IMM» in Cologne, but in September their latest luxury collection was shown in the «Maison&Objet» exhibition in Paris. Later, the same collection was presented at the «Design Isle» show in Riga, where the furniture brand was introduced to the Latvian public for the first time. The local market surprised with the great interest, positive feedback and good taste of the public.
Agnese concludes by evaluating what has been done so far: «I think the results of our company's first year are very good. We are now expanding. We moved to larger premises, we are hiring, we are actively taking part in exhibitions, establishing contacts with new partners and satisfying the growing demand. We are different, with our own style and a clear vision for the future.»