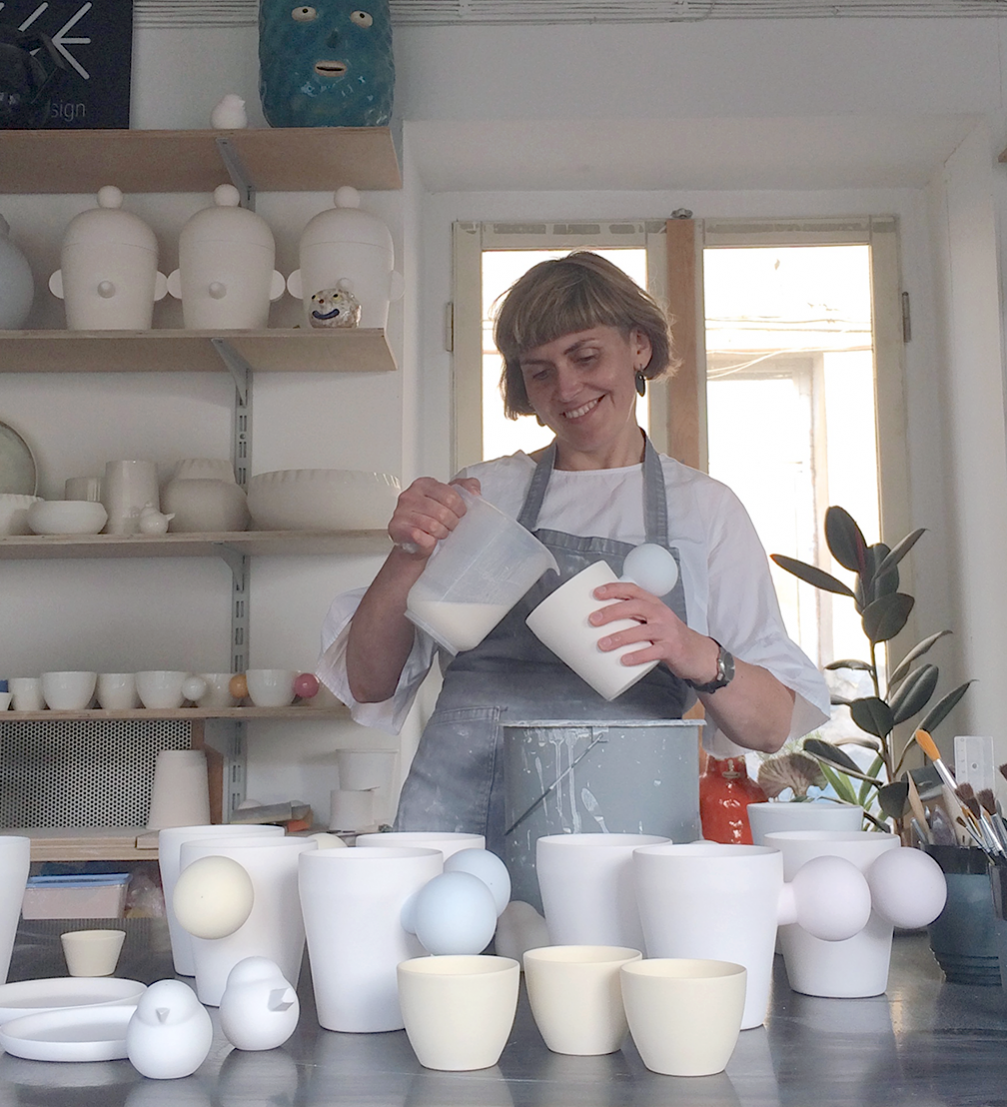 Esmeralda Purvišķe or Esse. Photo from her personal archive
«Esse Ceramics» is a brand cherished by Esse, whose real name is Esmeralda Purvišķe. She's a ceramicist with an education in design who adds aesthetic and ergonomic features to everyday objects. Her signature style is witty details and decals.
Esse most often works with porcelain, which she considers to be the most technically complicated and at the same time the most beautiful material, and sometimes she also works with stoneware. Working with porcelain requires a high degree of precision — every detail must be carefully calculated because porcelain shrinks significantly after firing. The dishes are mostly made in the slipcasting technique, preparing a mould and a model for each element. Esse says that everything, from the drawings to the glazing and selling the tableware fascinates her: «I believe that handmade work always pays off. It builds a person's character and personality, so it's important to me to do that.»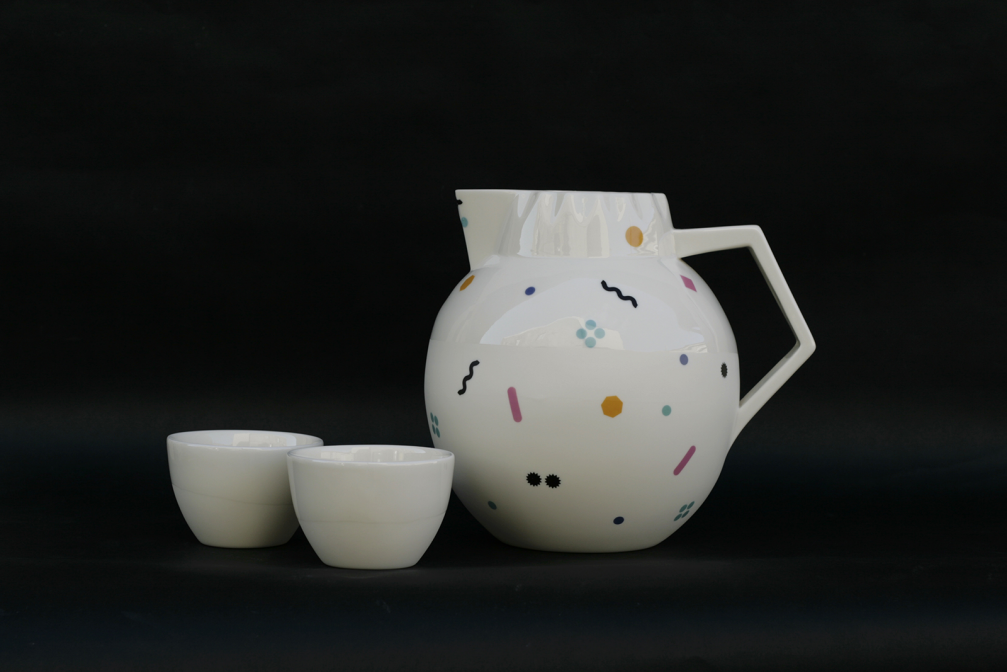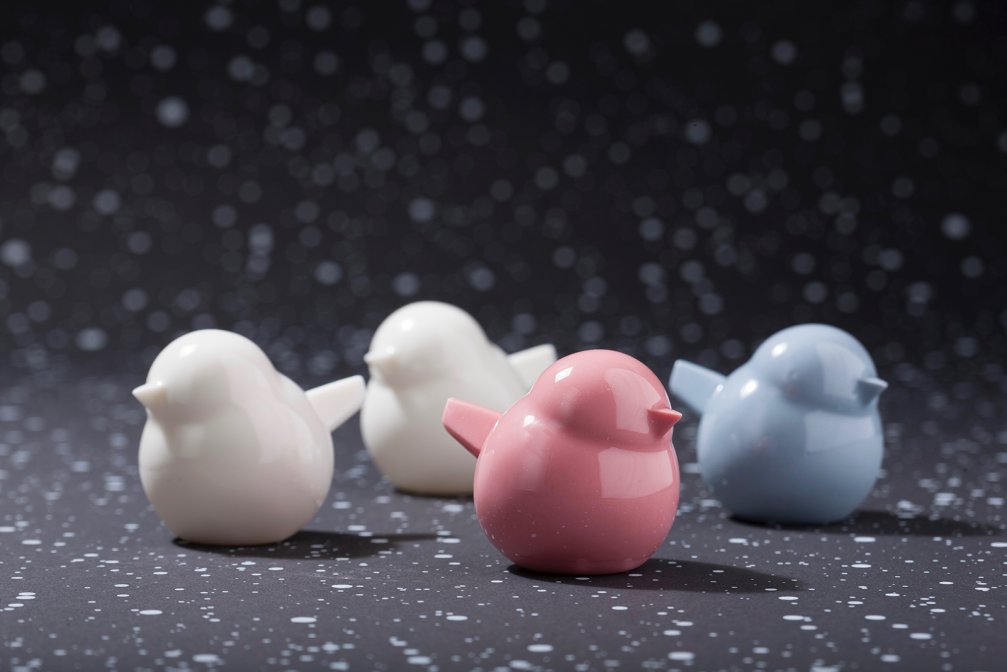 Esse first learned about modelling at the Bauska School of Art, where she also tried the slipcasting technique for the first time. Later, when she entered Riga School of Design and Art (RSDA), at that time Riga College of Applied Arts, her elder brother encouraged Esse to choose ceramics, and she has never regretted this choice. The knowledge gained there not only laid an excellent foundation, but also influenced her view of ceramics as a whole: «Ceramics is often associated with something old-fashioned, Latgale candlesticks, shiny glazing, brown clay and all kinds of frills. But I was fortunate enough to meet fantastic educators who changed my mind.» Now, Esse's inspirational high school teachers are her colleagues — she teaches composition, computer studies, working with material, porcelain painting, and supervising qualification works for students, but since September she is also Head of Ceramic Design Education Programme at RSDA.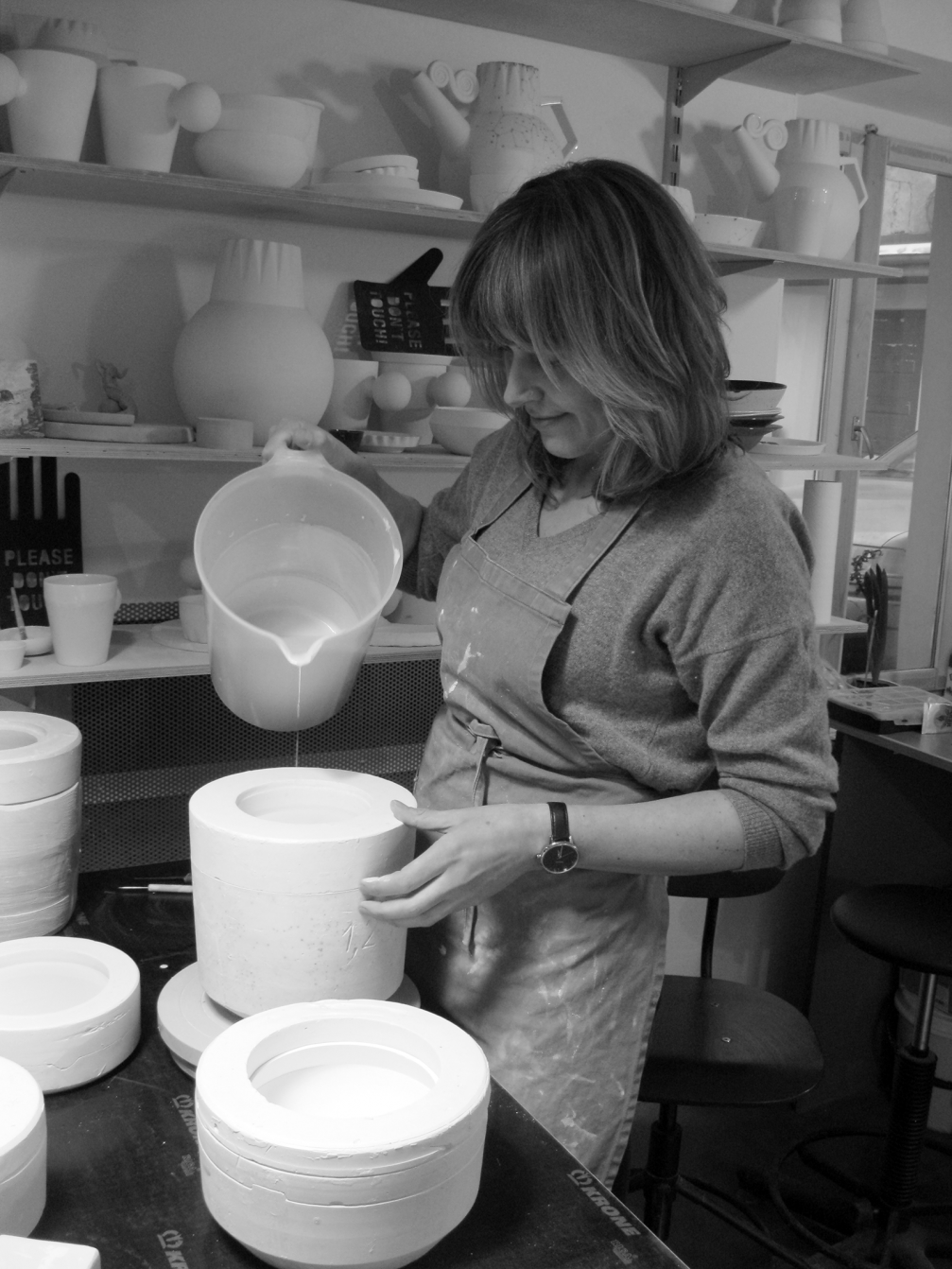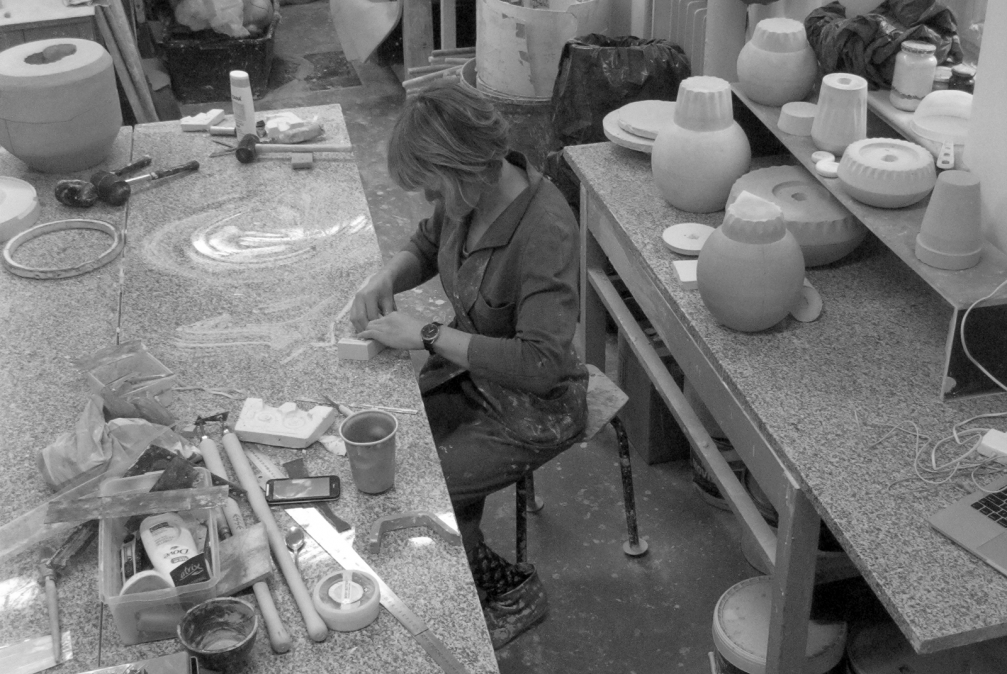 Esse graduated from the Art Academy of Latvia with a degree in functional design and ceramics. In her bachelor's and master's theses, Esse did a modern interpretation of Latvian ethnography. «I find it inspiring to look at our historical heritage — it is so rich. It makes nations different from each other and it is therefore interesting to travel to other lands to see how different natural landscapes and craft traditions have left their impressions on people,» she says. The ethnography-inspired tableware collection now adorns the studio's window, catching the attention of passers-by.
During her master's studies, Esse spent one exchange semester studying design ceramics at the Burg Giebichenstein University of Art and Design in Halle, Germany. It was there that the «Esse Ceramics» signature mugs were made for the first time: «This was an unplanned project for myself. The university cooperated with a German porcelain factory, «Kahla», which gave us an opportunity to use large quantities of porcelain, and we were able to experiment a lot. I created my first porcelain ball spontaneously, as an accessory for a completely different dish. After firing the dish, I realised that the ball fits comfortably in my hand. So I came up with the idea that it might as well serve as a handle of a mug, just like that — by playing around.»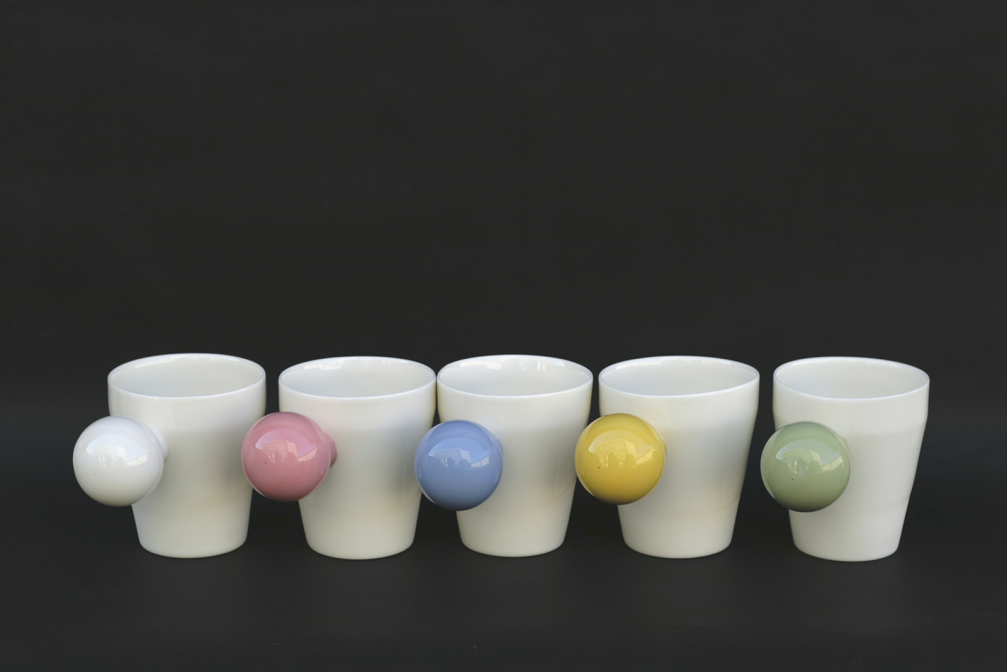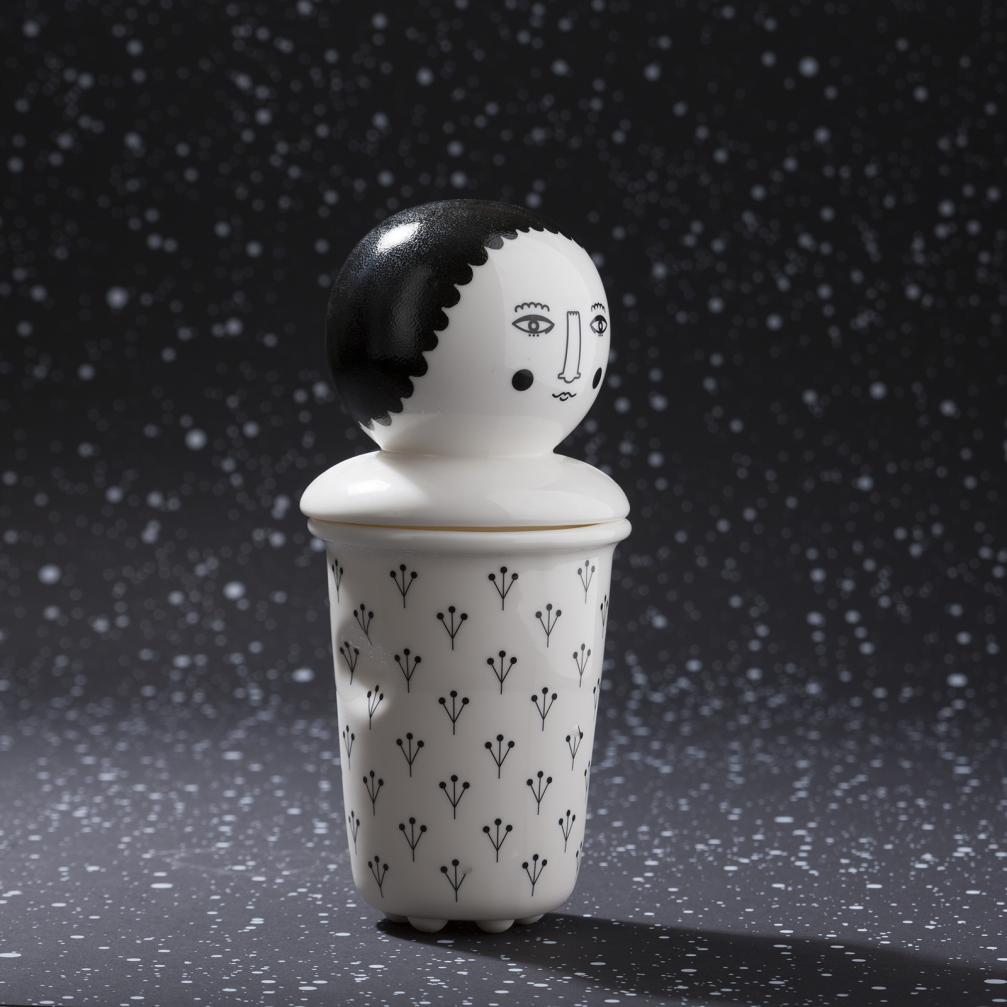 The ceramicist admits that design studies have left their mark, and thinking about the functionality of an object is present in everything she creates — each of the projects realised is practical and usable. For example, when the assignment was to create a human figure, Esse chose to make porcelain cups with lids inspired by Japanese Kokeshi dolls. The simple shape of the cup is made more interesting by the fine details — it has small legs and there are indents for fingers to make it easier to hold it. The lid can be removed by holding the doll's hair bun. The playful character of the cup is enhanced by the silk screen-printed ornaments.
The project «Streets of Baltics» was done in a similar manner by Esse and her partner, illustrator Zahars Ze, with whom she has produced several other works — a cookie jar, various printed cups and plates. The outcome of «Streets of Baltics», done in collaboration with illustrators from the Baltic countries, was seven designs for mugs. The brief called for only one or two colours to be used in each drawing. The shape of the cup resembles a take-away paper cup, which, combined with silkscreen prints, evokes associations of street art.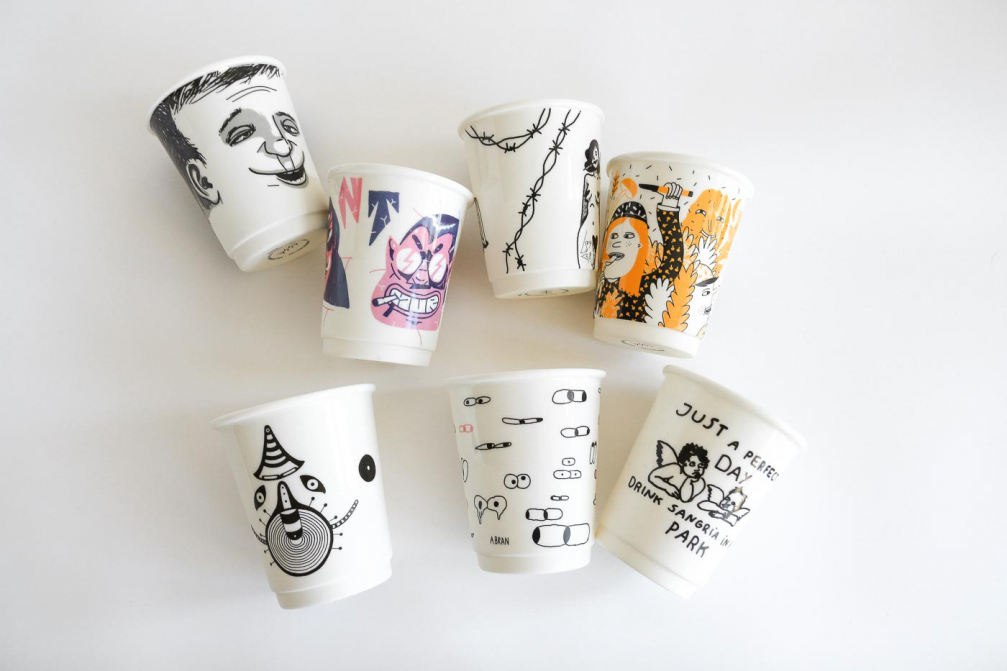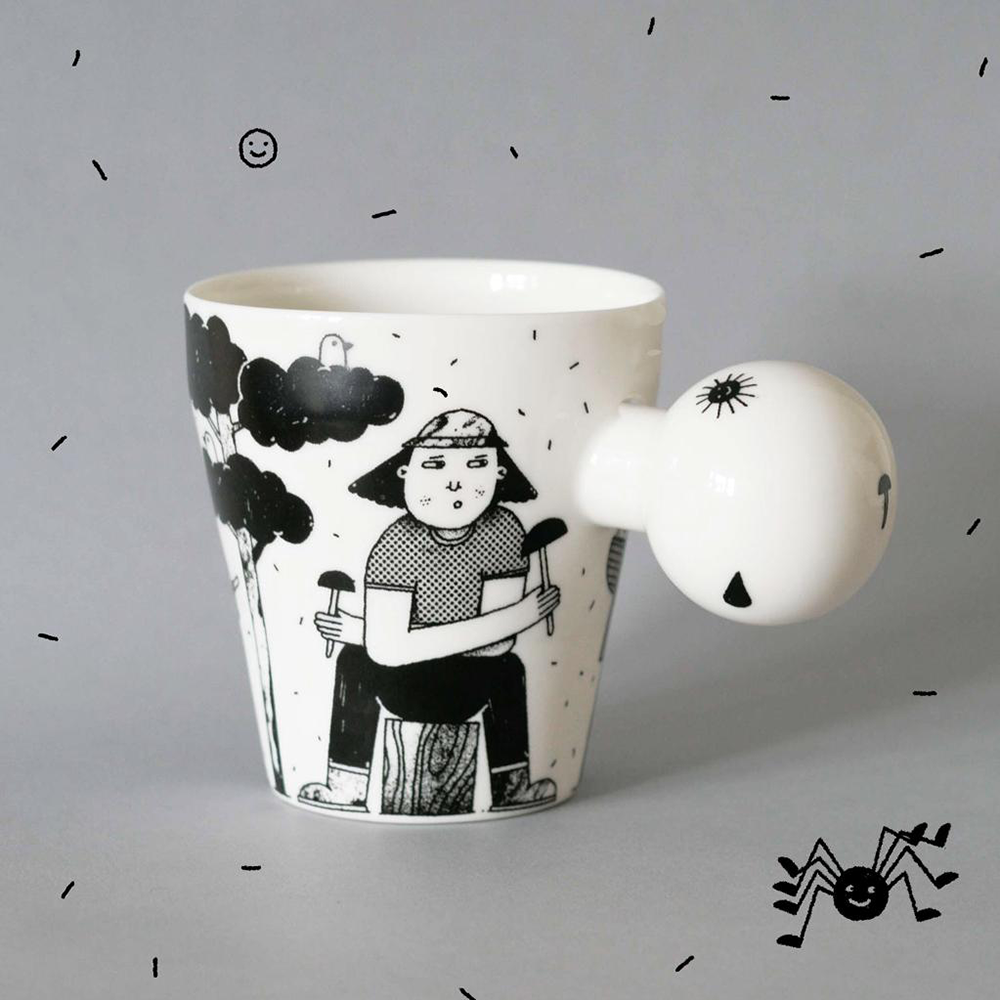 «Esse Ceramics» tableware is made in the «Krasta ceramics studio», located on Turgeņeva Street, a few steps away from the river Daugava. Esse shares the premises with ceramicist Agnese Sunepa and her brand «Gaija», and both artists often collaborate — mainly on holding ceramic master classes that show people how time-consuming and intricate but beautiful their craft is. Their workshop door is usually open — passers-by are welcome to come in, chat and, if they wish, buy some of the products there.
When asked about the current state of affairs in Latvian ceramics, the designer concludes that interest in the discipline is growing. This is indicated not only by the large number of students, but also by the return of the topic to public space. In September, RSDA, the Latvian Association of Designers, and the Latvian Ceramics Association organised an exhibition «Latvian Ceramic Design in the 21st Century», providing an extensive overview of Latvian contemporary ceramics and inviting professionals to a discussion. The well-attended event proved that this topic is of interest to ceramicists themselves and that other creatives are increasingly choosing to use ceramic materials as well. Esse believes that the future lies precisely in quality design and successful marketing, as exemplified by «Vaidava Ceramic», which has been able to grow and develop thanks to the introduction of contemporary designs.
The upcoming «Esse Ceramics» plans may include an exhibition, countless projects together with Zahars, and an idea that has already began to take shape in drawings. «I have a lot of cups, but they don't have a matching teapot. I'm a big tea lover myself, and it seems like such a kit would be very practical,» Esse suggests.