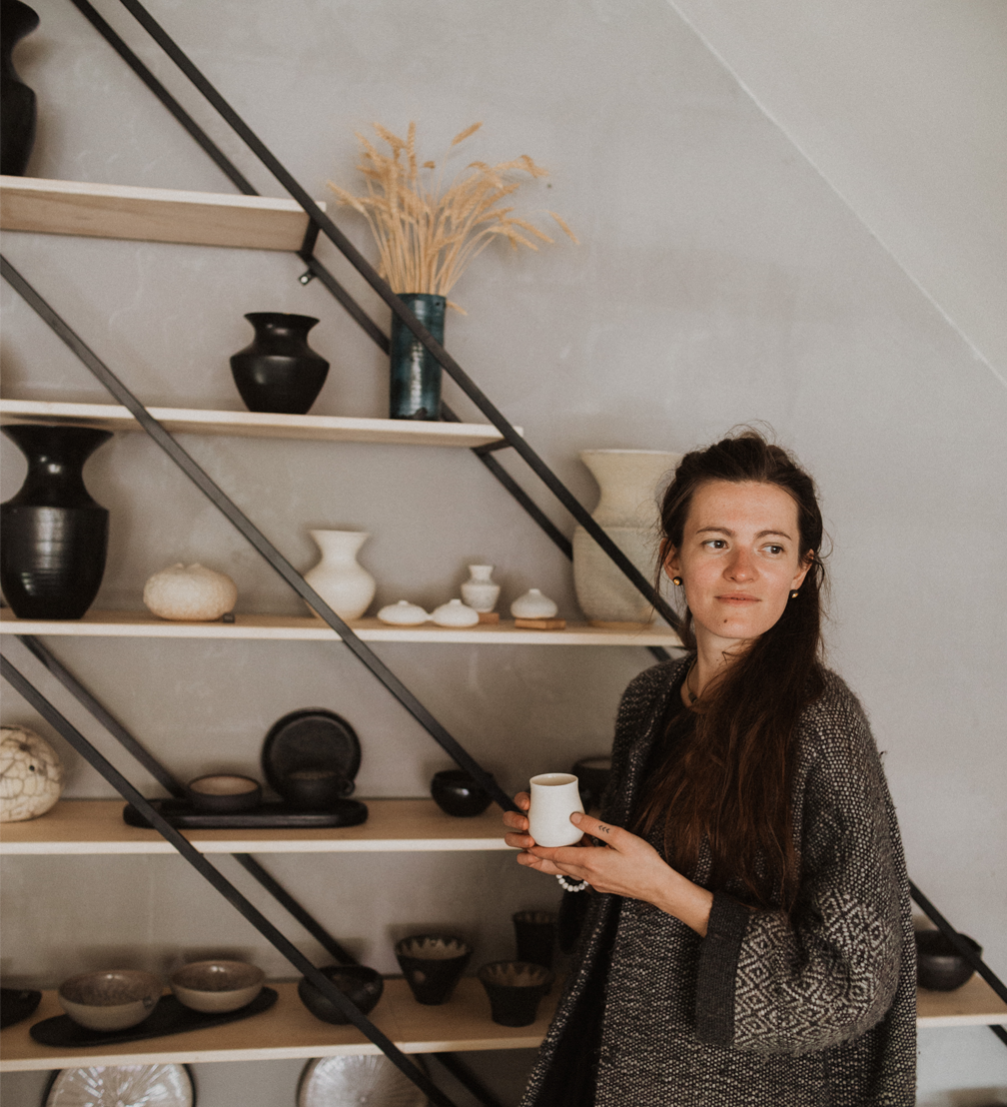 Laima Grigone. Photo by Elza Elmane
«Laima Ceramics» is a brand of tableware rooted in the fusion of art, craftsmanship and design. Run by Laima Grigone in the deep countryside of Latvia, the practice embodies notions of stewardship, sustainability and social empowerment. «Laima Ceramics» strives to fill the otherwise mundane tasks of cooking, eating and drinking with beauty, care and mindfulness.
Stories Editorial November 22, 2019
After gaining a diploma in photography in Latvia, Laima moved to the UK where she received a Foundation Degree in Art and Design at the Oxford Brookes University and a degree in Contemporary Crafts from Falmouth University where she gained experience in working with clay, wood, metal and glass. Inspired by the writings of artist and art critic Suzie Gablik and scholar Ellen Dissanayake, Laima decided to look into pottery as a way to include art in the everyday life. She became an apprentice to the ceramic master Ingrīda Žagata and set up a studio in her countryside home in Rundāle creating functional tableware.
«I want to restore a balance between unique items and the mass production that surrounds us. I believe that by cultivating an attitude of care towards objects it will reflect in our relationships and, on a larger scale, our worldview. My aim is to make tableware that brings a little quiet beauty into the everyday life. I hope for a future where all things around us are made in the spirit of gratitude and joy, honouring nature and everything upon it,» the owner of «Laima Ceramics» characterises her practice.
Laima works with stoneware, clay and English porcelain, employing various techniques — carving, combinations of different stoneware bodies, textured glazing, sgraffito engravings, high firing and traditional wood firing. Laima's pieces fired in a traditional wood-fuelled fire pit kiln use local Latvian red earthenware clay that is beeswaxed after the firing. Laima also uses the Naked Raku firing technique for her Raku collection, which is a Western take on the ancient Japanese firing technique that creates unique patterns of charred black on the surface of white ceramic. During the firing process the pieces are smoked in a canister. Then the glaze is scraped off to expose the black lines created by smoke that penetrates through the crackled glaze.
Laima also offers pinching and wheel-throwing lessons as well as excursions and individual masterclasses. The studio of «Laima Ceramics» is open to artist residences and offers apprenticeships for beginner potters. Laima has worked with apprentices from Latvia, USA, Italy and Estonia.
You can see and buy the products of «Laima Ceramics» on their homepage, Etsy shop, various galleries in Latvia and around the world or by visiting the studio showroom in Urstēni, Rundāle county.