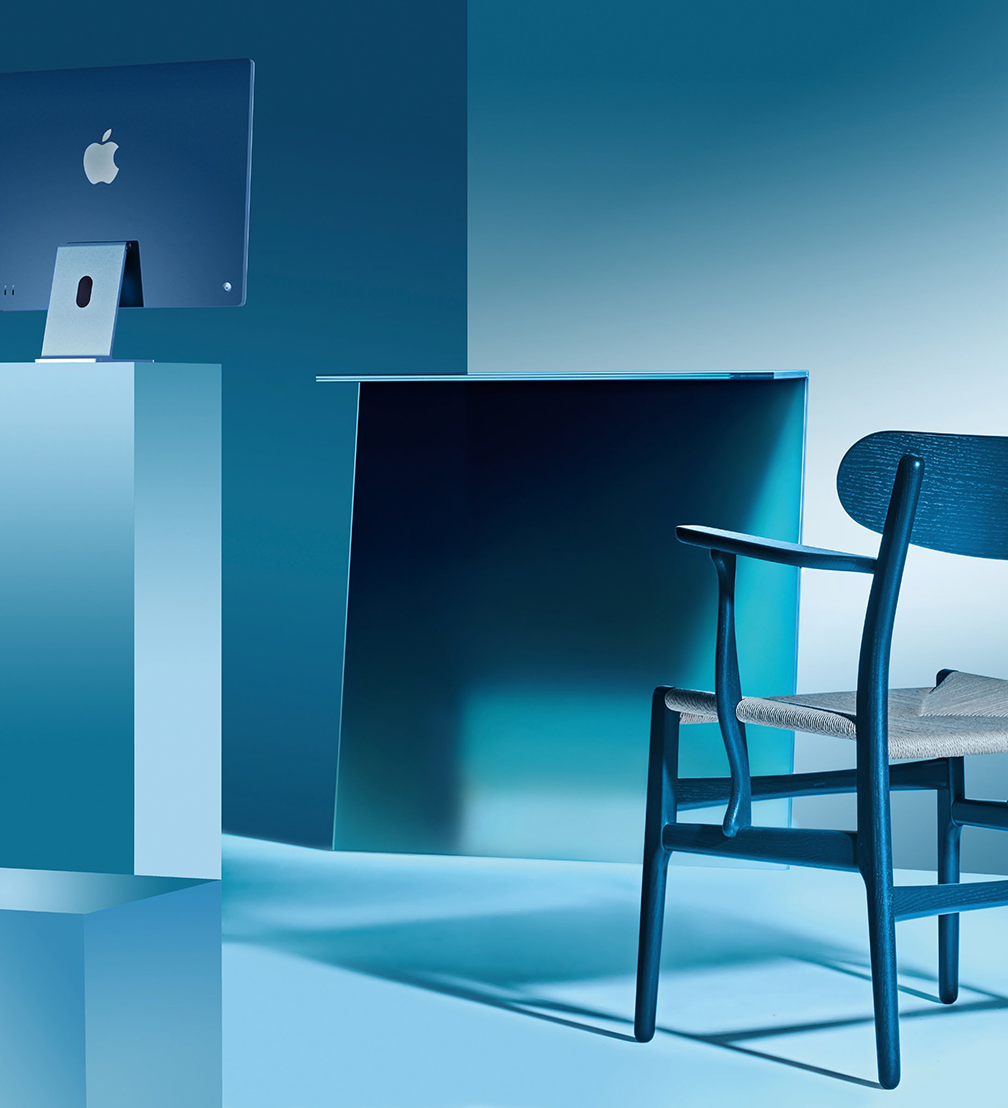 Best works in the category Use of Colour. Photo by Neil Godwin for Wallpaper*
The latest issue of Wallpaper* magazine features a selection of the best design objects of 2021. Among them are two works by the Amsterdam–based Latvian designer Germans Ermičs: a blue frosted glass console from the collection Shaping Colour and a natural stone object Pele de Tigre.
The console designed by Germans Ermičs has been named one of the top three in the Use of Colour category along with Apple's latest iMac that comes in almost all colours of the rainbow, and Ilse Crawford's North Sea Blue version of the classic wooden chair «CH26» by Hans J Wegner. The deep blue frosted glass console is part of the Shaping Colour series, in which Germans experiments with polychromatic, ombré glass. Last autumn, part of the collection was presented at the Design Miami/Basel international design fair in Switzerland.
The category Odes to Nature compiles objects in which the beauty of natural materials is elevated with the help of design. Here, Germans' work ranks next to the cedar chair by British designer Max Lamb, a stone table by Stefano Giovannoni, a low table by Korean designer Wonmin Park, which combines volcanic rock with steel, and other design items.
The Pele de Tigre marble object, that can be used as a stool or a side table, is inspired by the natural erosion of the material. To highlight the unique veining of the stone, Germans Ermičs has developed an innovative surface treatment method. «Instead of forcing a preconceived image onto the marble, I work with the stone's texture, uncovering its wild, organic beauty and liberating it from centuries of domesticated polishing in the fields of art and architecture,» says the designer who has invested several years researching material properties and processing methods. The marble was obtained and processed in Portugal using digital surface analysis and modelling, CNC milling and polishing.
Germans Ermičs has previously been recognised at the Wallpaper* Design Awards in 2017. and 2018.